Follow the Large Family Strawberry Cinnamon Rolls with Cream Cheese Icing recipe to prepare a delicious breakfast or snack. If you love homemade cinnamon rolls and strawberries, find out how good they taste together!
Do you enjoy my cinnamon rolls or even my Pumpkin Cinnamon Rolls? Are strawberries one of your favorite fruits? If so, you will love this Large Family Strawberry Cinnamon Rolls with Cream Cheese Icing recipe. You can combine the flavor of cinnamon with the taste of fresh strawberries and strawberry jam to create a delicious treat to eat for breakfast or a kid-friendly snack. You can grab one of these cinnamon rolls while you are on the go, making them perfect for a quick breakfast when you do not have much time. These fresh cinnamon rolls will taste better than any other kind that you have had before.
****Use special promo code HELLO20 to take 20% off the entire MEGA DEAL get-it-all Bundle including the best-selling Large Family Freezer Meal Packs 1-12 + so much more!!****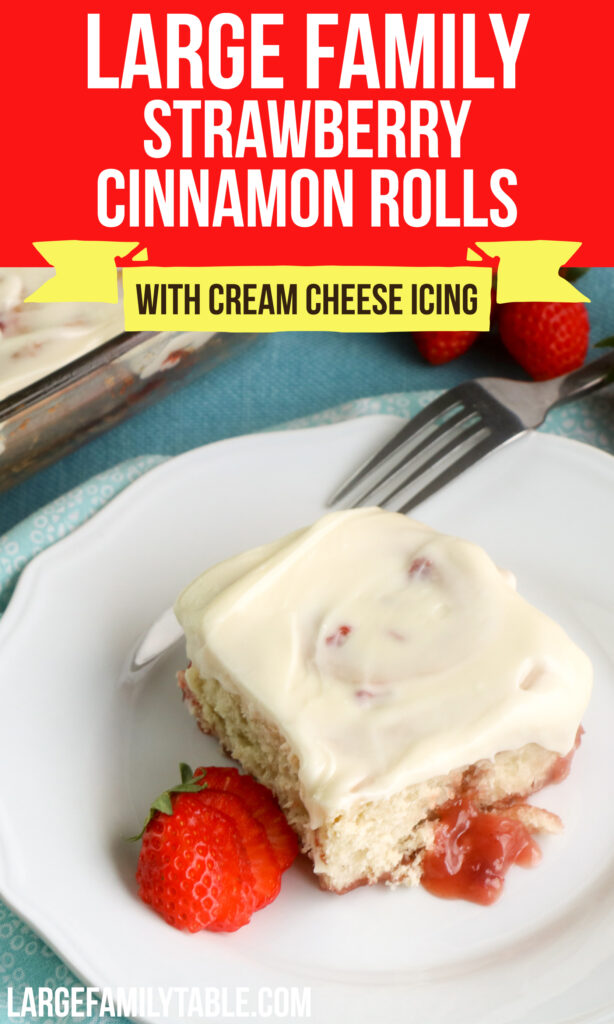 The Ingredients You Will Need to Make Strawberry Cinnamon Rolls with Cream Cheese Icing
You will need your basic kitchen tools and a few different ingredients for the dough, filling, and icing to add on top of your Strawberry Cinnamon Rolls. These are the ingredients needed to complete this recipe:
All-Purpose Flour. Start with all-purpose flour to create the dough for your cinnamon rolls.
Instant Yeast. Use one packet of instant yeast to help your dough rise.
Sugar. Add a slight touch of sweetness by using traditional sugar in your dough recipe.
Other ingredients needed for the dough include milk, eggs, salt, and water.
When preparing the filling for the cinnamon rolls, you will need:
Strawberry Jam. Grab an 18-ounce jar of strawberry jam. You can use any brand that you like.
Cinnamon. You will only need a small amount of cinnamon for the filling.
Fresh Strawberries. Cut your strawberries into small pieces before adding them to the dough.
Flour. Use two tablespoons of flour when preparing the filling.
As a finishing touch, you will need a package of softened cream cheese, unsalted butter, vanilla, milk, and powdered sugar to create a sweet and flavorful icing. Be sure to add these to your large family menu as a quick snack, delicious dessert, or on-the-go breakfast.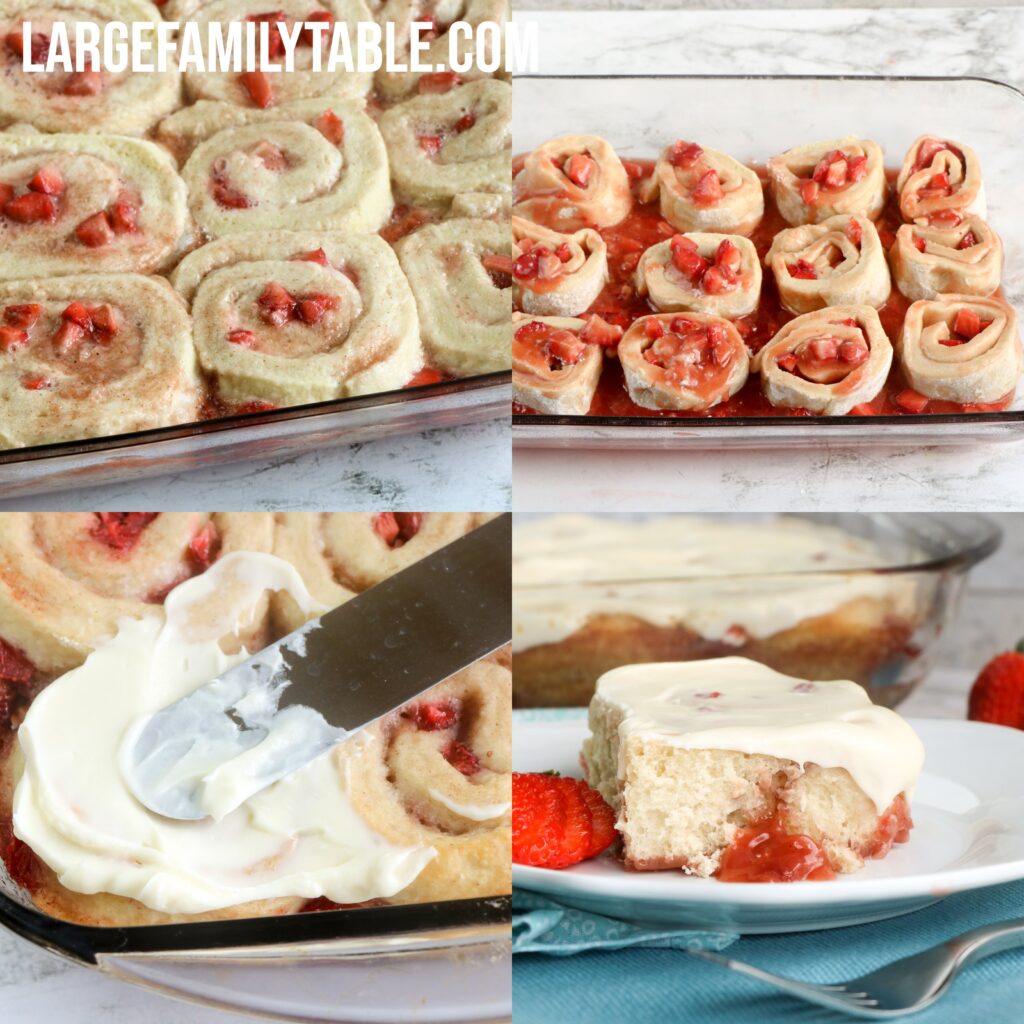 What to Make with Your Cinnamon Rolls
These delicious Strawberry Cinnamon Rolls are great alone, but you may decide you want to make them into a large breakfast. I have lots of make-ahead breakfast ideas to keep breakfast simple. Easy breakfast ideas to make are Make-ahead Breakfast Burritos, Make-ahead Cheesy Sausage and Croissant Casserole, Spinach and Cheese Strata, Vegetable Breakfast Casserole, Grits and Sausage Casserole, or Low Carb Ham and Gruyere Spinach Quiche. If you are planning to use them for dessert, look at my make-ahead chicken dinners or low-carb meals to feed a crowd for dinner ideas that are easy. They are perfect for a morning when you have places to be and just need to hand the kids something to eat quickly.
Other Variations of the Cinnamon Rolls
Besides making the Large Family Strawberry Cinnamon Rolls with Cream Cheese Icing, you can swap out some of the ingredients to create many variations of these rolls. Instead of strawberry jam and fresh strawberries, you can use raspberry jam with fresh raspberries. You might also want to use mixed berries, blueberries, or peaches. If you would like chocolate icing, add cocoa powder to your icing mixture when preparing it. The chocolate icing will taste great with the cinnamon and fruit.
Here are more rolls and treats to make your large family!
I have lots of baked goods, cookies, bread and muffins, and yummy desserts!
Do you have more baking recipes to save me money?
These Strawberry Cinnamon Rolls with Cream Cheese icing will WOW your large family!! Baking is also great way to save money on groceries. Buying prepackaged bread, rolls, muffins, baking mixes, and sweet treats can get expensive fast. Baking ahead and freezing it in the freezer means it's ready for you when you need it and you can make it when you have the time. Try my Frugal from Scratch Baking Recipes and Staples Book One for lots of money-saving recipes like Depression Era Chocolate Cake plus three other sweet treats, four delicious versions of bread recipes, plus baking staples like cake mixes, baking mix, baking powder, and more. My Frugal From scratch Baking Book Two expands into ten new recipes. Grab them both in the DOUBLE BUNDLE!! Frugal From Scratch Baking Recipes & Baking Staples to save even more!
Large Family Strawberry Cinnamon Rolls with Cream Cheese Icing
Print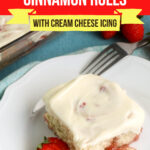 Large Family Strawberry Cinnamon Rolls with Cream Cheese Icing
Author:

Prep Time:

3 Hours

Cook Time:

30 Minutes

Total Time:

3 hours 30 minutes

Yield:

2 9×13 Casserole Dishes

Category:

Baked Goods

Method:

Oven
---
Description
Follow the Large Family Strawberry Cinnamon Rolls with Cream Cheese Icing recipe to prepare a delicious breakfast or snack. If you love cinnamon rolls and strawberries, find out how good they taste together!
---
Ingredients
DOUGH:
1 1/2 cup milk

2/3 cup unsalted butter, softened

6 1/2 cups all-purpose flour

2 packet instant yeast

1/2 cup sugar

1 teaspoon salt

2 egg

1/2 cup water
FILLING:
1 (18 ounce) jar strawberry jam

½ teaspoon cinnamon

2 cups strawberries, coarsely chopped

2 tablespoons flour
ICING:
1 (8 ounce) package cream cheese, softened

4 tablespoons unsalted butter, softened

¼ teaspoon vanilla

1 cup powdered sugar

2 tablespoons milk
---
Instructions
In a mixing bowl, combine 3 cups flour and yeast. Set aside.

In a saucepan, heat the milk, 2/3 cup butter, sugar, and salt until 120 degrees F. Remove from heat and stir until the butter is melted. Add to the flour and yeast.

Mix on low, using a regular paddle, adding the egg.

Change the mixer attachment to the dough hook. Beat the dough at low, adding the remaining flour a little at a time. Increase speed to medium until a soft dough forms, approximately 3 minutes.

Transfer the dough to a lightly greased bowl, turning once to coat both sides. Cover with a clean dishtowel.

Allow the dough to rise in a warm place until doubled, about 1 ½ hour.

Punch the dough down and turn out onto a floured surface. Cover and allow to rest for 5 to 10 minutes.

Combine the filling ingredients.

Roll the dough into a rectangle, approximately 20 inches by 10 inches. Gently spread with HALF of the filling mixture, leaving a 1-inch space on one long edge without filling.

Starting on the long side, roll the dough up, working it tightly but without pulling the dough too much. Seal the long edge by pinching it shut.

Cut the dough into 12 even slices by cutting the dough in half, cutting those halves in half, and then the quarters into three slices each.

Prepare two 9×13 casserole dishes with nonstick cooking spray.

Place remaining filling in the bottom of each casserole dish. Then, put each roll in the dish allowing about one inch between them. Cover and allow to rise in a warm place about 40 minutes or until doubled.

TIP: Before allowing the final rise, rolls may be tightly covered and placed in the refrigerator for up to 24 hours. Remove from the refrigerator and allow to rise before baking.

Bake at 350 degrees for 25 to 30 minutes.

While the rolls bake, combine the cream cheese, butter, and vanilla, stirring until well blended. Then, add the milk a little at a time until reaching the desired consistency.

Remove rolls from the oven and spread with icing.
Keywords: Large Family Strawberry Cinnamon Rolls with Cream Cheese Icing
These sweet rolls are so tasty! Make them for breakfast, snack, or dessert. They are a sweet treat your whole family will enjoy anytime.
FREE Emergency Pantry Planning Pack!
Don't forget to sign up for the emergency pantry planning pack for free to help you plan your pantry meals! The free Emergency Pantry Planning Pack will help you plan your needed pantry items! Printable pages include pantry inventory, grocery lists, meal planners, list of pantry staple items, and more.