The Year Round Homeschool
2017 Update: I wrote this post on The Year Road Homeschool about five years ago in 2012 (gulp!). Much has changed in our family's life since then. Now as we have toddlers up to teens and are currently homeschooling preschool, elementary, middle, and high school levels. We are not only still gentle year-round homeschoolers for all the same reasons listed below, but we also consistently homeschool in the afternoons and even early evenings these days. You can even see what late pregnancy homeschool days look like here.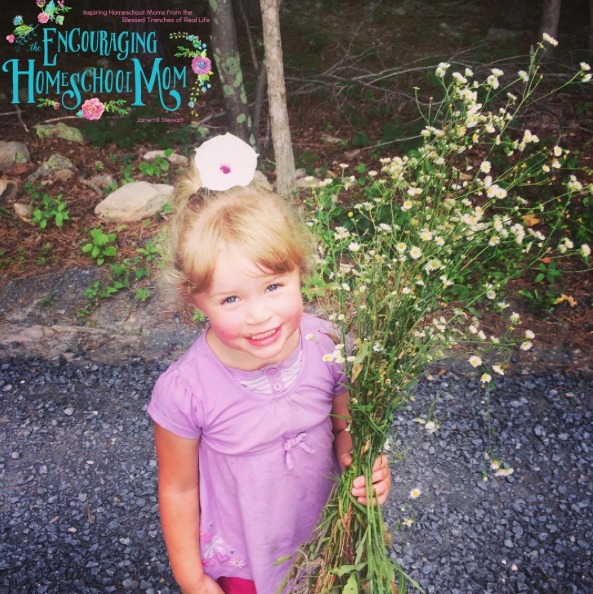 From Instagram, "Miss Amelia put a morning glory in her hair as her "crown," and picked a bouquet of wildflowers on our nature walk today ❤️ We also collected pine cones and interesting rocks."
This is because we have a major need to get outside, explore our forest, and work out energy during the first half of the day. Also in working through life with me running a business from home as a working homeschool mom, and various outside activities and teen work/life/job schedules, this is the natural flow that has developed over the years. I'm a big believer in leaning into whatever works. 🙂 If you're interested you can see our 2016-2017 homeschool routines and curriculum plans here for our preschool up through high school learning levels. You can also read and watch a day in my life as a homeschool mom of seven.
This post may contain affiliate links. Please read my disclosure policy.
The Year Round Homeschool 2012
This is the time of year when many homeschoolers are finishing up their lessons. Test are taken, workboxes are put on shelves, pool passes are warmed up, and the Summer months are calling.
No matter your homeschool schedule we all agree: In the homeschooling lifestyle the learning never ends, and the world is our classroom.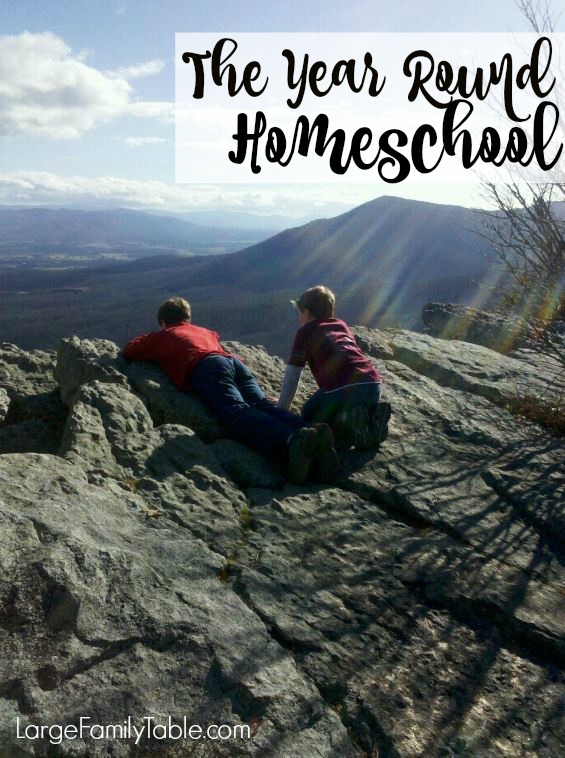 Year Round Homeschooling
Reasons we choose to homeschool year round
Flexibility ~ Homeschoolers have lots of flexibility, to begin with, and it's a gift. With year-round homeschooling, we're able to customize our school a step further. Custom schedules can be made around dad's work schedule too. We even took an entire year to travel full-time with my husband on his job. The trip was free, (sometimes I mention how we lived in a Marriott for a year and ate Olive Garden for dinner every night; it was truly a year of "living on vacation") we spent our daylight hours exploring our surroundings and did our table work in the evenings and on some weekends.
Travel opportunities ~ In March our family went to the Teach Them Diligently Convention in South Carolina. Part of our school that week was meeting Ken Ham. It was a good week. 🙂 We also take advantage of off-season vacation deals, like going to Florida in January and amusement/water parks in September, We're able to thoroughly enjoy these travel opportunities without feeling guilty or pressured about our school schedule.
Family & Fellowship ~ We love to have a family over for what I call an "Iron Sharpening Iron Fellowship Day." On these days table work can still be done in the mornings and friends come over at lunchtime.
Continuity ~ No need to spend the first month of a new school year reviewing from the previous year. We just keep on moving forward, one day at a time. For our family homeschooling, year round was a major step in experiencing for ourselves the lifestyle of learning that you hear so many homeschoolers talk about.
Zion riding on of Grandmother's horses 2012
Field trips & special events~Whether it's a trip to the Civil War battlefield or taking advantage of free days at the National Parks, with year round homeschooling we maximize our exploring opportunities.
Steady routine ~ We thrive on routine. More importantly, I thrive on routine. If my family takes off longer than a week, our routine gets very slack; before I know it life is feeling out of balance. I'm sure there are better moms than I who can keep steady life moving along over breaks. This Momma here has a hard time managing the house, the kids, the life when we get off our routine.
Remember, homeschool survival mode happens, and in those seasons year, round homeschooling is your friend.
Naomi catching frogs at our pond 2011
Frequently asked year round homeschooling questions
When do you start the next grade level?
This is an easy question for us because we don't focus on grade level. Several years ago we moved beyond the scope and sequence to allowing our children move at their natural pace. If the 8-year-old does work alongside the 11-year-old, that's okay. If the 5-year-old works on literature lap books with her big brothers and the 2-year-old begs for another chapter of Old Yeller; that's our plan. Our children keep working on their books until they're completed. Then we start the next one. This can happen ahead of time in February or the following October.
*I know as a new homeschooler this seems foreign and maybe even crazy; especially for moms, who like me, have to overcome the public school mentality. Don't feel beholden to the way this lady does things. You move forward how the Lord is guiding your family. You may be interested in more tips from 8 Things I Want New Homeschooling Moms to Know.*

How do you schedule your summer days?
You can read our current homeschool life schedule here. In the Summer we have our normal "daily life" schedule 4-days per week. Our table work time is moved from morning to afternoon. In the mornings after breakfast, the kids head straight for the trampoline, zip line, tire swings, and other outdoor fun. We come back inside for lunch; followed by our 2-hour table work time during our little boy's nap. Right after table work, it's back outside. If you've read Holy Spirit-led Homeschooling for any length of time you've no doubt seen the picture below.
For me this picture sums up the heart of our summer days; quilts spread out under the shady tree, stacks of books, precious memories.
Have you always schooled year round?
No, we haven't. Our first year of homeschooling was so hard (hear me…every day ended in tears) that my son and I needed that first summer off to learn to enjoy one another again. The following year we were in such a good flow that I saw no reason to stop or change things (read this Letting Go and Letting God: How the Lord Took Over Our Homeschool). A few years later we took another summer off after having a set of foster children that left us drained; around that same time, we had our 4th baby, Gabriel. We needed that summer to vegetate and recover. However, by August 1st we started the next school year.
What about keeping records and my state laws?
Yup, that state law question. To find out exactly what your state requires you need to contact HSLDA. We have been members of this organization for years and highly recommend it. Also, Homeschool Legal Advantage is offering free first year memberships. After your first year with HLA your subsequent years are based on donation. I feel legal membership for homeschoolers is very important. These organizations work diligently to keep the homeschool freedom that we enjoy available. For record keeping, I take lots of pictures, keep notebook samples of my children's work, and keep copies of annual test scores. An at home test that I also recommend is the CAT Testing. It can be administered at home, has year-round service, and is only $25 which includes scoring. Again, this test is accepted in many states, but you need to check the laws where you live.
There are no right or wrong homeschool schedules
As long as you're seeking the Lord and His best for your family and homeschool life you can't go wrong. We're currently homeschooling year round because it's what works best for our family dynamics.
I *heart* homeschool flexibility.
So, what about your family, do you homeschool year round? What kind of schedule works for you? No right or wrong answers. Let's share and give one another some great ideas!