How to Make Strawberry Shortcake
Nothing screams summer like a big bowl of homemade strawberry shortcake. You can feel the sun on your face while eating this yummy dessert. Bonus points for this large family mama is how easy it is to prepare. You can whip this up in one afternoon easily. While I give you the directions to make your own whipped cream, don't feel like you have to do it all by hand. Canned whipped cream is just as good if you already have that on hand. No shame in using what you have. This delicious dessert will taste great after one of our yummy large family casseroles.
**Use special promo code HELLO20 to take 20% off your first order in the shop including the SUPER MEGA ULTIMATE Large Family Freezer Meals Bundle here!**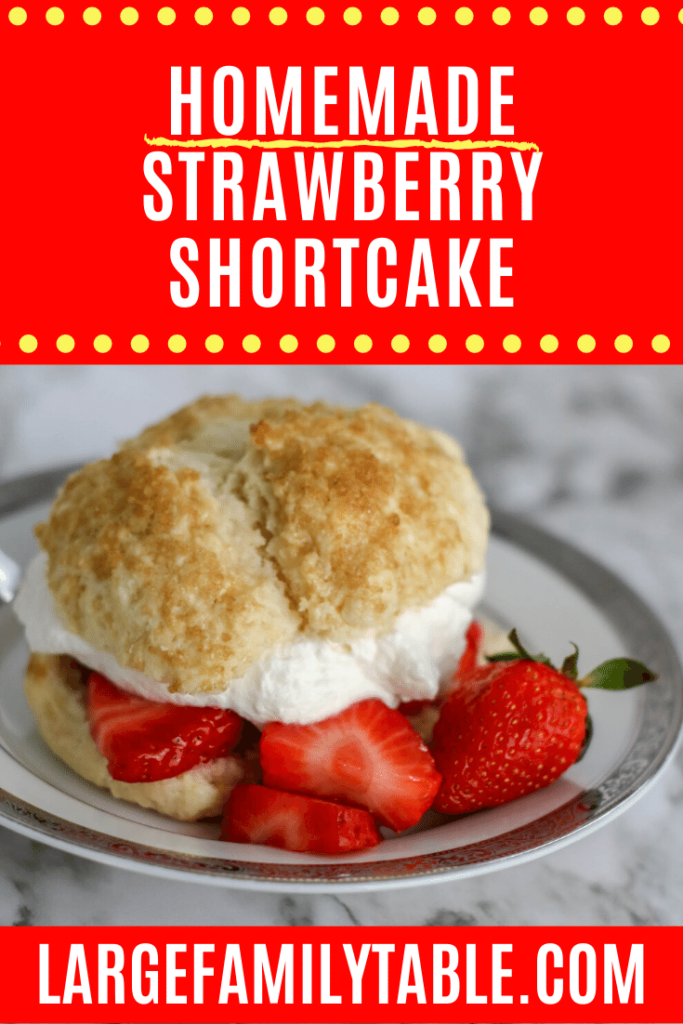 Where to Start
Begin preparations for your homemade strawberry shortcake by washing, hulling, and slicing your strawberries. Wash first then hull and slice your strawberries. If you hull first, your strawberries will absorb all the water and become tasteless. Believe me, no one wants that in their shortcake. Mix the strawberries with sugar then cover and set aside.
Making the Cake
Time to make the shortcake. Add flour, baking soda, baking powder, and salt to a food processor. Pulse until combined. Add the cubed butter. Process until the butter is combined and the flour is a sand-like texture.
Pour 1 1/4 cups buttermilk into a bowl. Don't have buttermilk? Add 1 teaspoon vinegar to your 1 1/2 cup milk. Let sit for 5-10 minutes and voila! Buttermilk. Mix flour mixture into the bowl until moistened. Use the remaining 1/4 cup to get it completely combined.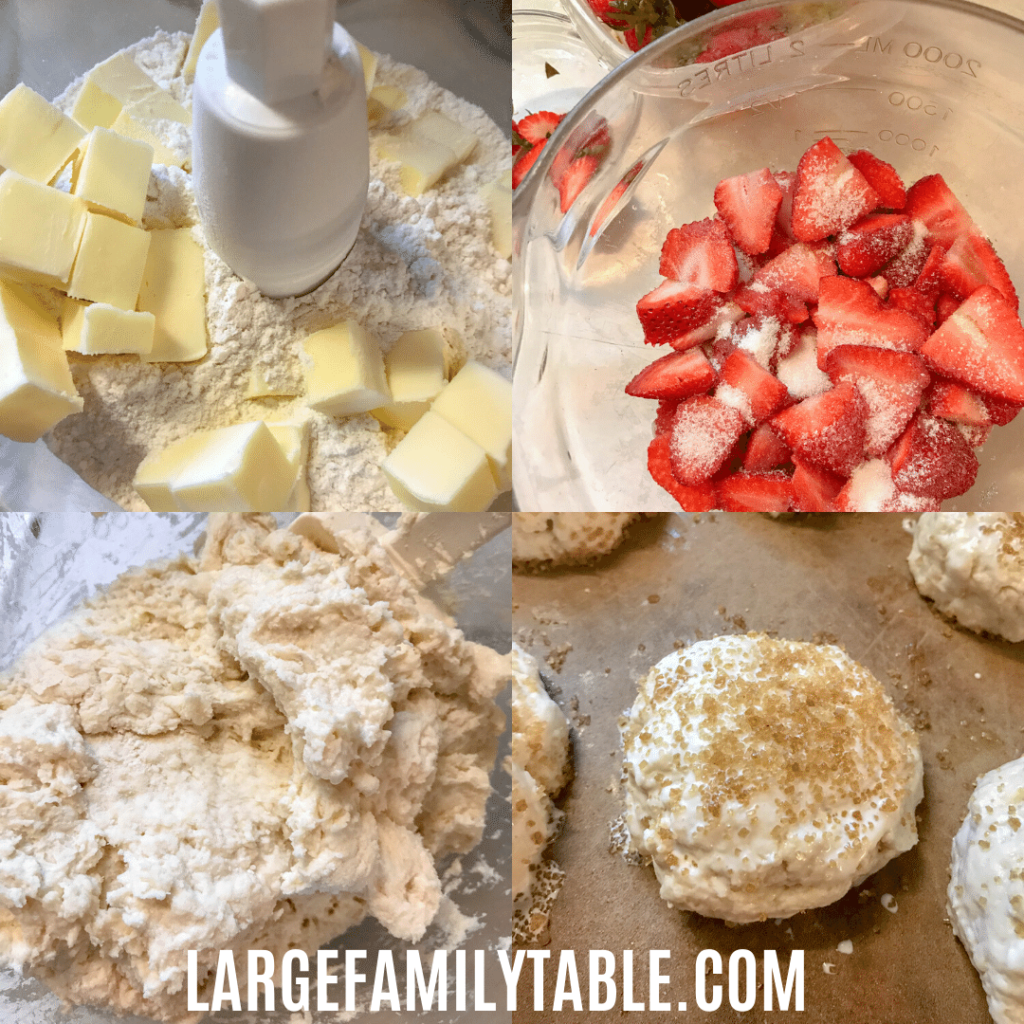 Scoop into 8 mounds on your sheet pan. Brush with heavy whipping cream. Smooth tops unless you like peaks. Bake in preheated 400 degree oven until golden brown which is usually 18-20 minutes. Remove from oven and let cool completely.
Making the Whipped Cream
While the shortcakes are cooling, make your whipped cream. It's not as hard as you may think. Add heavy whipping cream, sugar, and vanilla into your stand mixer bowl. Whisk at high speed until peaks form or about 1-3 minutes. Be careful! Once you've had homemade whipped cream, you won't ever want to eat the store-bought again. Don't say I didn't warn you.
To assemble. slice the shortcakes in half width-wise. Place one half on your serving dish, scoop strawberries on top, add a dollop of whipped cream then top with another shortcake half. Serve immediately.
Can you make strawberry shortcake ahead of time?
You can make all the ingredients ahead of time but don't assemble until ready to eat. The strawberries will make the shortcake all soggy and sad.
Looking for more dessert recipes?
Here are a few of our other delicious dessert recipes to try!
Homemade Strawberry Shortcake Recipe
Print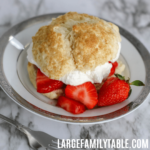 Homemade Strawberry Shortcake Recipe
Author:

Prep Time:

20 mins

Cook Time:

20 mins

Total Time:

40 minutes

Yield:

8 shortcakes

Category:

Dessert

Method:

Oven

Cuisine:

American
---
Description
Nothing screams spring is here like homemade strawberry shortcake. Easy to prepare and even easier to eat. 
---
Ingredients
For the strawberries:
4 to 6 cups strawberries, washed, hulled, and sliced
2 TBSP sugar
For the shortcakes:
3 cups all purpose flour
4 TBSP sugar
3 tsp baking powder
1 tsp baking soda
1/2 teaspoon salt
3/4 cup cold unsalted butter, cubed
1 1/2 cups buttermilk
1 TBSP heavy whipping cream
1 TBSP turbinado (coarse) sugar
For the whipped cream:
1 cup heavy whipping cream
2 TBSP sugar
1/2 tsp vanilla
---
Instructions
Toss sliced strawberries with sugar. Cover and set aside.
Preheat oven to 400 degrees.
Place flour, sugar,baking powder, baking soda, and salt in food processor. Pulse to combine.
 Add butter to food processor and pulse until butter is incorporated and the flour has a sand like texture.
Pour 1 1/4 cups buttermilk into a mixing bowl. Stir in flour mixture until completely moistened. Add additional 1/4 cup of buttermilk to get completely combined.
Divide dough into 8 portions. Create mounds in baking sheet then brush with heavy whipping cream. Pat down dough unless you prefer peaks. Sprinkle with turbinado sugar.
Bake until edges are lightly browned, about 18 to 20 minutes. Allow to cool completely before serving.
 To make whipping cream, add heavy whipping cream, sugar, and vanilla to a stand mixer. Whisk at high speed until peaks form, about 1 to 2 minutes.
Serve strawberry shortcake by slicing shortcakes in half across the width. Place bottom cake on serving plate, cover with strawberries, cover with whipped cream, then top with remaining shortcake.
Serve immediately.
Keywords: strawberry, shortcake, dessert
Your family will enjoy this little taste of summer. Homemade strawberry shortcake is one of those recipes that turn an ordinary meal into an extraordinary one. Luckily it's easy to whip up in one afternoon. Everyone knows, large family mamas don't have a ton of extra time in their day. Easy recipes like this one make us look like rock stars to our families. Yes and amen!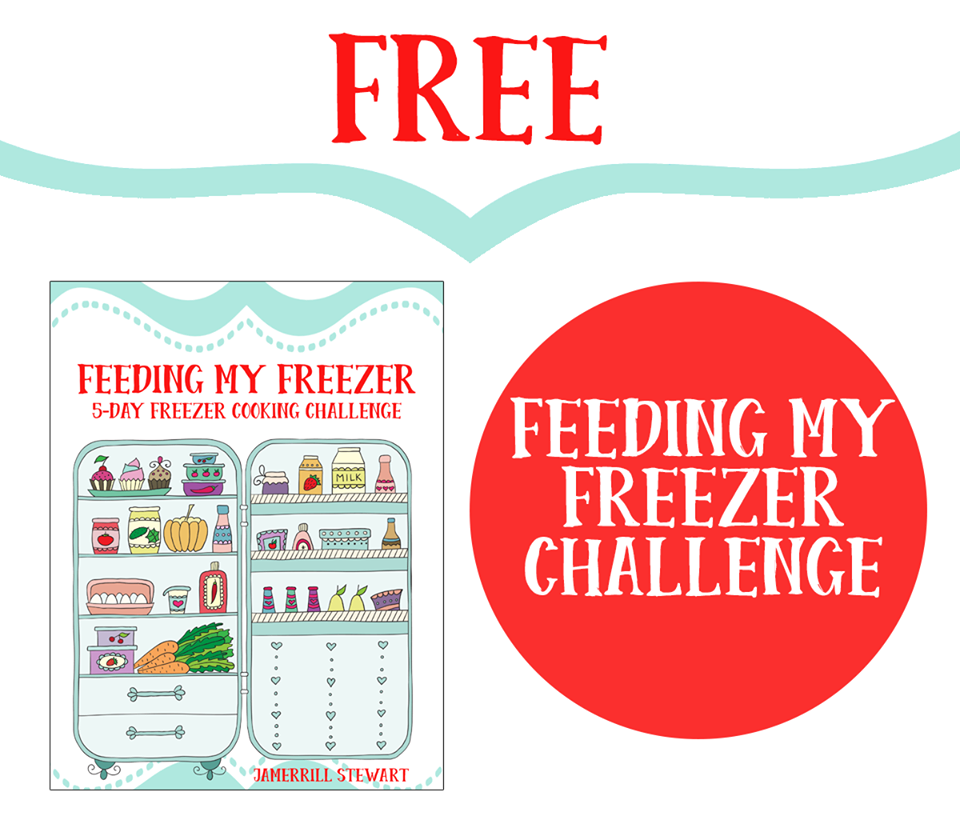 5-Day Freezer Cooking Challenge with Jamerrill!
FREE Freezer Cooking Quick Start Guide 17-page PDF with grocery list, recipes, full freezer cooking plan, cheat sheets, More! 
I WILL HELP YOU fill your freezer with 10+ freezer meals including breakfast, lunches, & dinners!
Any family size or dietary needs can easily accommodate and follow along!