Prepare a sweet breakfast treat with this Large Family Red Velvet Donuts recipe. Make fresh and flavorful donuts that you can offer to loved ones for breakfast and as a sweet snack to have throughout the day.
Do you enjoy donuts and red velvet cake? What if you could have both of your favorites in one simple treat? This Red Velvet Donuts recipe combines the taste of a traditional donut with a slice of red velvet cake, allowing you to make the most decadent breakfast treat you have ever tasted.
These donuts taste great when warm, room temperature, and even cold. You can get the children involved in helping you prepare this recipe because it is quite fun and straightforward to complete. You might want to make several batches of the Red Velvet Donuts ahead of time to ensure that you will always have some donuts available for anyone who wants them, especially those in your large family. If you're looking for more dessert ideas then try our Low-Carb Peanut Butter Fudge, our Wreath Fruit Pizza, or our Low Carb Peanut Butter Mousse.
****Use special promo code HELLO20 to take 20% off the entire MEGA DEAL get-it-all Bundle including the best-selling Large Family Freezer Meal Packs 1-12 + so much more!!****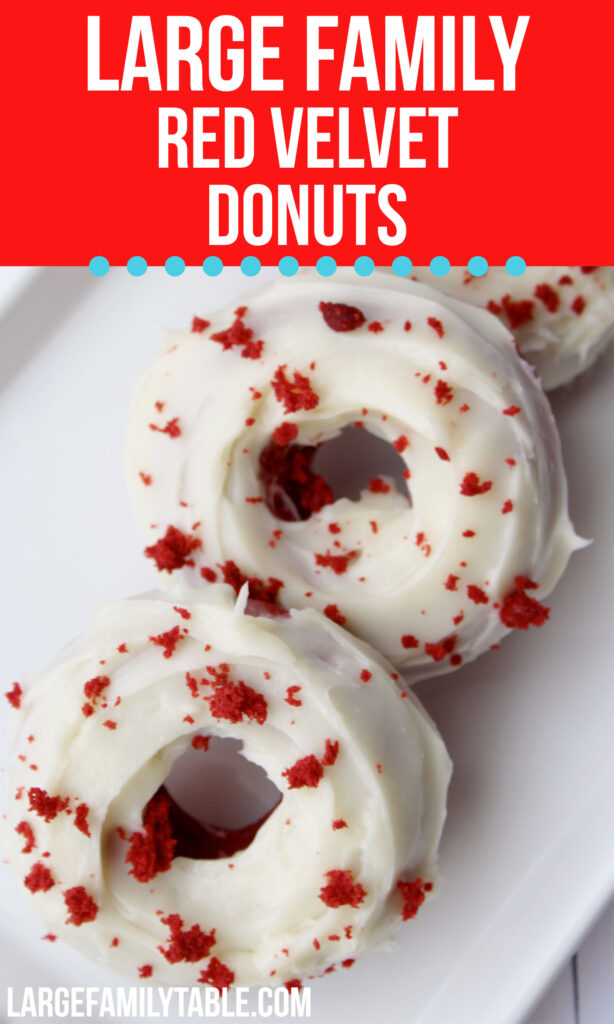 The Ingredients Required to Make the Large Family Red Velvet Donuts
You can prepare the Red Velvet Donuts with these ingredients:
Flour. The recipe starts with flour that will help you prepare the dough that will eventually turn into delicious donuts.
Vanilla Extract. Give the donuts a slight vanilla touch with the vanilla extract.
Cocoa Powder. Be sure to have a cocoa powder that you can add to your mixing bowl when creating the donut dough.
Red Food Coloring. The red food coloring is what gives red velvet cake its beautiful color.
Buttermilk. Adding buttermilk to your donut dough is a great way to ensure that the donuts rise perfectly and are as moist as possible.
Cream Cheese. You will use the cream cheese for the frosting that gets applied to the donuts.
In addition to the ingredients above, be sure to have sour cream, sugar, buttermilk, and eggs to help you prepare the Red Velvet Donuts.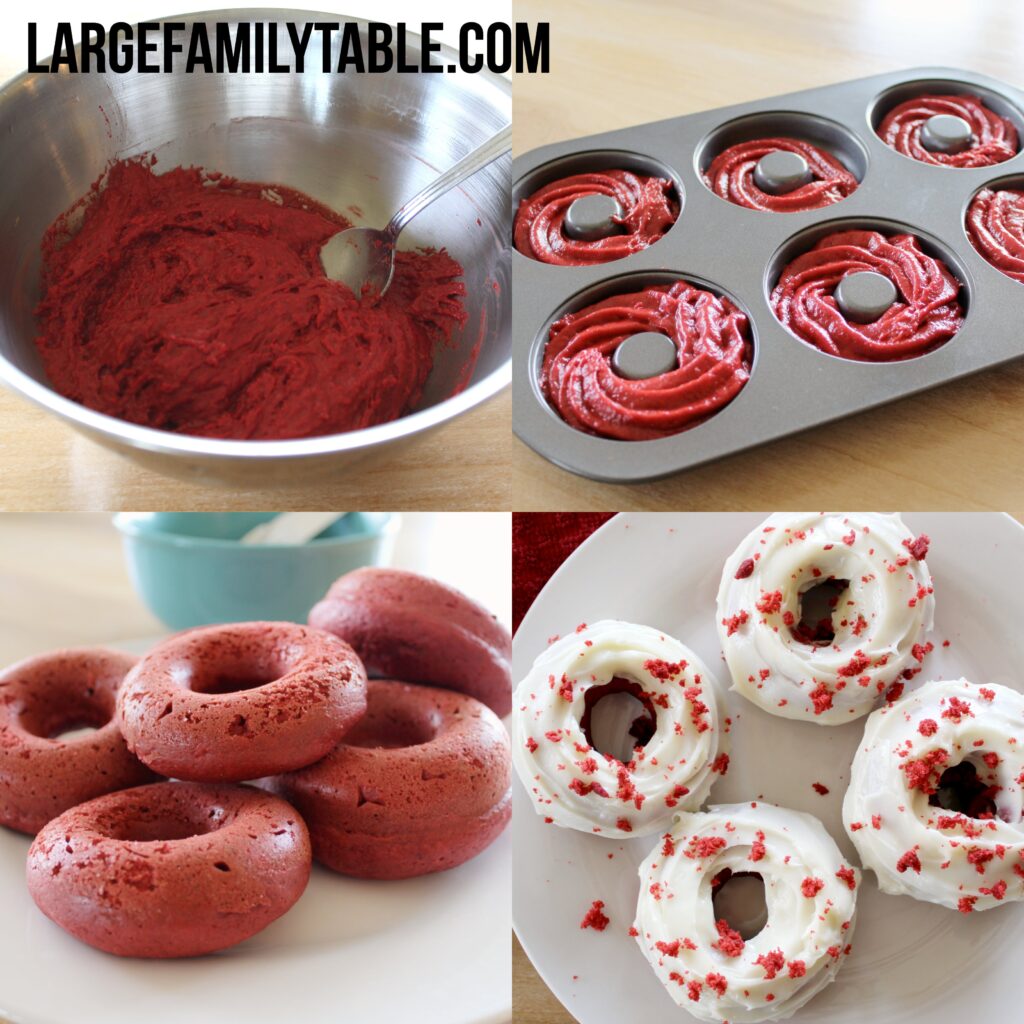 Helpful Tips on Storing the Red Velvet Donuts and Making Them Ahead of Time
If you have already baked your Red Velvet Donuts and need to store them, you should place them on parchment paper in an airtight container and keep them in the fridge to preserve their freshness for as long as five days.
If you have just made the dough for the donuts but have not yet baked them, you can store the dough in an airtight container in your freezer until you want to use it. The dough will stay good for six months. Simply defrost the dough by putting it in the fridge the night before you end up making the donuts.
What to Add to Your Red Velvet Donuts
After your donuts have cooled down, you can add your cream cheese frosting on top. You might want to leave them just like that or add sprinkles to the donuts. Besides sprinkles, mini chocolate morsels are a great topping to put on your Red Velvet Donuts. Some people like to add chopped pieces of chocolate, shredded coconut, and even different types of chopped nuts on top of their donuts with the frosting.
Need more ideas to feed your Large Family over the Holidays?
I am very excited to share this newest big-batch cookbook with you because I truly believe it will be helpful as you plan your family holiday get-together meals (or, really, any large family gathering where you need to feed a crowd)! In my Make-Ahead Holiday Meals to Feed a Crowd, you will find some of those wonderful and traditional holiday favorites like green bean casserole, stuffing, and gravy. But you also will get some "out-of-the-box" recipes that might just possibly become your family's NEW holiday favorites!
Here are more desserts to try!
Large Family Red Velvet Donuts
Print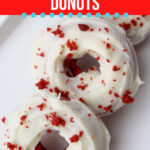 Large Family Red Velvet Donuts | Desserts for Large Families
Author:

Prep Time:

25 Minutes

Cook Time:

10 minutes

Total Time:

35 minutes

Yield:

24 Donuts

Category:

Dessert

Method:

Oven
---
Description
Prepare a sweet breakfast treat with this Large Family Red Velvet Donuts recipe. Make fresh and flavorful donuts that you can offer to loved ones for breakfast and as a sweet snack to have throughout the day.
---
Ingredients
3 cup all-purpose flour 

6 tsp. cocoa powder

1 cup granulated sugar

1 1/2 tsp. baking soda

3/4 tsp. salt

7  – 1/2 TBSP. unsalted butter , melted & set to room temperature

3 large egg 

6 tsp. vanilla

3 TBSP. sour cream , room temperature

1 cup buttermilk 

3 TBSP. red food coloring

1 1/2 tsp. white vinegar
Cream Cheese Glaze: 
3 TBSP. butter , softened

12 oz cream cheese, Room temperature

3 to 3 ½ cups powdered sugar, sifted

3 to 6 tablespoon cream or milk until mixture is smooth
---
Instructions
Preheat the oven to 350F degrees and prepare doughnut pan with non-stick cooking spray. 

In a large bowl combine the flour, cocoa, salt, sugar, and baking soda

In a separate medium bowl whisk together the melted butter, vanilla, egg, buttermilk and sour cream. Be sure this mixture is free of all clumps, then whisk in the red food coloring and vinegar. 

Combine the wet ingredients into the dry ingredients and whisk until fully incorporated. 

Pipe the batter into the donut pan using a piping tool if you'd like.

 

Bake for 8-10 minutes or until the doughnuts feel slightly firm. 

Allow to cool for about 5 minutes, then remove from the pan to continue to cool.  
 Cream Cheese Glaze
In a medium sized mixing bowl whisk together the butter and cream cheese until smooth.  Add in 1 cup powdered sugar and 1 tablespoon of milk and whisk until smooth.. The consistency should be smooth a thickened

Using a flat edge knife frost each donut. 

Optional: crumble 1 doughnut and sprinkle the crumbs on top of the donuts or decorate as desired. 
Keywords: Red Velvet Donuts
These Red Velvet Donuts are such a special treat for Christmas or Valentine's Day! Make these along with your Christmas cookies for a sweet new addition. They also make a great treat all year round so don't hesitate to make them anytime!
FREE Emergency Pantry Planning Pack!
Don't forget to sign up for the emergency pantry planning pack for free to help you plan your pantry meals! The free Emergency Pantry Planning Pack will help you plan your needed pantry items! Printable pages include pantry inventory, grocery lists, meal planners, list of pantry staple items, and more.