Prepare the perfect tasty and delicious breakfast treat by following this Apple Challah French Toast Casserole. The recipe makes early morning meals a breeze while leaving everyone in the home feeling satisfied. They say that breakfast is the most important meal of the day, and I have come to realize that over the years. When I eat a breakfast that fills me up, I am far less likely to snack between my other meals of the day. Although I know how important it is to eat breakfast, I am always looking for ways to spend less time preparing the meals that my family and I will eat, and fun breakfast ideas.
**Use special promo code HELLO20 to take 20% off your first order in the shop including the SUPER MEGA ULTIMATE Large Family Freezer Meals Bundle here!**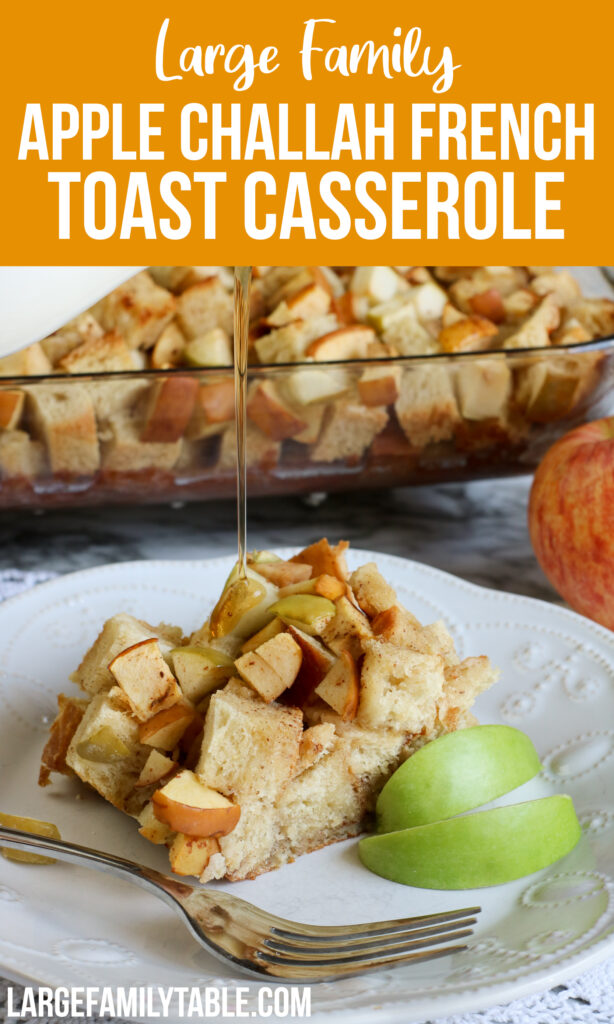 Apple Challah French Toast Casserole
The Apple Challah French Toast Casserole is a favorite family dish because it is both kid-friendly and adult-friendly. It is one of the most satisfying breakfast foods I have ever tasted. I love the taste of baked apples with cinnamon. It is the reason that apple pie is one of my favorite desserts. I am also a big fan of French toast for breakfast. 
What makes this recipe such a huge hit in my household is that it combines that sweet flavor of baked apples with cinnamon while also giving me that savory taste that I would get when biting into a piece of French toast. In addition to how good it tastes to all of us, I love making the Apple Challah French Toast Casserole because it is such a simple dish to make with plenty of servings to go around. I am also a big fan of apples in breakfast such as these Apple Pie Oatmeal Breakfast Cookies or these Apple Pie Overnight Oats.
What Makes the Recipe Special to Me
The Apple Challah French Toast Casserole recipe is special to me because it uses Challah bread instead of traditional sliced bread.
Challah bread brings this dish to life because of its sponge-like texture and sweetness from the touch of honey added to it.
The bread holds up well when combined with the other ingredients in the dish instead of becoming a soggy mess.
It is a non-dairy bread option for those looking to limit their dairy intake.
I have so much fun preparing this casserole dish with my kids. I get the kids to help me prepare the bread and put everything in the casserole dish before placing it in the oven.
The kids love that they can lend a helping hand while making one of their favorite breakfast meals of all time.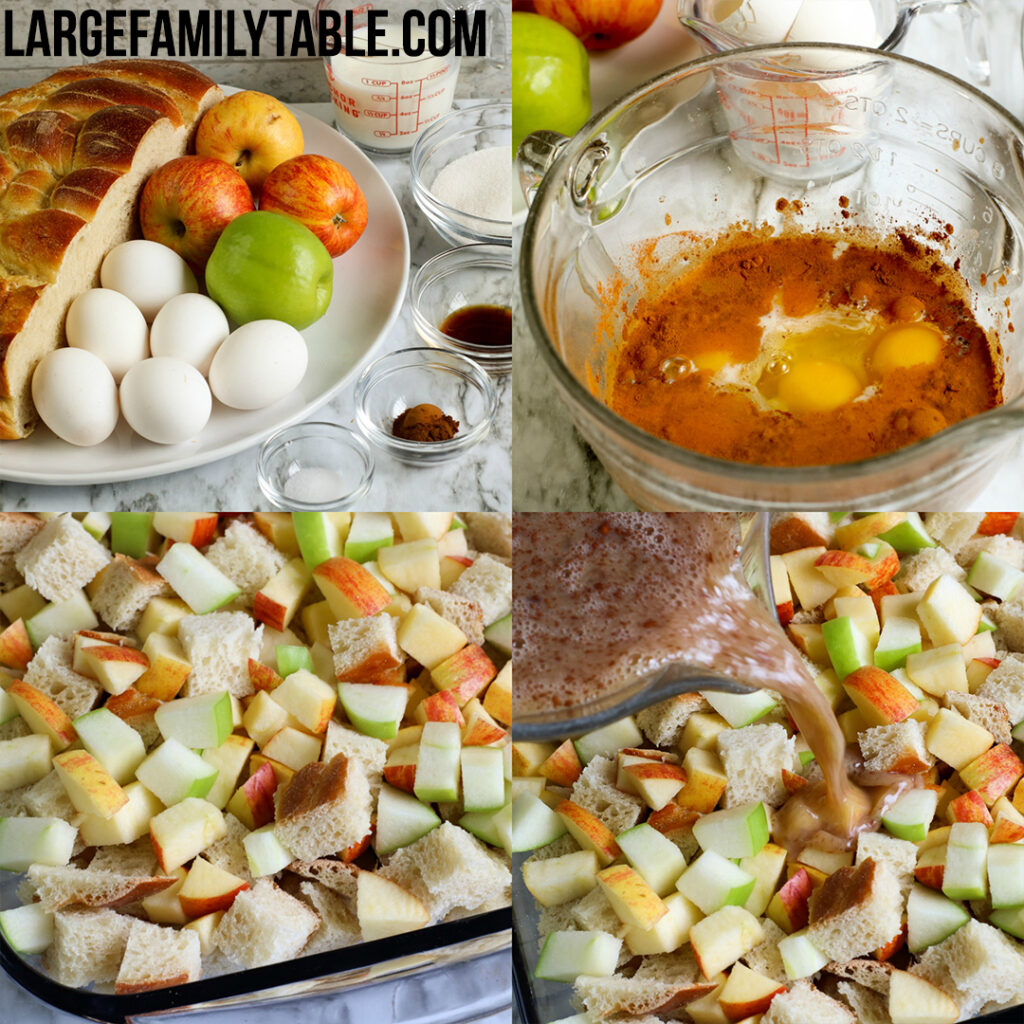 Food Storage Tips After Preparing Your Apple Challah French Toast Casserole
The last thing you want is for such a tasty breakfast meal to go to waste, so it is important to know how to store the food properly. You can slice the casserole into portions, wrap each piece with plastic wrap, and then put them together in a large food storage bag with a zipper seal.
Place the casserole portions in the fridge until you want to eat them. While you can eat it right from the refrigerator, all it takes is a few seconds in the microwave to warm the casserole and make it taste just like it did when it came fresh out the oven.
Where can I find more large family breakfast recipes?
Didn't you just LOVE my Apple Challah French Toast Casserole?! I know it may seem easier to buy pre-made breakfast items, but you can save lots of time and money just by making breakfast ahead of time with my Breakfast Freezer Meals Pack, it's number 10 in my Large Family Freezer Meals Series. It includes 10 amazing breakfast recipes with directions to help you make 25 breakfast meals to put in your freezer!If your freezer is already full or you just don't have the freezer space, then try my Easy and Simple Large Family Sheet Pan Breakfasts which includes 10 delicious and easy breakfast meals to make your large family. Save time and money!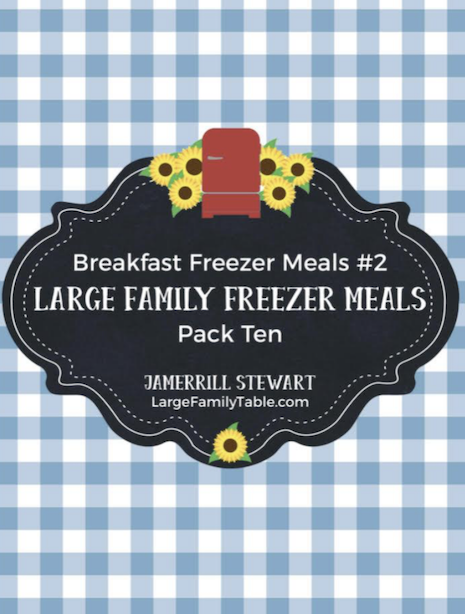 More breakfast recipes your family will enjoy!
Apple Challah French Toast Casserole
Print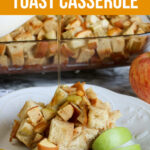 Apple Challah French Toast Casserole | Large Family Breakfast Ideas
Author:

Prep Time:

15 Minutes

Cook Time:

60 Minutes

Total Time:

1 hour 15 minutes

Category:

Breakfast

Method:

Oven
---
Description
If your family wants to try something new, then this Apple Challah French Toast Casserole is a must try! 
---
Ingredients
½ loaf challah bread cubed 
5 eggs
¾ cups milk
⅔ cup sugar
1 teaspoon ground cinnamon
1 teaspoon vanilla extract
½ teaspoon salt
3 large apples, cored and diced
---
Instructions
Prepare a 9×13 casserole dish with nonstick cooking spray.
Place the bread and apples in the casserole dish. Toss together.
In a large bowl, whisk together the eggs, milk, sugar, cinnamon, vanilla, and salt. Pour evenly over the casserole.
Cover and refrigerate to allow the bread to soak for at least an hour or overnight.
Preheat the oven to 350 degrees. Uncover and bake for 60 minutes or until the eggs are completely set.
Serve warm with honey or maple syrup.
Keywords: Apple Challah French Toast Casserole
This breakfast recipe is perfect for a fall morning. I love that I can make it the day before and it's ready to go in the oven for a hot breakfast the next morning.
FREE Emergency Pantry Planning Pack!
Don't forget to sign up for the emergency pantry planning pack for free to help you plan your pantry meals! The free Emergency Pantry Planning Pack will help you plan your needed pantry items! Printable pages include pantry inventory, grocery lists, meal planners, list of pantry staple items, and more.