For the perfect fall-inspired, on-the-go breakfast treat, these Apple Pie Oatmeal Breakfast Cookies are a top choice. Prepare the cookies with ease, let them bake and create the perfect aroma in your house, and enjoy each sweet yet savory bite that will leave you feeling full and ready to start your day.
If I had to choose a favorite pie from all the different options in existence, it would be apple pie. I just love the fresh taste of crisp apples with each bite, along with that added cinnamon flavor and sweetness from the spices that get put together. My favorite thing about apple pie, aside from the way that it tastes, is that I can eat it cold or hot, and it will still taste amazing.
*Use special promo code HELLO20 to take 20% off your first order in the shop including the SUPER MEGA ULTIMATE Large Family Freezer Meals Bundle here!**
Apple Pie Oatmeal Breakfast Cookies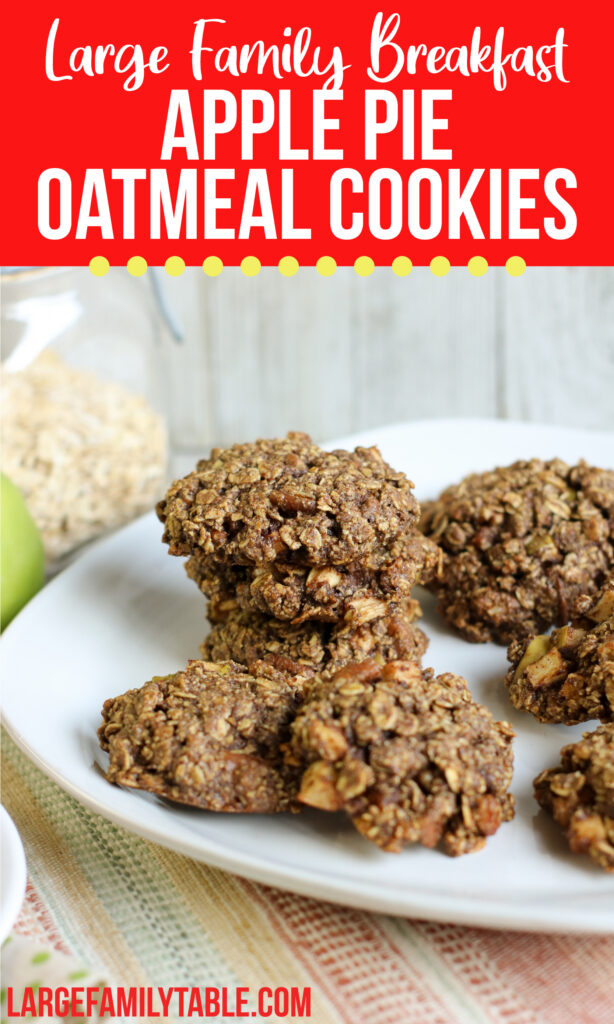 Tips for Making Tasty Apple Pie Oatmeal Breakfast Cookies
As much as I would like to, I don't (usually) eat dessert for breakfast, but I found a way to enjoy that excellent apple pie taste while having something nutritious and filling for breakfast. Of course, we have plenty of traditional breakfast recipes and muffins to choose from, too!
The Apple Pie Oatmeal Breakfast Cookies satisfy my craving for apple pie, but they contain oatmeal that contains nutrients and vitamins, and they are perfect to have when I am on the go.
If you find yourself doing many things in the morning and not having enough time to sit down and eat breakfast, these breakfast cookies are a great alternative.
You can eat them room temperature or warm them up for a few seconds in the microwave before heading out the door.
Not only are the cookies great for adults, but they are also the perfect breakfast or snack for the children to eat.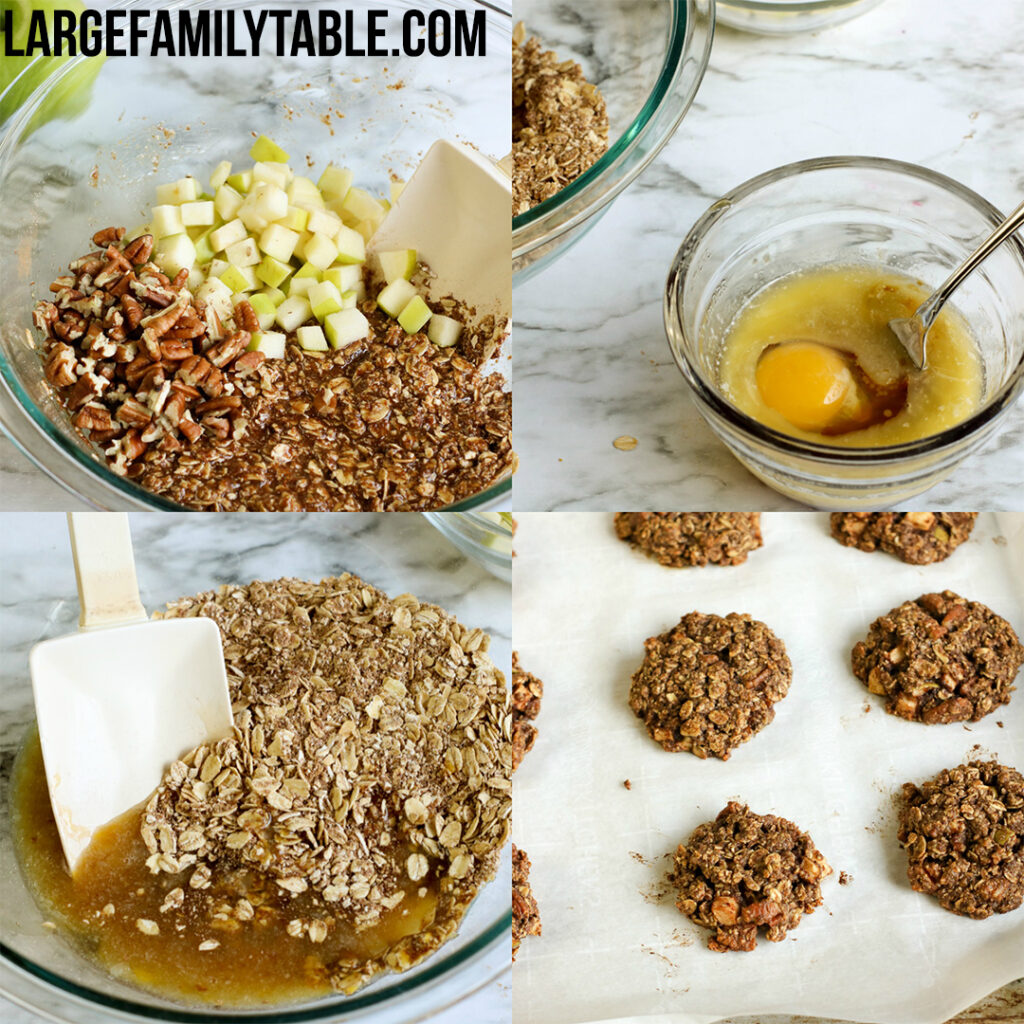 The Benefits of Making Apple Pie Oatmeal Cookies
Making these cookies has its advantages. The recipe is easy to follow, it only takes a few minutes to prepare the cookies, and you do not need to bake them too long.
You can make these wholesome cookies in less than an hour and have them sitting out on a rack to cool down a bit before you bite into them.
Once you have made the apple pie oatmeal breakfast cookies, you may want to eat a few each day to enjoy the apple pie flavor without actually having a traditional apple pie slice.
These cookies combine the best of both worlds with the use of fresh apples, oatmeal, and assorted spices that give the cookies their amazing flavor.
You can make several batches at once, put some in a food storage container, and keep them in the fridge. However, you may not need to store them for too long because these cookies are undeniably good.
Another great reason to prepare the apple pie oatmeal breakfast cookies is to spend quality time with the kids while making something that the whole family will enjoy eating.
You can let your children help mix the wet and dry ingredients, shape the cookies to your liking, and then spread the cookies out on the baking sheet before you put them in the oven. And of course, make sure you have the right tools on hand before you get started.
Where can I find more large family breakfast recipes?
If you love these Apple Pie Oatmeal Breakfast Cookies, you'll love the other breakfast recipes in my shop! Breakfast doesn't have to be complicated to be filling and healthy. I know it may seem easier to buy pre-made breakfast items, but you can save lots of time and money just by making breakfast ahead of time with my Breakfast Freezer Meals Pack, it's number 10 in my Large Family Freezer Meals Series. It includes 10 amazing breakfast recipes with directions to help you make 25 breakfast meals to put in your freezer!If your freezer is already full or you just don't have the freezer space, then try my Easy and Simple Large Family Sheet Pan Breakfasts which includes 10 delicious and easy breakfast meals to make your large family. Save time and money!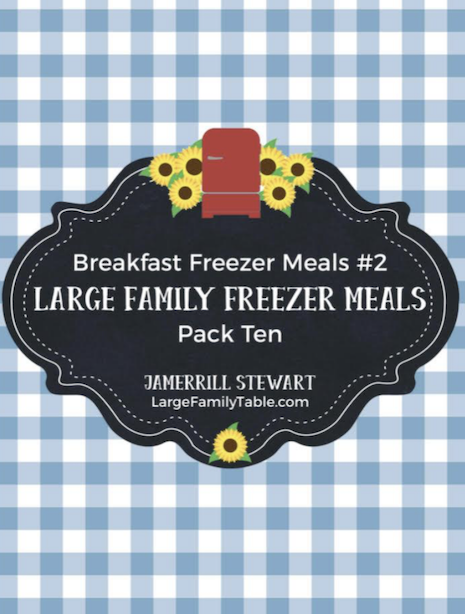 Here are more large family desserts your family will enjoy!
Apple Pie Oatmeal Breakfast Cookies
Print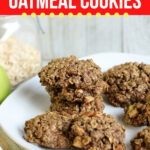 Apple Pie Oatmeal Breakfast Cookies | Large Family Dessert
Author:

Prep Time:

20 minutes

Cook Time:

10 minutes

Total Time:

30 minutes

Category:

Dessert

Method:

Oven
---
Description
The next time you want to have Apple Pie for breakfast but want to be sneaky about it, give this Apple Pie Oatmeal Breakfast Cookies a try. 
---
Ingredients
1 cup old-fashioned oats
divided ½ teaspoon baking soda
1 ½ teaspoon ground cinnamon
¼ teaspoon ground nutmeg
¼ teaspoon salt
¼ cup ground flax
2 tablespoons butter melted and cooled
¼ cup maple syrup
1 egg
1 teaspoon vanilla
¾ cup finely diced green apple
½ cup chopped pecans, optional
---
Instructions
1. Preheat oven to 375 degrees. Prepare a large baking sheet with parchment paper or nonstick cooking spray.
2. Place ½ cup oats into a food processor or blender and pulse until the oats are ground into flour.
3. In a large bowl, whisk together oats, oat flour, baking soda, cinnamon, salt, and flax.
4. In a medium bowl, whisk together the butter, maple syrup, egg, and vanilla. Combine the wet ingredients with the dry ingredients.
5. Stir in the apple and pecans.
6. Using a large scoop, divide the dough into 16 cookies. Press the tops flat as these cookies remain in the same shape as they cook.
7. Bake for 10 minutes or until the middle is set. Allow cooling on the baking sheet for 10 minutes before transferring to a wire rack.
Keywords: Apple Pie Oatmeal Breakfast Cookies
These cookies are the perfect treat to take outside for snack, while reading a book with your children, on a fall afternoon. I love that they combine healthy ingredients in a tasty way!
FREE Emergency Pantry Planning Pack!
Don't forget to sign up for the emergency pantry planning pack for free to help you plan your pantry meals! The free Emergency Pantry Planning Pack will help you plan your needed pantry items! Printable pages include pantry inventory, grocery lists, meal planners, list of pantry staple items, and more.