Some days I get really energetic and surprise my family with fun snacks in addition to all their regularly scheduled meals. Usually, I pick recipes that are super easy or one of my teens can help. Air fryer apple fries are amazingly simple to make by anyone but oh so tasty.
**Use special promo code HELLO20 to take 20% off your first order in the shop including the SUPER MEGA ULTIMATE Large Family Freezer Meals Bundle here!**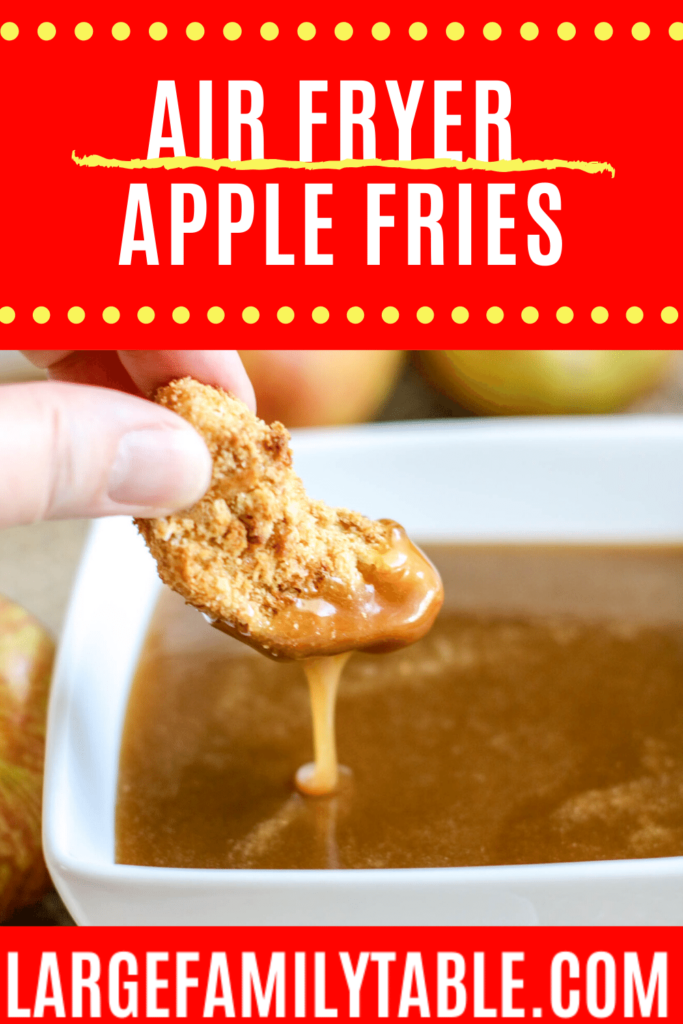 Is air fried food healthy?
In this case, yes and no. It's a dessert after all. There are some calories attached to it but not as many as would be if deep fried. Air frying your food will get you less calories than if you deep fried it.
What can be cooked in an air fryer?
Pretty much anything you would fry or bake can be cooked in an air fryer. I've made cookies, pita chips, chicken thighs, bacon and a gazillion other things. If you're looking for loads of air fryer recipes, then check out my friend, Vegetarian Mama.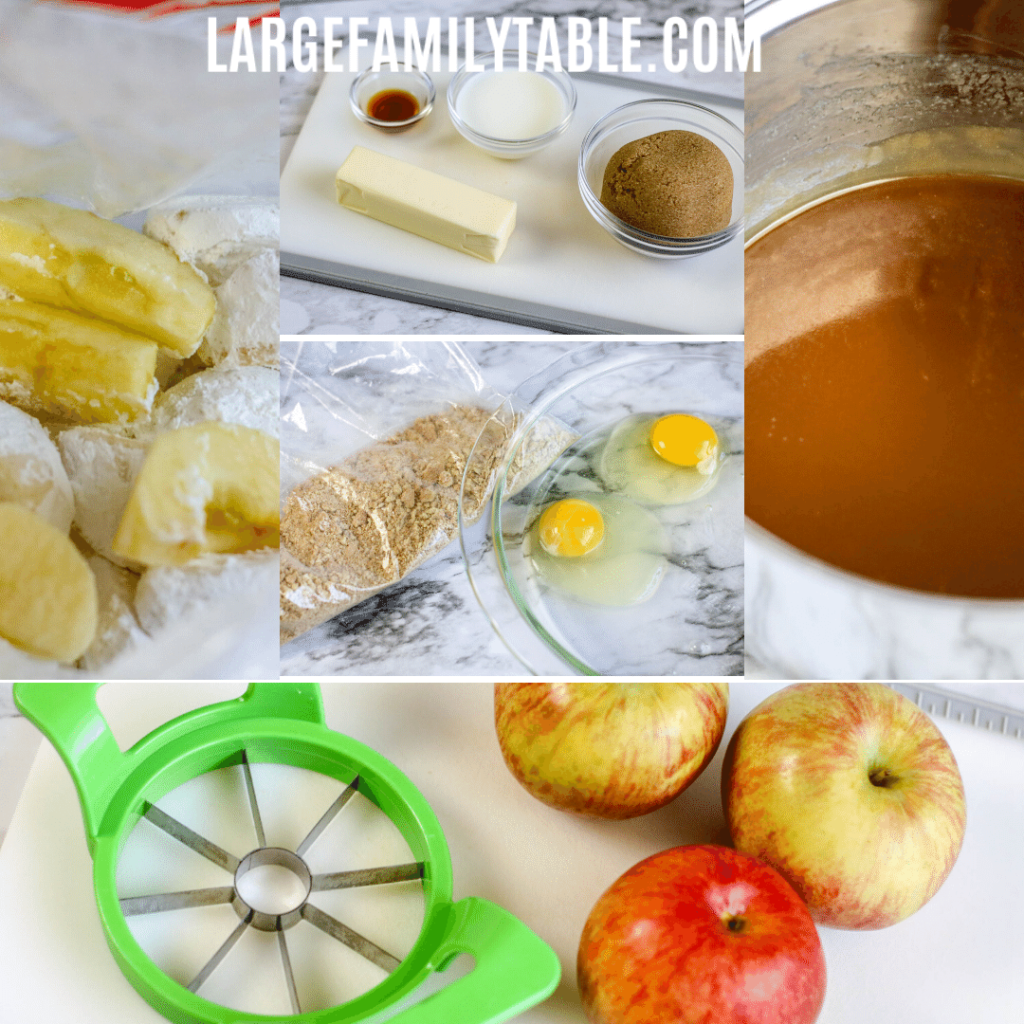 Gather all your ingredients. Wedge your apples and put them in a gallon sized freezer bag with the cornstarch and shake them all about. Little people love to do this part. They will have it shaken all together in no time, I promise.
Combine graham cracker crumbs with the brown sugar in a bowl. Here's a fun tip that has saved my life on quite a few occasions. Don't have graham cracker crumbs but have graham crackers. Put those in a freezer bag and give the kids a hammer. Have them beat on the bag until all the crackers make crumbs. Voila! Graham cracker crumbs. Add eggs to another shallow bowl to make a dipping station.
Remove apples from cornstarch bag, dip them in the egg mixture, then graham cracker mixture. Place on air fryer basket that has been sprayed with non stick cooking spray. Cook in batches for 7-8 mins set to 380 degrees. Keep apples warm while the others cook.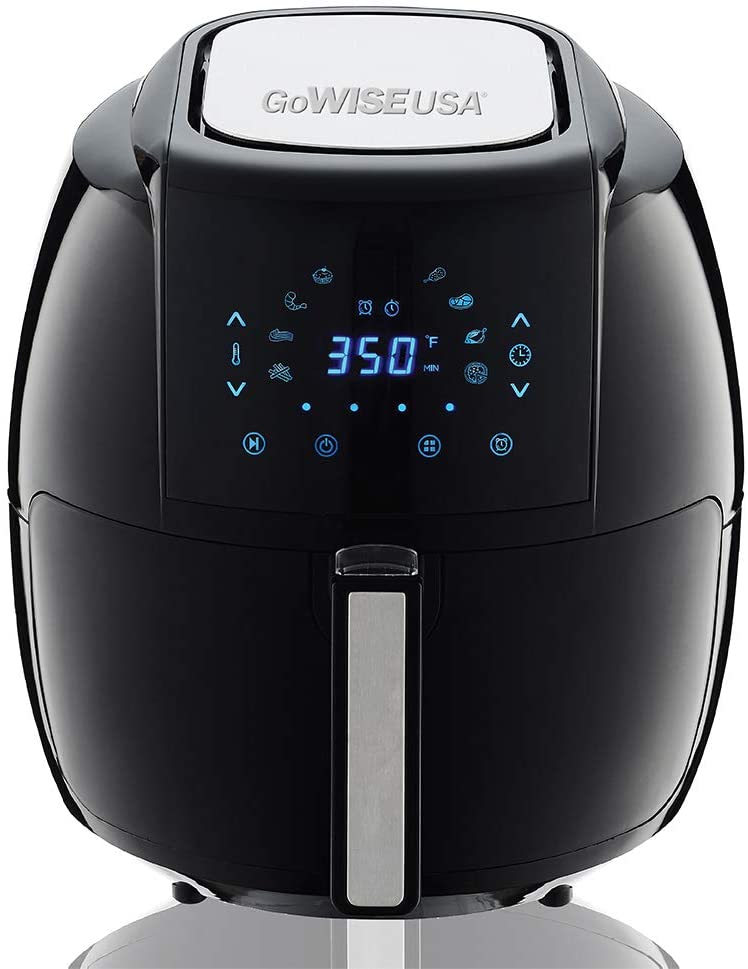 Print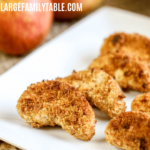 Large Family AIR FRYER APPLE FRIES RECIPE
---
Description
These fun apple fries are easy to make in your Air Fryer in no time. Your little people will enjoy dipping them in the caramel sauce.
---
Ingredients
Ingredients:
8 Fuji apples, cored, peeled and cut into wedges

1 cup cornstarch

8 eggs, beaten

4 cups graham cracker crumbs

12 tablespoons brown sugar, packed

Non-stick cooking spray
For caramel sauce:
2 cup brown sugar, packed

2 sticks (1 cup) butter

1/2 cup heavy cream

2 teaspoons vanilla extract, optional
---
Instructions
Instructions:
Prepare air fryer basket with non-stick cooking spray.

Place apples in a zip-top storage bag. Add cornstarch and toss until evenly coated.

In a bowl, combine graham cracker crumbs and brown sugar. Add eggs to another shallow bowl to create a dipping station.

Remove apples from bag and dip in eggs, coating on all sides. Then, dip in graham cracker crumbs, coating on all sides.

Place apples in air fryer basket leaving space between and without stacking. 

Cook at 380 degrees for 7 to 8 minutes, using tongs to flip halfway.

Remove from air fryer and keep warm. 

Repeat until all apples are cooked through. Serve warm.
For caramel sauce:
Place butter and brown sugar in a medium saucepan. Cook over medium heat until it reaches a boil.

Add whipping cream to boiling sugar mixture and stir constantly until the sauce begins to thicken. Remove from heat. The sauce will continue to thicken as it cools.

If desired, stir in vanilla.
The best part is the caramel sauce so don't neglect it. It's actually better if you make the sauce after you put the first batch in the Air Fryer. Place the butter and brown sugar in a pot and heat to boiling. Add whipping cream and boil until slightly thickened. Set aside and it will thicken more as it sits. Don't put your finger in to taste test it too soon or bad things will happen. True story.