It has been many years since I've done any kind of home canning. Back at our farmhouse I grew large gardens for several summers and canned many things. Then my accidental online business exploded, I had several more babies, we moved (had some "yeehaw times" with that), and life just felt shall we say *a tad more complicated.* This year with our journey back into homesteading at our perfect-for-us property, canning at home is a hobby and skill I wanted to dust back off. I don't know about you, but I want to get back to even more things I love!
****Use special promo code HELLO20 to take 20% off the entire MEGA DEAL get-it-all Bundle including the best-selling Large Family Freezer Meal Packs 1-12 + so much more!!****
Home Canning for Beginners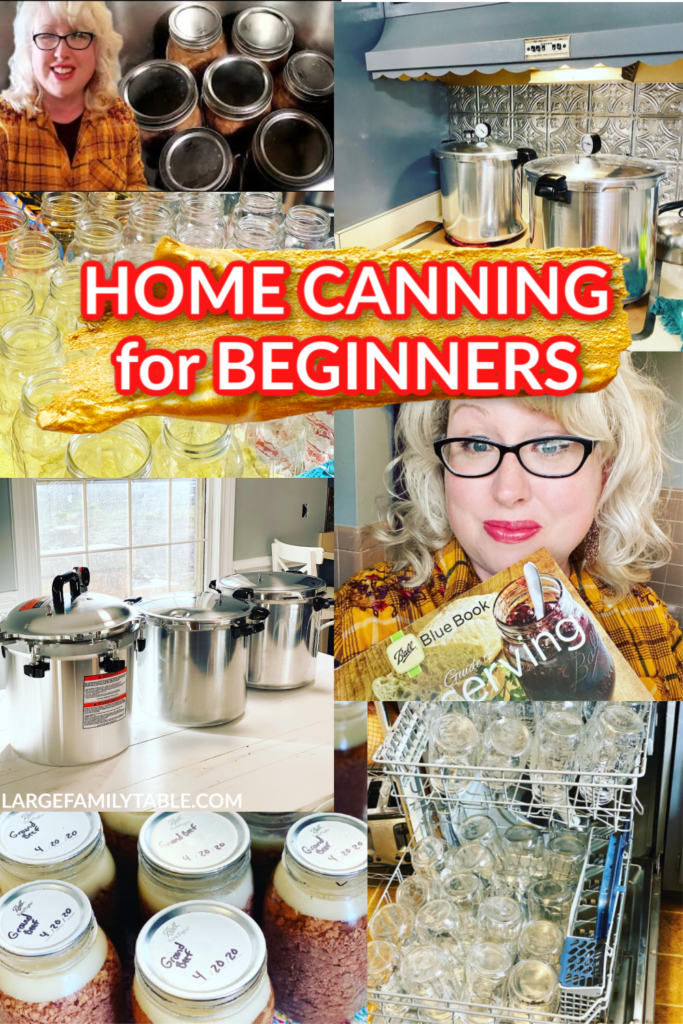 I'm sharing my canning for beginners' adventures with you as a non-expert. I shared some canning pictures on Instagram the other week with my afternoon home canning ground beef in the pressure canner. I've done and will continue to do a lot of reading on safe home canning. I'm gathering resources, watching videos, and following the directions in approved canning books.
Because of all the home canning learning I'm doing at home, I wanted to share with you several of my favorite resources for learning home canning. I feel the very best way to learn just about anything is to jump right in and do it. Experience is a mighty fine teacher. I like to gather information, but not sit on the fence for too long. I am a jumper and a doer. This sometimes gets messy, but sometimes it helps me figure out a lot.
How to Start Home Canning
Here are the home canning tools and resources I'm using as I jump back into my pressure canning at home journey. Below you'll find the exact home canners I've purchased, my home canning tools, the best canning books, and lots of great home canning videos!
Safe Home Canning for Beginners
Both the USDA Guide to Safe Home Canning and the National Center for Home Food Preservation are the go-to resources for safe home canning practices. Here are the FDA home canning guidelines as well.
Home Canning Pressure Cookers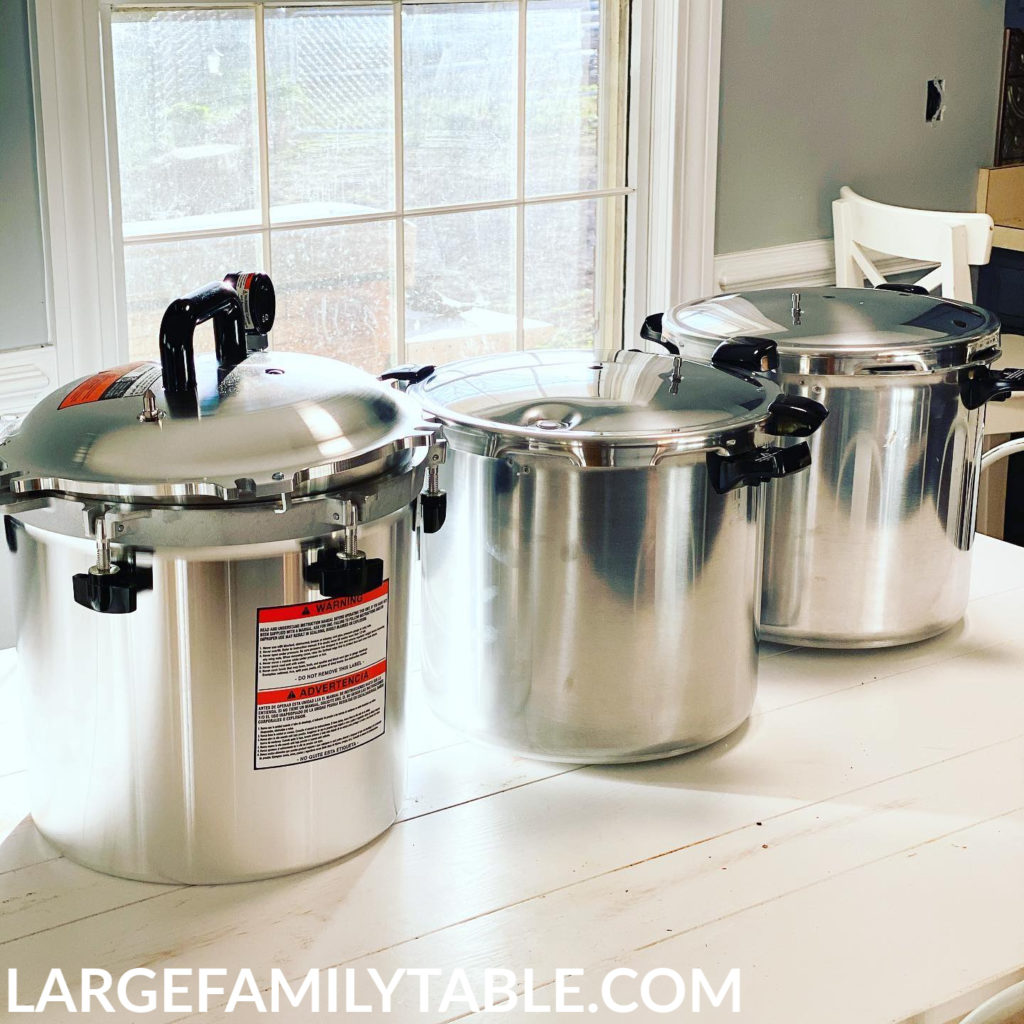 In today's new Canning for Beginners YouTube video, where I also share my first time canning ground beef, I share an unboxing of my new pressure canners. Since filming this video, I've canned multiple times with my new 23 qt Presto Pressure Canners.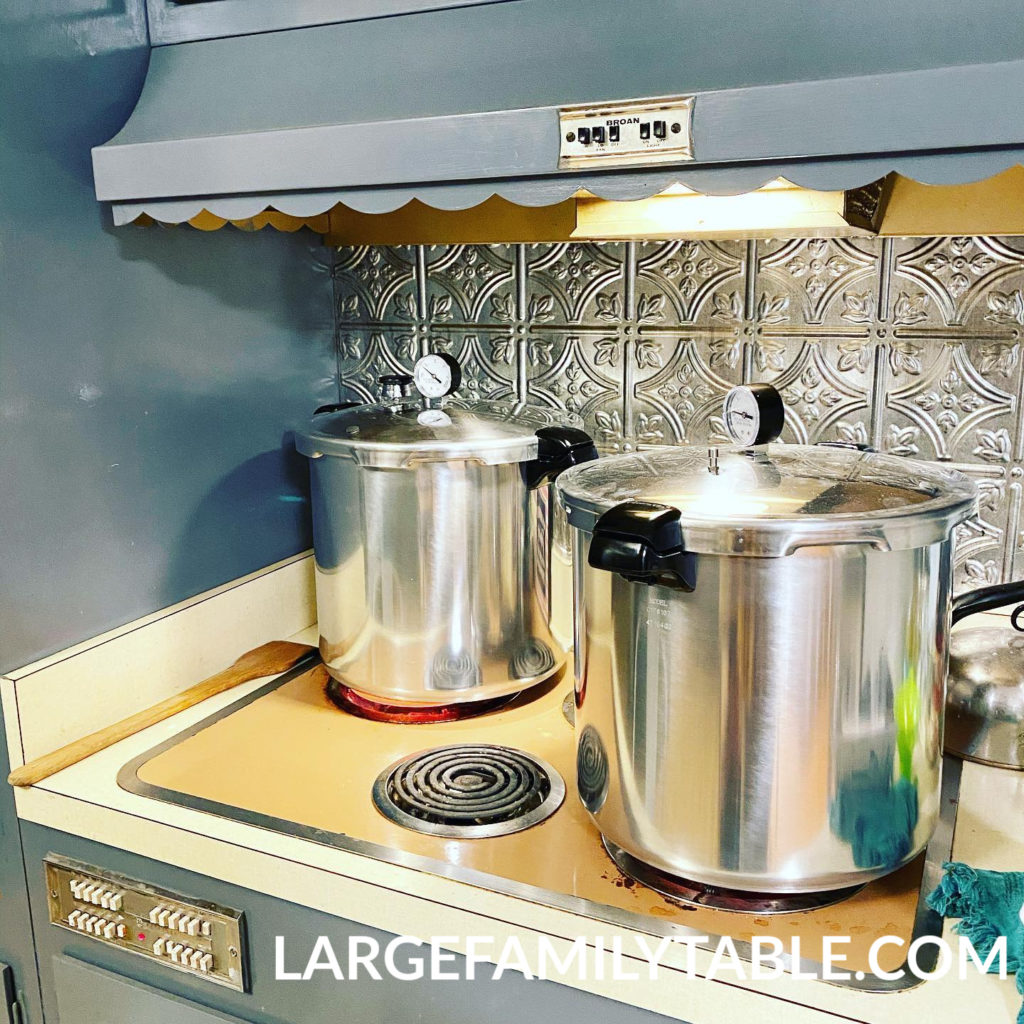 Because I have big home canning plans, I also purchased a 25 qt All American Canner. The All American Canner is a BEAST and goes all the way up to 40 QUARTS!! You know I love "mega & lots," but wow 😮 that's big.
As far as getting starting with home canning, know that all of these pressure canners come with an instruction manual with full directions and recipes! Even though I'm clinging to my Ball Canning Books (linked below), I have found the manuals with the pressure canners to be extremely helpful.
What's the Difference Between a Pressure Canner and Waterbath Canner
There are two main types of home canning: water bath canning and pressure canning. Here are several good articles that share the difference between water bath canning and pressure canning:
Boiling Water Bath Vs. Pressure Canning from The Spruce Eats
Unraveling the Mystery: Water Bath vs Pressure Canning shared by the HomesteadDreamer
Pioneering Today-Canning 101 Water-Bath vs. Pressure Canner
Water Bath Canning and Pressure Canning: Explained by Mother Earth News. And I love how they said, "Master water bath canning and pressure canning and there'll be nothing you can't can."
Boiling Water Bath vs. Pressure Canning
Home Canning Jars
Of course, you'll need canning jars for home canning. In my recent home canning video where I canned ground beef for the first time, I got just under 2 lbs of ground beef per one quart jar. It depends on your family-size and what you're canning to help you determine the size jars you'll need.
You can use small jelly jars to do jam and more. There are the one-pint jars. I've been doing a lot of home canning using the one-quart jars.
The canning jar prices on Amazon seem higher than in real life. I've found canning jars at my local hardware store and Walmart for much cheaper. I didn't buy any there, but I also saw canning jars at a local grocery store chain (Food Lion). A friend told me she ordered jars for a good price directly from Walmart as well.
Home Canning Tools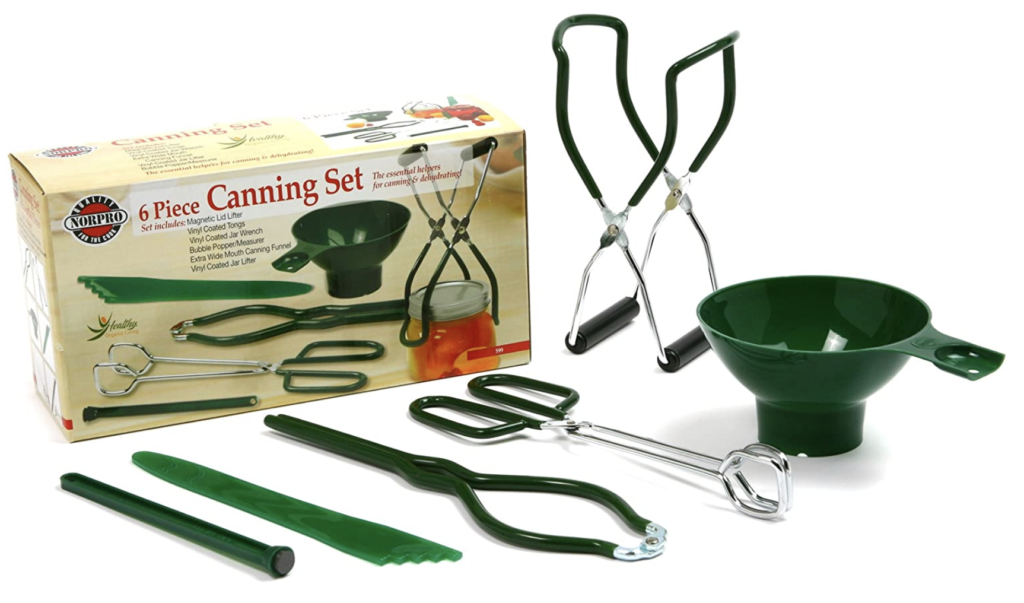 Here is a Canning Essentials Boxed Set, 6 Piece Set that you can find on Amazon. If nothing else a jar lifter is extremely important! And here's the bubble popper and head space tool I recently added to my home canning collection. You'll also want a wide mouth funnel to help get everything into the jar safely (no spilling!).
Home Canning Books
Ball Blue Book® Guide To Preserving 37th Edition Cook Book – this book seems to be a hot commodity these days. It's hard to find online (although I only looked on Amazon – check half.com and eBay). I found it at my local hardware store for $11.
Ball Blue Book Guide to Preserving – I own this canning book as well. "This book teaches you everything you need to know about Canning and Preserving, High-Acid Foods, Soft Spreads, Pickled Foods, Low-Acid Foods, Special Diet, Sweet & Savory Combinations, Freezing, Dehydrating and more. 124 pages."
Ball Canning Back to Basics: A Foolproof Guide to Canning Jams, Jellies, Pickles, and More
The Homestead Canning Cookbook: Simple, Safe Instructions from a Certified Master Food Preserver
Home Canning Videos
As a YouTuber, I have watched a bunch of home canning videos!
Guildbrook Farm Home Canning Videos
Guildbrook Farm on YouTube has a wonderful wealth of home canning knowledge. What is also very encouraging is when she filmed several of these videos, she stated she'd been canning about two years. To me that means with a few years of solid canning experiences we all might be as knowledgeable as she is in these wonderful videos!
Guildbrook Farm Home Canning 101 (over an hour!)
Guildbrook Farm How to Can ANY MEAT!
How to Can ANY SOUP from Guildbrook Farm
How to Can Potatoes from Guildbrook Farm
Watch all of Guildbrook Farm's Home Canning and Food Preservation videos here.
The Kneady Homesteader Home Canning Videos
The Kneady Homesteader has over 100 home canning videos!
Here's Heather's Home Canning for Newbies video with her favorite home canning tools and resources.
You can learn how to Pressure Canning Stock and see her amazing pantry here!
More Home Canning Videos on YouTube
Starry shares How to Start Home Canning for a New Homesteader
Homesteading Family shows How to Raw Pack Meat in Home Canning
Don't miss Canning Tomatoes with Ball Canning, too!
Linda's Pantry has a lot of canning videos. Watch her how to can chicken breast and how to can green beans and carrots.
Noreen from Noreen's Kitchen has videos on how to can chili, how to can chicken soup, and more on her Cooking and Perserving Playlist!
CANNING GROUND BEEF AT HOME
In today's canning for beginners vlog I share with you my canning experience unboxing new canners, getting my canning jars ready, show you my new Presto pressure canners and All American Canner, and much more.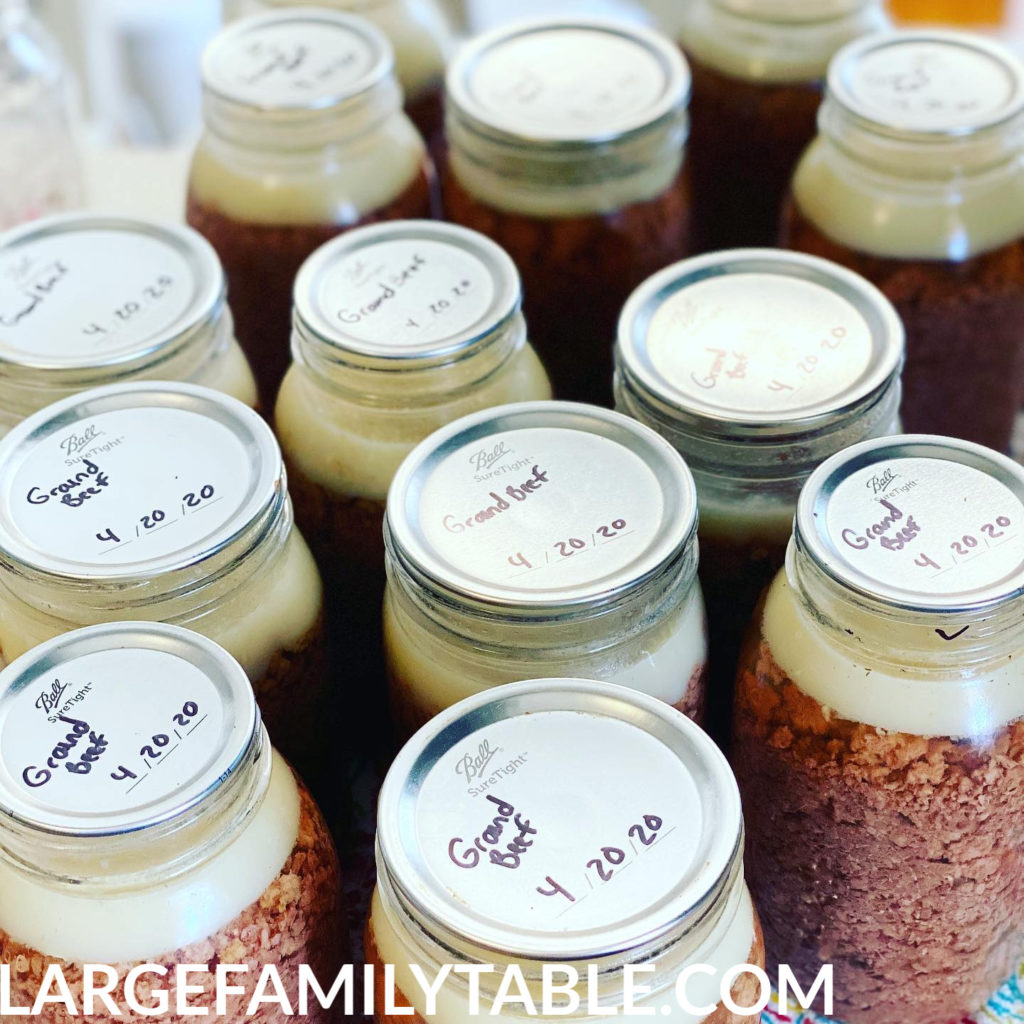 Besides seeing my new canning tools in action you also get to home can ground beef with me for the first time! I cook up about 30 lbs of ground beef for this canning adventure. Click here to watch the fun and see how it all works out!
Thank you for following along with my fresh home canning fun. I hope you are inspired to start home canning for the first time. Maybe you've done lots of canning in the past and now you'd like to get back to it. If you're a well-seasoned canner with years upon years of experience I salute you! Be sure to share in the comments where you are in your canning journey and what you'll be canning this year!!
FREE Emergency Pantry Planning Pack – get it!!
If you haven't already you should get my new FREE Emergency Pantry Planning Pack as well!