Love cheesecake but afraid you will have to give it up for good while going low-carb? If you make this Instant Pot Low Carb Pumpkin Cheesecake, you can enjoy your favorite dessert without the guilt. It is delicious and easy to make with the Instant Pot.
If you are a huge cheesecake lover, then you are going to enjoy this guilt-free cheesecake. Not having cheesecake would be super disappointing, so now you can get excited if you are watching your carbs because this Instant Pot Low Carb Pumpkin Cheesecake recipe will satisfy your cheesecake cravings without going over your daily carb intake limit. Of course if you love cheesecake either and aren't interested in low carb, then try our Pumpkin Cheesecake Bars . And if pumpkin isn't your thing, then try our Low-Carb Instant Pot Cheesecake. This Pumpkin Cheesecake tastes great so your whole family will love it. Of course, I know you don't have much time and this recipe will not take long for you to prepare for cooking.
****Use special promo code HELLO20 to take 20% off the entire MEGA DEAL get-it-all Bundle including the best-selling Large Family Freezer Meal Packs 1-12 + so much more!!****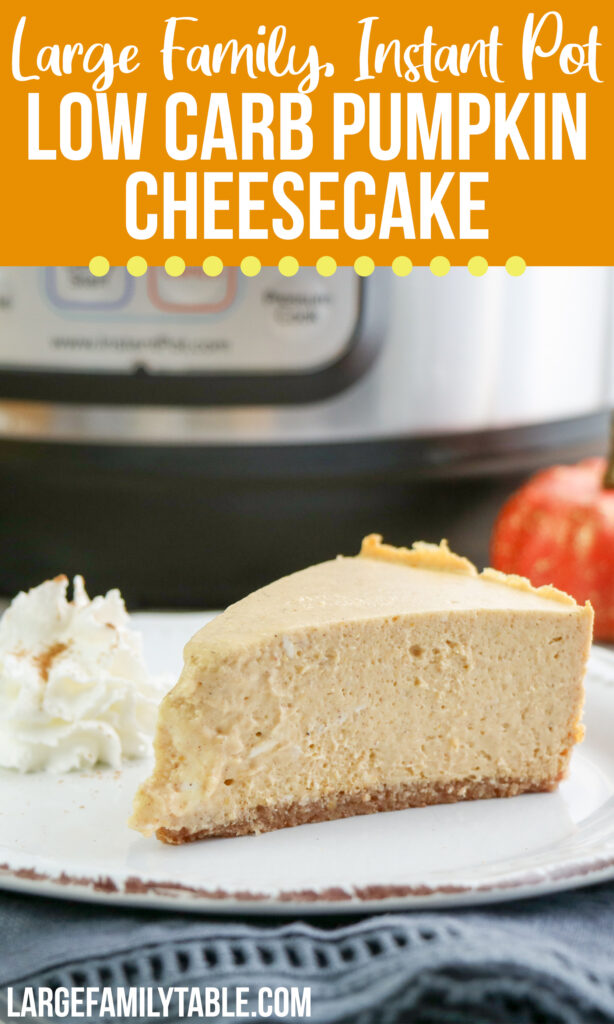 Instant Pot Low Carb Pumpkin Cheesecake
The Instant Pot Low Carb Pumpkin Cheesecake is easier to make than traditional cheesecakes because you get to use the Instant Pot. Whether you are experienced in baking or not, you can successfully prepare this flavorful low-carb dessert. Once you prepare it, serve it with a side of fresh fruit or some chopped nuts to add more flavors and textures to it. It is the kind of dessert that everyone in the family can enjoy, whether they are following a low-carb diet or not.
Ingredients to Make the Instant Pot Low Carb Pumpkin Cheesecake
When making an Instant Pot Low Carb Pumpkin Cheesecake, make sure you have the following ingredients:
Almond Flour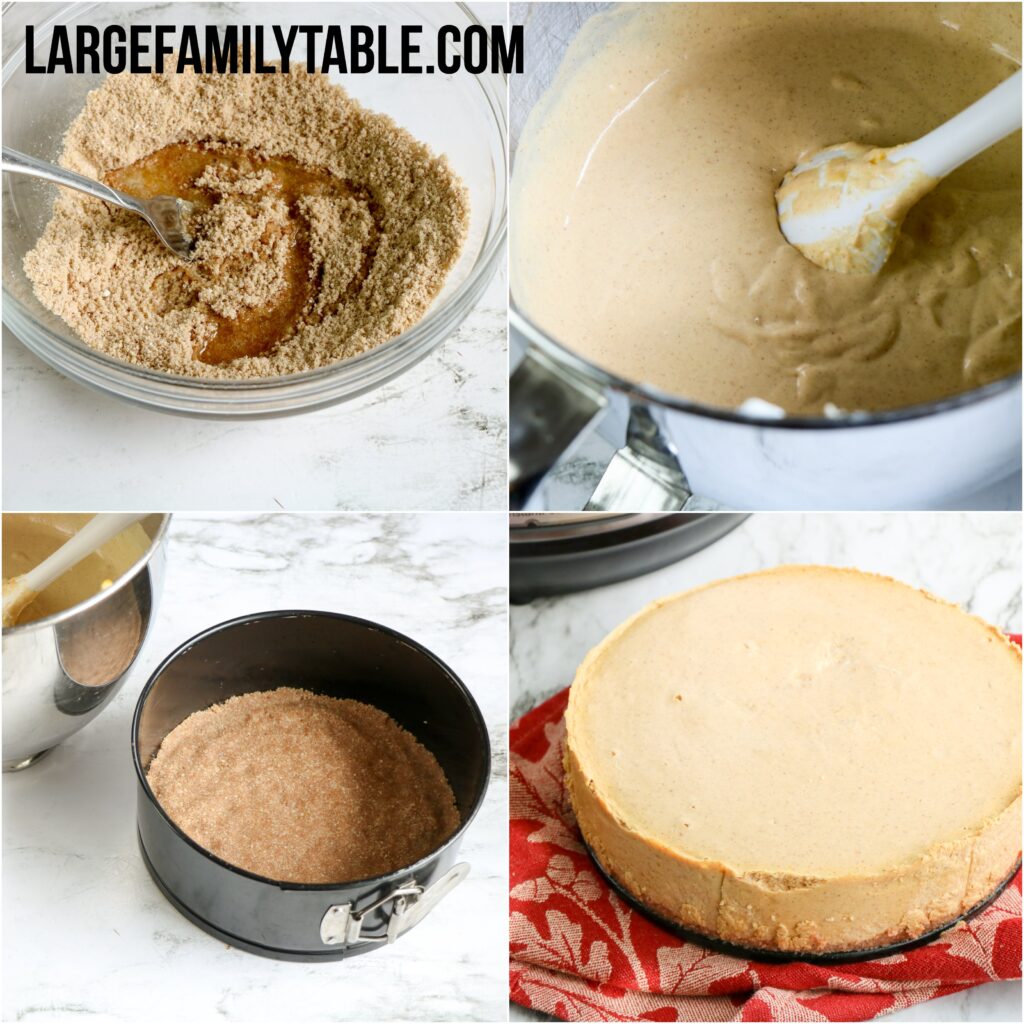 Instead of traditional all-purpose flour, use almond flour as a keto-friendly alternative to make the crust for your cheesecake.
Swerve Sugar Substitute
The sugar substitute gets mixed with the almond flour and butter to create a flaky, crispy crust that tastes delicious.
Melted Butter
The melted butter sticks perfectly to the almond flour and sugar to create that flawless crust for your Instant Pot Low Carb Pumpkin Cheesecake dessert.
Cream Cheese
You will need cream cheese to create the cheesecake filling that goes with the tasty crust.
Canned Pumpkin Puree
Use canned pumpkin puree with the cream cheese to give your filling that added pumpkin taste and consistency.
Heavy Cream
Adding heavy cream to the mix gives your cheesecake even more flavor and helps you create the perfect consistency so that it is not too thick or too runny.
Ground Cinnamon
Putting cinnamon into the mix with the cream cheese gives your cheesecake filling a hint of a sweet spice that compliments the pumpkin quite well.
These are the primary ingredients you should have to make your Instant Pot Low Carb Pumpkin Cheesecake.
How to Store the Instant Pot Low Carb Pumpkin Cheesecake
Save slices of your Instant Pot Low Carb Pumpkin Cheesecake in the refrigerator to keep them fresh. You can put them in a plastic food container, but make sure the container has a lid that you can use to cover your cheesecake.
If you do not have a container with a lid to cover the cheesecake slices, wrap each individual piece in plastic wrap and put the slices in the fridge where you can keep them fresh for up to five days.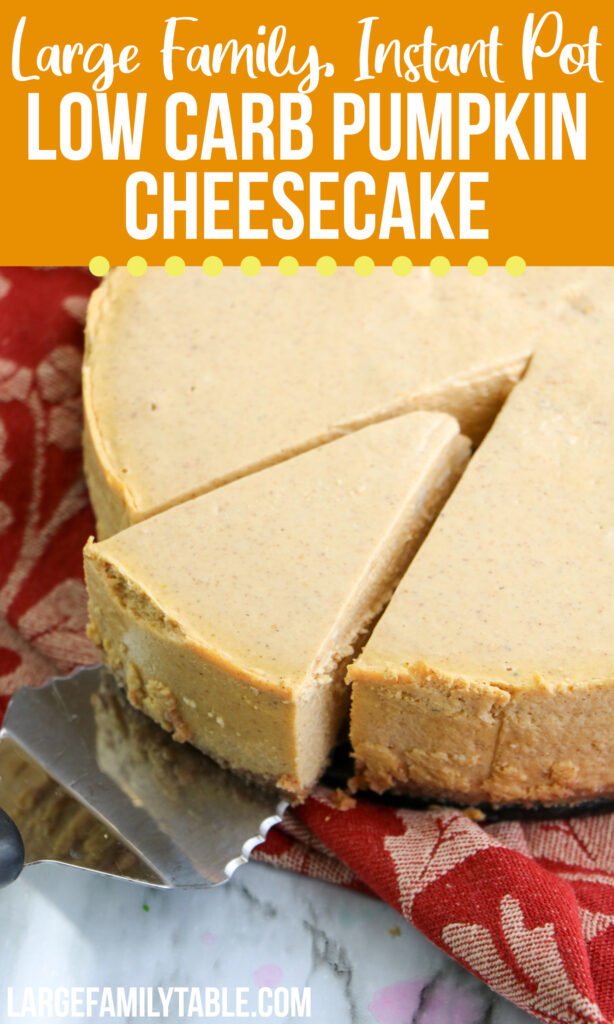 Here are some Low Carb Dinner Ideas!!
Need some Low Carb meal ideas to go with this Low Carb Pumpkin Cheesecake? You don't gave to sacrifice delicious flavor to feed your large family healthy meals!! You won't want to miss these amazing Large Family Low Carb Meals to Feed a Crowd (Budget Friendly, too!). This post has over 65 low carb meal ideas including low carb recipes made with beef, chicken, soup, slow cooker recipes, and low carb instant pot recipes. You also might enjoy the LOW CARB Large Family Freezer Meals Pack 7 and LOW CARB Large Family Freezer Meals Pack 8 to FILL YOUR FREEZER with amazing low carb freezer meals!!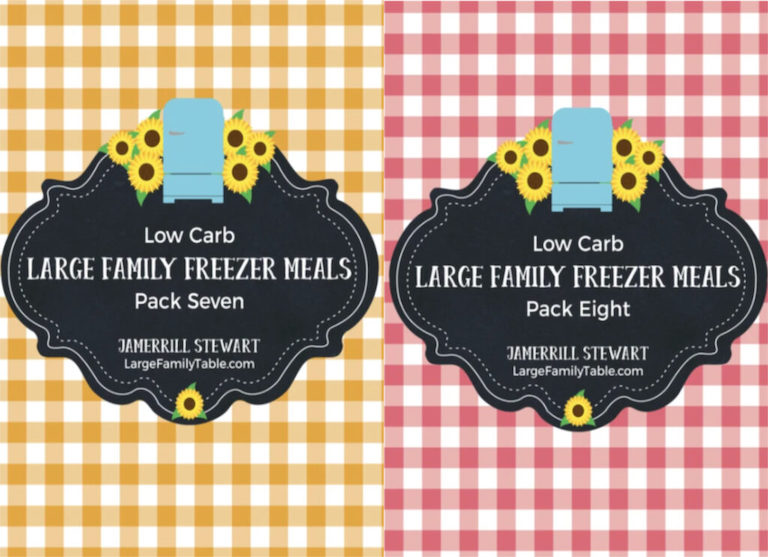 Here are more large family desserts you will enjoy!
Instant Pot Low Carb Pumpkin Cheesecake
Print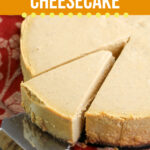 Instant Pot Low Carb Pumpkin Cheesecake | Big Family Fall Desserts
Author:

Prep Time:

20 Minutes

Cook Time:

35 Minutes

Total Time:

55 minutes

Yield:

20 Pie Pieces

Category:

Dessert

Method:

Instant Pot
---
Ingredients
For the crust:
2 cups almond flour
4 tablespoons powdered erythritol sweetener
1 teaspoon ground cinnamon
1/2 teaspoon ground ginger
1/4 teaspoon salt
3 tablespoon butter, melted
For the cheesecake:
4 (8 ounce) packages cream cheese, room temperature
1 1/3 cup canned pure pumpkin puree
2 cups powdered erythritol sweetener
4 eggs, room temperature
4 tablespoons heavy cream
2 teaspoon pumpkin pie spice
1 teaspoon ground cinnamon
2 teaspoon vanilla
---
Instructions
Prepare two 7.5 inch springform pans with non-stick cooking spray, wrapping aluminum foil around the bottom to protect from water seepage.
With a fork, stir together the almond flour, powdered erythritol sweetener, cinnamon, ginger, salt, and melted butter for the crust. Press the almond flour mixture into the springform pan in a flat, tight layer. Set aside.
Place a trivet in the bottom of each of the electric pressure cookers liners.
Add the minimum required amount of water according to the manufacturer's instructions in each instant pot.
In a large bowl, beat cream cheese until soft and creamy. Add the pumpkin puree and sweeteners, continuing to beat until completely blended, about 2 minutes.
Add the eggs, one at a time, as well as the heavy cream, pie spice, cinnamon, and vanilla. Beat just until combined.
Transfer the mixture to the springform pan and spread evenly. Cover the springform pan with aluminum foil to avoid water dripping onto the cheesecake.
Cover the electric pressure cookers and set the valve to sealing. Program for manual or "pressure cook" for 35 minutes.
When the cooking cycle is complete, allow the electric pressure cookers to naturally release the pressure until the pressure pin drops. Remove the lids, press to "cancel" the "keep warm" cycle, and allow the cheesecakes to continue cooling inside the pressure cookers for 20 minutes before removing.
Replace the aluminum foil with plastic wrap and refrigerate the cheesecakes for at least 2 hours prior to serving.
---
Notes
*Recipe requires two Instant Pots unless you make them one at a time.
This recipe makes two 9-inch cheesecakes using two Instant pots. If you don't have two instant pots then you will need to make them one at a time. 
While this recipe cooks in 35 minutes note that it still needs to sit in the instant pot for 20 minutes and sit in the refrigerator for at least 2 hours. I suggest making this the day before serving it.
Keywords: Instant Pot Low Carb Pumpkin Cheesecake
This recipe is a great alternative to Pumpkin Pie, especially if you are on a low carb diet. It's a great way to use up those pumpkins and change up your dessert.
FREE Emergency Pantry Planning Pack!
Don't forget to sign up for the emergency pantry planning pack for free to help you plan your pantry meals! The free Emergency Pantry Planning Pack will help you plan your needed pantry items! Printable pages include pantry inventory, grocery lists, meal planners, list of pantry staple items, and more.