Welcome back to the new large family budget Meal Plan Week 10! Each week I serve up a fresh meal plan with seven nights of dinners. PLUS, because I *only know mega & lots,* each large family meal plan will guide you through making a little extra to help fill your freezer. Filling the freezer is my fav :). You'll also want to grab all my other weekly meal plans, too!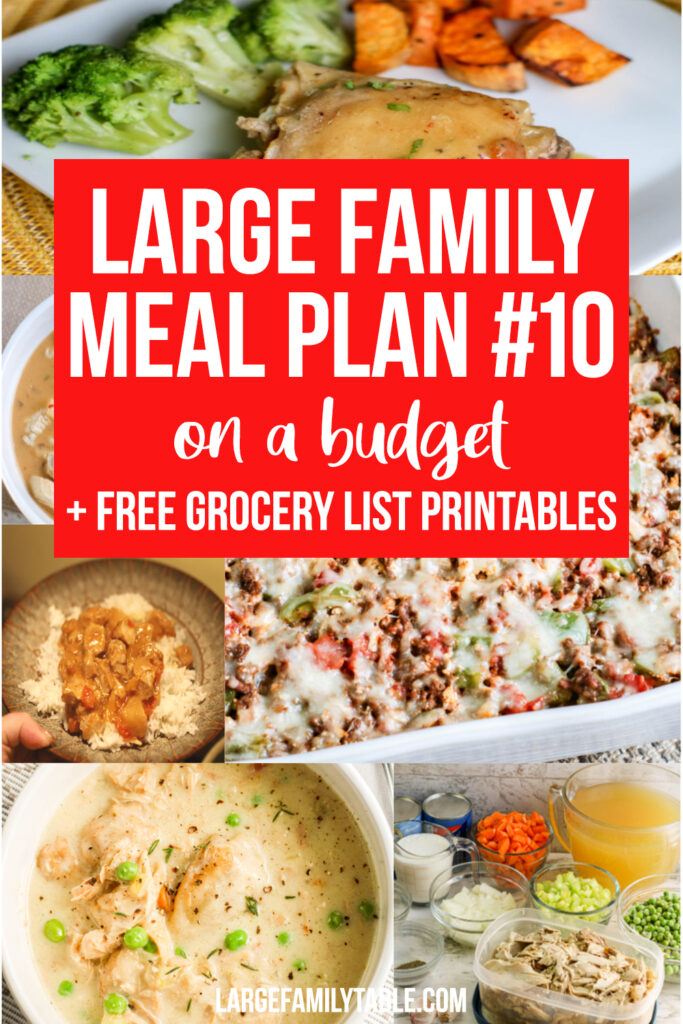 This weeks meal plan includes Instant Pot Chicken and Dumplings, Unstuffed Bell Pepper Casserole, Sweet and Sour Pork in the Slow Cooker, and many more delicious recipes. Plus a few snack and breakfast ideas, too!
If you are a large family you may find you'll get 7 dinners, plus some extra meals prepped ahead. If you are heading up a smaller family you will have plenty of leftovers for lunches and lots of extra to build your freezer stash. Don't forget to sign up for the FREE Large Family Grocery List Printables Set for WEEK Ten here!
Free Large Family Grocery List
Each week I give you a free complete grocery list to go with each unique budget large family meal plan. Just sign up here for the free Grocery List Printables Set for Week Four! You'll receive a detailed grocery list to guide you through buying everything on this week's large family meal plan, plus bonus meal planning pages – yay!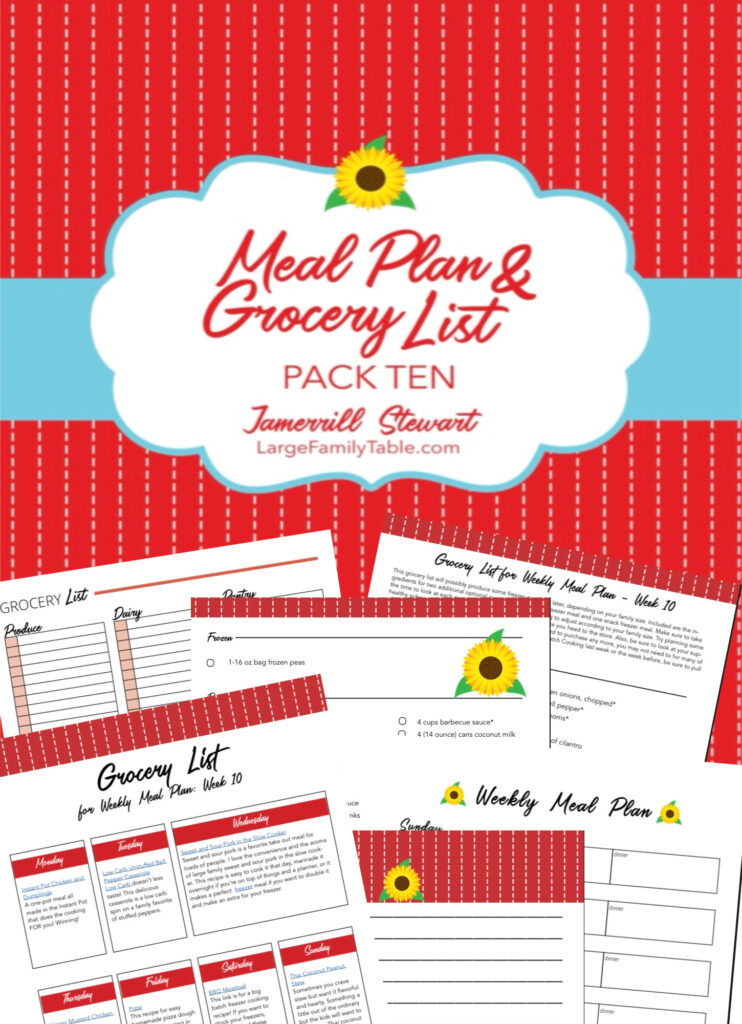 If you plan ahead, you can do some big batch cooking to add some meals to your freezer for later. Serve up these delicious recipes at your own Large Family Table. Check out this post if you would like to know my Must Have Large Family Freezer Meal Supplies.
More Meal Plans for Large Families
Meal Plan Week 10
A one-pot meal all made in the Instant Pot that does the cooking FOR you! Winning!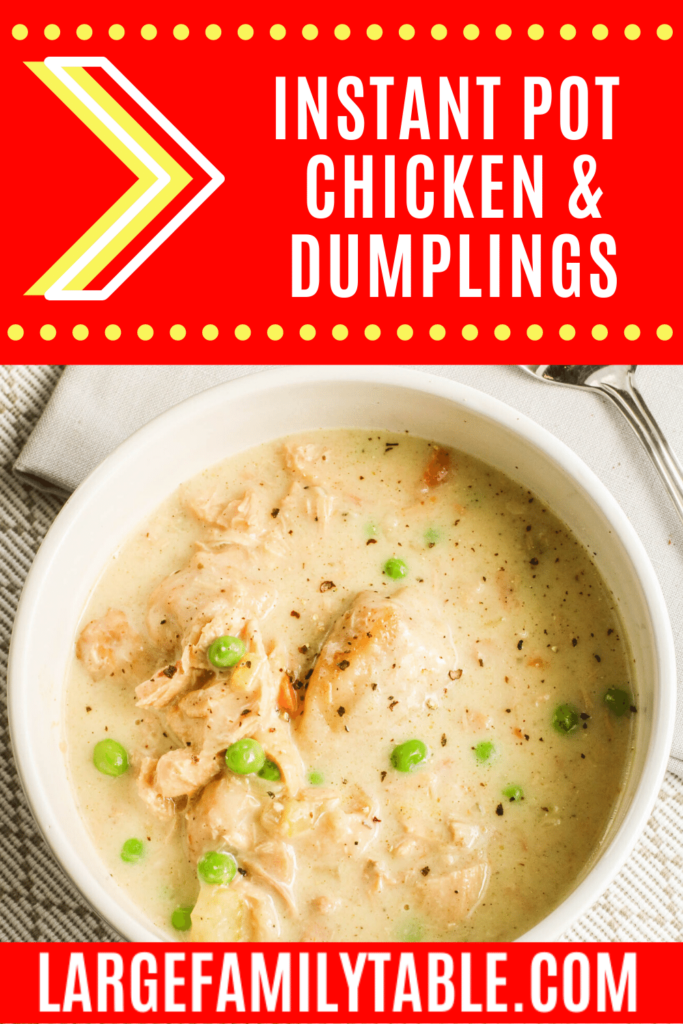 Low Carb doesn't less taste! This delicious casserole is a low carb spin on a family favorite of stuffed peppers.
Sweet and sour pork is a favorite take out meal for loads of people. I love the convenience and the aroma of large family sweet and sour pork in the slow cooker. This recipe is easy to cook it that day, marinade it overnight if you're on top of things and a planner, or it makes a perfect freezer meal if you want to double it and make an extra for your freezer.
Honey Mustard Chicken Thighs are easy to whip up in the instant pot. Just chop some sweet potatoes and broccoli to roast for sides.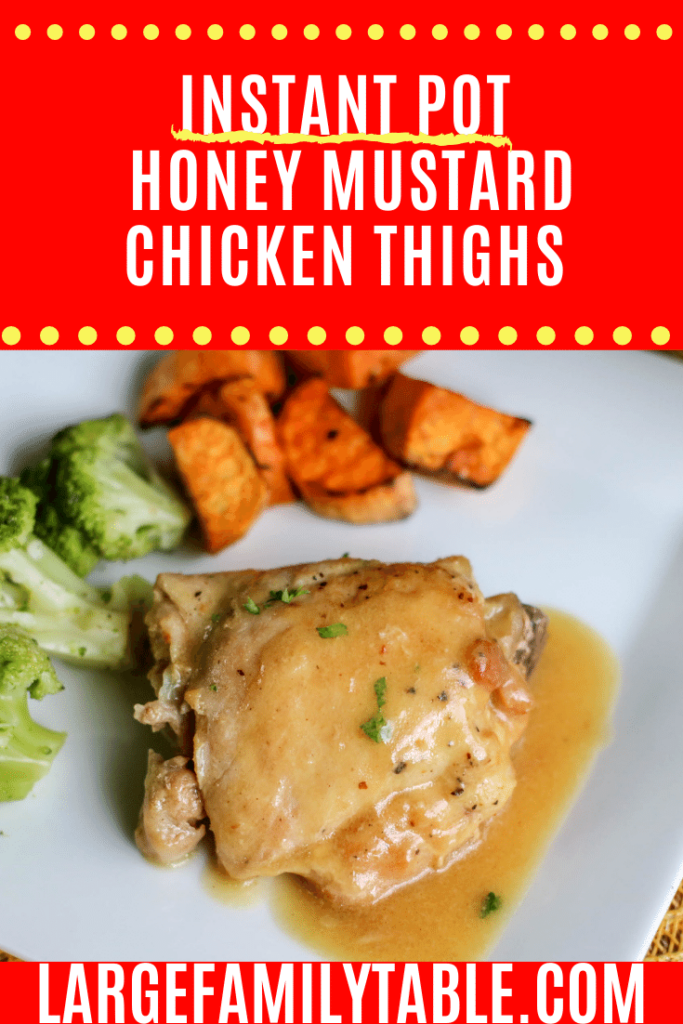 This recipe for easy homemade pizza dough is great for freezing in advance or very simple to throw together the night you'd like to enjoy pizza! Grab all of your favorite toppings and customize your pizzas for your families favorites. Serve with a chopped salad.
This link is for a big batch freezer cooking recipe! If you want to stock your freezers, make up 5 of these quick and easy meatloafs to feed your family in the weeks to come. The blog post also includes a single recipe version, if your freezer is already fully stocked.
Sometimes you crave stew but want it flavorful and hearty. Something a little out of the ordinary but the kids will want to eat it too. Thai coconut peanut stew meets all that criteria and then some. It will become a family favorite.
Bonus Breakfast Recipe Idea: Egg & Potato Breakfast Bowl Bake
Bonus Snack Recipe Idea: Apple Muffins with Apple Sauce
Make it a Large Family Meal Plan
Making a meal plan is a great way to make sure you're eating at home and with only a small amount of extra effort, you can also add food to your freezer to make later meals more convenient. For more meal planning ideas, check out Large Family Meal Planning.
FREE WEEK TEN GROCERY LIST & MEAL PLANNING PAGES PACK!
SIGN UP NOW to receive the free grocery list and planning pack for week four that goes with this meal plan! You'll have everything you'll need to shop delivered right to your inbox including a detailed grocery list, meal planning pages, and more!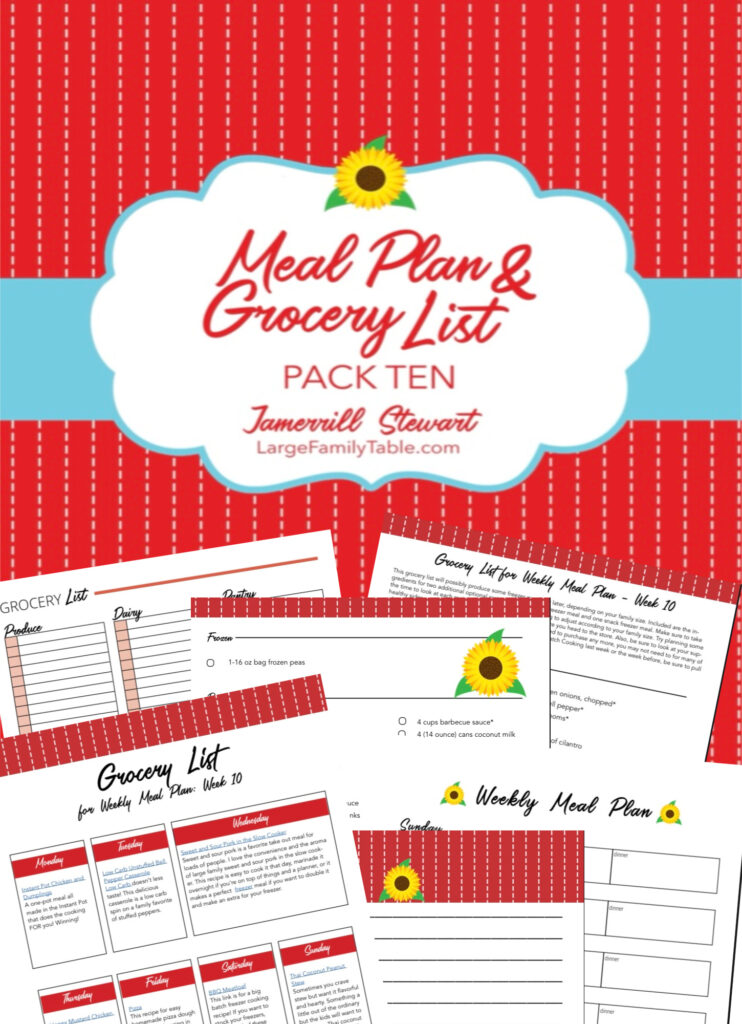 Be sure to also check out the Large Family Freezer Meal Bundles to ALWAYS have tons of meals in the freezer ready to go!
****Use special promo code HELLO20 to take 20% off the entire MEGA DEAL get-it-all Bundle including the best-selling Large Family Freezer Meal Packs 1-12 + so much more!!****