Welcome back to week three of this budget large family meal plan series! Each week I serve up a fresh meal plan with seven nights of dinners. PLUS, because I *only know mega & lots,* each meal plan will guide you through making a little extra to help fill your freezer. Filling the freezer is my favorite :). If you are a large family you may find you'll get 7 dinners, plus some extra meals prepped ahead. If you are heading up a smaller family you will have plenty of leftovers for lunches and lots of extra to build your freezer stash. Don't forget to sign up for the FREE Large Family Grocery List Printables Set for WEEK THREE here!
Large Family Meal Planning
Using ingredients from leftovers from previous budget large family meal plan weeks can help spice up your menu, so keep that in mind every time you are big batch cooking. Serve up these delicious recipes at your own Large Family Table. If you have leftovers, be sure to get creative to make the most out of your budget by making over your leftovers. Remember, leftovers are a GIFT to busy moms – especially during the homeschool year (amen and amen!!)
Large Family Grocery List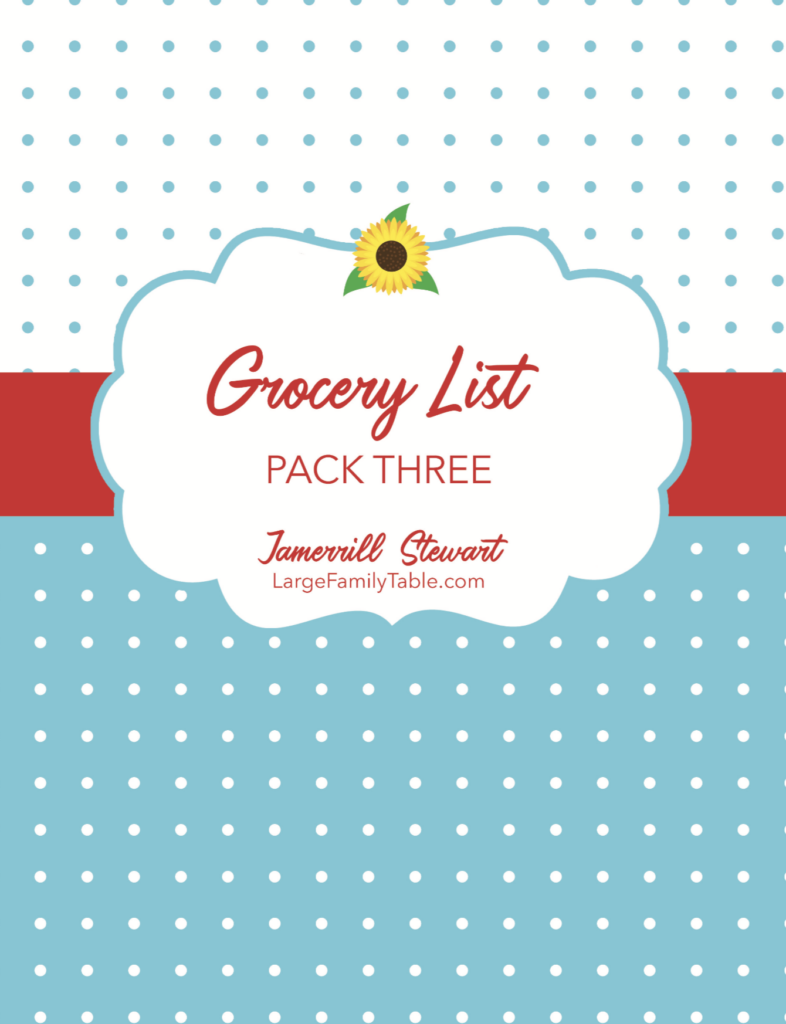 Each week I give you a free complete grocery list to go with each unique budget large family meal plan. Just sign up here for the free Grocery List Printables Set for Week Three! You'll receive a detailed grocery list to guide you through buying everything on this week's large family meal plan, plus bonus meal planning pages – yay!
Budget Large Family Meal Plan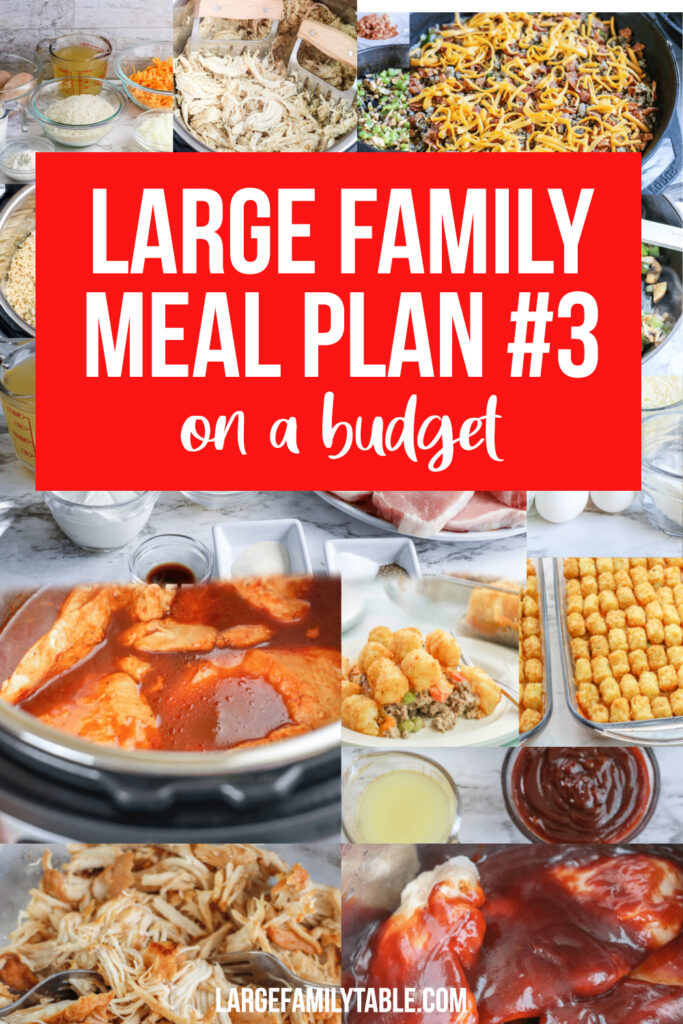 Monday – Meatloaf
Large Family BBQ Meatloaf Recipe serve with a tossed green salad or grilled vegetables. This would be a great time to pull out that pre-made freezer meal from prior weeks OR get extra meatloaves in your freezer now!
Tuesday – Taco Salad
If you Big Batch Cooked your Slow Cooker Taco Meat, this is another way you can use it. Taco Salad is very simple, just shred up some lettuce and add your meat. Add some black beans and toss on any vegetables that you have on hand. Top with tortilla chips and French dressing. If you don't have Taco Meat in your freezer, consider getting some prepped ahead this week!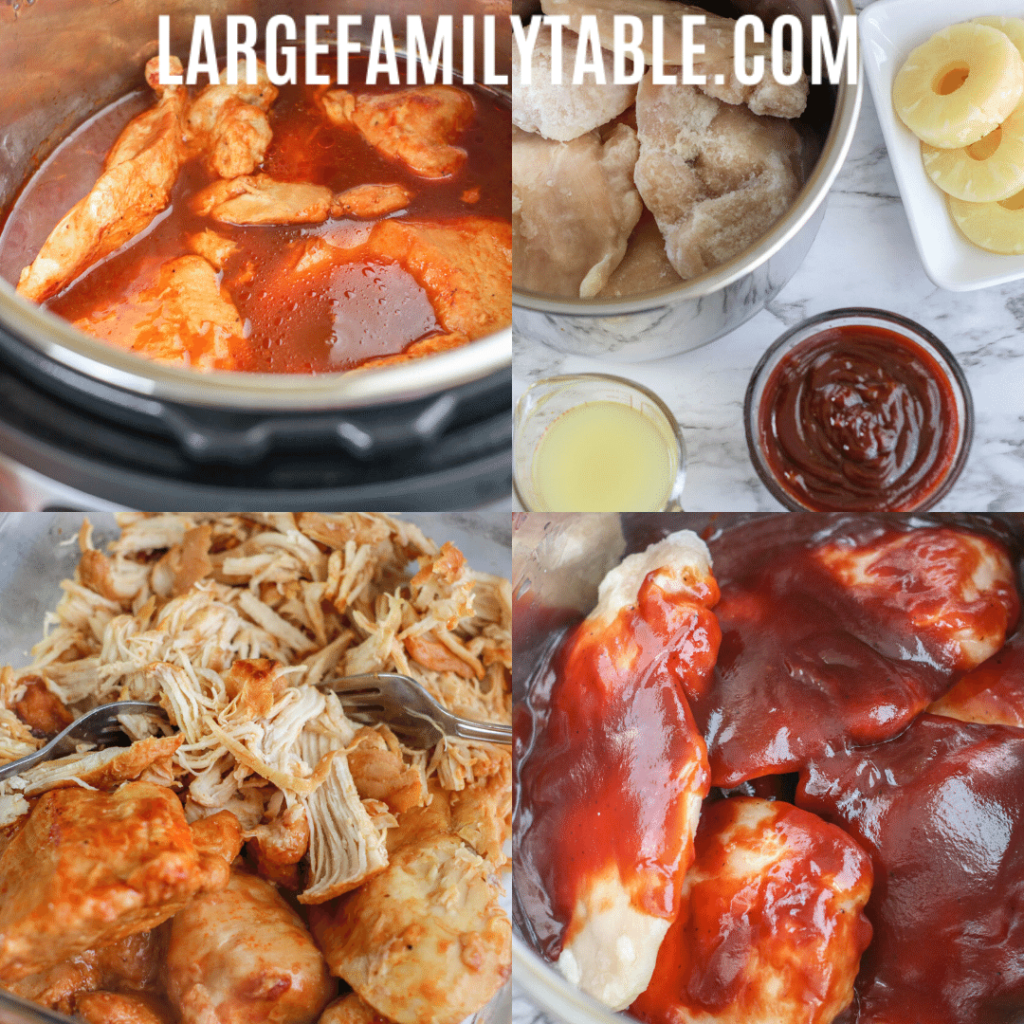 Hawaiian Chicken Sliders are a great option to use a bit of pre-prepared shredded chicken from the freezer or make it from scratch. Serve with chips and fruit.
Serve this with a colorful vegetable salad. This is also a freezer friendly meal that comes in handy in a real life pinch!
Serve with Twice baked potatoes or freezer mashed potatoes as a perfect addition. Instant Pot Sour Cream Pork Chops are my five-year-olds FAVORITE DINNER. Daniel requests these all the time! This is also a low carb and sugar free dinner option.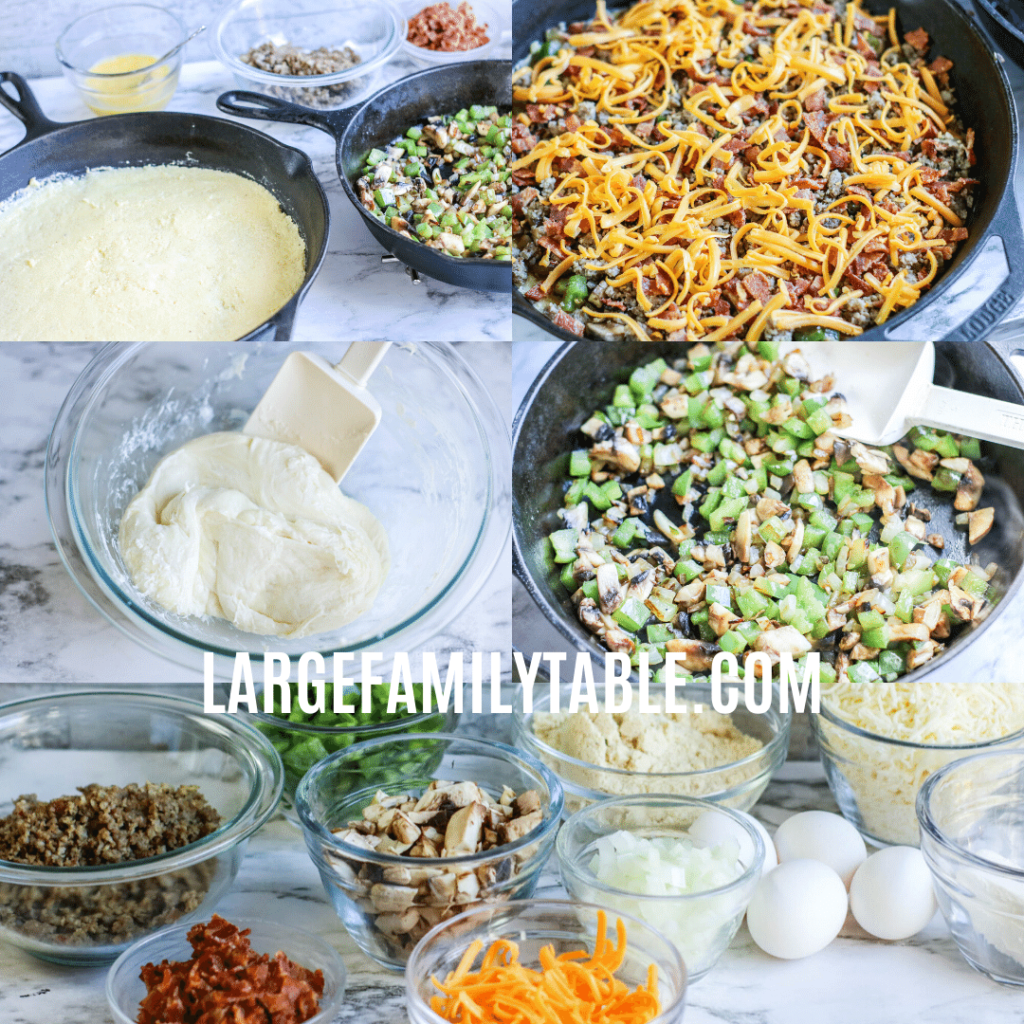 Sometimes we just want some delicious homemade breakfast pizza. This can be customized endlessly with different toppings, adding different vegetables or meats or cheeses. This is another healthy dinner option that's low carb and sugar free. Serve with fruit.
Instant Pot Ranch Chicken and Rice is delicious served with a chopped salad filled with in-season vegetables. This frugal meal goes a long way!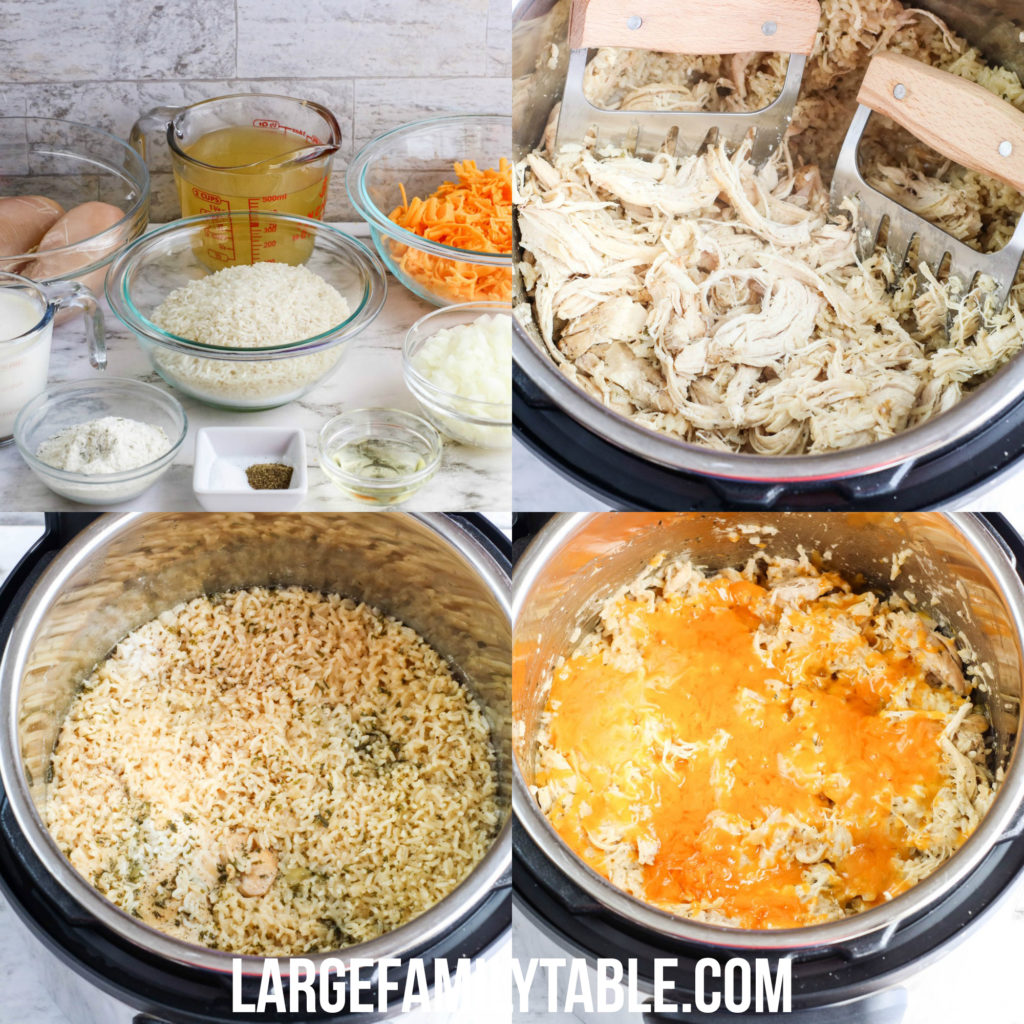 BONUS Meal Plan Ideas
Bonus Snack idea: Ham and Cheese Pinwheels
Bonus Breakfast idea: Large Family Make Ahead Breakfast Sandwiches | Bacon, Egg, and Cheese Breakfast Bagels
Make it a Meal Plan
Making a meal plan is a great way to make sure you're eating at home and with only a small amount of extra effort, you can also add food to your freezer to make later meals more convenient. For more meal planning ideas, check out Large Family Meal Planning. Be sure to also check out the Large Family Freezer Meal Bundles to ALWAYS have tons of meals in the freezer ready to go! Use special promo code HELLO20 to take 20% off the entire Large Family Freezer Meal Plan 1-9 Bundle! Happy planning!
FREE THREE WEEK GROCERY LIST & MEAL PLANNING PAGES PACK!
SIGN UP NOW to receive the free grocery list and planning pack for week three that goes with this meal plan! You'll have everything you'll need to shop delivered right to your inbox including a detailed grocery list, meal planning pages, and more!