Pork chops are a family favorite but if you don't have the right recipe, it can be like chewing shoe leather. You want moist pork chops that you can cut with a knife but you don't want to spend all afternoon looking over them or have the oven on that long. Instant Pot Sour Cream Pork Chops fit that criteria.
**Use special promo code HELLO20 to take 20% off your first order in the shop including the SUPER MEGA ULTIMATE Large Family Freezer Meals Bundle here! Get packs 1, 2, 3, 4, 5, 6, 7, 8 & 9!**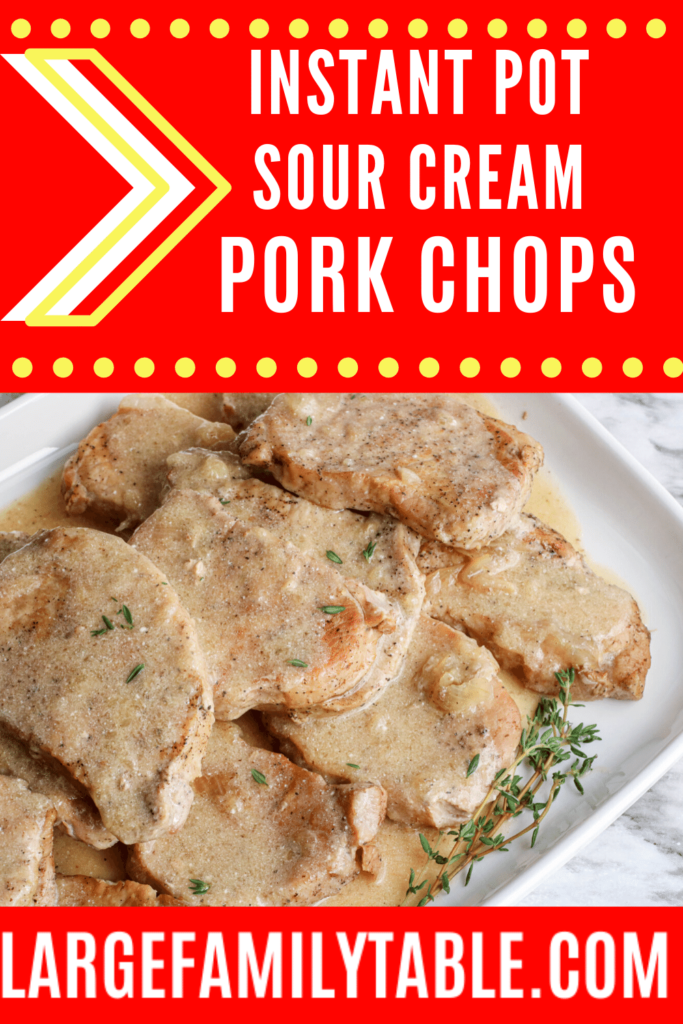 This Instant Pot recipe has a few more steps than most recipes. Don't skip any or you will have mediocre pork chops. No one wants mediocre pork chops. Seriously, do each step and remind yourself you want raves at dinner not okays.
How long does it take a pork chop to cook?
Pork has to reach an internal temperature of 145 degrees which takes 15 to 20 minutes. This recipe takes 8 minutes after getting to pressure. You cook the pork quick and with liquid to make it moist and juicy. It's the best way, I think.
How can you tell if a pork chop is done?
The best way is to use an internal thermometer. Poke it into a few and get a general idea of how cooked they are. A laser thermometer is great for this. As with all meat, allow to sit and rest for at least 10 minutes before serving. This allows the juices to resettle resulting in a much moister pork chop.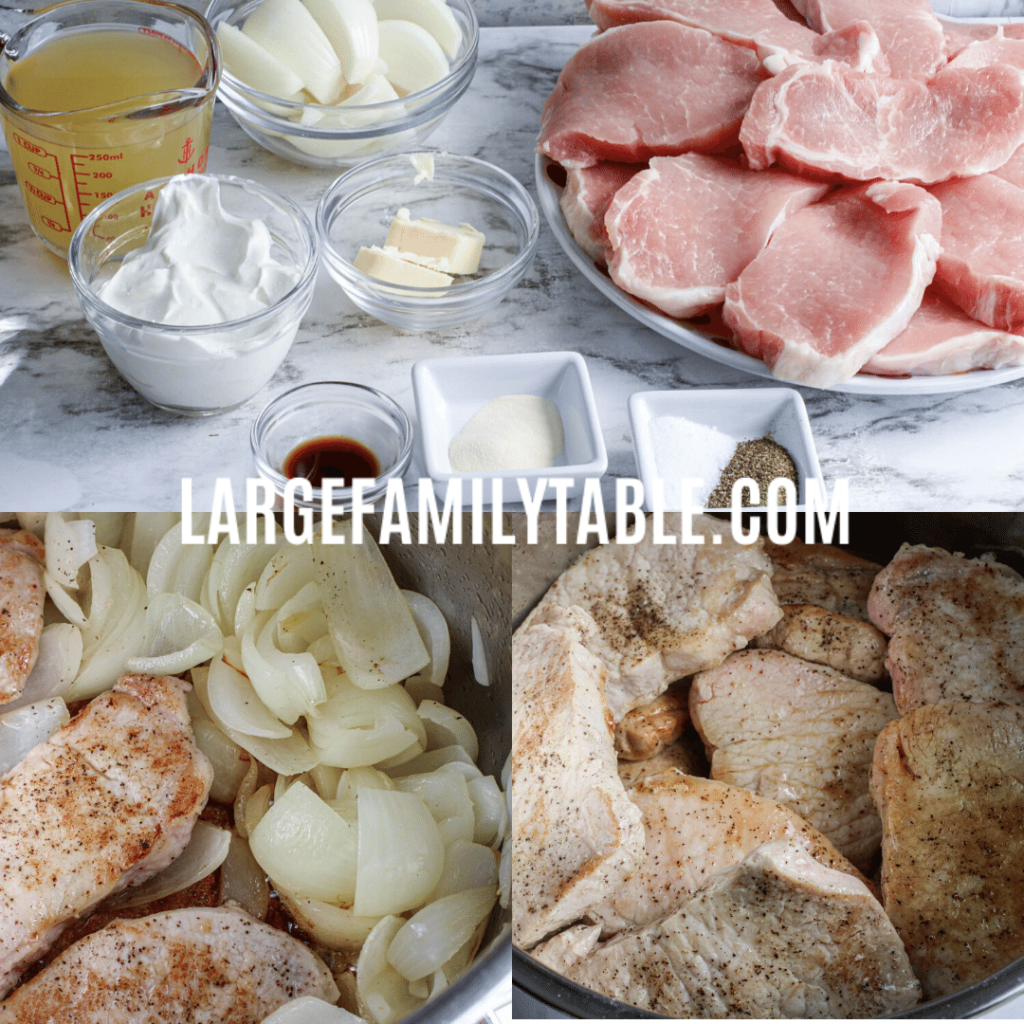 Let's get started, shall we? Gather all your ingredients. I'm never going to not say that by the way. Grab your Instant Pot and set to saute. We are actually going to use this feature today but I would tell you to do that regardless. Turning it on saute heats the Instant Pot up faster thus allowing it to get to pressure faster. Everyone is happy when that happens!
Throw in some butter and onions to soften. After they've softened. push to the side and add more butter if necessary. I find more butter is always necessary. After salting and peppering the pork chops, saute them in batches in the Instant Pot. Keep them warm until all are done and add butter whenever the liner seems dry.
Deglaze the liner with the broth getting all the nice bits off the bottom. The will add flavor to our gravy later. Flatten the onions to one layer then layer the pork chops overlapping each other. Place the lid and set to manual high for 8 minutes. Natural release for five minutes then quick release for the rest. Set pork chops aside to rest.
Set Instant Pot to saute again with the liquid still in it. Bring to a boil then slowly whisk in xanthum gum. After it thickens a bit, turn off Instant Pot and add sour cream. Serve sauce on top of pork chops. Twice baked potatoes or freezer mashed potatoes are a perfect addition.
Print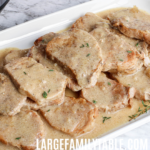 Large Family Instant Pot Sour Cream Pork Chops
Author:

Category:

Dinner

Method:

Instant Pot

Cuisine:

Pork
---
Ingredients
2 tablespoons butter

2 onions, sliced

2 family packs pork loin chops

1 cup beef or chicken broth

1 teaspoon worcestershire sauce

1 teaspoon xanthan gum

½ cup sour cream

Salt and pepper to taste
---
Instructions
Set the electric pressure cooker to saute and heat until "hot." Add one tablespoon butter and the onions. Cook until softened. Push to the side or remove and keep warm.

Add additional butter if needed. Salt and pepper the pork on both sides. Begin searing the pork chops in small batches to brown on each side. Set aside the browned pork chops and keep warm as you cook all of the pork chops. Add butter as needed to lubricate the pressure cooker liner. (To save time, you could also be browning pork chops in a large skillet over medium-high heat.)

Deglaze the liner with broth, scraping the bottom with a wooden spoon to remove any cooked on pieces. 

In the pressure cooker liner, layer the onions and then pork chops allowing the pork chops to overlap slightly. Create additional layers as needed.

Cover and set to "pressure cook" or "manual" for 8 minutes. Allow the pressure cooker to naturally release the steam for at least 5 minutes before quick release.

Remove the pork chops from the pressure cooker. Cover and keep warm.

Change the pressure cooker setting to saute and bring the broth to a boil. Stir in xanthan gum until thickened slightly. Turn off the electric pressure cooker and then stir in the sour cream.

Serve pork chops with sauce.
---
Notes
To cook in the slow cooker:
Brown the pork chops on both sides in a large skillet.

Prepare the pressure cooker liner with nonstick cooking spray. Add a layer of onions to the bottom and then layer the pork chops on top of the onions. Pour broth over the top.

Cover and cook on low for 6 hours.

When the pork is done, remove and keep warm. Whisk in the xanthan gum to the broth and allow to thicken slightly before stirring in the sour cream.

Place the pork chops back into the slow cooker to coat in sauce and/or keep warm.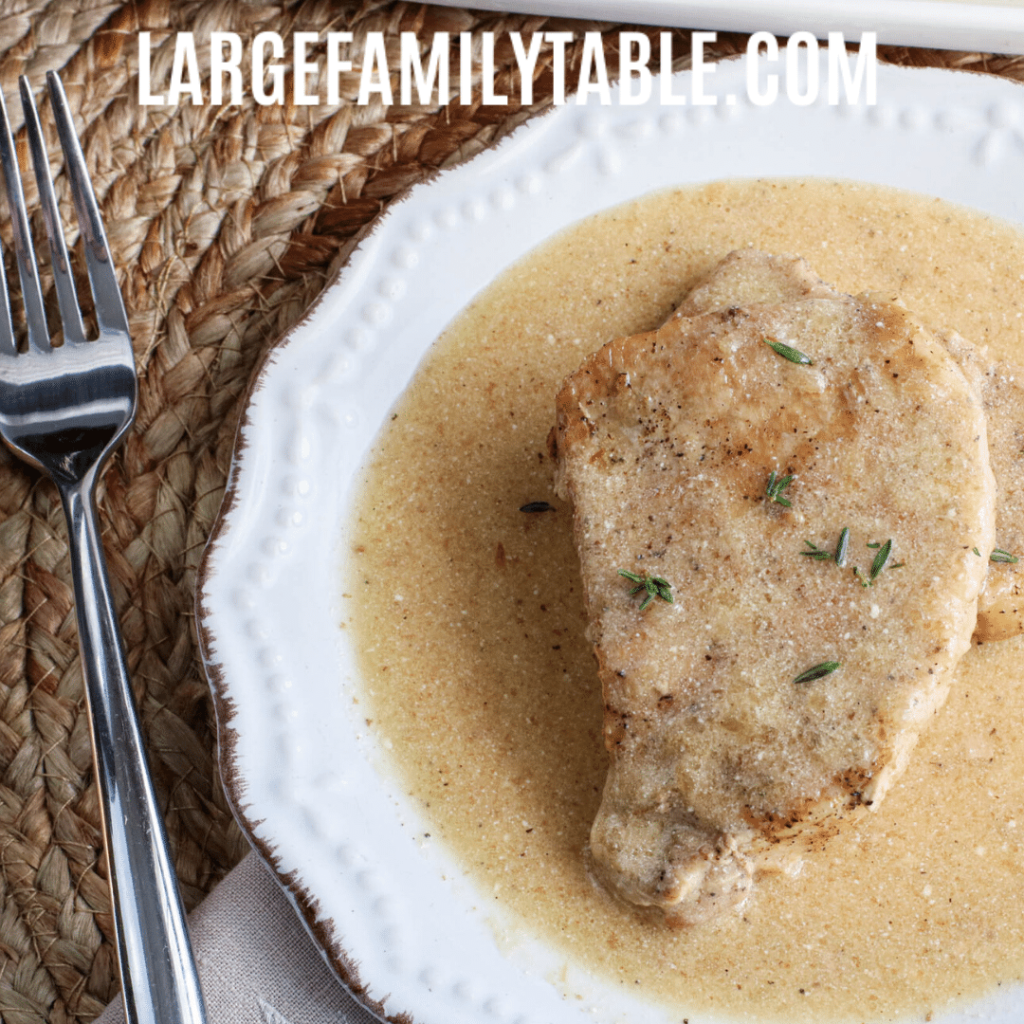 This meal is also easily made in the slow cooker if you desire. Sometimes mamas don't have time to pop back in to the Instant Pot. Those are the days when my slow cooker saves me. Set it and forget it can be a dinner saver in more ways than one. Do what's best for your family. No matter which way you serve it, you will get raves and this will become a treasured recipe in the meal plan.
Check out my Youtube channel for more Instant Pot goodness!