Sometimes you just want to be the fun mama. But you don't want to throw all caution to the wind and let the kids eat a massive load of junk. You just want something small and a little bit sweet. Mini personalized fruit pizzas meet all the criteria of not being obnoxiously unhealthy yet sweet and fun to make. #momwin
**Use special promo code HELLO20 to take 20% off your first order in the shop including the SUPER MEGA ULTIMATE Large Family Freezer Meals Bundle here! Get packs 1, 2, 3, 4, 5, 6, 7, 8 & 9!**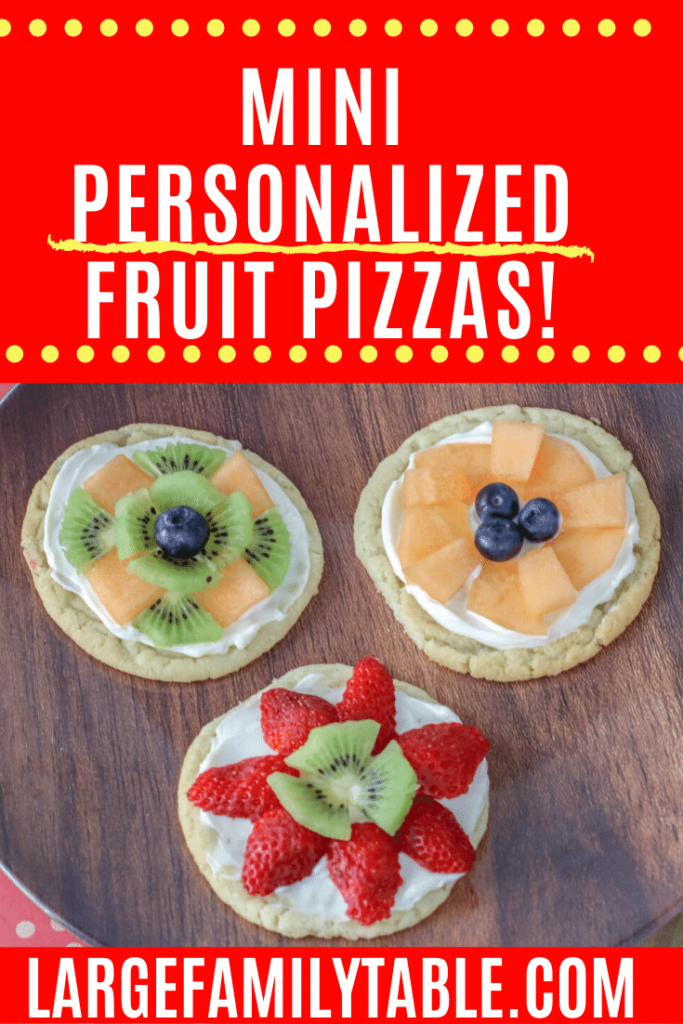 These Mini Personalized Fruit Pizzas are so fun and so yummy!! They aren't the healthiest snack ever but they do give your kids a serving of fruit while they enjoy something sweet! You can get your kids to help make these and to add their favorite fruits to their own little fruit pizza.
How to prepare your Mini Personalized Fruit Pizzas
Take your cream cheese out of the fridge before you start making the cookies. I like to remove it from the box as well. I think it softens faster this way. There is no scientific evidence to prove this but, as a creature of habit, this is what I do.
Use a cookie scoop, evenly divide the cookie dough then place it on your sheet pan leaving at least 2 inches in between for the cookies to spread. If you don't leave enough room, you can always make one giant fruit pizza. Large family mamas know how to adjust on the fly. Yes and amen. Make sure to divide the dough so you can have one cookie per child.
Bake at 350 degrees for 15 to 20 minutes or until the edges are brown. Take out the oven and set aside to cool. The cookies need to be completely cool before adding the creamy topping or it will melt right off. Don't ask me how I know this fun fact.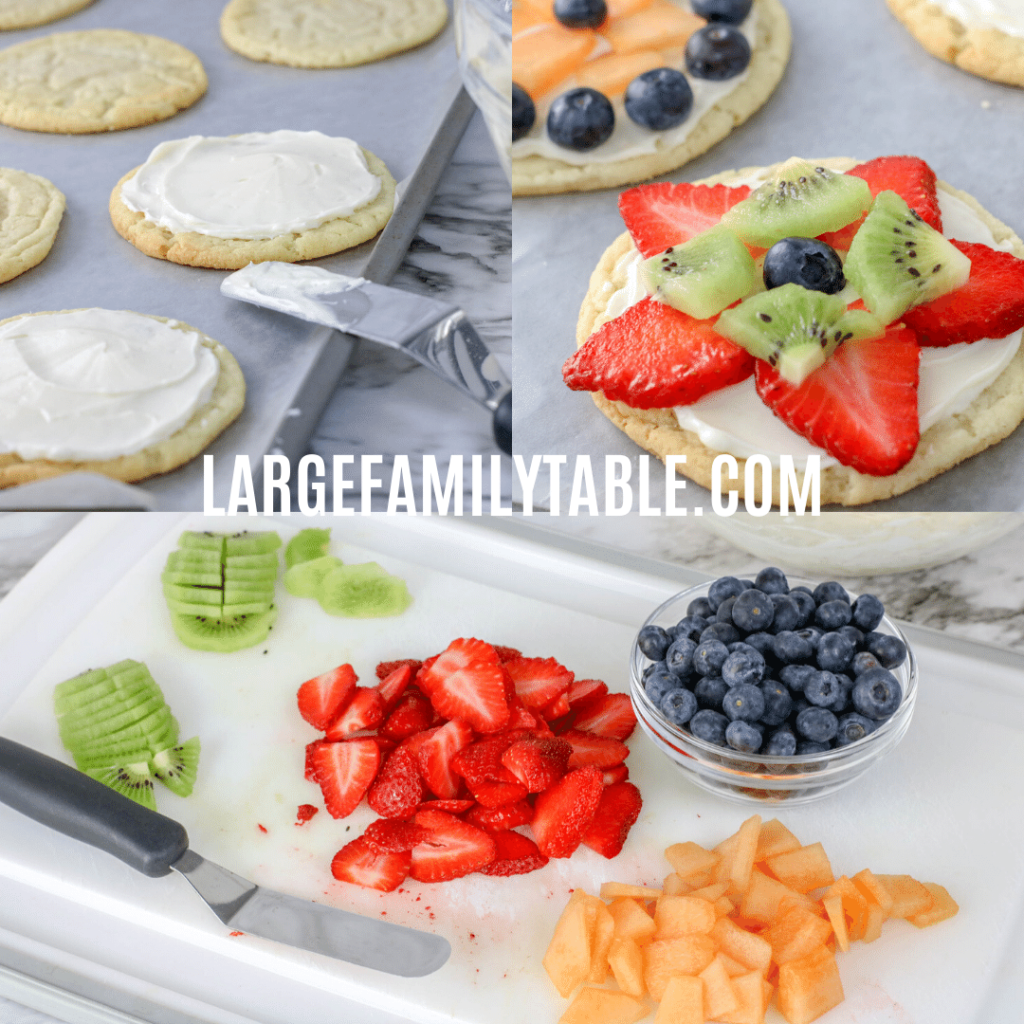 While the cookies are cooling, mix the softened cream cheese, powdered sugar, and vanilla until smooth. Your stand mixer or a hand mixer will do this really fast and really well. You could also let several children have a turn mixing it. While this is happening, prepare the fruit by washing, drying and slicing it for little hands.
Spread the cream cheese mixture evenly on all the cookies. Decorate with the fruit as desired. A fun way to do this is to put a dollop on each cookie. Let the kids spread it out and place the fruit in bowls on the table for them.
Looking for more cookie recipes for your family?
Need more delicious and fun baking recipes to add some joy to your Large Family Table? In my Make-Ahead and Freeze Cookie Baking Book you will find 10 easy and yummy recipes for large-batch cooking baking! You can prepare them for holiday get-togethers or gifts or just for fun any of the year!!
Here some more ideas for activities and recipes to do with your kids!
Homemade Unicorn Gummies for Kids!
Cooking with Kids: Elephant Biscuits Recipe
Healthy Space-Themed Snacks for Kids
Kids Lunches: Silly, Quick, and Healthy Face Plates
Mini Personalized Fruit Pizzas
Print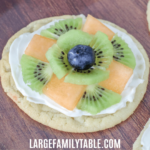 Mini Personalized Fruit Pizzas!
Author:

Prep Time:

10 mins

Cook Time:

20 mins

Total Time:

30

Yield:

12

Category:

Dessert

Method:

Oven

Cuisine:

Kids
---
Description
These fun and easy fruit pizzas will be a hit for any dessert!
---
Ingredients
1 (17.5 ounce) package refrigerated sugar cookie dough
1 (8 ounce) package cream cheese , room temperature
1 cup powdered sugar
1 teaspoon vanilla
Fruit for decorating (kiwis, strawberries, bananas work great but use whatever needs to be used up)
---
Instructions
Preheat oven to 350 degrees
Using a cookie scoop, divide the cookie dough evenly
Space on cookie sheet or your sheet pan spacing at least 2 inches apart
Bake the cookies for 15 to 20 minutes or until the edges begin to brown
Remove from oven and let cool completely before decorating
In a medium sized mixing bowl, beat together cream cheese, powdered sugar, and vanilla until smooth
Prepare the fruit for decorating. Make sure to wash, dry, and slice the fruit if necessary
Evenly spread cream cheese mixture over sugar cookies
Decorate with fruit as desired
Refrigerate until serving or eat immediately.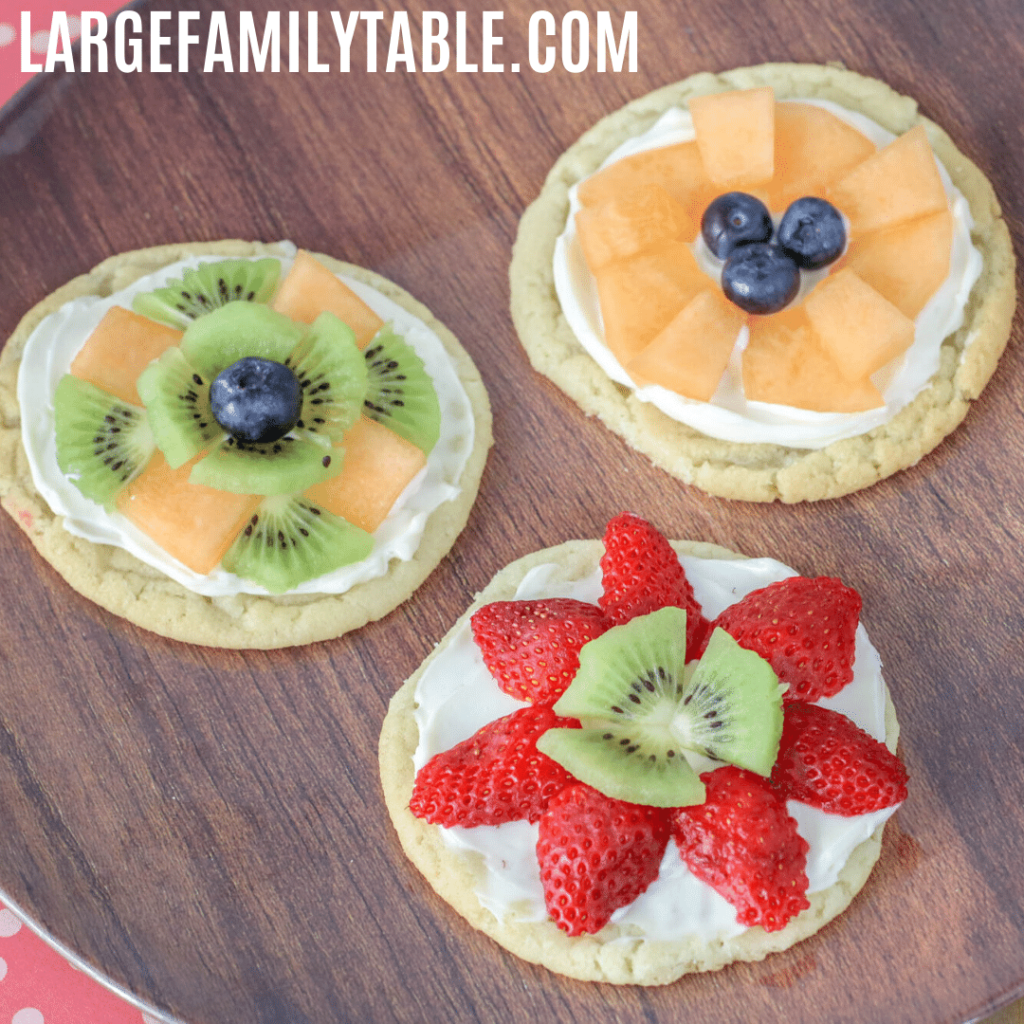 If you have any self control, you can refrigerate until serving. I have no idea how long they last in the fridge because we eat them immediately. Have you ever told a young child they can't eat a cookie they just decorated? Me either. Cook, decorate, eat is our mantra. After all, we are trying to get fun mom points here.
FREE Emergency Pantry Planning Pack!
Don't forget to sign up for the emergency pantry planning pack for free to help you plan your pantry meals! The free Emergency Pantry Planning Pack will help you plan your needed pantry items! Printable pages include pantry inventory, grocery lists, meal planners, list of pantry staple items, and more.