Do you ever crave something savory and delicious? Cooking with Instant Pot means you can make those savory type meals even faster. Instant Pot Creamy Garlic Parmesan Chicken is the perfect main dish for any meal during the week. The best part is that you can easily make this for your large family, so it's the ideal large family meal.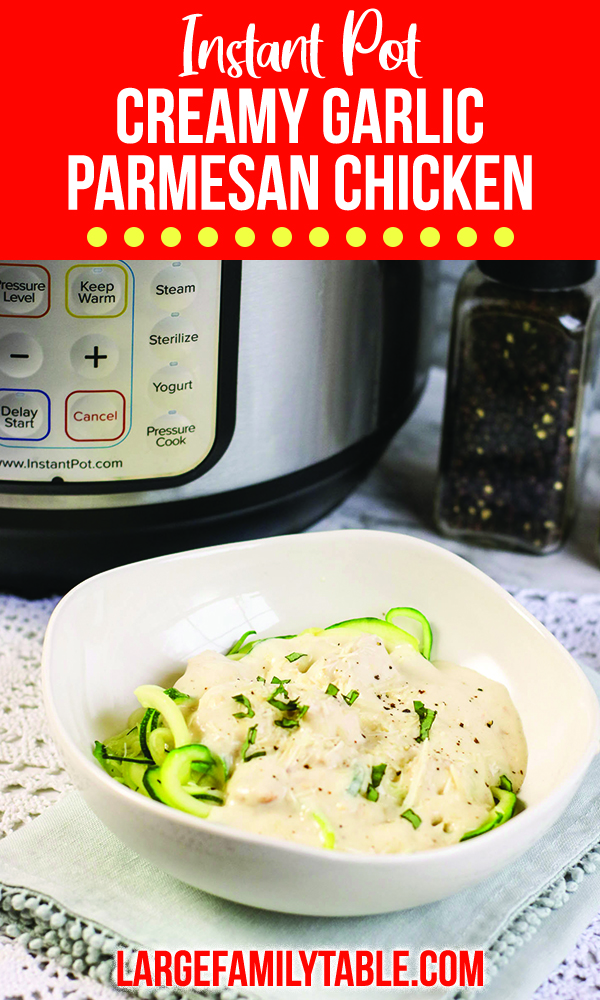 Eating dinner together is such an important part of raising a large family. Getting to hear about each other's day and just spend time together. That's what it's all about! I hope you enjoy this recipe and continue to come back to the blog for more.
Instant Pot Creamy Garlic Parmesan Chicken
Once you start making chicken in the Instant Pot, you won't go back to making it any other way. I think the fact that you can go from frozen chicken to shredded chicken in no time is pretty amazing. Let's say you can't decide what to do for dinner and it's 4 o'clock PM. Well, with a couple of swift moves, your Instant Pot can be on the counter making dinner.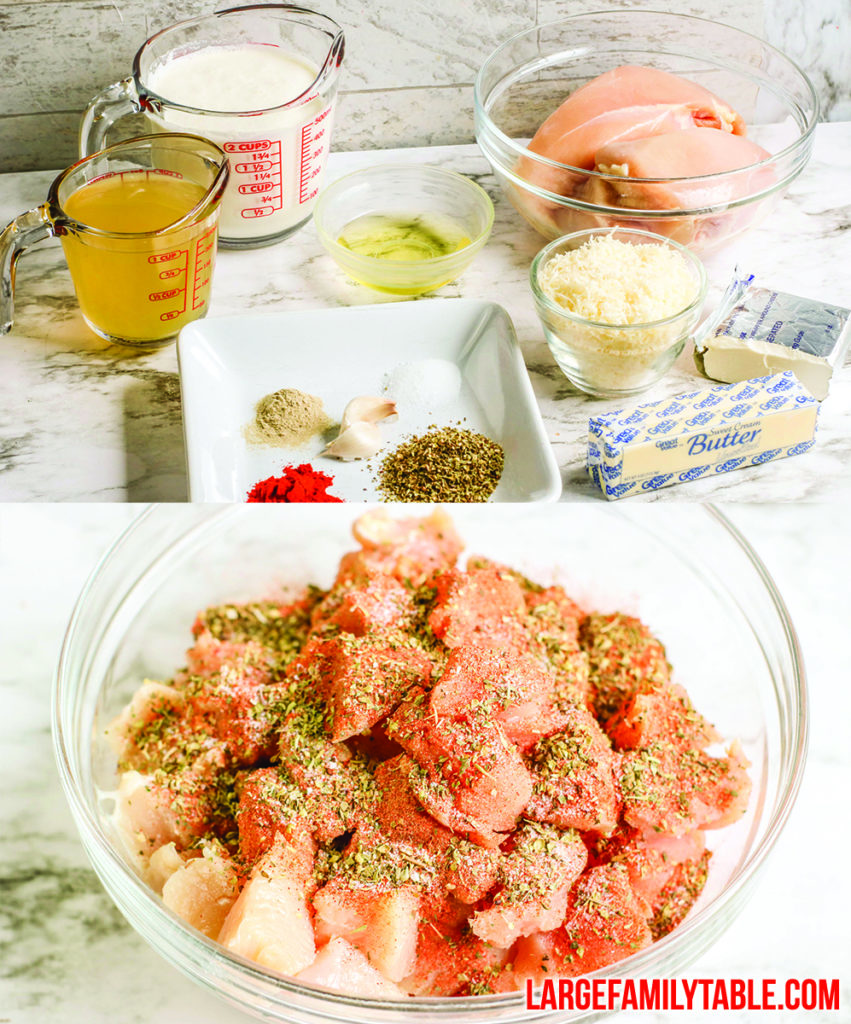 You have so many side options with this parmesan chicken. You can make mashed potatoes, homemade fries, corn, peas, or whatever else you're craving. You could have it as the only dish for lunch or dinner and your large family would still be very happy!
Does Sauce Count as Liquid in the Instant Pot?
If you have been working with the Instant Pot for a while, you know there needs to be some form of liquid in there. You may want to know if sauce counts as a liquid in the Instant Pot? Yes, it does! As long as you have some form of liquid in the Instant Pot you're good, but it has to be at least one cup of liquid (water, broth, sauce).
Can I Put Frozen Chicken in My Instant Pot?
The answer is YES, you can! Just remember that frozen chicken is going to take longer to cook in the Instant Pot. The reason is that because the chicken is frozen, it takes longer for the Instant Pot to come to pressure.
Can I Overcook Meat in the Instant Pot?
The answer is yes you can overcook meat in the Instant Pot. It's important to follow the directions very closely so this doesn't happen. The good news is that the meat that is slightly overcooked can usually be salvaged.
What to Serve with Instant Pot Creamy Garlic Parmesan Chicken?
As I mentioned earlier, there are a lot of different options when it comes to enjoying sides with this Instant Pot Creamy Garlic Parmesan Chicken.
Rolls
Green beans
Mashed potatoes
fries
Large Family Instant Pot Recipes
Are you looking for more Instant Pot recipes for your large family? Don't worry, I have plenty of them. Check out these for starters!
Print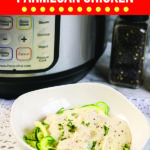 Instant Pot Creamy Garlic Parmesan Chicken | Large Family Pressure Cooker Recipes!
Author:

Prep Time:

10

Cook Time:

10

Total Time:

20 minutes

Yield:

12

Category:

Dinner

Method:

Instant Pot
---
Description
Here's a healthy low carb (sugar free & gluten free, too!) large family recipe for your Instant Pot! Serve it over zucchini noodles or mircle noodles to keep it on the low carb side of life. Or serve it over egg noodles or steamed rice if that's more your thing. 
---
Ingredients
Ingredients 
3 pounds chicken breast, cubed

1 teaspoon salt

1 ½ tablespoon Italian seasoning blend (oregano, basil, thyme)

2 teaspoons paprika

½ teaspoon white pepper

¼ cup olive oil, divided

2 cloves garlic, minced

1 cup chicken broth

½ cup (1 stick) butter

2 cups heavy cream

4 ounces (½ package) cream cheese, softened

1 cup finely grated parmesan cheese
---
Instructions
Instructions
Mix together dry seasonings and toss together with the chicken.

Set the pressure cooker to "saute" until hot. In small batches, brown the chicken in olive oil. Set aside and keep warm.

When all of the chicken is browned, deglaze the bottom of the pressure cooker by adding the chicken broth and scraping the bottom with a wooden spoon.

Return the chicken to the electric pressure cooker and stir in the garlic.

Close and set the valve to sealing. Set the pressure cooker to manual or pressure cook for 3 minutes. After the cycle, perform a quick release.

Stir in the remaining ingredients until the cheese has melted.

Serve over cauliflower rice or zucchini noodles. Garnish with black pepper, additional parmesan and/or fresh basil if desired.
---
Notes
For the slow cooker:
In a large skillet, brown the chicken on all sides before adding to the slow cooker.

Prepare the slow cooker crock with non-stick cooking spray. Add the chicken.

Reduce the chicken broth to ½ cup. Pour over chicken and dot with butter and cream cheese. Cover with parmesan.

Cover and cook on low for 5 to 6 hours. Stir in heavy whipping cream prior to serving.
Do you plan on making this recipe? What do you enjoy most about cooking with your Instant Pot?