Make and freeze this easy lunch to feed your large family with this Large Family Cheesy Chicken and Broccoli Pockets recipe. You can make them in advance and serve them for lunch or an easy dinner!
If you normally buy handy pocket snacks at the grocery store, you need to try these homemade Cheesy Chicken and Broccoli Pockets. You can make them at home with fresh, flavorful ingredients. These sandwich pockets are better for you, but they will also taste better than the ones you can buy in the freezer aisle of your grocery store. Skip the preservatives and make these from scratch. Not only will the kids love them, but so will you!
***Use special promo code HELLO20 to take 20% off your first order in the shop including the SUPER MEGA ULTIMATE Large Family Freezer Meals Bundle here!**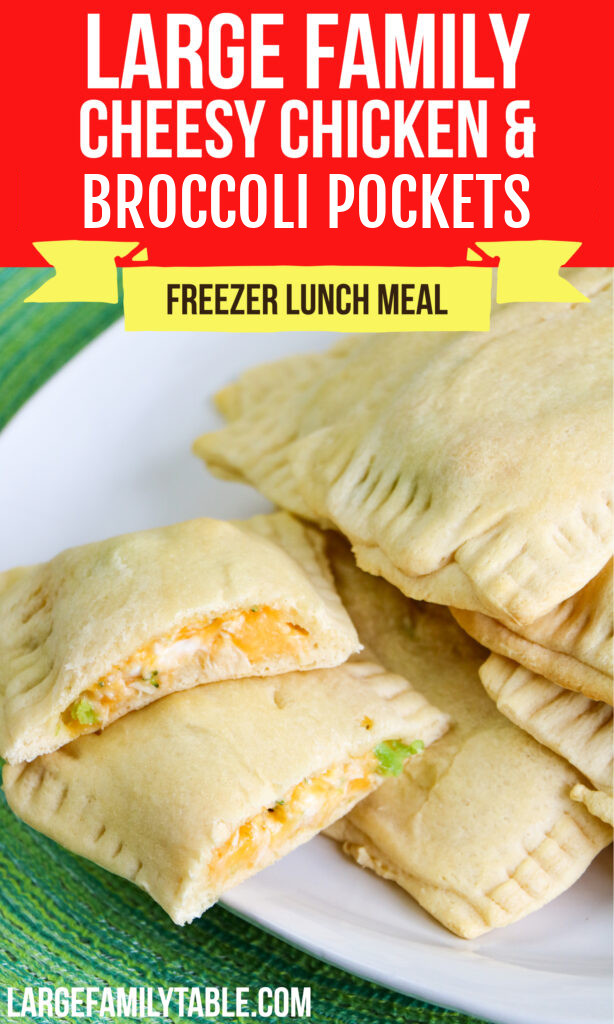 Ingredients Needed to Make the Chicken and Broccoli Pockets
If you plan on making the Cheesy Chicken and Broccoli Pockets, you will need the following ingredients:
Crescent Dough Sheets. You will need four cans of crescent dough sheets to create the crust of your hot pockets.
Diced Chicken. Chop your chicken into pieces before using it. Make the chicken in the instant pot first.
Broccoli. Chop your broccoli in small pieces to go with your chicken.
Shredded Cheddar Cheese. Give your hot pockets a cheesy, tasty center with shredded cheddar cheese.
The only other ingredients needed are mayo and mustard. You can use any brand of mayo and mustard that you prefer.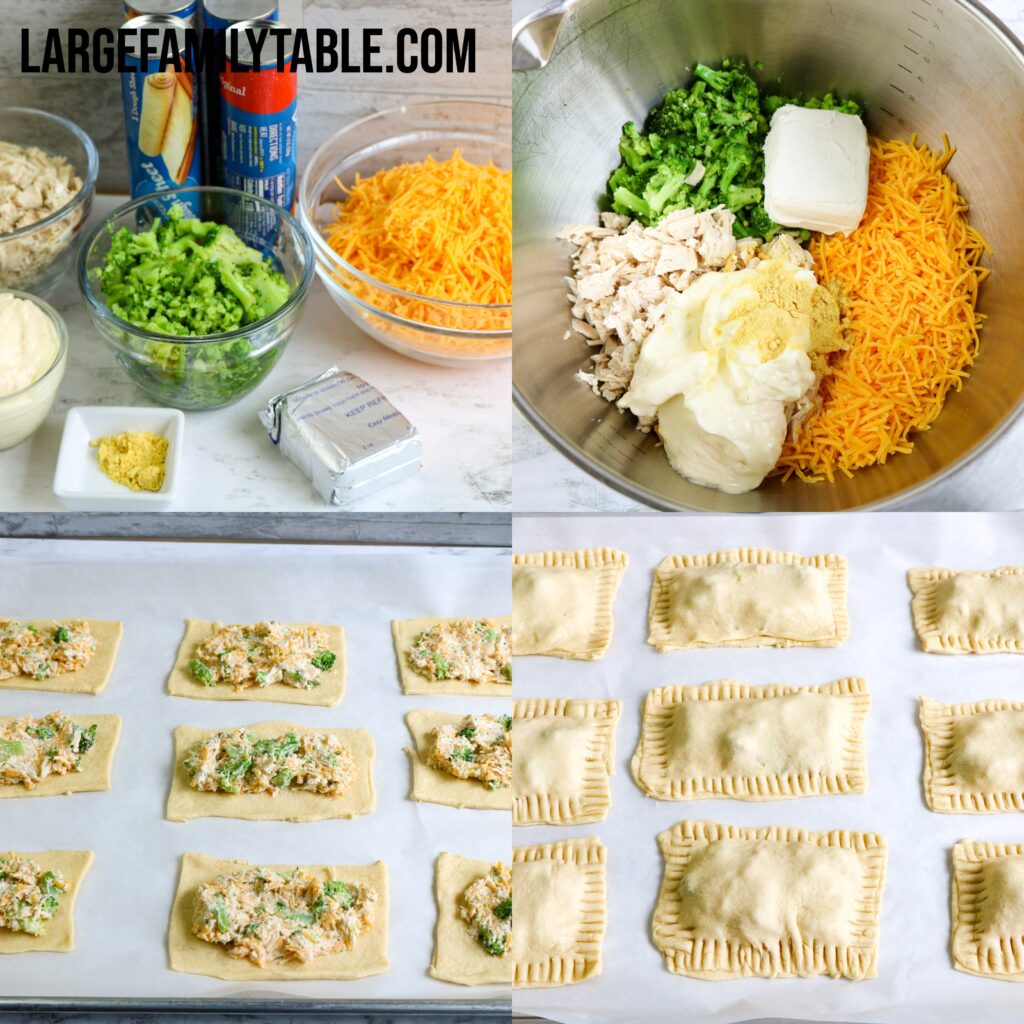 Which Type of Chicken Should I Use?
You can use grilled or boiled chicken breast for this recipe. Prepare the chicken in advance or buy cooked chicken to save yourself some time. Once you have the chicken, chop it into small pieces to ensure that it fits perfectly into the crescent dough pockets.
Can I Use Frozen Broccoli?
You can use frozen broccoli with the chicken and cheese. If you are planning to do so, remove it from the freezer and chop the broccoli into even smaller pieces to avoid having large chunks between the chicken.
Which Type of Cheddar Cheese Should I Use?
The type of cheddar cheese used in this recipe does not matter too much. You can select any brand and specific type of cheddar cheese, such as sharp or mild. You can also substitute this cheese for a different type of shredded cheese that you prefer. Try pepper jack for something spicy, or swiss cheese for a cordon bleu flavor.
What Do I Serve with the Chicken and Broccoli Pockets?
There are lots of things you can make with your chicken and broccoli pockets to stretch the meal. The easiest thing to do is add fresh fruit and veggies. You can also add a homemade pretzel, banana bread, hummus with chips, granola bars, make-ahead cookies, or a smoothie.
How Do I Freeze the Pockets?
Freezing lunch meals in advance is a great way to simplify your large family meals. Wrap each pocket in plastic wrap and seal it with a small piece of tape. Place all the pockets into a food storage container or freezer bag and cover it with a lid. Place the container in the freezer and keep your hot pockets in there until you are ready to heat them and eat them. You can store the pockets for a maximum of six months. I also have other pocket meals to try! Make a few of them at once and have a variety stored in your freezer. Here are Ham and Cheese pockets, Pepperoni Pizza pockets, and my egg, bacon, and cheese breakfast pockets.
How Do I Reheat the Pockets When Frozen?
Remove a pocket from the freezer, peel off the plastic wrap, and put it on a microwave-safe plate. Place the plate in the microwave and heat your pocket for about two minutes or until completely hot both inside and outside. Be careful when grabbing the hot pocket to eat it!
Here are More Large Family Lunch Recipes your Family will Enjoy!
I have lots more lunch recipes and snack ideas to get you through the day!
If you enjoyed this freezer-friendly lunch idea, you can find so many more great freezer meals in my Ultimate Super Mega Large Family Freezer Meals 1, 2, 3, 4, 5, 6, 7, 8, 9, 10, 11, 12 Digital Bundle!!! It includes packs 1-12 of my best-selling large family freezer meals. You will have everything you need to make over 250 large family freezer meals (make as little or as much as you want ) including 12 batch cooking meal prep guides, 12 pack specific freezer meal grocery shopping lists, freezer meal tips, freezer meal printables including a freezer meal planner and more.
Large Family Cheesy Chicken and Broccoli Pockets
Print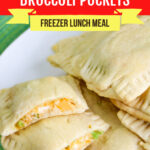 Large Family Cheesy Chicken and Broccoli Pockets | Make-Ahead, Freezer Lunch Recipe!!
Author:

Prep Time:

15 Minutes

Cook Time:

15 Minutes

Total Time:

30 minutes

Yield:

18 pockets

Category:

Dinner/Lunch

Method:

Oven
---
Description
Make the perfect portable meal to eat and serve to loved ones with this Large Family Cheesy Chicken and Broccoli Pockets recipe. You can make them in advance and serve them for lunch or dinner!
---
Ingredients
4 (12 ounce) cans crescent dough sheets

2 cups diced chicken

2 cups broccoli pieces, coarsely chopped

1 cup mayonnaise

¼ cup mustard

4 cups shredded cheddar cheese
---
Instructions
Preheat the oven to 375 degrees. Prepare a large baking sheet with parchment paper.

In a large bowl, combine the chicken, broccoli, mayonnaise, mustard, and cheese.

Roll out the dough and divide each sheet into 9 rectangles.  

Using a medium cookie scoop, place chicken filling into the center of each dough rectangle. Cover the rectangle with another piece of dough. Crimp the edges with a fork to seal.  

Bake for 13 to 15 minutes or until golden brown.
---
Notes
To freeze: Individually wrap the pockets in plastic wrap and place in an airtight container. Store for up to 6 months. Unwrap to reheat in the microwave or oven.
Keywords: Large Family Cheesy Chicken and Broccoli Pockets
These easy pockets are fun to make and taste great! You'll love the convenience of having them ready in the freezer on a busy day. Be sure to add them to your large family menu!
FREE Emergency Pantry Planning Pack!
Don't forget to sign up for the emergency pantry planning pack for free to help you plan your pantry meals! The free Emergency Pantry Planning Pack will help you plan your needed pantry items! Printable pages include pantry inventory, grocery lists, meal planners, a list of pantry staple items, and more.