Update 2017: I wrote this article about Feeding a Big Family several years ago for Money Saving Mom. Our large family grocery budget has doubled over the years as children have grown and we now have six-foot-tall teen boys. However I still use many of the principles in this article including buying in bulk, meal planning in advance, healthy and simple snack choices such as carrot sticks and hard boiled eggs, and more. We're now a family of nine (soon to be 10) with all the children home full-time for homeschooling so we don't have school breakfasts or lunches. I also run a business from home and for several years my husband has been home as well. All that to say times and seasons change, but you can still find helpful tips with the post below. You can also see my posts and videos of large family grocery hauls and large family recipes if you'd like. xoxo
Feeding a Big Family for $400 a Month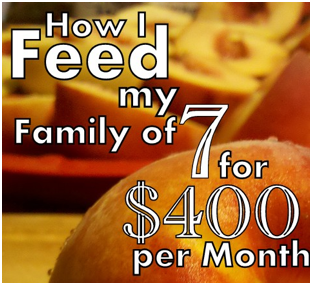 This weekend my article on How I Feed My Family of 7 for $400 per Month posted on Money Saving Mom. This article is just a quick overview of how I save on food for our family.
When I talk about grocery savings I usually get several questions and I wanted to take a moment to go through a few of them here for you.
What about fruits and vegetables? We eat the fruits and veggies like bananas, grapes, strawberries, pineapple, lettuce (although I've heard that some lettuce will last 2 weeks) and tomatoes the first week. After that there are several fruits and vegetables that I've found have a longer shelf life. Our favorites are oranges, apples, grapefruits, potatoes, carrots, and celery. These all can last 3 weeks, and longer. For later in the month we have apple sauce and canned fruits. There's no harm in having a week with canned pineapple and peaches before the next big shopping trip. 😉 We also live in a rural area with 3 orchards less than 5 miles away. In the Summer and Fall we load up on apples and peaches. We also grow our own blackberries. This year we're doing something new; we finally have our own huge (1,600 sq ft) veggie garden! We are enjoying it tremendously.
But wait, what about milk and eggs? I have two local sources for fresh cow milk now. One source will often show up at our door and bless our family with several gallons. However, we buy all of our skim milk for the month and freeze it. I have an article on how to freeze milk. If you notice the dents of the side of the plastic gallon jugs – those are actually for expansion as milk normally freezes during transport (I learned this from a reader ;)) Eggs last several weeks past the date on their box. Lately I've bought 20 dozen per month (we love eggs) and they all last nicely.
Storage? Where do you put all this stuff? We have two refrigerators, a pantry, and a full freezer that my granddad blessed up with when he passed. We keep our daily needed items in our kitchen refrigerator. Back up items, eggs, bread, etc, stay in our 2nd refrigerator. Milk, butter, bagels, and meats like turkey that I may snag for $0.47 per pound over the holidays are in our full freezer.
I see that your family eats a lot of the same food. How does this work? Don't they get tired of the same stuff? I usually pick out 12 – 15 main meals for each month. Some meals are staples for our family. We never have a month without a big pot of homemade chili (or two), breakfast for dinner, spaghetti, beans/rice/cornbread, and chicken pot pie. Other meals I rotate through so that we have them every two months. I've never been a mom who makes something new every night; maybe the Lord has been preparing me to be a work at home mom? For some reason I work well making a large bulk meal every 2 – days. I may serve a main dish a few different ways (Example: Chili can be eaten with crackers, cornbread, over a baked potato, on top of a taco salad, with a turkey sandwich on the side…and one of my favorites…over noodles) but it's our main staple for lunch & dinner until it's gone. I feel like we have a lot of variety for how I do things. Here's my meal plans to give you an idea.
Snacks? What do you do about snacks? We have those too! Frugal snacks in our house are hard-boiled eggs, carrot and celery sticks, yogurt (here's how I make homemade yogurt in the crock pot), smoothies, and fruit. We don't have cookies, chips, soda, or that kind of junk in the house.
Do you work sales or coupon? At this point, no – but Crystal gives me great coupon inspiration! I'm also learning more about couponing and freebies. This hasn't translated over for me with food yet. I'd have to really put time into planning even further before our once-a-month shopping trip. This is already an 8 hour day with many stops and tired feet. The biggest blessing that we have locally is the discount grocery store Sharp Shopper. This store has several locations in PA & VA. I hit this store first and load up on all that I can there. I find deals like 2bags/$1 Lendar Bagels (which I'll quickly buy 20 bags), 2/$1 48 .oz 100% Juice, Natures Own Granola bars 48 count box for $2.99, $0.99 per pack deli turkey meat, 2 boxes/$1 Crystal Lite – the savings goes on. I feel that I save what couponing and sale shopping would otherwise save me, by shopping at Sharp Shopper. I know families who purposely plan trips and vacations to drive through areas that have a Sharp Shopper just so they can stock up.
I often write about saving money be it in the home or homeschool. Here is major link overload if you'd like to read more on grocery savings.
Feeding a Big Family Money Saving Grocery Articles ~
You can get all my recipes in my 2021 SUPER MEGA DEAL!!***Get it all 30+ Products Bundle. It includes everything in my shop through 2021!! You will get so many recipes, make-ahead and freezer meals, lots of sheet pan meals, planning packs to help you organize all your meals (breakfast, lunch, and dinner) and so much more. That's why I call it the super-mega deal! 
FREE Emergency Pantry Planning Pack!
Don't forget to sign up for the emergency pantry planning pack for free to help you plan your pantry meals! The free Emergency Pantry Planning Pack will help you plan your needed pantry items! Printable pages include pantry inventory, grocery lists, meal planners, list of pantry staple items, and more.