Enjoy your favorite fall treat this holiday season without consuming too many carbs. This Keto Pumpkin Pie recipe will leave you in awe due to its wholesome taste. It might be keto-friendly, but it still tastes just as good as a traditional pumpkin pie.
When the fall season approaches and the stores start selling pumpkin-flavored treats, we are all looking for pumpkin pie. Of course, you all know I have made pumpkin pie myself as well as made sweet potato pie, in the past, but now I have a low carb and Trim Healthy Mama-friendly keto pumpkin pie recipe here for you today.
So for those of you avoiding pumpkin pie because of a keto lifestyle, there is still a way to have this amazingly delicious dessert without the guilt. This Keto Pumpkin Pie recipe is a must.
****Use special promo code HELLO20 to take 20% off the entire MEGA DEAL get-it-all Bundle including the best-selling Large Family Freezer Meal Packs 1-12 + so much more!!****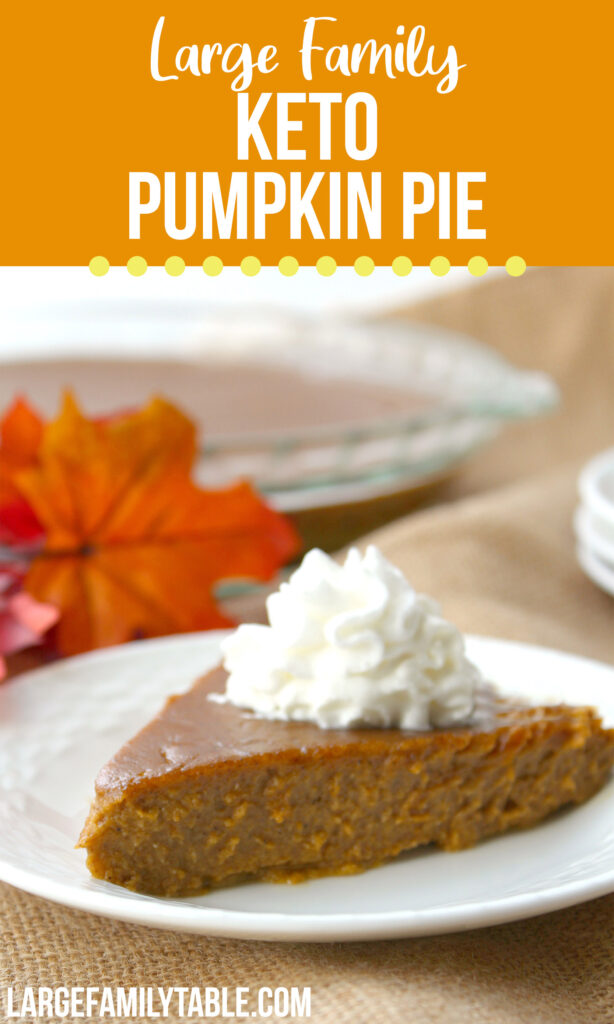 Keto Pumpkin Pie
If you prepare the Keto Pie during the fall season, then you can cut it into little slices and serve it as dessert after finishing dinner. Your kids will enjoy it a lot, and you will feel good knowing they have a dessert that does not contain too much sugar.
While you can enjoy having it as a dessert after dinner, it is also a great recipe to prepare and bring to Thanksgiving dinner with the family. Your family will enjoy eating this pumpkin pie, including those who are not doing the keto diet.
The Ingredients Needed to Make Your Keto Pie
The ingredients in your Keto Pumpkin Pie are slightly similar to those used to make a traditional pumpkin pie, but there are quite a few modifications. You should have the following ingredients:
Pumpkin Puree. You need pumpkin puree to make your Keto Pumpkin Pie. You can find this at most grocery stores.
Pumpkin Pie Spice. Add flavor to the pumpkin puree with the pumpkin pie spice. It offers the perfect sweet touch to the pumpkin pie.
Coconut Flour. Create a crust for the pumpkin pie using coconut flour. It is a keto-friendly crust alternative.
Zero Calorie Sweetener. Give your pie a sweeter taste with the zero-calorie sweetener. I use Stevia in this recipe.
The right ingredients make such a difference while helping you create the perfect Keto Pumpkin Pie to eat. You will also need coconut oil, vanilla extract, and eggs!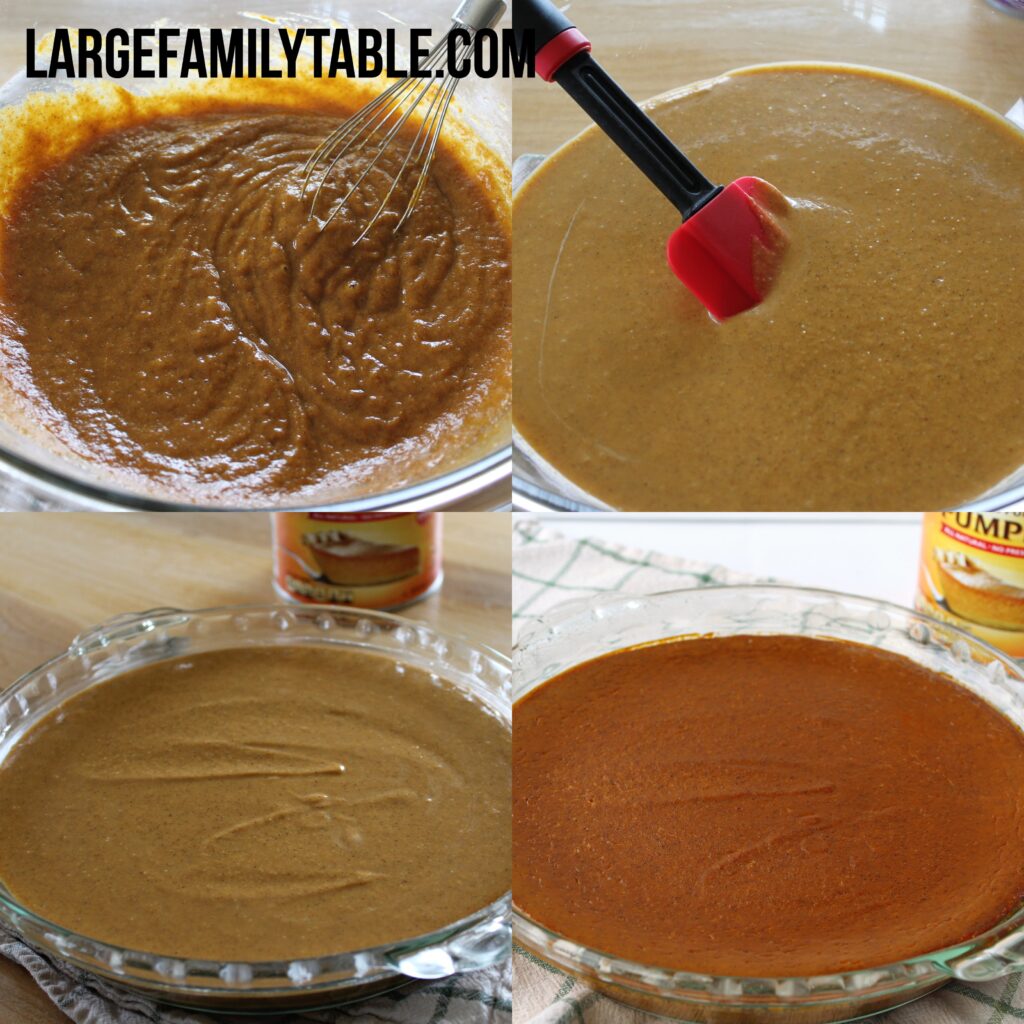 How to Keep Your Pie Fresh
Want to keep your pumpkin pie fresh? Put in your fridge or freezer. You should leave your low carb pumpkin pie in a foil pie container with a plastic lid to keep it fresh. My pie usually does not last longer than two days in the fridge because we start to dig into it before then since it is so good.
However, you can leave your pie in the refrigerator for up to a week to keep it fresh and delicious. If you are going to freeze it, make sure to pull the pie out a few hours before eating it to give it plenty of time to defrost.
Need more ideas to feed your Large Family over the Holidays?
I am very excited to share this newest big-batch cookbook with you because I truly believe it will be helpful as you plan your family holiday get-together meals (or, really, any large family gathering where you need to feed a crowd)! In my Make-Ahead Holiday Meals to Feed a Crowd, you will find some of those wonderful and traditional holiday favorites like green bean casserole, stuffing, and gravy. But you also will get some "out-of-the-box" recipes that might just possibly become your family's NEW holiday favorites!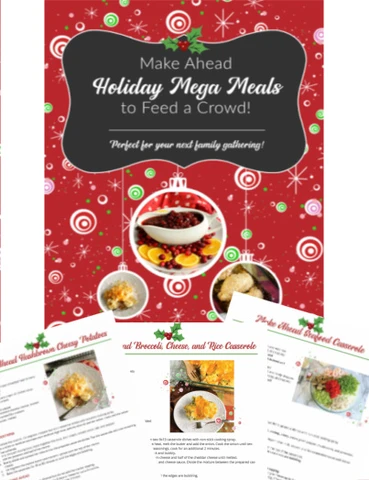 Here are more pumpkin desserts your family will love!
Keto Pumpkin Pie
Print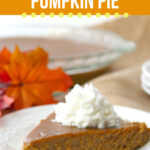 Keto Pumpkin Pie | Large Family Thanksgiving
Author:

Prep Time:

20 minutes

Cook Time:

40 Minutes

Total Time:

1 hour

Yield:

3 9-inch pies

Category:

Dessert

Method:

Oven
---
Description
Enjoy your favorite fall treat this holiday season without consuming too many carbs. This Keto Pumpkin Pie recipe will leave you in awe due to its wholesome taste. It might be keto-friendly, but it still tastes just as good as a traditional pumpkin pie. This recipe makes three 9 inch pies. 
---
Ingredients
3 tsp. coconut oil 
9 eggs
3  cans pure pumpkin puree, unsweetened (15 oz cans)
4 ½ tsp. stevia glycerite (equals 1 1/2 cup sugar)
3 TBSP. pumpkin pie spice
3 TBSP. vanilla extract
3 cup coconut milk, unsweetened, full-fat
6 TBSP. coconut flour
---
Instructions
Preheat oven to 350 degrees F.
Prepare three 9-inch glass pie plate by greasing it with coconut oil.
In a large bowl, lightly whisk the eggs. Then add in the pumpkin, Pumpkin pie spice, stevia, and vanilla, whisk until well mixed
Shake the can of coconut milk and measure 3 cups, adding it to the pumpkin mixture, whisking to fully combine. Once blended add in the coconut flour.
Transfer the mixture to the greased pie plate. Bake until golden and the center appears set. Check by using a toothpick inserted so it comes out a little moist, but free of batter. This was about 40 minutes in my oven.
Allow the pie to cool for 2 hours on a cooling rack, then cover and refrigerate for at least 2 hours before slicing and serving.
When ready to serve, slice the keto pumpkin pie by gently run a knife along the edge of the pie to release it from the plate. The pie is fragile, so use care when you slice it and lift the slices out of the pan.
---
Notes
*While this pie recipe is only 20 minutes to prepare and 40 minutes in the microwave, note that it requires 2 hours to cool and an additional 2 hours in the refrigerator. A great idea is to make it the day before you need it. 
Keywords: Keto Pumpkin Pie
This Keto Pumpkin Pie is a great way to enjoy a tasty dessert and stay on your keto plan. It's easy to make and the perfect dish to make ahead and take to Thanksgiving dinner.
FREE Emergency Pantry Planning Pack!
Don't forget to sign up for the emergency pantry planning pack for free to help you plan your pantry meals! The free Emergency Pantry Planning Pack will help you plan your needed pantry items! Printable pages include pantry inventory, grocery lists, meal planners, list of pantry staple items, and more.