Following the keto diet has never been easier with recipes like the Keto Pumpkin Chocolate Chip Cookies. Despite tasting like a traditional cookie, these tasty treats are low-carb and sugar-free. Pumpkin is my favorite fall flavor. I look forward to the pumpkin spice lattes, pumpkin pies, and other sweet treats that are both delicious and comforting. The only problem with some pumpkin treats is that they are not always keto-friendly.
*Use special promo code HELLO20 to take 20% off your first order in the shop including the SUPER MEGA ULTIMATE Large Family Freezer Meals Bundle here!**
Keto Pumpkin Chocolate Chip Cookies
When I want to watch carb consumption, I need to play it safe with a low-carb recipe that will blow me away by still tasting good. These Keto Pumpkin Chocolate Chip Cookies are the perfect keto-friendly dessert to make and serve at any function.
Who knew that pumpkin went so well with chocolate? Upon baking these cookies, I realized that the two ingredients pair well together and truly create something sweet, moist, and delicious. In fact, that is one of the things I love most about these cookies. Instead of being too hard and crunchy, each bite is soft.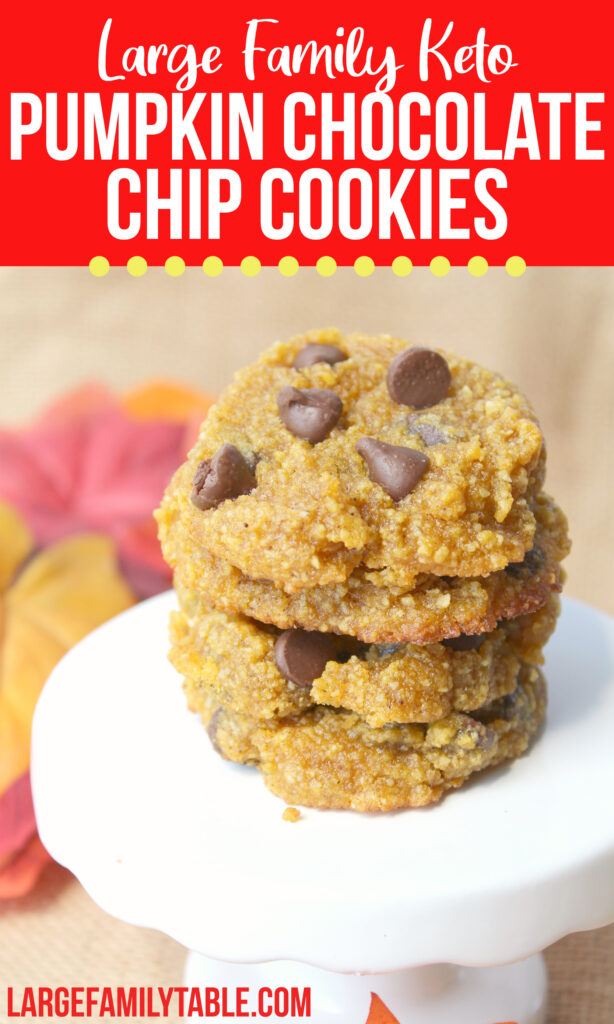 Reasons to Make the Keto Pumpkin Chocolate Chip Cookies
I have many reasons to encourage anyone to try the Keto Pumpkin Chocolate Chip Cookies recipe. Whether you are following a keto diet or not, this is an excellent recipe for you because it is low-carb. You do not have to worry about feeling guilty for having dessert whenever you crave something sweet.
If you are anything like me, you will have a chocolate craving every so often, and these cookies will help you satisfy that craving in a guilt-free way. You can serve this to the kids, and they will love them without even realizing that the recipe is any different than what they are used to eating.
Alternative Changes to Make to Your Keto Pumpkin Chocolate Chip Cookies
The pumpkin added to his recipe is the sugar-free kind to keep the carbs low. You can buy it or make a pureed pumpkin.
You will use almond flour instead of traditional flour to keep things keto-friendly.
If you cannot use almond flour, you can replace it with another keto-friendly option, such as tapioca flour or organic oat flour.
You can choose the type of chocolate chips that you want to add to your cookies.
Some people prefer using dark chocolate baking chips, while others prefer the milk chocolate baking chips.
No matter which ones you choose, they will end up adding that wonderful gooey chocolatey texture and taste to your cookies.
How to Store Your Cookies to Keep Them Fresh
After taking your time to bake these Keto Pumpkin Chocolate Chip Cookies, you want to keep them as fresh and moist as possible. Place a wax paper sheet inside a spacious container, spread your cookies down on the wax paper, and then put a lid on the container.
Leave the cookies out on the kitchen table, but make sure to keep them sealed properly. The cookies should remain fresh for at least a week, but you will likely have them finished by then because they taste so good.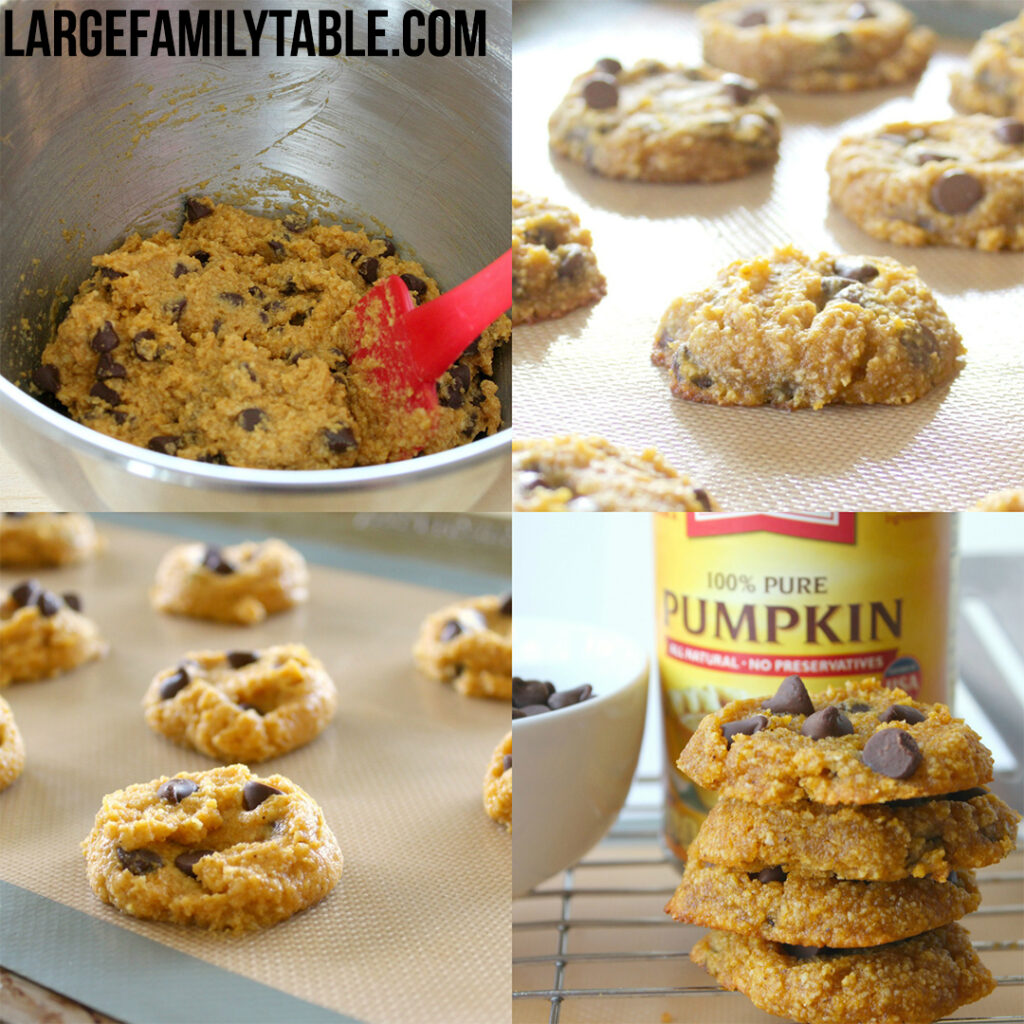 Looking for more cookie recipes?
I have tons of delicious and fun baking recipes to add some joy to your Large Family Table! In my Make-Ahead and Freeze Cookie Baking Book you will find 10 easy and yummy recipes for large-batch cooking baking! You can prepare them for holiday get-togethers or gifts or just for fun any of the year!! 
Here are more Keto Recipes your family will enjoy!
Keto Pumpkin Chocolate Chip Cookies
Print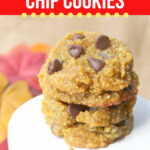 Keto Pumpkin Chocolate Chip Cookies | Large Family Baking
Author:

Prep Time:

20 minutes

Cook Time:

12 Minutes

Total Time:

32 minutes

Category:

Dessert

Method:

Oven
---
Description
Are you trying to eat low carb or Keto? This Keto Pumpkin Chocolate Chip Cookies recipe is so good the whole family will love it. 
---
Ingredients
1 ½ cups almond flour
1/2 cup softened butter
3/4 cup granular Swerve
1 teaspoon vanilla extract
1 egg
1/2 cup pumpkin puree
1 teaspoon pumpkin pie spice
1/2 teaspoon baking powder
1/4 teaspoon salt
3/4 cup sugar free chocolate chips
---
Instructions
Pre-heat oven to 375 degrees.
Prepare a baking sheet with parchment paper or a baking mat.
Using a mixer, mix together softened butter, Swerve, egg, and vanilla extract until creamy.
Mix in pumpkin puree and pumpkin pie spice.
Add almond flour, baking powder, and salt and mix ingredients using a spoon until a soft dough forms.
Add in chocolate chips
Scoop cookie dough into 24 balls and flatten each one a little bit using the back of a spoon. The cookie dough won't spread out much unless they are flattened).
Bake for 12-13 minutes until slightly browned and cooked through.
Transfer to a cooling rack and allow to fully cool.
Keywords: Keto Pumpkin Chocolate Chip Cookies
Now you see that Keto meal plans still can include tasty desserts without all the sugar! Yay! These are so goo you'll forget that they are Keto and so will your family.
FREE Emergency Pantry Planning Pack!
Don't forget to sign up for the emergency pantry planning pack for free to help you plan your pantry meals! The free Emergency Pantry Planning Pack will help you plan your needed pantry items! Printable pages include pantry inventory, grocery lists, meal planners, list of pantry staple items, and more.