Get the Best-Selling Large Family Freezer Meals Collection here! Use promo code HELLO20 to take 20% off your first order!
In true Jamerrill fashion, I bring you a fun vlog where I take a recipe I prepared years ago and make it healthier for everyone (here's my original Jamerrill's Stir Fry Fried Rice video from 2016!). Thus I introduce you to the new and improved Jamerill's Stir Fried Cauliflower Rice | Low Carb, Keto, THM friendly. Also in true Jamerrill fashion, I have to make substitutions to my own recipe. This large family mama keeps it real all the time.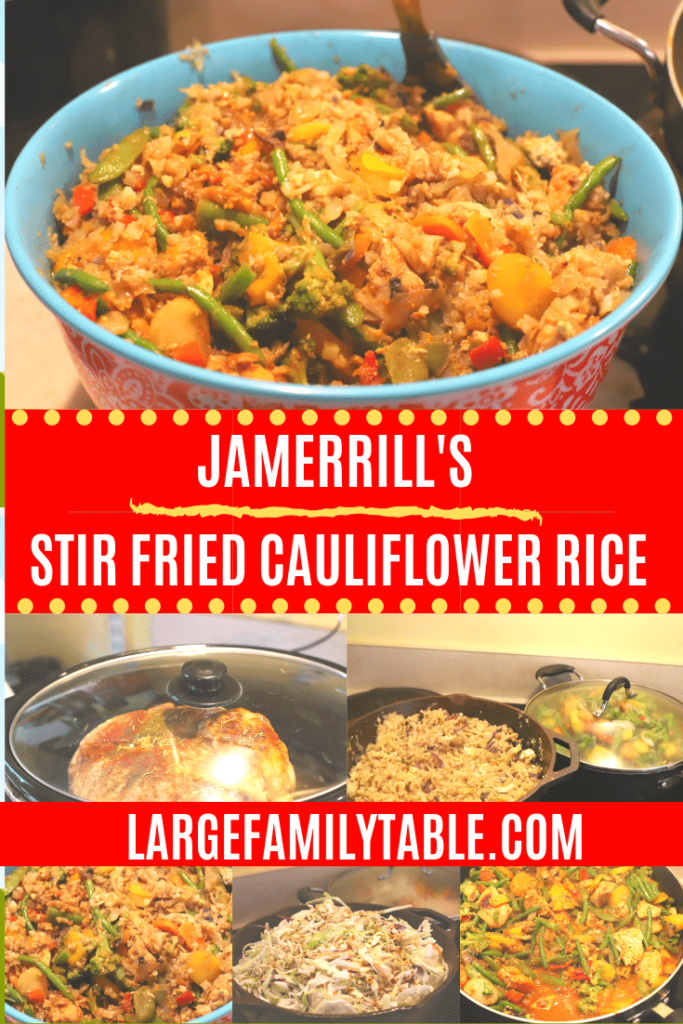 Does cauliflower taste like real rice?
No, and don't let anyone tell you differently. Cauliflower has a mild, nutty taste that absorbs flavors well. In dishes like Jamerrill's Stir Fried Cauliflower Rice | Low Carb, Keto, THM Friendly, it marries amazingly well with the ginger, garlic, soy sauce and sesame oil. If you are used to brown rice, you won't really notice a difference. My family loves it so we make it often.
Can you buy cauliflower rice?
You can rice your own cauliflower. Kitchenaid makes an attachment for their stand mixer to do it pretty easily. But this large family mama is limited on time so I buy it already riced in the frozen section of Aldi or Costco. You can find it in the frozen section of any grocery store near you.
How do you defrost cauliflower rice?
For this recipe you don't need to defrost beforehand. Add it to the pot to cook still frozen. For other recipes, follow the directions on the package. Most recipes will cook from a frozen state.
Since we're going for easy here, put a chicken in the crockpot to cook for 4-5 hours for this recipe. You could also use boneless chicken breast if you have it. Other mamas have used a plain rotisserie chicken as well. As I show you in the video, you can even use chicken breast you have reserved for another recipe. Do as I say not as I do. Nothing to see here, ha!.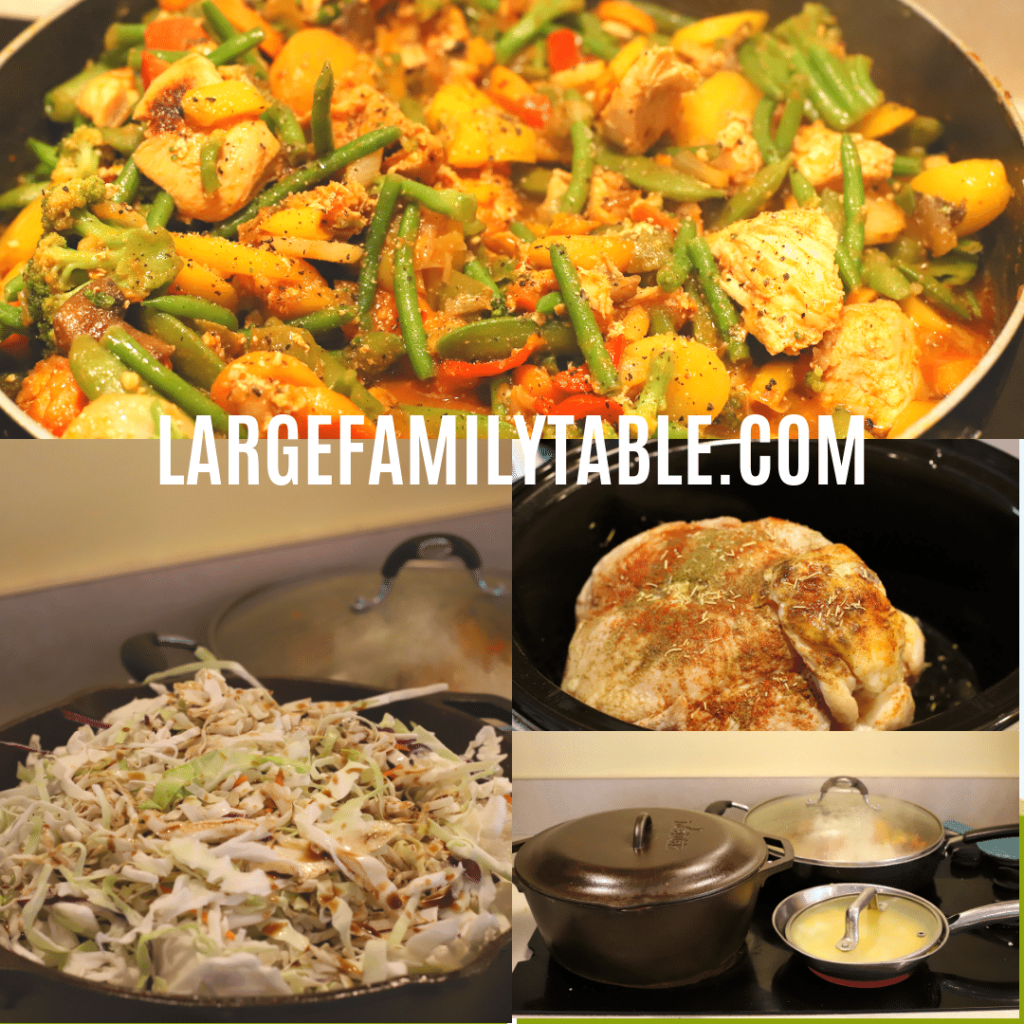 Is cauliflower rice good for weight loss?
Cauliflower rice is lower in calories and higher in fiber as well as full of nutrients. It's one of the healthiest cruciferous vegetables you can use in place of anything. The short answer is yes which makes it low carb, keto, and THM friendly. That's what makes Jamerrill's Stir Fried Cauliflower Rice so amazing.
Jamerrill's Stir Fried Cauliflower Rice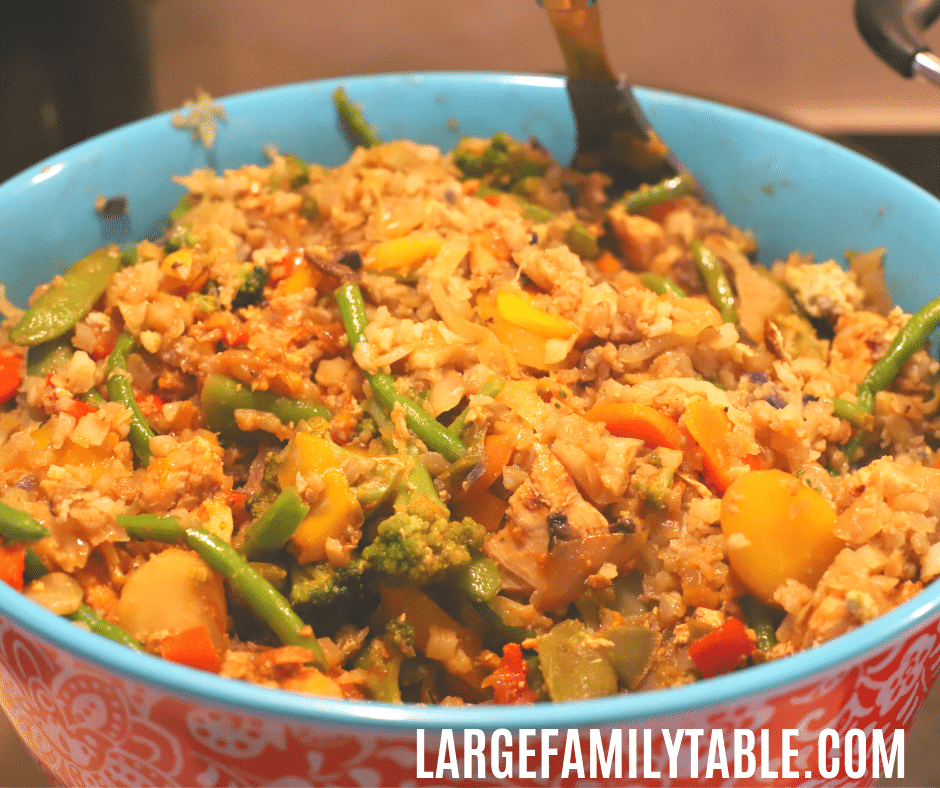 Print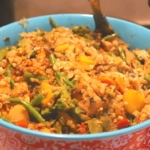 Jamerrill's Stir Fried Cauliflower Rice
Author:

Category:

large family meal

Method:

cooktop

Cuisine:

Chinese
---
Description
This healthy dinner recipe is TASTY, low carb, Keto friendly, and would also qualify as a Trim Healthy Mama S-Meal. It's chicken and tons of veggies so you can't go wrong with this healthy dinner idea!
---
Ingredients
4 lbs chicken cooked

5 Tbsp sesame oil

1 large onion, diced

1 cup soy sauce (or Bragg Liquid Aminos. I used Organic Coconut Aminos that I had on hand)

4 (16 oz) bags of cauliflower rice

1 Tbsp ginger

4 lbs vegetable blend (stir fry blend)

2 lb coleslaw mix (cabbage, etc)

6 eggs, scrambled
---
Instructions
Cook Chicken (via Slow cooker, IP, stovetop)

Cook veggies and spices together and covered with lid (I used 5 qt Dutch oven.)

Meanwhile, also cook and scramble 6 eggs.

Once the chicken is cooked and veggies are tender, combine together with scrambled eggs in a large bowl.

Be the hero of your family!
---
Notes
You can use any protein you wish in this recipe like beef or pork.
Keywords: Stir Fried Cauliflower Rice
This recipe is so tasty and sure to be gobbled up by your family in record time. You will love how healthy it is and full of good protein. Want to make the original version? It's one of my most popular recipes. We like both versions but I'm pretty partial to the low carb one. Anytime mama can eat what the family eats is a good day.
Want more cauliflower recipes?
Pork Roasted Cauliflower & Petite Potatoes Sheet Pan Dinner Recipe
Low Carb Cheesy Cauliflower Soup
Low Carb Beef and Cheddar Cauliflower Bake
Keto Red Pepper Meatballs Over Cauliflower Rice