This large family mama is in love with sheet pan dinners. It makes clean up a breeze as well as prep so easy. I swear angels sing in heaven for easy prep & clean up when you're a large family mama. This garlic butter salmon with roasted red potatoes sheet pan dinner does not disappoint.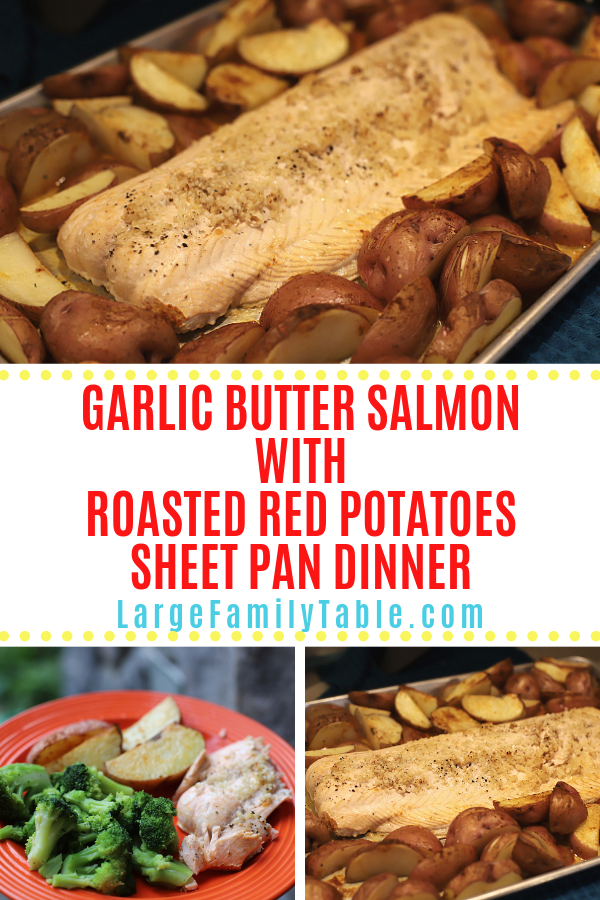 I picked up a 2.78 lb "Value Family Pack" of salmon from Aldi, which I found for $7.69/lb. For the budget conscious among us, this is not a cheap dinner, but it is so delicious and oh-so-good-for-you that it is worth it to splurge on every now and then. They must call it brain food for a reason! 😀
What goes well with salmon?
Grilled asparagus
Herb roasted potatoes
Sauteed sugar snap peas
Glazed & roasted Brussels sprouts
Honey glazed carrots
Broccoli
Roasted sweet potatoes
A Mediterranean salad
So many choices of things that pair well with this garlic butter salmon sheet pan dinner! I decided to go with some roasted red potatoes and some steamed broccoli, a family favorite. It turned out just perfect!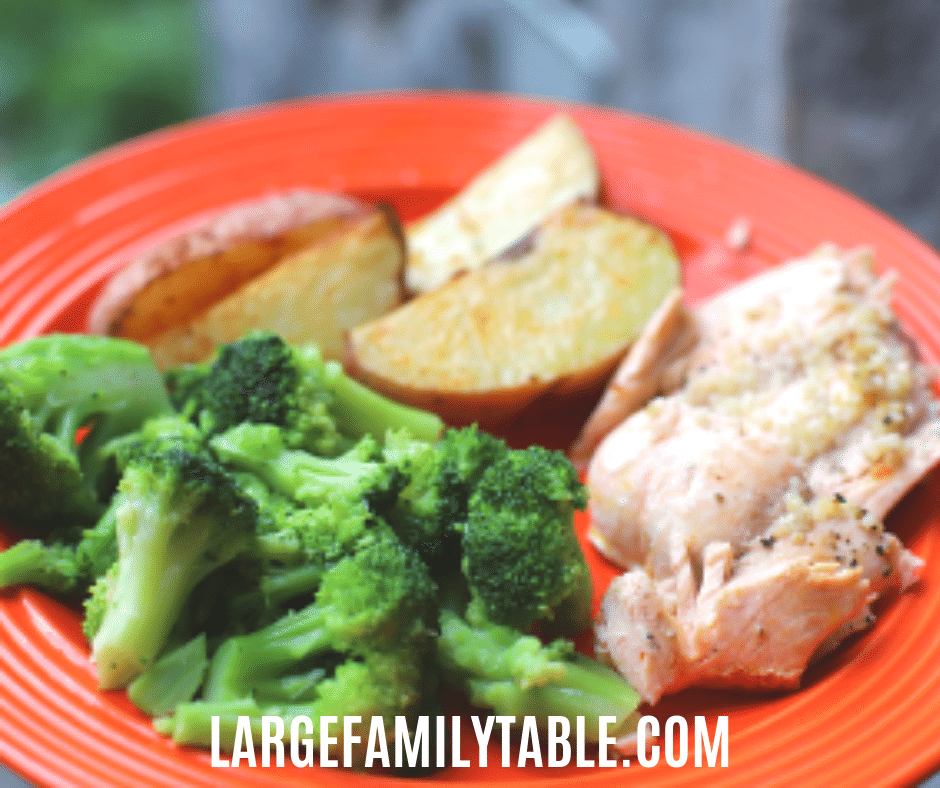 The Veggies
Salmon doesn't take long to bake, so for this dinner, you'll need to start with the potatoes and get them roasting for a while first. I used a 5 lb bag of red potatoes, washed, quartered, tossed in some avocado oil and sprinkled with some garlic powder, paprika, and salt & pepper to taste. Slide the sheet pan into the preheated oven and roast the potatoes for about 10 minutes.
To serve this with a side of steamed broccoli, you'll want to get your water going after you get the salmon into the oven in the next step. This guarantees everything should be done at the same time. Your kids might not appreciate the efficient scheduling skills it took you to pull that off, but you'll know what an awesome job you did. Pat yourself on the back and enjoy the fruits of your labor!
The Garlic Butter Sauce
This is such a simple sauce, and so full of flavor! It's just a mix of equal parts melted butter, minced garlic, and lemon juice. Easy peasy. For this behemoth piece of salmon, I used 4 tablespoons of garlic, 4 of butter, and 4 of lemon juice. It worked out perfectly.
The Salmon
After the potatoes have roasted for 10 minutes, remove the pan from the oven and arrange potatoes towards the pan edges, leaving an open space along the center of the pan for the salmon. Place the salmon on the pan, pour the prepared garlic butter sauce over the top, and return pan to oven for 10-11 minutes, or less, depending on the size of your fillet.
Want more Sheet Pan Dinner Ideas?
Lemon Pepper Pork & Veggies Sheet Pan Dinner
Lemon Pepper Drumsticks with Roasted Brussel Sprouts
Broccoli & Bratwurst Sheet Pan Dinner
Here's my growing list of large family sheet pan recipes here on Large Family Table – woot!
Print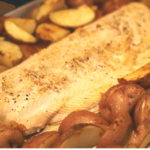 Garlic Butter Salmon with Roasted Red Potatoes Sheet Pan Dinner
Author:

Prep Time:

10 – 15 mins

Cook Time:

20 mins

Total Time:

-28263114.3 minute

Yield:

8-10

Category:

sheet pan dinners

Method:

oven

Cuisine:

American
---
Description
Here's a healthy sheet pan dinner that's full of flavor and brain food. How much better can it get than that?
---
Ingredients
2-3 lb piece of salmon
5 lbs potatoes
avocado oil
4 Tbsp butter
4 Tbsp minced garlic
4 Tbsp lemon juice
salt & pepper
Garlic powder
paprika
 
---
Instructions
Spray sheet pan with oil
Wash potatoes then cut in half or quarters
Toss with avocado oil , salt & pepper, garlic powder, and paprika
Place in 400 degree oven for 10 minutes
In the meantime, add the minced garlic, butter and lemon juice into a bowl.
Microwave for 1 minute
Take potatoes out of the oven and move to the sides of the sheet pan
Lay salmon (skin side down) on the middle of the sheet pan
Pour butter mixture on salmon.
Place back in  oven for additional 1o mins or until salmon reaches 145 degrees
Take out and enjoy!
---
Notes
Salmon is done when it reaches an internal temp of 145 degrees or when it turns from translucent to pink.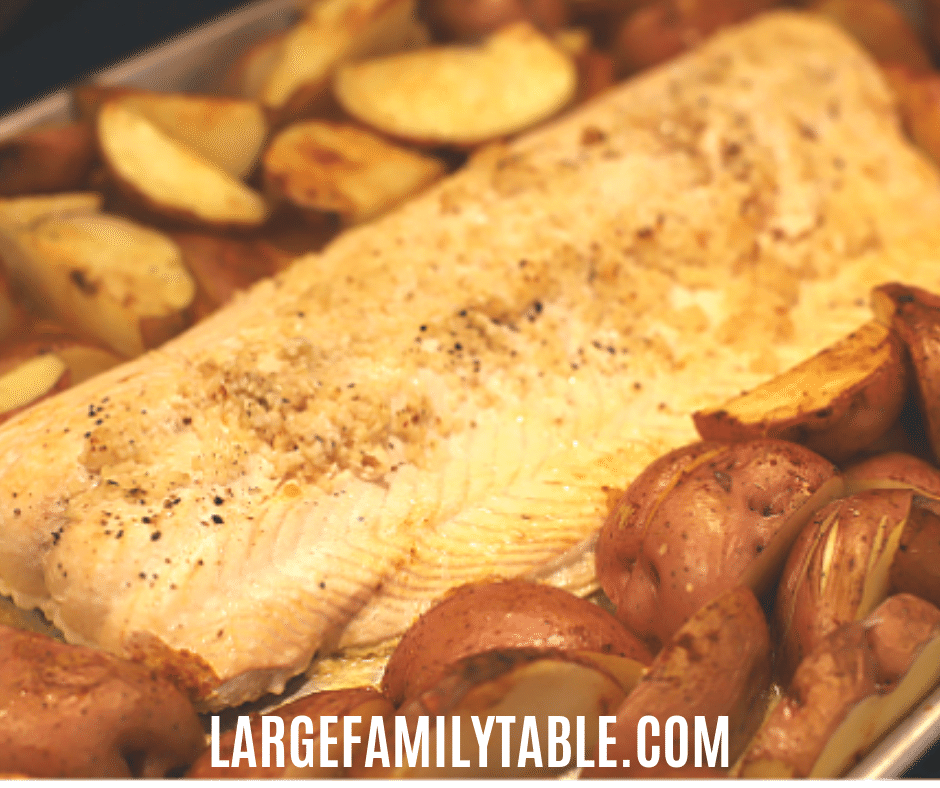 In about 30 minutes, you will have a healthy and delicious meal that your family is sure to love. This garlic butter salmon sheet pan dinner will have your house smelling scrumptious. While it's not the most frugal meal for a large family, it's nice to splurge every now and then. This frugal mama will be watching for salmon to be on sale and stocking up!
My Large Sheet Pans
If you're interested, here is my Amazon affiliate link for my large sheet pans that I use for sheet pan meals!