Let's talk about something delicious that we can all make for our large family breakfasts. These Big Family Sheet Pan Breakfast Sandwiches are amazing in so many ways. When you awake to all of your kids staring at you because they are hungry, you need this large family recipe in your life. It will feed your big family and more! Your family will also love my large family sheet pan pancakes recipe!!
***Use special promo code HELLO20 to take 20% off your first order in the shop including the SUPER MEGA ULTIMATE Large Family Freezer Meals Bundle here!**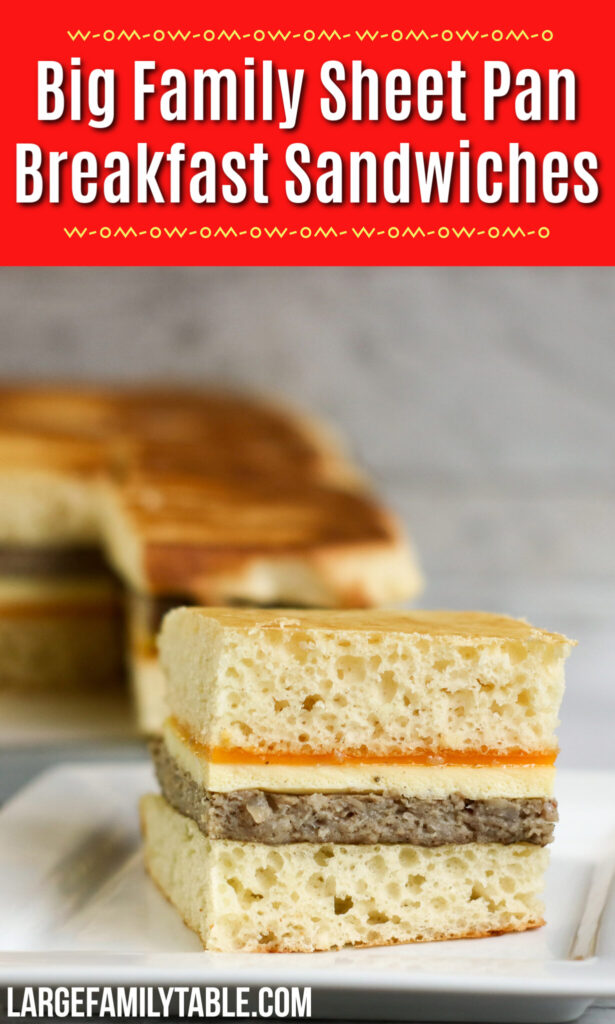 Big Family Sheet Pan Breakfast Sandwiches
When you're trying to feed a big family breakfast, it can be exhausting trying to keep all of those bellies full. Sheet Pan Breakfast Sandwich will feed your large army and keep them full. A bowl of cereal or Oatmeal in the slow cooker in the morning is delicious, but that doesn't mean it's going to keep everyone full. Things are about to change for your family and this is just the start of it!
Ingredients for the Make-Ahead Sheet Pan Breakfast Sandwich
Now that you are excited about making these Big Family Sheet Pan Breakfast Sandwiches, you may be wondering what ingredients go into the sandwich.
Sausage – This is the protein of this meal and it's necessary. To fill those bellies up, you need something like sausage. And it does not disappoint.
Egg – Yes, my friends – this yummy breakfast meal also includes eggs, which are a favorite around here. Most of the time, eggs are also budget-friendly!
Cheese – Can you even have a sandwich without cheese? You'll enjoy making the large breakfast sandwich, especially when it has cheese.
The total list of ingredients in is in the recipe card below. This is one recipe that you can make over and over and you'll never get tired of it.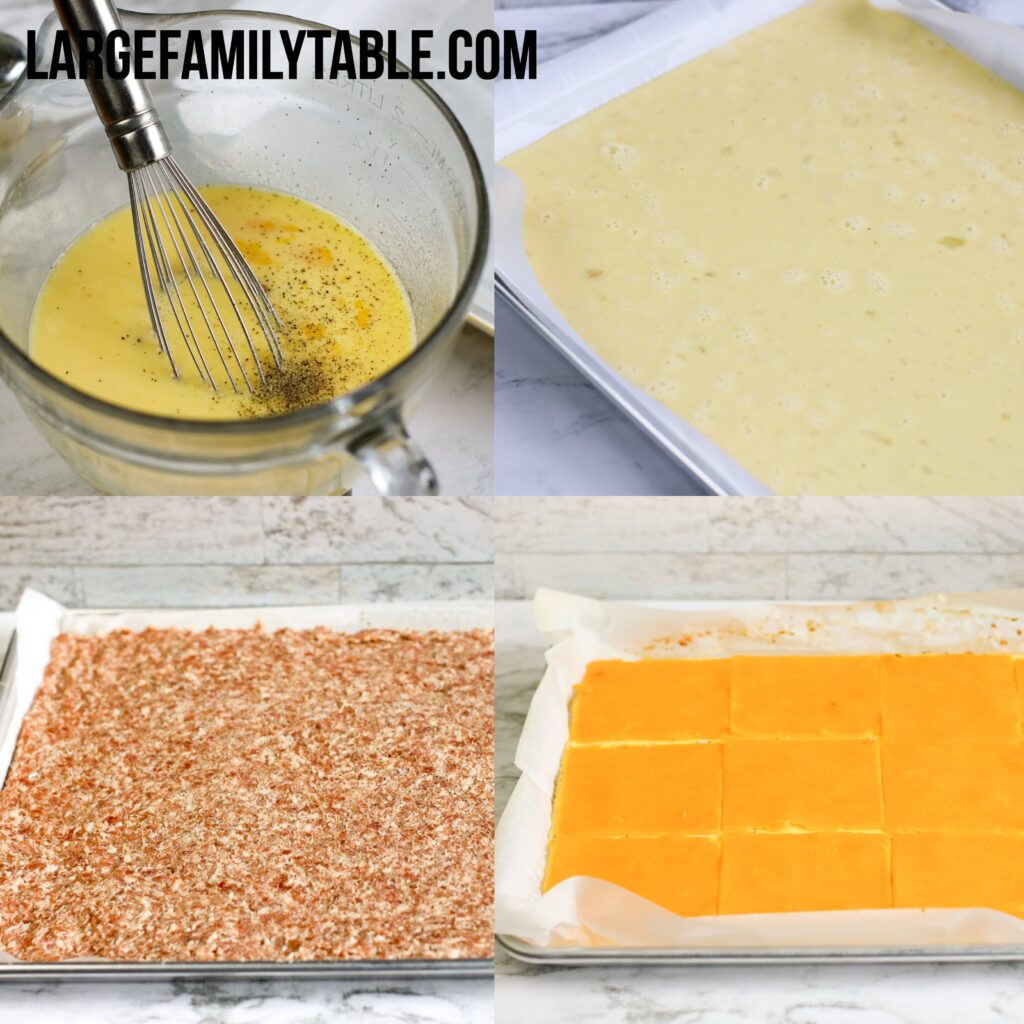 What Can You Serve with Sheet Pan Breakfast Sandwich?
You may be wondering what you can serve with this sandwich. For the most part, you can serve this by itself and everyone will be filled up. You could have an array of different juices for your kids to enjoy along with this meal. Also, a side of fruit or our Fruit Pizza would be a nice addition.
How to Store This Sheet Pan Breakfast
I don't know about you, but my family LOVES when I get up and make them something special for breakfast. With that being said, sometimes there are leftovers because my large family meals do make a lot. If this is the case, then you will need an airtight container. If you're going to store it in the fridge, just make sure it's sealed tight.
What part of this recipe is your favorite? If you're looking for something different to make for breakfast, lunch, or dinner, then give this recipe a try.
Here are more big family breakfast ideas for you to try!
Recipe for Big Family Sheet Pan Breakfast Sandwiches
Print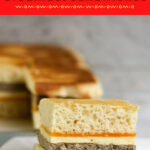 Big Family Sheet Pan Breakfast Sandwiches | Breakfast Ideas for Big Families
Author:

Prep Time:

25 Minutes

Cook Time:

55 Minutes

Total Time:

1 hour 20 minutes

Yield:

24

Category:

Breakfast

Method:

Oven
---
Description
Changing up breakfast just got a whole lot easier thanks to these Big Family Sheet Pan Breakfast Sandwiches. It's super easy to make! 
---
Ingredients
Pancake Layer

6 cups pancake mix of your choice
6 large eggs
3 cups milk

Sausage Layer

3 pounds breakfast sausage 

Egg Layer

12 large eggs
½ cup milk
½ teaspoon salt or to taste
¼ teaspoon black pepper or to taste
12 slices mild cheddar cheese
---
Instructions
Preheat the oven to 425 degrees. Prepare three 17×11 inch baking sheets by lining them with parchment paper, setting them aside. Also line an 18×13 inch baking sheet with parchment paper and set aside.
Whisk together the pancake mix, eggs, and milk. Divide the batter evenly on the first two 17×11 baking sheets. Carefully tilt pans to spread the mixture evenly. Place in the oven and bake for 15 minutes. 
While the pancakes are cooking: In another large bowl combine the eggs, milk, salt, and pepper.  Pour the egg mixture onto the third 17×11 baking sheet. Place in the oven and bake for 15 to 17 minutes or until the eggs are set.
After the eggs have cooked, remove from the oven and decrease the oven temperature to 350 degrees. 
Press the sausage into the 18×13 baking sheet, covering the bottom in an even layer. Bake for 20 minutes. Drain the grease, patting with paper toweling if needed. Layer the cheese over the sausage and return to the oven and continue to bake for another 5 minutes or until the cheese has melted.
To assemble the sandwich, layer a pancake with the sausage and eggs, finishing with the second pancake. Portion into breakfast-sized sandwiches.
To freeze, wrap sandwiches individually and then place in an airtight container or freezer bags. Defrost the day before you need it. Reheat in the oven or microwave.
Keywords: Sheet Pan Breakfast Sandwich
These delicious breakfast sandwiches have so many flavors going on! With sausage, pancakes, and eggs in all the delicious layers you won't even know what your eating, but you'll know that it's good! Try this delicious breakfast and let me know how you like it. You will also love these helpful breakfast freezer meal recipes!
FREE Emergency Pantry Planning Pack!
Don't forget to sign up for the emergency pantry planning pack for free to help you plan your pantry meals! The free Emergency Pantry Planning Pack will help you plan your needed pantry items! Printable pages include pantry inventory, grocery lists, meal planners, list of pantry staple items, and more.