Homemade Biscuits and Gravy Casserole Recipe
Whether you're having breakfast for dinner or you just want to make a special breakfast, this meal is for you. This Homemade Biscuits and Gravy Casserole recipe is one of my favorite large family breakfast ideas! Whether you're bringing this meal to a gathering or just have a lot of family members to feed, it can answer the call. Are you ready to give this recipe a try?
Homemade Biscuits and Gravy Casserole Recipe
There are a lot of large family recipes I like making out there, but this casserole is without a doubt one of the best. The reasoning behind that is making biscuits and gravy for a large family is hard. You are normally standing there a really long time and the meal is gone in no time. I love making this Homemade Biscuits and Gravy Casserole recipe because it feeds a crowd and there are leftovers.
We've talked about casseroles before and everyone knows how much of a time saver they are. You can literally make a casserole out of anything and this makes me so happy. As you can see from this recipe, it utilizes every creative bone in my body and it's so yummy!
What Kind of Dough Do You Use?
For this recipe, if you have your own biscuit dough that you want to use go for it. However, we're going to take a slight shortcut and use biscuit dough that you can buy at the store. While I love making my biscuits from scratch, sometimes it's nice to just have something on hand that you can use in a pinch.
What is Bulk Sausage?
As you can see, in the recipe, it calls for bulk sausage? Well, bulk sausage is when you buy sausage in bulk. You normally get a better price because you're buying a ton of it at one time. This recipe calls for two pounds of it. When I freeze my sausage, I try and freeze it into one or two pound bags, so that I can pull it out for recipes like this one.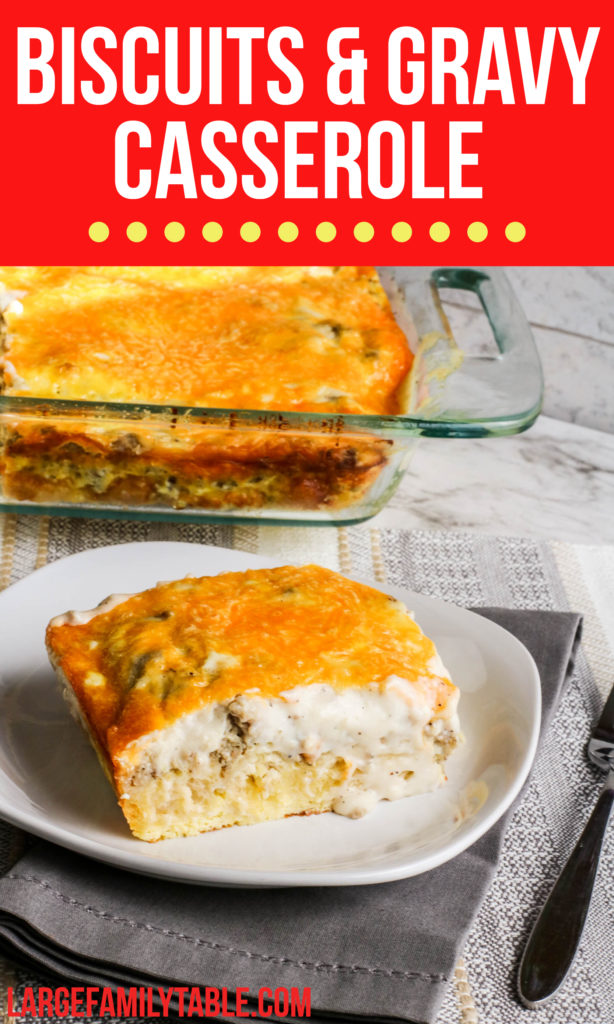 What Kind of Shredded Cheese Should I Use?
I use cheddar cheese for this casserole, but don't be afraid to use up what you have. I would think that a lot of different kinds of cheese would taste good. Sometimes you just have to use what you have on hand. However, cheddar cheese that is shredded is delicious and will add so much flavor to this dish.
How to Freeze Homemade Biscuits and Gravy Casserole
Let's say you decide you want to freeze this recipe, you can. I love that I can make a double batch and freeze one for later. You need a freezable container that can fit a casserole in it. There are so many options these days! This can stay in the freezer for up to six months.
Have you ever made Homemade Biscuits and Gravy Casserole? This is a true large family table favorite and I think you'll like it more than you ever thought possible. Let me know what you think.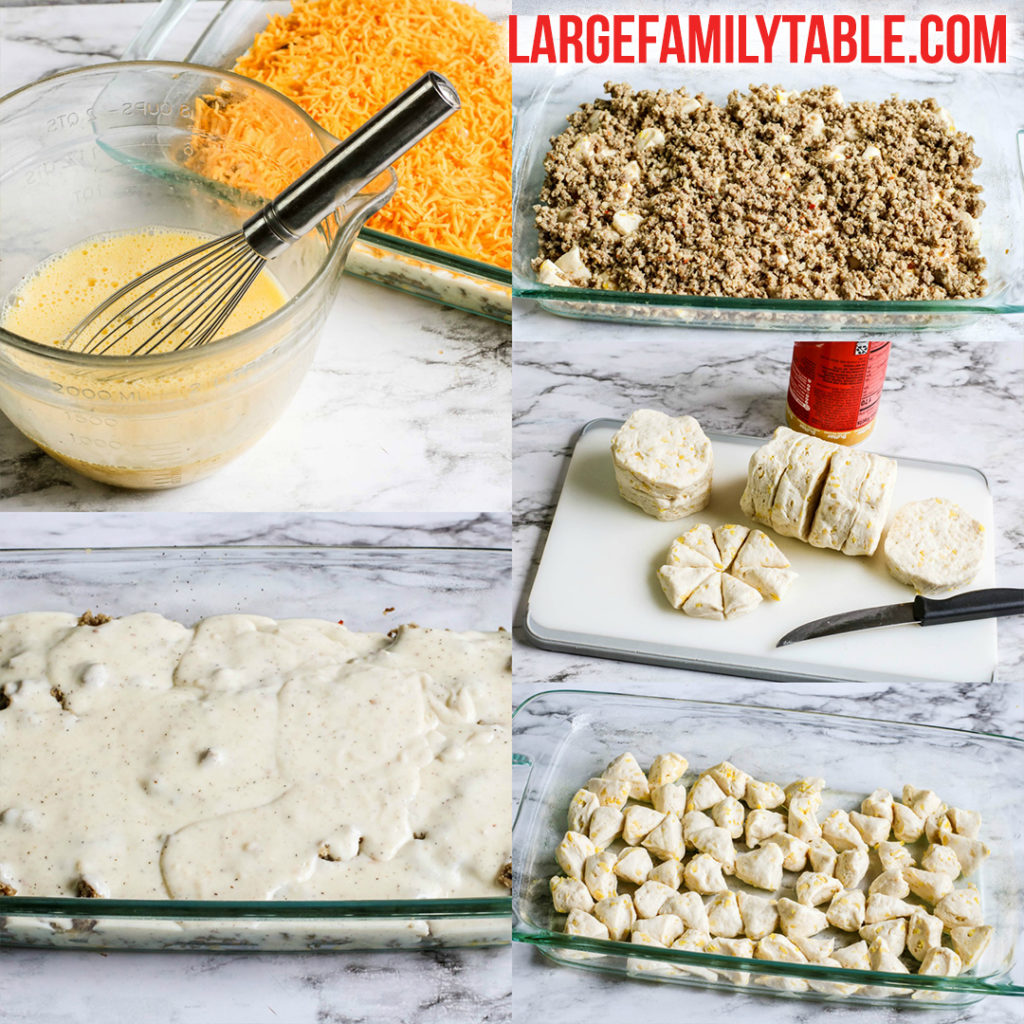 Print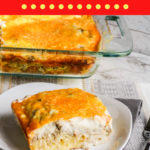 Homemade Biscuits and Gravy Casserole Recipe | Large Family Breakfast Ideas
Author:

Prep Time:

15

Cook Time:

45

Total Time:

1 hour

Yield:

12

Category:

Breakfast

Method:

Oven

Cuisine:

American
---
Description
Need a new breakfast recipe? Give this Homemade Biscuits and Gravy Casserole Recipe a try. 
---
Ingredients
2 (8 serving) packages refrigerated biscuit dough

2 pounds bulk sausage

12 eggs

4 cups and 1 cup milk, divided

¼ cup flour

½ teaspoon onion powder

1 teaspoon salt, divided

1 teaspoon black pepper, divided

2 cups shredded cheddar cheese
---
Instructions
Preheat oven to 350 degrees. Prepare two 9×13 casserole dishes with nonstick cooking spray.

Cut each refrigerated biscuit into eight pieces. Evenly place the dough in the bottom of the casserole dishes.

In a large skillet, brown the sausage until it crumbles and is no longer pink. Remove from the skillet and drain the sausage on paper toweling. Remove most of the grease from the skillet.

Sprinkle cooked sausage over the biscuit pieces. 

Whisk together the eggs, 1 cup milk, onion powder, and ½ teaspoon each salt and pepper. Pour the eggs over the biscuits and sausage layers.

In the same skillet used to brown the sausage, add the flour to the remaining sausage grease. Heat over medium-high and stir to combine the grease and flour. Slowly add 4 cups of milk, whisking to prevent clumps. Season with remaining salt and pepper. Bring to a boil and allow to thicken until it coats the back of a spoon.

Top the casseroles with the gravy and then shredded cheese.

Bake for 35 to 45 minutes or until the eggs and biscuits are cooked.
I hope you enjoy these homemade Biscuits and Gravy Casserole! Here are my large family breakfast ideas and recipes that you don't want to miss!!
This Biscuits and Gravy Casserole Recipe was featured in Large Family Meal Plan #2. You can find more large family meal plans here.