If you cook for a large family, or enjoy cooking in big batches you are going to love learning about the largest electric pressure cooker. This handy tool is perfect for large families to cook up lots of warm meals in a short amount of time.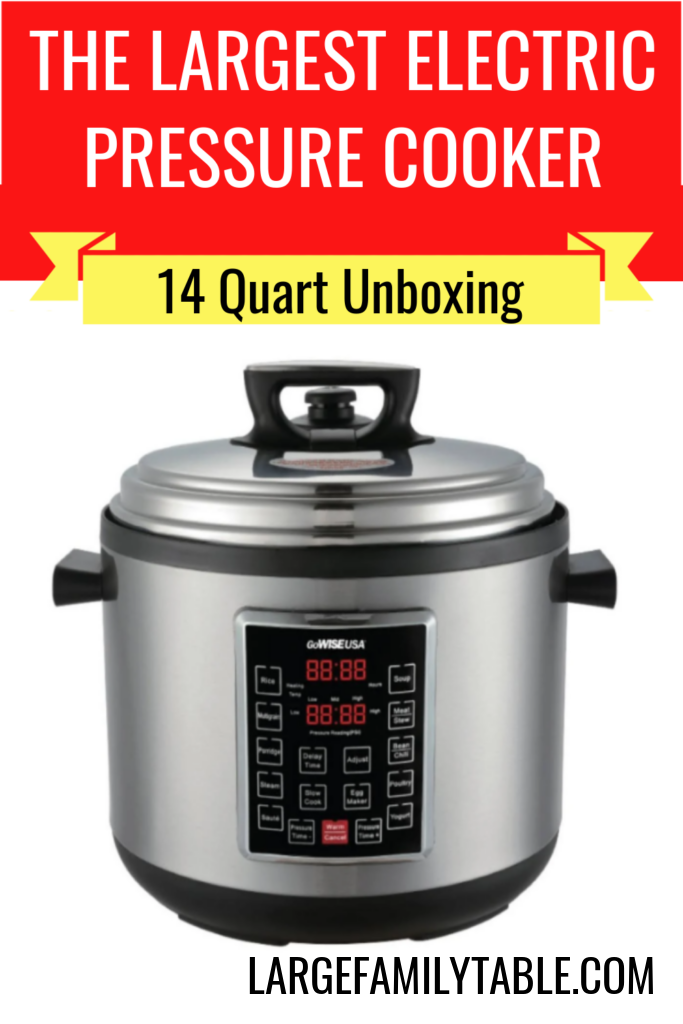 This post contains my Amazon affiliate links. Here's my full disclosure policy.
The Largest Electric Pressure Cooker 14 Quart Model
Several ladies have requested more large family electric pressure cooker vlogs and recipes, which I am pleased to slowly be rolling out. I've gotten to know my 8 quart Instant Pot over this past year. I love using it on my large family freezer cooking days!
In recent months I've wanted to add in a 2nd electric pressure cooker. I couldn't find what I wanted in the Instant Pot brand name so I went on the recommendation of another large family mom of 9 and bought the Go Wise 14 quart electric pressure cooker.
She has also had this 14 quart model for over a year and does all kinds of fun large family cooking with it. I couldn't wait to get this in my kitchen!
What is Pressure Cooking?
Pressure cooking is the process of cooking foods under high pressure steam and liquids with a pressure cooker. A pressure cooker has an inner pot that sits in a sealed chamber.
As the steam builds up the internal pressure increases which boil the liquids boil past the boiling point. This high heat allows the foods to cook much faster than standard cooking times, which is great for busy families.
Modern pressure cooking can be done with an electric pressure cooker that plugs into the wall and uses electricity to generate the steam to boil the water inside. The original method of pressure cooking entered mass production in the late 1800s with stovetop models that boiled the water on top of a stove or gas range.
Are pressure cookers healthy?
Some people would argue that pressure cooking cooks all of the nutrients out of your food. That is actually an old wives' tale. Pressure cooking keeps many nutrients inside the food since it is in a sealed environment.
It is much healthier than frying food with oil, and boiling meats or vegetables which cooks out many of the nutrients from them.
Most pressure cookers have stainless steel inserts, or ceramic coated inserts. These are much healthier than using non stick or teflon coated materials.
Is pressure cooking safe? Can a pressure cooker explode?
You may have heard horror stories of pressure cookers that your grandmothers used to use. A big fear is that the top will go flying off and the pressure cooker will explode. Now there are some instances where this has happened, but this is not normal.
Fortunately for home cooks today, the modern pressure cooker has many safety features to prevent this from happening. Just make sure that you are following the exact manufacturer directions while you are using it.
Never overfill past the fill line, do not set it on a stove top. Keep the steam away from kitchen cabinets and little hands and you should be just fine. You also want to make sure to check your seals regularly, that they have a tight fit and are not damaged.
Pressure cooking, when done correctly, is a great alternative to slow cooking, and a wonderful way to get healthy food on your table fast.
How can you release pressure safely?
Natural Release – This is when you let the cooker start to cool down from the high heat, and it will naturally release on its own. Some recipes require you to let your food naturally release, especially if it has a lot of liquid.
This does require some patience as it can take up to 25 minutes. This is a good time to get the table set and prepare any sides for dinner.
Quick or Manual Release – This is when you would move the valve to the open or venting position. This will cause it release in just a few minutes. Always put a towel on top of it to avoid any steam burns.
Should a pressure cooker hiss?
A hissing sound coming from a pressure cooker can be scary if you are new to pressure cooking.  Yet it is nothing to worry about and is completely normal. The hissing is the pressure being released through the valves.
A little steam is normal. If you hear a lot of hissing and sputtering and steam is coming out make sure that your valve is not turned to venting. If it is take a towel and throw it on top as you twist the valve into the correct position.
What are the differences between stovetop and electric pressure cookers?
There are some big differences between stovetop and electric pressure cookers. Stovetop cookers are what your Grandma used to use, and more traditional for cooking and canning. They can also hold a lot more food than electric pressure cookers.
The cooking process with an electric pressure cooker seems much more convenient, and there are lots of modern features that make it great for a busy family. Let's check out some of the other differences between the two.
Stove Top Pressure Cookers
Pressure Settings – Stove top pressure cookers have two or more pressure settings, usually High Pressure and Low Pressure. The cook has to adjust the heat on the range underneath as the cooker is heating up to the exact temperature.
Time to Pressure – It takes about 11 minutes for the pressure to build up to begin cooking the food.
Cooking Time – They are about three times faster than conventional cooking.
Opening Time – Normal release takes about 12 minutes. Natural release takes about 10 minutes until you are able to open the lid.
Timers and Features – Most stovetop pressure cookers do not have timers. They also do not have any preset cooking programs or special features. You have to keep track of your time on a separate timer, and pay attention to cooking times of different recipes you are using.
Electric Pressure Cookers
Pressure Settings – Electric pressure cookers have different pressure settings depending on the type and manufacturer. Some of them only have one setting, while others may have a low or high pressure setting.
Time to Pressure – It takes about 14 minutes for the pressure to build up to begin the cooking time.
Cooking Time – They are about two time faster than conventional cooking.
Opening Time – Normal release takes only 3 minutes, while natural release can take 25 minutes.
Timers and Features –  Modern pressure cookers all have their own timers that keep track of the cooking time while it pressure cooking. Many of them have special cooking settings for specific items you are cooking and heat sensors. Some of them even have delayed start and warming features.
Why should you use an electric pressure cooker?
Faster than stove top cooking – Use this to cook large meals in much less time. An electric pressure cooker reduces cooking time for large cuts of meat, stews, soups, etc.
You can cook a whole frozen chicken in it!
Better flavors in your food – the sealed airtight environment that your food is cooking in seals in the flavor and keeps everything juicy.
Retains nutritional value – The shorter keep time actually helps to keep the nutrients in your food, especially in vegetables.
Keeps the kitchen cool – cooking in the oven in the summer months can be brutal and heat up your house fast, especially if you have a small kitchen.
Saves money – You can cook large batches of rice and beans for inexpensive sides. Cooking in large batches leaves you tons of leftovers that you can use in future meals.
Tender meats – meat will literally fall off the bone when you cook it in a pressure cooker. This is a great way to use cheap cuts of beef from those grocery store sales.
What sizes do electric pressure cookers come in?
There are many different sizes of pressure cookers to choose from. The smallest size is the 3 quart pressure cooker from Instant Pot. This smaller size is the perfect capacity for a young married couple, or college students.
They also make 6 and 8 quart sizes which seems to be the best electric pressure cooker for everyday use and regular size meals.
Go Wise pressure cookers come in 6, 8, 12 and 14 quart size. Which makes the brand one of the best pressure cookers for cooking up large amounts of food for your family.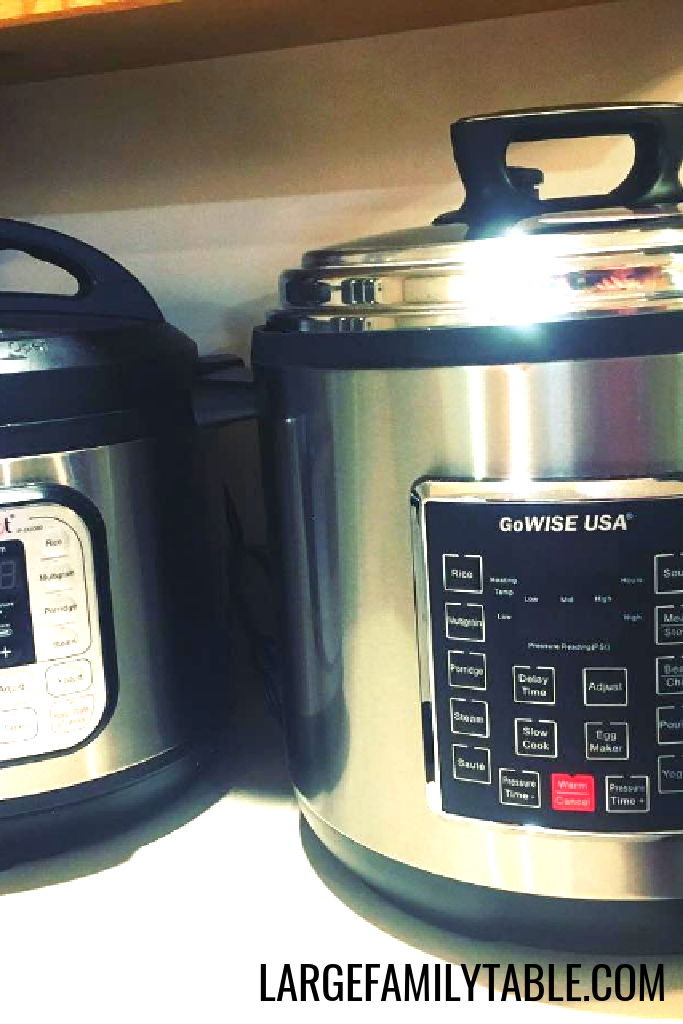 What are the features of the Go Wise electric pressure cooker?
The Go Wise 14 Quart Electric Pressure Cooker is one of the best electric counter top pressure cookers to use to cook for large groups or a big family. Let's check out some of the different functions and features it has to offer.
Preset Cooking Programs
There are 12 different cooking programs pre set for ease of use: rice, multigrain, soup, porridge, bean, chili, poultry, steam, egg maker, yogurt, slow cook and sauté.
This is the best multicooker that could replace many appliances. Check out the different cooking functions that you can use as a separate appliance.
Rice cooker – Use the rice button to steam and cook the perfect pot of rice.
Yogurt maker – Use the yogurt setting to make batches of yogurt and replace your yogurt maker.
Egg Maker – This setting will help you to make the easiest to peel hard boiled in just minutes.
Sauté – You can use the sauté setting to sauté meat or veggies directly in the pot without having to dirty up extra dishes.
Slow Cooker – The soup feature allows you to use this as a slow cooker if you want to cook your foods longer during the day if you are out of the house.
Electric Pressure Cooker Features
This pressure cooker has some special features like an inner cooking pot that is ceramic coated and not made of teflon. There is also an amazing warming feature.
ceramic coated pot for quick and easy clean up
stainless steel body with cool touch handles
warming feature to keep foods warm after cooking
slow cook for up to 20 hours
24 hour delay function
clear LCD display features with pre set cooking programs
built-in safety features such as a locking lid and safety valves
You can shop for this electric pressure cooker, stovetop pressure cookers, an electric pressure canner and more of my favorite things at my Favorite Kitchen Tools Shop.
🎉 Use Coupon Code HELLO20 to take 20% off the SUPER MEGA EXTRAVAGANZA BUNDLE which includes 50+ meal-time sanity-saving products like Big Batch Freezer Meal Guides 1-18!!! 🎉
Large Family Style 14 Quart Electric Pressure Cooker Video
Since I filmed this electric pressure cooker unboxing I have LOVED this new (2nd) Large Family Electric Pressure Cooker.
I've cooked potatoes (for tons of freezer mashed potatoes), dried beans, ground beef, a frozen whole chicken, big batch spaghetti sauce, and corn on the cob with it thus far! I'd say we've been getting to know one another very well over these last few weeks.
Check out my unboxing video and see for yourself how awesome this stainless steel pressure cooker really is.
Click here to watch the full Large Family Style 14 Quart Electric Pressure Cooker vlog!
Looking for even more electric pressure cooker recipes for your large family?
Large Family Electric Pressure Cooker 4 Week Meal Plans – An entire month of meals are planned out for you, including printable grocery lists, planning pages and bonus recipes.
14 Quart Pressure Cooker Spaghetti Recipe – You are going to love how easy it is to make a one pot spaghetti meal for the whole family.
How to Cook a Whole Frozen Chicken – Yes, you read that right, you can actually cook a whole chicken that is frozen directly in your pressure cooker!
Electric Pressure Cooker Corn on the Cob – Learn how to cook lots of frozen corn in a flash with this super simple recipe.
How to Cook Spaghetti Squash in the Electric Pressure Cooker – Cooking spaghetti squash is so fast and easy when you use an electric pressure cooker instead of the oven.
Huge Batch of Pinto Beans – Learn how to make a huge batch of pinto beans to use in many different meals throughout the week.
How to Cook Potatoes in the Electric Pressure Cooker – Find out how to cook a large amount of potatoes in a short amount of time using your pressure cooker.
Want to learn how to plan out your large freezer meals? Here you can sign up for my free Mega Freezer Cooking Planning Pack!