Manicotti is one of those meals that looks fancy but it really is quite easy to make. Better yet, make several pans of this large family manicotti freezer meal recipe to impress everyone. Give one to a new mom or a family in need and prepare to be everyone's favorite cook. Sharing is caring. Yes and amen!
**Use special promo code HELLO20 to take 20% off your first order in the shop including the SUPER MEGA ULTIMATE Large Family Freezer Meals Bundle here! Get packs 1, 2, 3, 4, 5, 6, 7, 8 & 9!**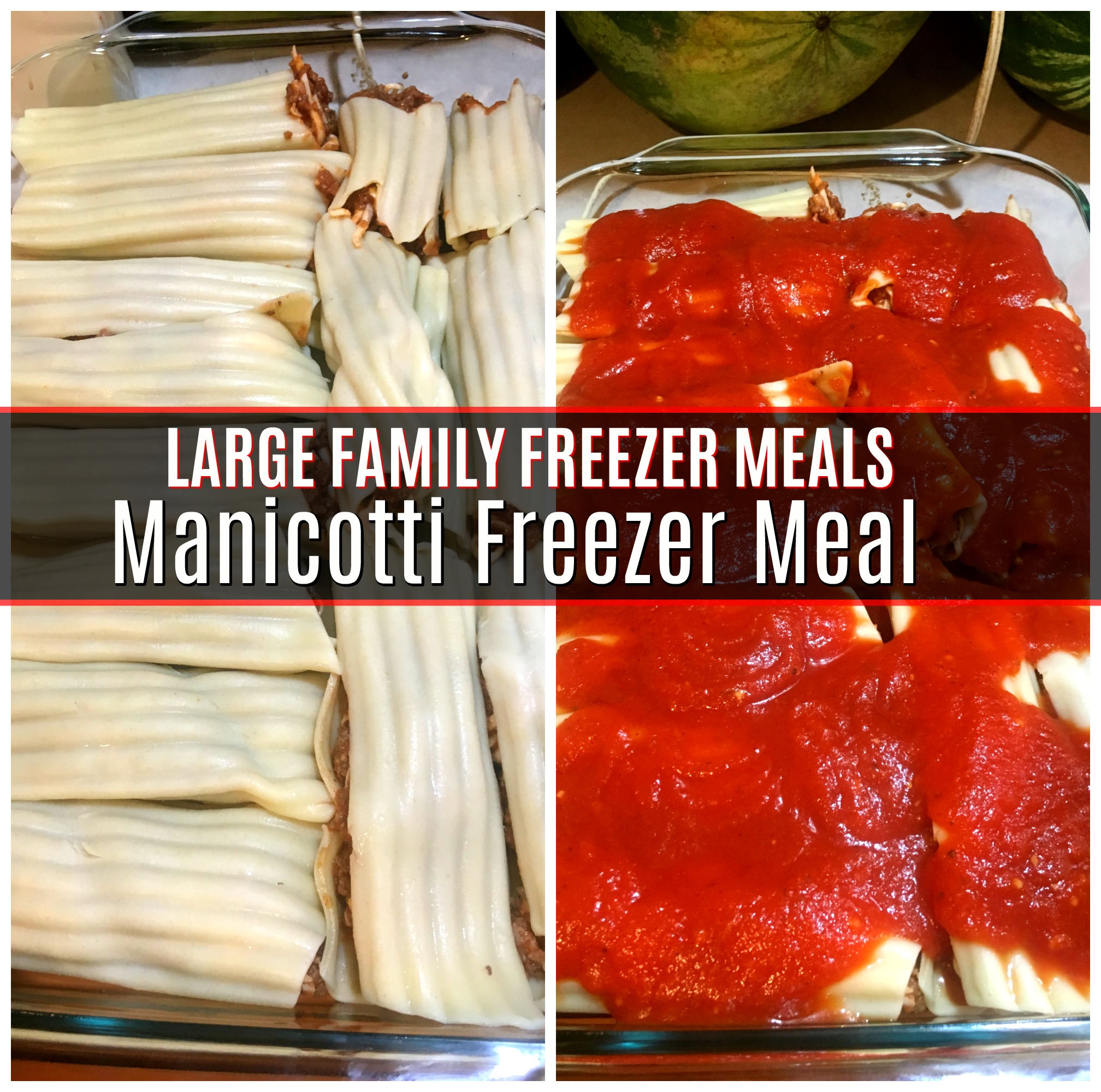 Cook your manicotti noodles, rinse them off, and set them aside to cool. While they're Got garlic powder? Use that instead. The point here is to use what you have already. Drain the ground beef if needed.
In your large mixing bowl, combine the ground beef with the cream cheese. Mix together thoroughly. Spoon filling into cooled manicotti noodles. Place 14 noodles in each pan.Cover with spaghetti sauce then cheese it up. Everything tastes better with cheese.
To freeze, wrap and two layers of foil and two layers of plastic wrap, labeled appropriately. Place in freezer for up to 3 months.. When you need one, set one it into the fridge the day before.  On cooking day place in preheated oven at 350 degree oven, possibly increasing cooking time by 10 minutes or so, based on the amount of thawing previously.
Print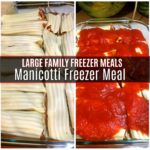 Manicotti Freezer Meal | Large Family Freezer Meal Recipes
---
Description
Make four large 11×18 pans of this delicious manicotti for your freezer!
---
Ingredients
15 lbs ground beef
Garlic (as much or as little as you desire)
6 cups mozzarella
2 cups cream cheese cut into blocks
2 cans spaghetti sauce
70 manicotti shells total
---
Instructions
Cook manicotti noodles according to directions then rinse and cool.
While the noodles are cooling, cook your ground beef and drain if necessary.
Mix the ground beef and cream cheese together. 
Fill each shell placing approximately 14 per pan.
Cover shells  with 2 cups spaghetti sauce .
Cover sauce with cheese
Wrap and place in freezer for up to 3 months.
---
Notes
Remove from freezer 24 hours before heating to thaw. Remove plastic wrap and place in 350 degree oven. Cook for 20 to 30 minutes or until cheese is bubbly. Broil if you want the cheese browned a bit.
While you're at it Click here to sign up for my brand new Free Feeding My Freezer 5-Day Freezer Cooking Challenge! You get the new Quick Start Freezer Cooking Guide including recipes, grocery shopping list, cheat sheets, and more!!