Everyone has that comfort food they crave when they are eating healthy. Lasagna ranks up there for me when I'm trying to eat low carb diet or follow Trim Healthy Mama. This eggplant lasagna is great for both those times and bonus that it's gluten free. I promise you won't even miss the carbs.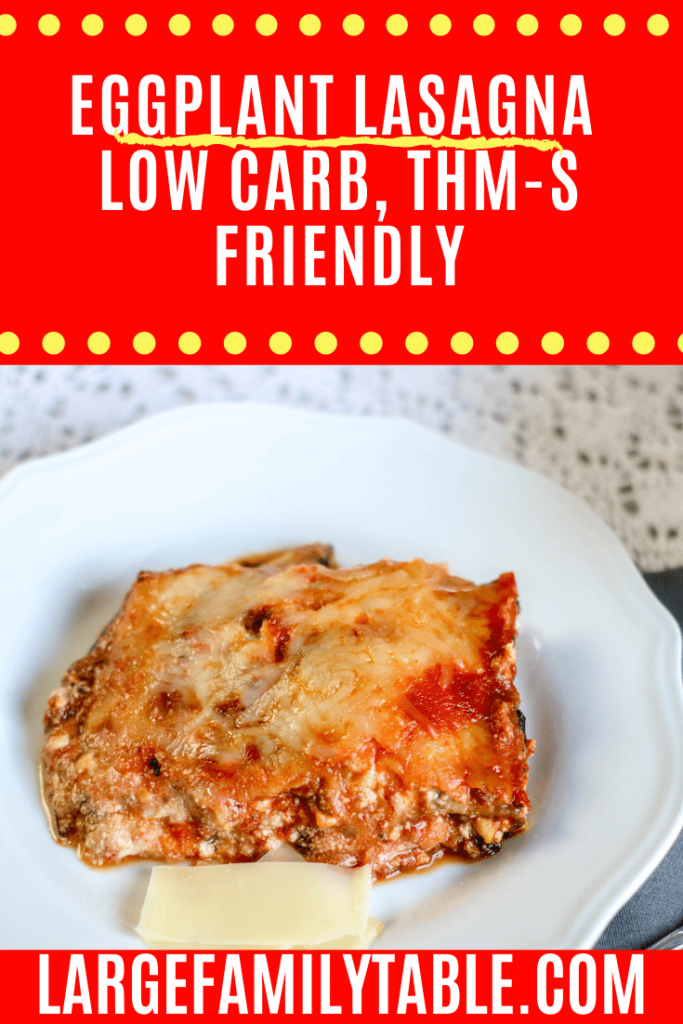 When you read the recipe, it will look like a lot of steps. Trust me, it's worth it. In order to get a lasagna noodle equivalent, you have to prepare the eggplant. There's a lot of water content in eggplant so it's imperative that you let it weep and oven roast it before layering it into the lasagna. If you skip this step, you will have a watery mess in the bottom of your pan after baking. No one wants that after doing all this work.
While the eggplant does its thing, you have time to whip up the sauce and cheese mixture. Once the eggplant is ready, commence with the layering of sauce, eggplant, cheese mixture ending with sauce. Add a layer of mozzarella cheese then cover with aluminum foil . Cook 30 minutes, remove foil, then cook another 15 minutes. Remove from oven and marvel at your cooking prowess.
You might also enjoy my favorite Cabbage Lasagna Recipe here!
Print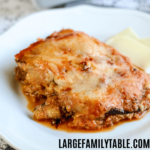 EGGPLANT LASAGNA | LOW CARB, THM S-MEAL
Author:

Prep Time:

20 mins

Cook Time:

45 mins

Total Time:

1 hour 5 minutes

Category:

casserole

Method:

oven

Cuisine:

Low Carb
---
Description
Don't give up comfort food while eating healthy. This eggplant lasagna is tasty while being low carb and THM-S friendly.
---
Ingredients
2 large eggplants

2 pounds ground chuck, cooked and drained well

1 (28 ounce) can crushed tomatoes

1 (15 ounce) can tomato sauce

½ cup water

1 teaspoon garlic powder

2 teaspoons Italian seasoning

1 (15 ounce) container ricotta cheese

1 cup small curd cottage cheese

2 eggs

2 cups shredded mozzarella cheese
---
Instructions
Using a mandoline slicer, slice eggplant lengthwise into ¼ inch slices. Sprinkle each side with salt and place sliced eggplant in a colander to rest and weep for 30 minutes.

Preheat oven to 400 degrees. Line two large baking sheets with parchment paper.

Rinse eggplant and pat dry on both sides. Place eggplant slices on baking sheet.

Cook for about 20 minutes, flipping halfway. 

Meanwhile, in a large saucepan, combine cooked beef with tomatoes, tomato sauce, water, and dry seasonings. Bring to a boil over medium-high heat and then reduce heat to medium-low. Cook, stirring occasionally, for 8 to 10 minutes.

In a medium bowl, whisk together the ricotta, cottage cheese, and eggs.

Reduce oven temperature to 350 degrees. Spritz a 9×13 inch casserole dish with nonstick cooking spray.

Spoon about ¼ of the sauce into the bottom of the baking dish.

Add three layers as follows: eggplant, cheese mixture, and sauce. Finish the casserole with sauce and top with mozzarella cheese.

Cover with aluminum foil. Bake for 30 to 35 minutes. Remove foil and continue baking for about 15 minutes.
---
Notes
It's important to let the eggplant weep before baking. If you don't , you will end up with a watery mess.
Keywords: casserole, Italian, low carb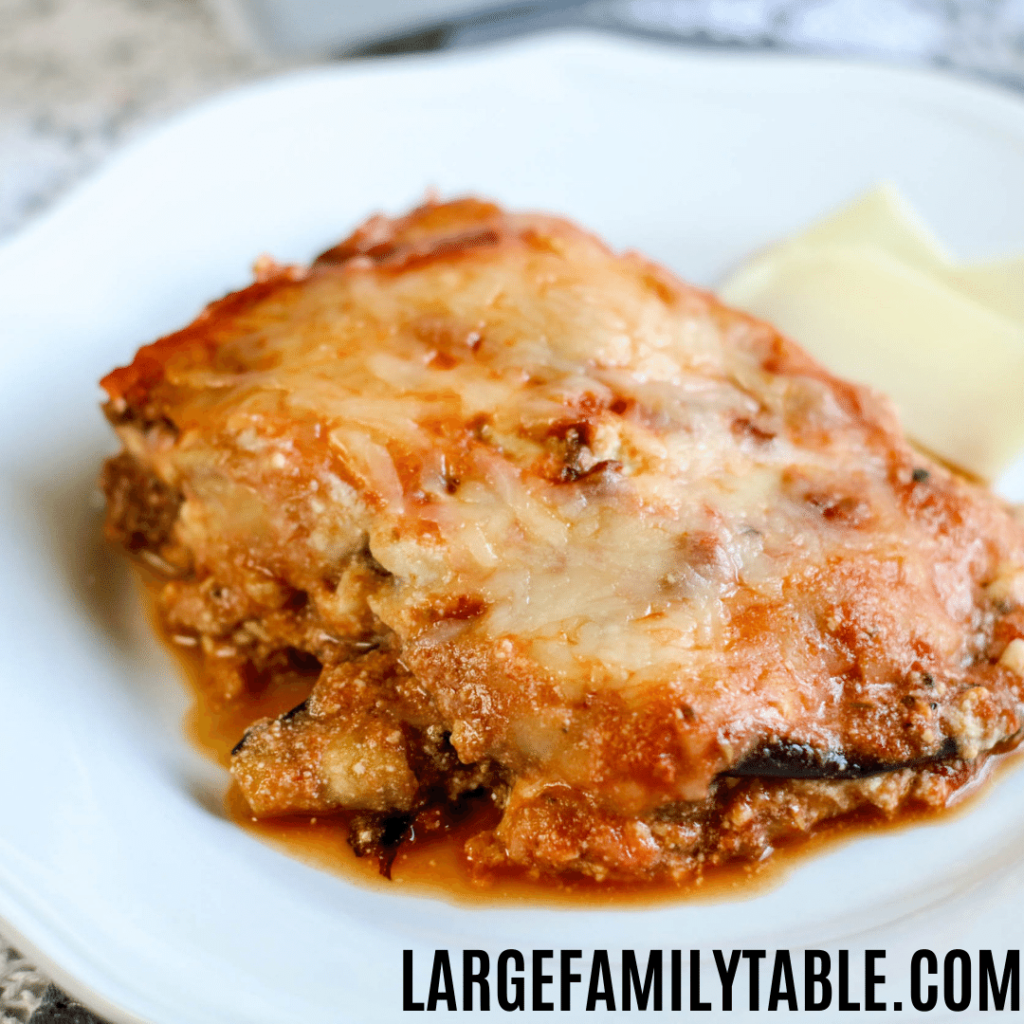 Is it going to taste like regular noodle lasagna? Yes and no. The lasagna flavor is certainly there but you can still tell the noodles are a little different. If you expect that then you will love eggplant lasagna. It's an excellent alternative to the carb version. Serve with a nice salad or make your family garlic bread from your Stand Mixer French Bread.
Looking for more low carb/ Trim Healthy Mama recipes?