Prepare a meaty lasagna loaded with wholesome veggies when you make this Large Family Chicken, Mushroom, and Spinach Lasagna. It is the perfect way to get your kids to eat their veggies without a fuss!
If you enjoy instant pot lasagna, eggplant lasagna, Mexican lasagna, Cabbage lasagna, or slow cooker lasagna, and would like to try yet another new lasagna recipe that contains different ingredients (yay for adventure!), try this Large Family Chicken, Mushroom, and Spinach Lasagna recipe. A single slice will leave you filling full because this meal contains plenty of sauce, cheese, meat, and veggies, all of which go great when mixed together. When you want to prepare an Italian-style meal that you can make ahead of time, freeze, and then bake for your family, this is a fantastic recipe worth trying.
***Use special promo code HELLO20 to take 20% off your first order in the shop including the SUPER MEGA ULTIMATE Large Family Freezer Meals Bundle here!**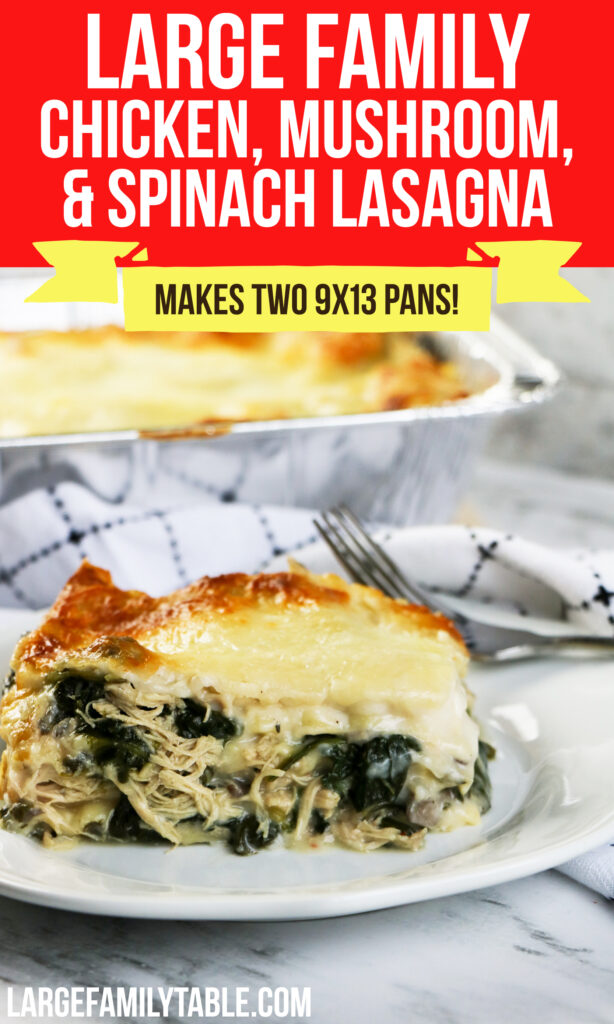 The Ingredients to Purchase When Preparing the Chicken, Mushroom, and Spinach Lasagna
You will need several essential ingredients to put this Large Family Chicken, Mushroom, and Spinach Lasagna together. The ingredients required include:
Boneless, Skinless Chicken Thighs. Cook your chicken thighs and shred them into pieces before using them as the meat for this lasagna.
Chicken Stock. Use the chicken stock while preparing your meat and other ingredients to add flavor to this dish.
Crushed Red Pepper. Give your lasagna a slight bit of heat without overdoing it when adding the crushed red pepper to the mix.
Baby Bella Mushrooms. Slice the mushrooms down into thin pieces before you use them in this recipe.
Fresh Baby Spinach. You will need two packages of fresh baby spinach to add to your lasagna.
Italian Cheese Blend. Use an Italian cheese blend to sprinkle between and on top of your lasagna noodles to make this dish cheesy.
Lasagna Noodles. Grab a box of your favorite brand of lasagna noodles for this recipe.
Shredded Mozzarella Cheese. Do not forget to use at least four cups of your favorite shredded mozzarella.
Other ingredients you will need include olive oil, chopped onion, salt, garlic powder, dried thyme leaves, all-purpose flour, and milk. This is a great recipe to add to your weekly menu plan when you need help feeding your large family!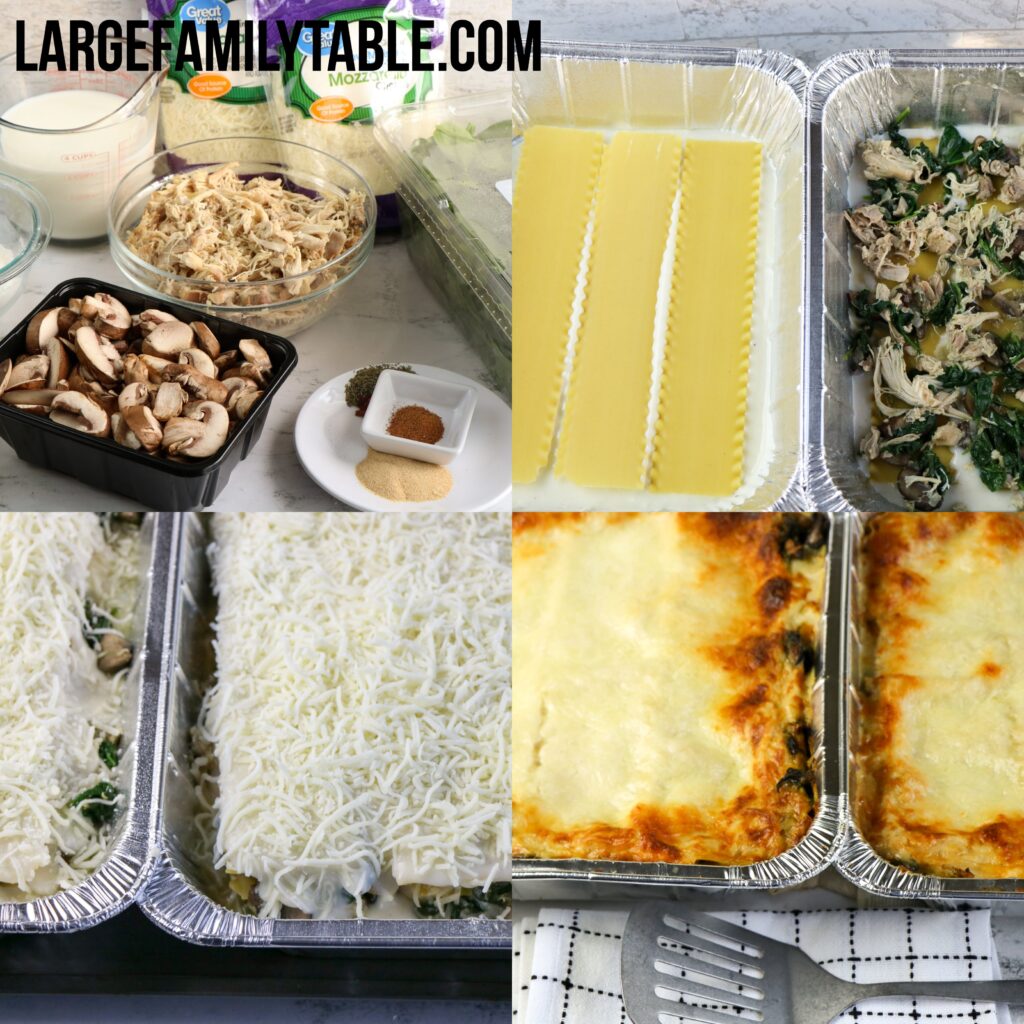 How to Store and Freeze the Large Family Chicken, Mushroom, and Spinach Lasagna
Cover your baking dish with foil and store your Large Family Chicken, Mushroom, and Spinach Lasagna in the fridge if you plan on baking it the next day. However, if you need to freeze it, cover it the same way with foil and put it in the freezer where you can keep it for up to two months. Let the lasagna thaw out in the fridge overnight before you plan on putting it in the oven to cook it for the family.
Different Modifications You Can Make and What to have along with the Lasagna
Instead of using a traditional red sauce for the lasagna, you will create a sauce using chicken stock, all-purpose flour, and a blend of different seasonings. You can make modifications to the sauce based on your preference while using some of your favorite seasonings, such as Italian seasoning, garlic and herb seasoning, and more. You may want to add more cheese to the lasagna, such as ricotta and parmesan.
You may want to add easy sides to your lasagna. Add a fresh lettuce salad, a cranberry apple salad, or marinated Cucumbers.
Here are more freezer-friendly meals your family will enjoy!
We love our freezer meals! You can watch me make lots of freezer meals for my large family and get inspired.
Looking for more freezer-friendly large family meals?
You can find so many more great freezer meals in my Ultimate Super Mega Large Family Freezer Meals 1, 2, 3, 4, 5, 6, 7, 8, 9, 10, 11, 12 Digital Bundle!!! It includes packs 1-12 of my best-selling large family freezer meals. You will have everything you need to make over 250 large family freezer meals (make as little or as much as you want ) including 12 batch cooking meal prep guides, 12 pack specific freezer meal grocery shopping lists, freezer meal tips, freezer meal printables including a freezer meal planner and more.
Chicken, Mushroom, and Spinach Lasagna
Print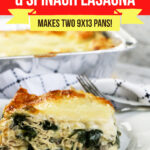 Large Family Freezer Meals: Chicken, Mushroom, and Spinach Lasagna | Two 9×13 Freezable Casseroles!
Author:

Prep Time:

30 minutes

Cook Time:

25 Minutes

Total Time:

55 minutes

Yield:

2 9×13 Casserole Dishes

Category:

Dinner

Method:

Oven
---
Description
Prepare a meaty lasagna loaded with wholesome veggies when you make this Large Family Chicken, Mushroom, and Spinach Lasagna. It is the perfect way to get your kids to eat their veggies without a fuss!
---
Ingredients
6 cups chicken stock

3 pounds boneless, skinless chicken thighs, cooked and shredded

1 tablespoon olive oil

2 cups chopped onion

3 teaspoons salt, divided

1 teaspoon garlic powder

1/2 teaspoon Nutmeg

1 teaspoon dried thyme leaves

1 teaspoon crushed red pepper

1 (16 ounces) package sliced baby Bella mushrooms

2 (16 ounces) packages of fresh baby spinach

3 cups milk

1 cup all-purpose flour

2 cups shredded Italian cheese blend

2 (16 ounces) packages of lasagna noodles

4 cups shredded mozzarella cheese
---
Instructions
Prepare two 9×13 casserole dishes spraying lightly cooking spray. Set aside.

Heat a dutch oven or stockpot over medium-high heat. Coat the skillet with olive oil.

Add the onion, garlic, 1 1/2 teaspoon salt, thyme, red pepper, and mushrooms. Cook for about 8 minutes and then stir in the spinach a handful at a time to allow the spinach to cook down. Stir in the chicken, remove from heat, and set aside.

In a large saucepan, combine the milk, 1 1/2 teaspoons of remaining salt, and nutmeg, broth, and bring to a slow simmer over medium heat. When bubbles begin to form, gradually whisk in flour and let simmer until thick stirring often. About 5-10 minutes.

Remove the saucepan from the heat and stir in the Italian cheese blend. 

Pour ¾ cup of the sauce into the bottom of each casserole dish. Top the sauce in each dish with a layer of noodles. Do not overlap the noodles. Next, add a layer of the chicken mixture and a sprinkle of mozzarella cheese. Repeat the layering, finishing with a layer of sauce. Top with any remaining mozzarella cheese.

Cover each dish with aluminum foil and refrigerate overnight.

To bake, remove the lasagna from the refrigerator about 20 minutes before baking. Preheat the oven to 375 degrees. Bake, covered, for 25 minutes. Uncover the casserole dishes and continue to bake for 10 to 15 minutes or until lightly browned and bubbly around the edges.
How to freeze:  Cover tightly with aluminum foil and freeze for up to 2 months. Thaw in the refrigerator overnight. Follow the above instructions to bake.
Keywords: Chicken, Mushroom, and Spinach Lasagna
This easy to make casserole is a great new spin on a classic meal! It's easy to make and healthy too!
FREE Emergency Pantry Planning Pack!
Don't forget to sign up for the emergency pantry planning pack for free to help you plan your pantry meals! The free Emergency Pantry Planning Pack will help you plan your needed pantry items! Printable pages include pantry inventory, grocery lists, meal planners, list of pantry staple items, and more.