Prepare a unique version of a traditional dish with this Big Family Southwestern Zucchini Lasagna. It is a healthier version of the dish with a spicy-style taste that will blow you away because of its great taste.
Need a dish that will satisfy the whole family while providing enough food for your big family? If so, you might want to make a lasagna with a twist. Instead of traditional lasagna with pasta noodles and marinara sauce, Slow Cooker Lasagna, or Instant Pot Lazy Lasagna, you can make this Big Family Southwestern Zucchini Lasagna that is healthier for you and full of flavor.
It combines taco seasoning with meat, fiesta blend cheese, zucchini noodles, and more to create a unique yet delicious dish. It is a great way to get your children to eat healthy zucchini without any complaints because it is covered with meat, sauce, and cheese to make it taste even better. Don't forget we also have Low-Carb Cabbage Lasagna and Low Carb Eggplant Lasagna.
****Use special promo code HELLO20 to take 20% off the entire MEGA DEAL get-it-all Bundle including the best-selling Large Family Freezer Meal Packs 1-12 + so much more!!****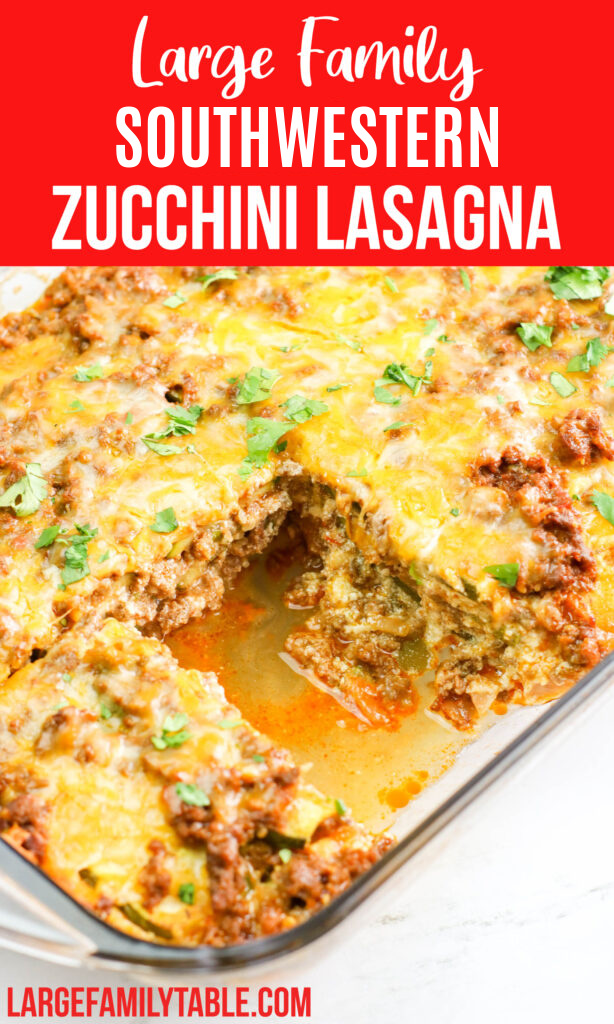 Ingredients Needed to Prepare the Big Family Southwestern Zucchini Lasagna
When you want to make the Big Family Southwestern Zucchini Lasagna, you need to have the following ingredients:
Zucchini Slices. Instead of using traditional lasagna pasta noodles, you will use zucchini slices.
Ground Chuck. Use ground chuck as the meat to add to your lasagna with your cheese, seasonings, and other extras.
Taco Seasoning. Add taco seasoning to your ground chuck to give it that Mexican-style flavor.
Salsa. Instead of using traditional marinara, use salsa to give this dish its unique taste while keeping the lasagna from drying out.
Fiesta Blend Cheese. Use plenty of fiesta blend cheese to add flavor to your lasagna.
Besides these ingredients, you will also need ricotta cheese, cilantro, eggs, black pepper, onions, salt, and minced garlic. With just a few ingredients, you can make this dish for your large family.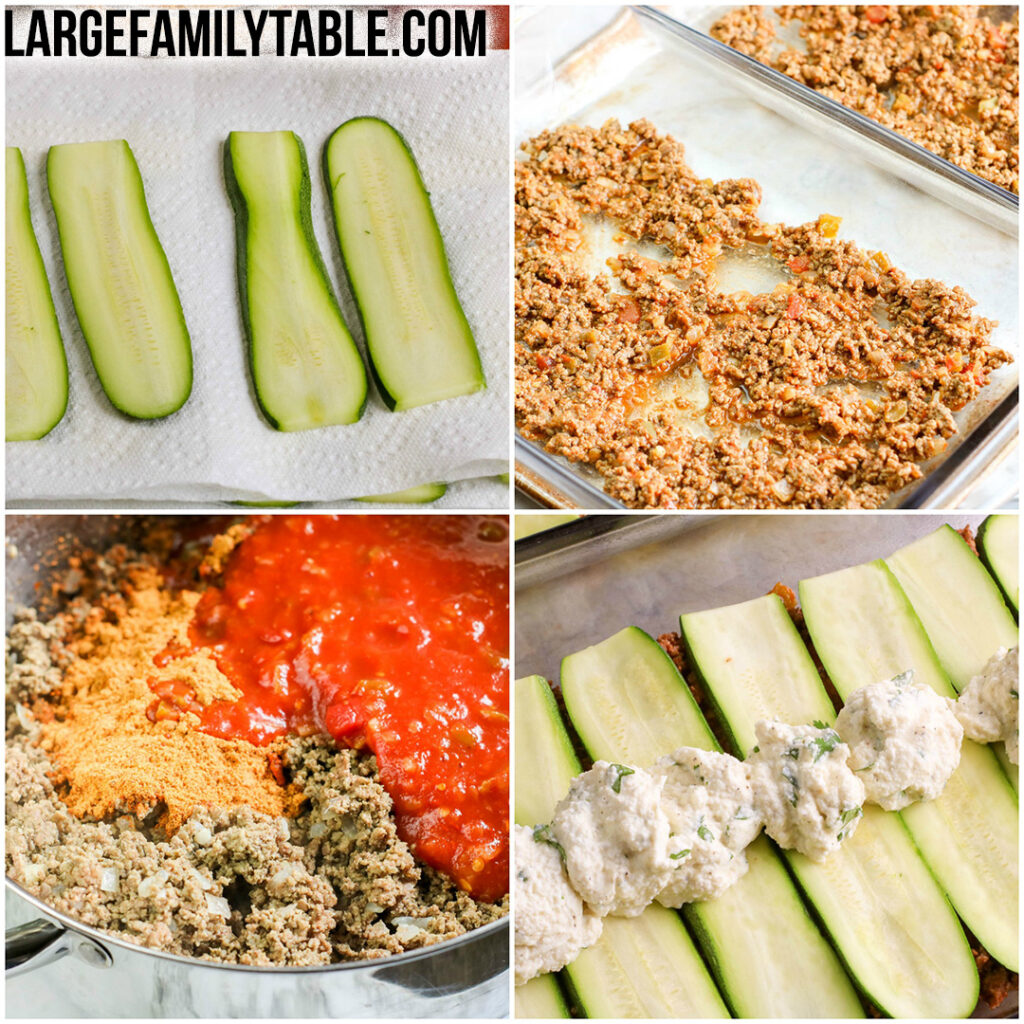 How to Quickly Store the Big Family Southwestern Zucchini Lasagna
Storing your Big Family Southwestern Zucchini Lasagna is a lot easier than you might think. If you are holding it in the fridge, you can leave it in the casserole baking dish and cover it tightly with a sheet of foil. If you have a lid that goes with the container, you can place the lid on top of the foil for added protection. Keep your lasagna fresh in the fridge for up to three days. You can also freeze the lasagna for up to four months. When freezing it, transfer it over to a food storage container with an airtight lid.
Different Substitutes to Use When Preparing the Big Family Southwestern Zucchini Lasagna
You can substitute different ingredients if you want or need to do so. If you do not like using the ground chuck in recipes, you can use ground turkey for a leaner option.
You might want to use tofu if you do not eat meat. Besides substituting the ground chuck for ground turkey or tofu, you can replace your ricotta cheese with cottage cheese if you do not have ricotta available to use. The recipe calls for fiesta blend cheese, but you can also add some of your favorite cheeses to this dish.
Do you have more casserole recipes?
If you love this Big Family Southwestern Zucchini Lasagna, you will love the simplicity of the delicious casseroles found here in my shop. Check out my Classic Casserole Dinners & Freezer Meals Cookbook One for Now, One for Later! It includes 10 delicious, classic casserole recipes that will make two 9×13 casseroles each–one to eat right away, and one to put in your freezer for a later date. It's an easy and quick way to build a freezer stash.
Here are more large family meals your family will enjoy!
Big Family Southwestern Zucchini Lasagna
Print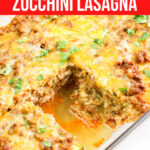 Big Family Southwestern Zucchini Lasagna | Large Family Table Dinner
Author:

Prep Time:

35 minutes

Cook Time:

1 Hour

Total Time:

1 hour 35 minutes

Yield:

2 9×13 Casserole Dishes

Category:

Dinner

Method:

Oven
---
Description
It's time to think BIG and this Big Family Southwestern Zucchini Lasagna is amazing in so many ways. Give it a try and see if your family enjoys it as much as we do. 
---
Ingredients
8 zucchini, sliced about ⅛ inch thick

Salt, for sweating zucchini

4 pounds ground chuck

1 large onion, diced

4 cloves garlic, minced

¼ cup taco seasoning

3 cups salsa

2 (15 ounce) containers ricotta cheese

2 eggs

1 cup finely chopped cilantro

1 teaspoon black pepper

4 cups fiesta blend cheese
---
Instructions
Preheat oven to 350 degrees. Prepare two 9×13 casserole dishes with nonstick cooking spray.

On a large baking sheet covered with paper towels, place zucchini in a single layer. Salt well. Create additional layers of paper towels between zucchini as you stack. Remember to salt each layer. Let zucchini rest at room temperature while the other ingredients are prepared. This allows the zucchini to sweat some of the moisture.

In a large skillet over medium high heat, brown the ground beef with the onion until the meat is crumbled and no longer pink. Drain well and return to pan. Stir in the salsa.

In a large bowl, stir together ricotta cheese, eggs, cilantro, and black pepper.

Press zucchini between paper towels before assembling the lasagna.

In the casserole dishes, layer the lasagna beginning with enough sauce to cover the bottom of the dish and then zucchini, ricotta mixture, sauce, and a sprinkle of cheese. Repeat at least once in each pan and top with remaining cheese.

Bake covered for 45 minutes. Remove cover and bake for an additional 15 minutes or until the zucchini is cooked through, the cheese has melted, and the edges bubble.
Keywords: Southwestern Zucchini Lasagna
If you're looking for something new, this dish changes things up in a great way!
FREE Emergency Pantry Planning Pack!
Don't forget to sign up for the emergency pantry planning pack for free to help you plan your pantry meals! The free Emergency Pantry Planning Pack will help you plan your needed pantry items! Printable pages include pantry inventory, grocery lists, meal planners, list of pantry staple items, and more.