In case you missed it, I recently purchased some meat from a local farm. I got a whole cow, a whole pig (to be delivered soon), and 25 chickens. All of the meat is pasture-raised and came to my door in big boxes. You can watch my unboxing video if you want to hear more about how I came to buy a whole cow and pig and all the chickens. Being able to cook a whole frozen chicken in the Instant Pot has been such a time saver for this large family mama who needs all the time she can get.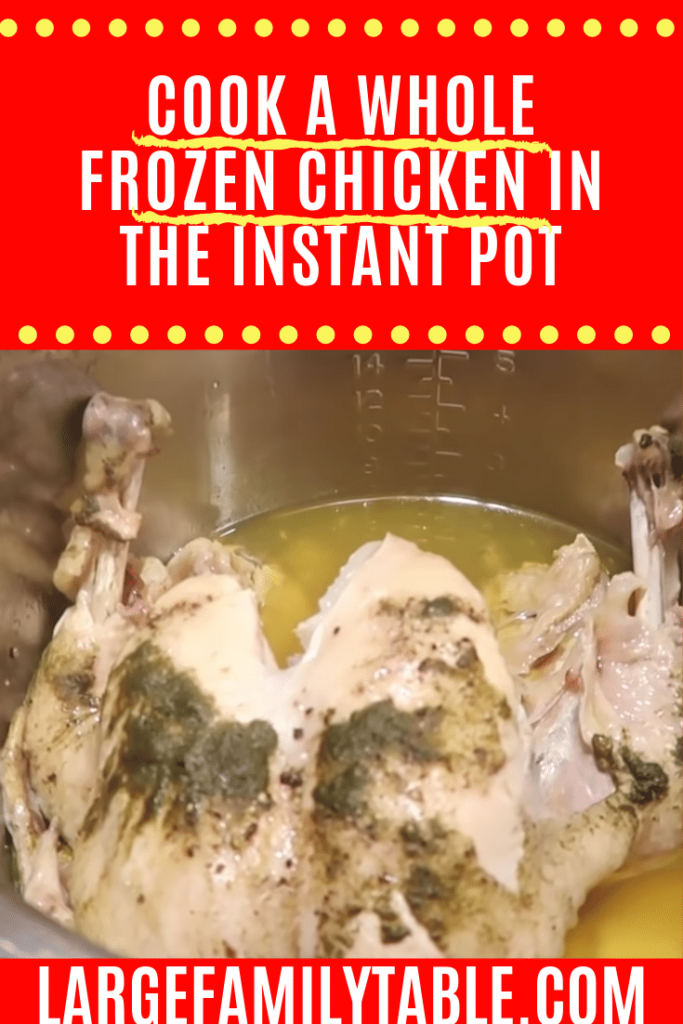 When I found out I could get the 25 pasture-raised chickens for a great bundle price, I jumped on it. I knew I wanted to make homemade bone broth from the chicken bones and I also love having the shredded chicken for use during the week.
I have been craving deconstructed egg rolls, also known as Egg Roll in a Bowl. Having this shredded chicken already bagged in the frig makes it so much easier to have a keto lunch every day. Travis and I have been back on the keto diet for a while now and I enjoy having salads for lunch with meat on top. This chicken is perfect for putting on top of a green salad or making some delicious chicken salad.
How to Cook a Whole Frozen Chicken in the Instant Pot
The life changing part about doing a whole frozen chicken in the Instant Pot is that it will be completely done and falling off the bone in just an hour, not including the time it takes to build and release pressure. You put it in and walk away to do other things. Do several in an afternoon and you have shredded chicken ready to be bagged up and frozen for loads of recipes.
The combination of the thyme and butter with the chicken will make your house smell amazing while it's cooking. You can use whatever seasonings you prefer but don't leave out the butter.  It adds a heavenly flavor to the chicken.  Minced garlic added is yummy too. It only took me a couple of minutes to pick the meat off the bones. I didn't pick them completely clean simply because I was in more of a rush to get done so I could get back to our read-aloud but that was okay, as I wanted some left for the bone broth anyway.
Print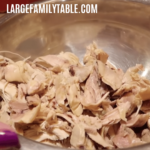 How to Cook a Whole Frozen Chicken in the Instant Pot
Author:

Prep Time:

5 mins

Cook Time:

60 mins

Total Time:

1 hour 5 minutes

Category:

Batch Cooking

Method:

Instant Pot

Cuisine:

Chicken
---
Description
If you have wondered about cooking an entire frozen chicken in your Instant Pot, let me show you just how easy it is!
---
Ingredients
1 whole frozen chicken
3 TBSP grass-fed butter
1 TBSP Thyme or any seasoning you prefer
Salt, pepper, and any other spices you desire
---
Instructions
Turn Instant Pot onto saute to help heat things up quicker.
Place chicken in Instant Pot.
Rub butter on chicken and add spices.
Secure lid on Instant Pot
Set on MANUAL HIGH for 60 minutes.
Set valve to seal.
Let Instant Pot release pressure naturally when finished.
Check internal temp of chicken; it must be at least 165* to serve.
---
Notes
Pull meat from bones and shred. Use shredded meat on top of salads, for chicken salad, or in Egg Roll in a Bowl. Save bones and skin for making homemade bone broth in the Instant Pot.
Keywords: chicken, Instant Pot, batch cooking
Boom, it's that easy. Easy enough that a teenager or preteen could be put in charge of it with supervision. You get bones for bone broth plus shredded chicken for recipes and perhaps the freezer. Batch cooking has never been easier. You can do the exact same recipe with a turkey breast too!
Recipes Using Shredded Chicken
Chicken Broccoli Alfredo Noodle Bake
Chicken Tater Tot Casserole Freezer Meal
Chicken Fried Rice Freezer Meal
Chicken Enchilada Freezer Meal