Egg Roll in a Bowl Recipe| Large Family Style and Trim Healthy Mama Inspired!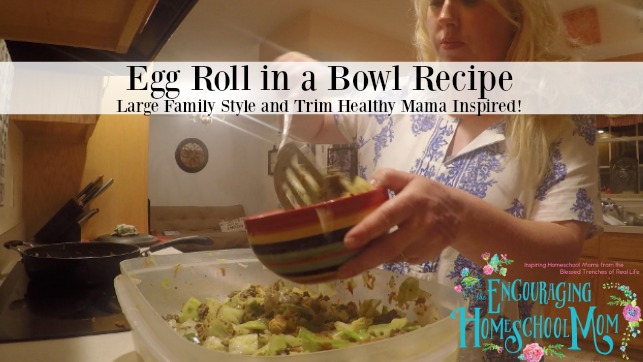 *This post contains affiliate links which helps support the work of The Encouraging Homeschool Mom, and is a blessing to my family – thank you!*
Egg Roll in a Bowl Recipe
Large Family Style and Trim Healthy Mama Inspired!
So yes, my version of Egg Roll in a Bowl may be different than the Trim Healthy Mama book, although I don't feel I'm off too far. In my version I use a whole cabbage, tons of additional veggies, and almost 5 .lbs of hamburger meat.
Like many large family style meals at our house, we ate Egg Roll in a Bowl for dinner two nights in a row, plus I add the leftovers for a few of my lunches. You can also serve it to your family with brown rice or Quinoa.
Here's how I make Egg Roll in a Bowl for my family of nine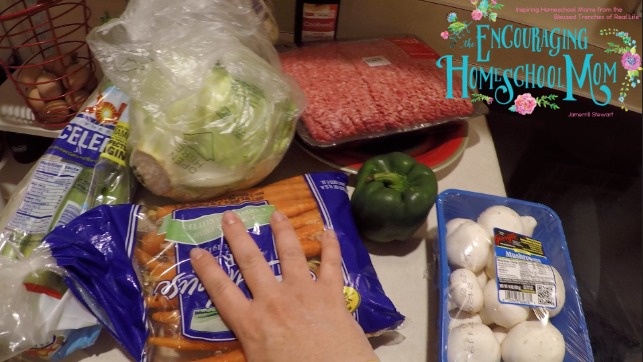 one large cabbage
carrots
green onions
mushrooms
green peppers (colored peppers are wonderful too)
celery
ground beef (4-5 lbs) – you could also use chicken or pork
soy sauce (it's all I had on hand. THM recommends Liquid Aminos, which I need to order!)
First I cook up my 5 lbs of ground beef with onions and green peppers. Then I pour the cooked ground beef mixture into a drainer to let the grease drain off into a large metal bowl, while I move onto my next step. If I would have taken the time to do once a month meat cooking another day I could have saved this step!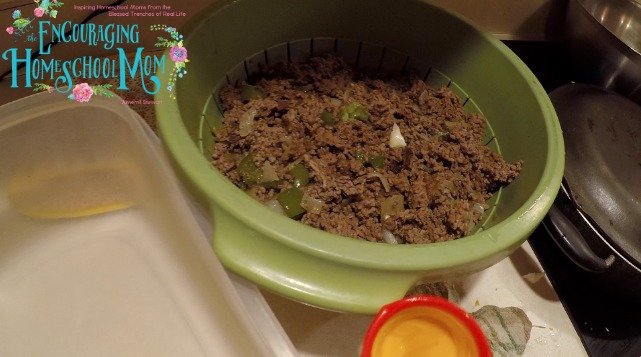 Next I add in 1/4 of a cup of sesame seed oil into a pan with my entire chopped cabbage. I put a lid on my cabbage for about 3-5 minutes, and gently toss it around with a large spoon every minute or so. (see, you really can't go wrong with this)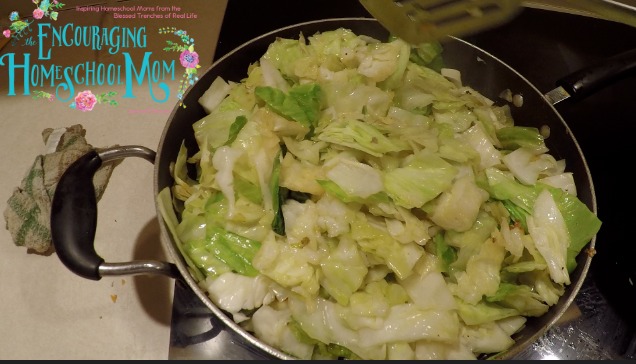 Next I combine my 5 .lbs of drained ground beef and my entire steamed cabbage into a large Rubbermaid Container. Using my Large Rubbermaid Container is a life saver for a recipe this size. I use it several times a week!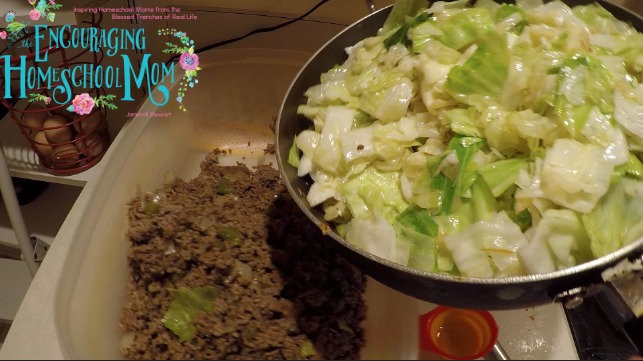 Next I get all of my additional chopped veggies (cauliflower, carrots, mushrooms, celery, etc) dumped into my large pan with one cup of Soy Sauce. Remember, to be closer to THM, use Liquid Aminos.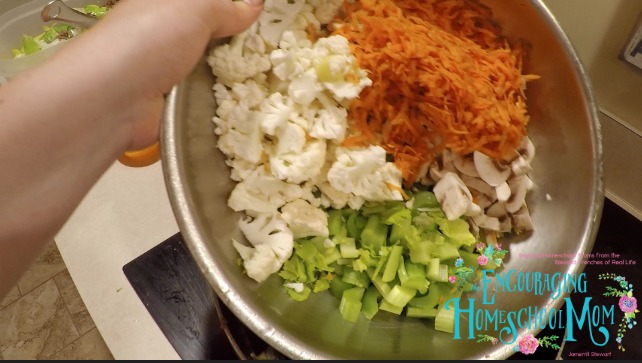 These veggies need to cook for up to 10-minutes with a lid on most of that time.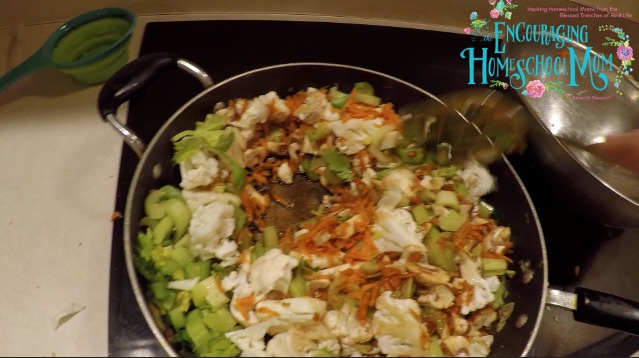 After these veggies are tender I pour this panful in with the cooked ground beef and sesame oil cabbage waiting in my large Rubbermaid container.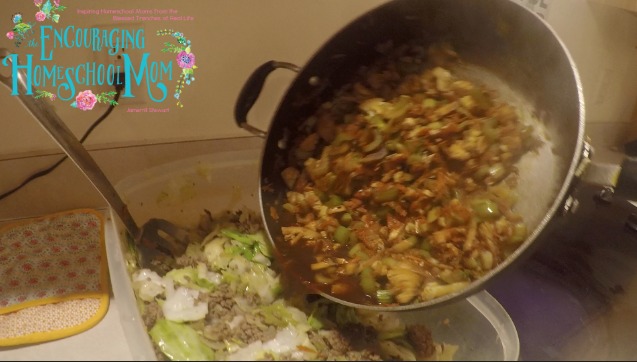 Finally I mix these cooked Egg Roll in a Bowl ingredients well and serve bowlfuls for dinner!
More Egg Roll in a Bowl Recipes
Here's my Trim Healthy Mama Ultimate Board where you'll find all things Trim Healthy Mama! THM recipes, tips, resources, and more can be found here.
Egg Roll in a Bowl Recipe Cooking Vlog
Click here to watch the full Egg Roll in a Bowl Recipe| Large Family Style and Trim Healthy Mama Inspired! VLOG
You also might like