Chicken Enchilada Freezer Meal Recipe | Large Family Dinners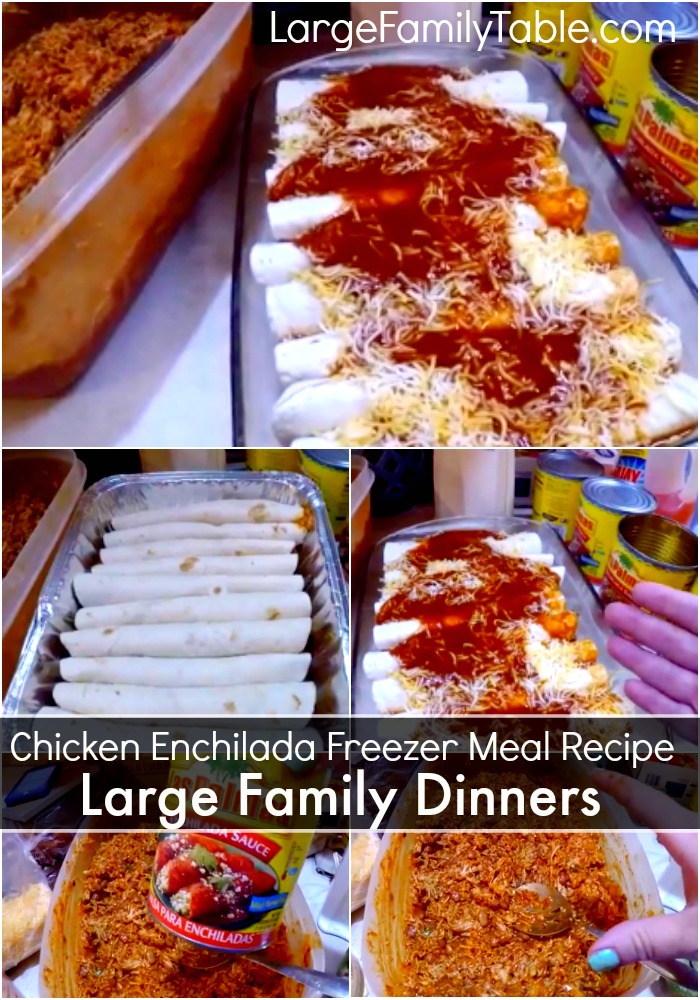 I'm sharing my Chicken Enchilada Freezer Meal Recipe today. This is another quick and easy dinner that is great to have in your freezer meal stash. On my recent mega freezer cooking day for our large family, I also put my Instant Pot to work for the meal prep that was required. I precooked the brown rice, pinto beans, and shredded chicken breast in the Instant Pot. However, before my IP I'd use my slow cooker or pots on my stove to pre-cook those ingredients. Long story short, just make the best with what you have in your kitchen (there was a time I'd boil cheap chicken quarters in a large stock pot, peel the chicken from the bones to use in various recipes, and freeze the broth as well). As always, do what works. 🙂
Items I Use for Freezer Meals
My affiliate links are used below. Here's my full disclosure policy.
Freezer Meal Recipe
CHICKEN ENCHILADA FREEZER MEAL RECIPE
2017-08-19 14:09:15
Serves 48
Nutrition Facts
Amount Per Serving
* Percent Daily Values are based on a 2,000 calorie diet. Your Daily Values may be higher or lower depending on your calorie needs.
Ingredients
CHICKEN ENCHILADA FREEZER MEAL
5 lbs of Shredded Chicken (I used 5 lbs of shredded chicken breast I cooked in my Instant Pot)
1 cup chopped Green Onion
4 cups cooked Brown Rice (Precooked in the Instant Pot)
4 cups cooked Pinto Beans (Precooked in the Instant Pot)
6 cups Shredded Cheese
2 - 28 oz cans Enchilada Sauce
50 Enchilada Wraps
CHICKEN ENCHILADA FREEZER MEAL TOPPING
2 - 28 oz cans Enchilada Sauce
6 cups Shredded Cheese
CONSTRUCTING CHICKEN ENCHILADA FREEZER MEALS
Set out 4 to 5 9x13 baking pans.
Combined 5 lbs shredded chicken, 4 cups cooked rice, 4 cups cooked pinto beans, 1 cup green onion, 6 cups shredded cheese, and two 28 oz cans of enchilada sauce in a large container and mix thoroughly.
Fill each enchilada wrap with chicken mixture and roll tight.
Layer each filled wrap in 9x13 baking pan. You should get 10-12 enchiladas per pan.
Pour approximately 1/2 a 28 oz can (14 oz) over the Chicken Enchilada meal.
Top with 1 cup of shredded cheese.
FREEZER MEAL DIRECTIONS
Wrap each 9x13 pan with two layers of foil.
Label the top of each pan with recipe name and date.
Wrap each 9x13 pan with a layer of plastic wrap.
Set each pan to freeze in the freezer. Do not stack the pans on top of one another until each pan is individually frozen.
THAWED COOKING DIRECTIONS
Set the desired pans of Chicken Enchiladas out in the refrigerator the evening before you'd like to serve.
Preheat your oven to 350 (oven times may vary).
Remove plastic wrap and one layer of foil.
Place Chicken Enchiladas in preheated oven for 30 minutes or until bubbly and hot.
Remove the last layer of foil and allow to cook for 10 additional minutes.
Allow your hot Chicken Enchiladas to slightly cool on counter for 5 minutes or so before serving.
FROZEN COOKING DIRECTIONS
If cooking your Chicken Enchiladas from completely frozen (this happens in real life :), remove plastic wrap and one layer of foil and place frozen Tuna Noodle in preheated oven at 400 (oven temps may vary). Cook for up to 2 hours or until hot and bubbly. Remove last layer of foil and cook uncovered an additional 10 minutes as needed.
Large Family Table https://largefamilytable.com/
Let me know how this freezer meal recipe works out for you. I'd love to hear what you're making!
Family Meal Planner Collection | Weekly, Bi-Weekly, & Monthly Meal Planners + More!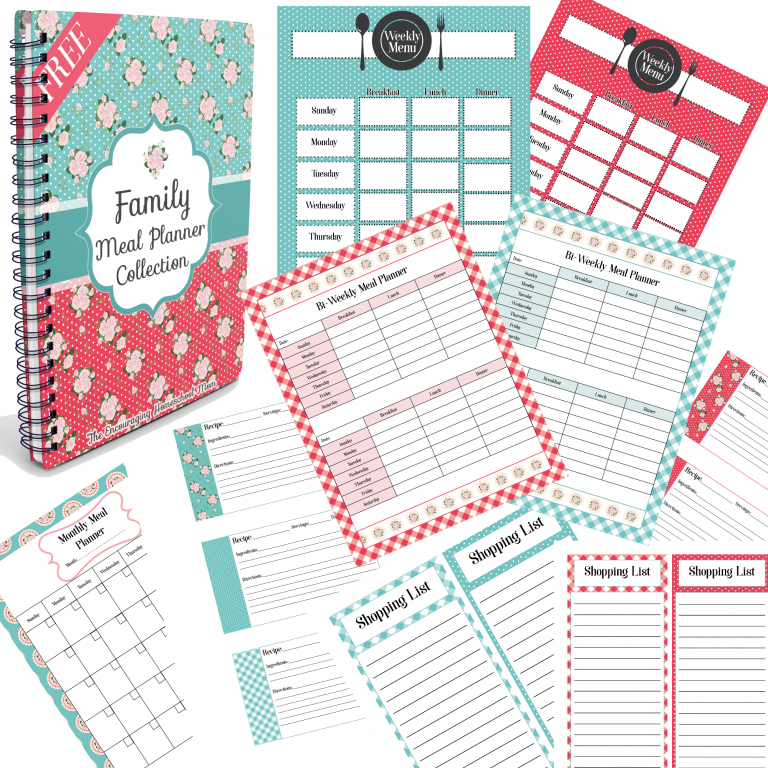 Help meal time go smoothly at your house with the free family meal planner collection!
Enjoy this set of beautiful weekly, bi-weekly, and monthly meal planners. Also included are bonus grocery shopping lists and helpful recipe cards.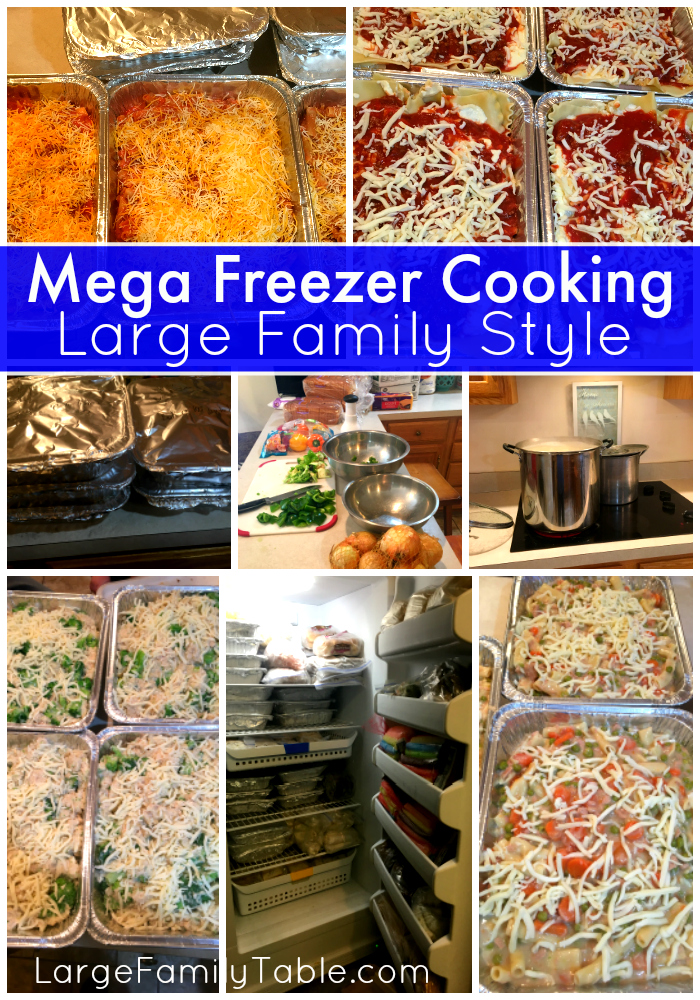 Don't miss Mega Freezer Cooking – Large Family Style!