Just in time to save your busy week, we have the next meal plan in our series ready for you! This week in our meal plan series, we have Large Family Weekly Meal Plan #17, all ready for you below. Each week I serve up a fresh meal plan with seven nights of dinners. PLUS, because I *only know mega & lots,* each large family meal plan will guide you through making a little extra to help fill your freezer, yay! You'll also want to grab all my other weekly meal plans, too!
This week's Large Family Weekly Meal Plan #17 includes Broccoli, Cheese, and Rice Casserole, Slow Cooker Pork Ragu, Twice Baked Sweet Potato Casserole with Bacon, Chicken Caesar Wraps, and many more delicious recipes. Plus a few snack and breakfast ideas, too!
If you are a large family you may find you'll get 7 dinners, plus some extra meals prepped ahead. If you are heading up a smaller family you will have plenty of leftovers for lunches and lots of extra to build your freezer stash. Don't forget to sign up for the FREE Large Family Weekly Meal Plan #17 Grocery List printable set HERE!
FREE Large Family Weekly Meal Plan Grocery List
Each week I give you a free complete grocery list to go with each unique budget large family meal plan. Just sign up here for the Large Family Weekly Meal Plan #17+ Grocery List! You'll receive a detailed grocery list to guide you through buying everything on this week's large family meal plan, plus bonus meal planning pages – yay!
If you plan ahead, you can do some big batch cooking to add some meals to your freezer for later. Serve up these delicious recipes at your own Large Family Table. Check out this post if you would like to know my Must Have Large Family Freezer Meal Supplies.
More Large Family Meal Plans
Large Family Weekly Meal Plan 17
Knock it out of the park tasty broccoli, cheese, and rice casserole. Convenient and delicious.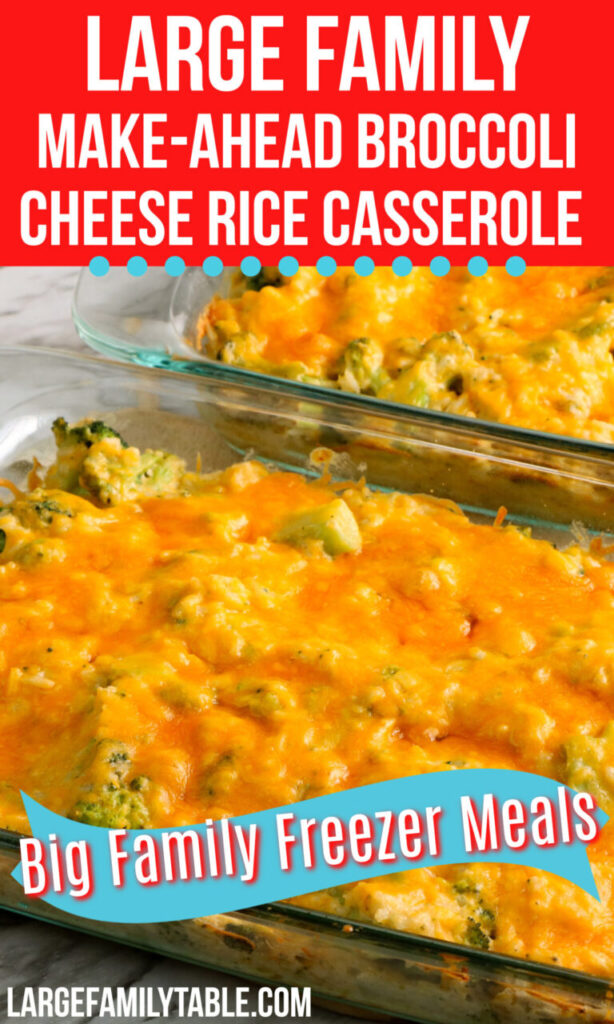 Serve this over fettuccini noodles. Very flavorful and satisfying and a great way to mix things up for dinner.
The Twice Baked Sweet Potato Casserole with Bacon is a sweet yet savory dish that you can eat for dinner or bring to any gathering you might attend. It is simple to make yet incredibly delicious.
There is nothing more hearty and satisfying than a big ole stock pot full of homemade potato soup. Serve this with classic dinner rolls.
Spicy, full of vegetables and chicken, and great for large families. Serve with brown rice if you're not watching carbs.
Chicken Enchiladas are packed full of healthy vegetables and protein, plus it freezes well which makes it perfect to make for dinner and make the extras to feed your freezer.
Your whole family will love these Chicken Caesar Wraps. They whip up quickly and are full of flavor with the parmesan cheese and caesar dressing. Serve with Marinated Cucumber Salad on the side.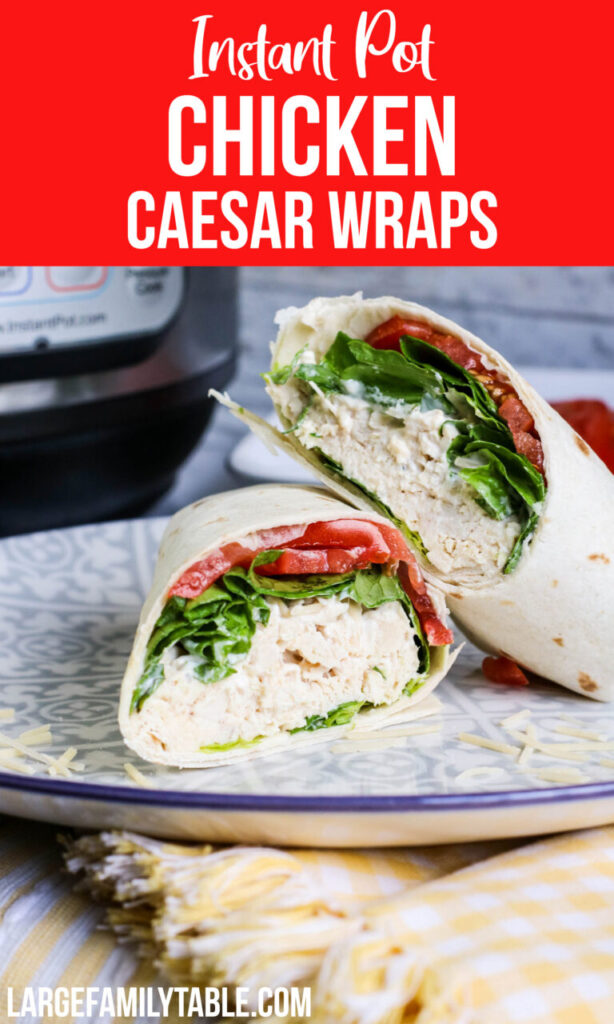 Bonus Breakfast Recipe Idea: Breakfast Tater Tot Casserole
Bonus Snack Recipe Idea: M&M Cookies
Large Family Meal Planning
Making a meal plan is a great way to make sure you're eating at home and with only a small amount of extra effort, you can also add food to your freezer to make later meals more convenient. For more meal planning ideas, check out Large Family Meal Planning.
FREE Grocery List Planning Pack For Large Family Weekly Meal Plan #17!
SIGN UP NOW to receive the free grocery list and planning pack for week 17 that goes with this meal plan! You'll have everything you'll need to shop delivered right to your inbox including a detailed grocery list, meal planning pages, and more!
Be sure to also check out the Large Family Freezer Meal Bundles to ALWAYS have tons of meals in the freezer ready to go! Use special promo code HELLO20 to take 20% off the entire Large Family Freezer Meal Plan 1-9 Bundle! Happy planning!