Craving a meaty sandwich with the perfect combination of ingredients? Prepare this Big Family Deli Sandwiches on a Sheet Pan recipe to satisfy your craving without making a mess.
What Are Deli Sandwiches?
We all need to feed our large family, and these traditional Deli sandwiches consist of ham, cheese, and other meats on a toasted roll to create a meaty, fulfilling sandwich. Not everyone makes these sandwiches the same way. If you follow this recipe, you can easily prepare sandwiches for everyone in the household.
***Use special promo code HELLO20 to take 20% off your first order in the shop including the SUPER MEGA ULTIMATE Large Family Freezer Meals Bundle here!**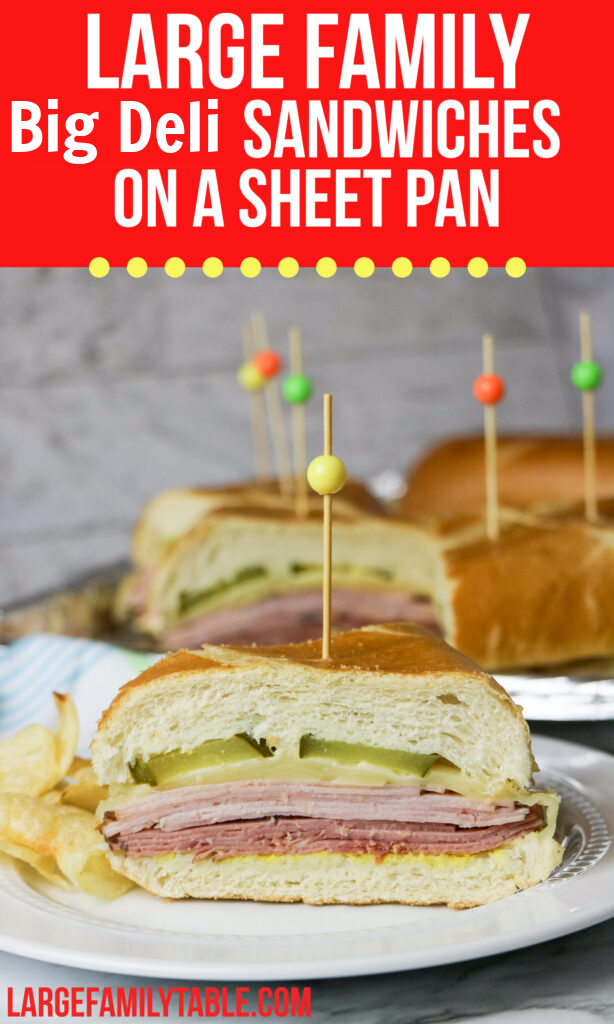 What Do You Need to Make the Big Family Deli Sandwiches on a Sheet Pan?
When preparing the Big Family Deli Sandwiches on a sheet pan, be sure to have the following ingredients:
French Bread. Grab two loaves of the bread or make your own French Bread, and slice it through lengthwise.
Prepared Mustard. Use any brand and style of mustard that you personally enjoy eating with sandwiches.
Swiss Cheese. Use 24 slides of Swiss cheese to ensure that each sandwich has a bit of cheese with the meat.
Smoked Ham. Get smoked ham from the deli. Thinly sliced ham is the best to use. You can make your own ham if that's what you prefer, too.
Pork Roast. Get the pork roast thinly sliced at the deli, too.
You will also need dill pickles with pickle juice to complete these flavorful sandwiches. You can use salt and pepper to taste, but it is optional. Most lunch meats contain plenty of sodium, so you do not need to add any extra salt if you do not feel like you need it.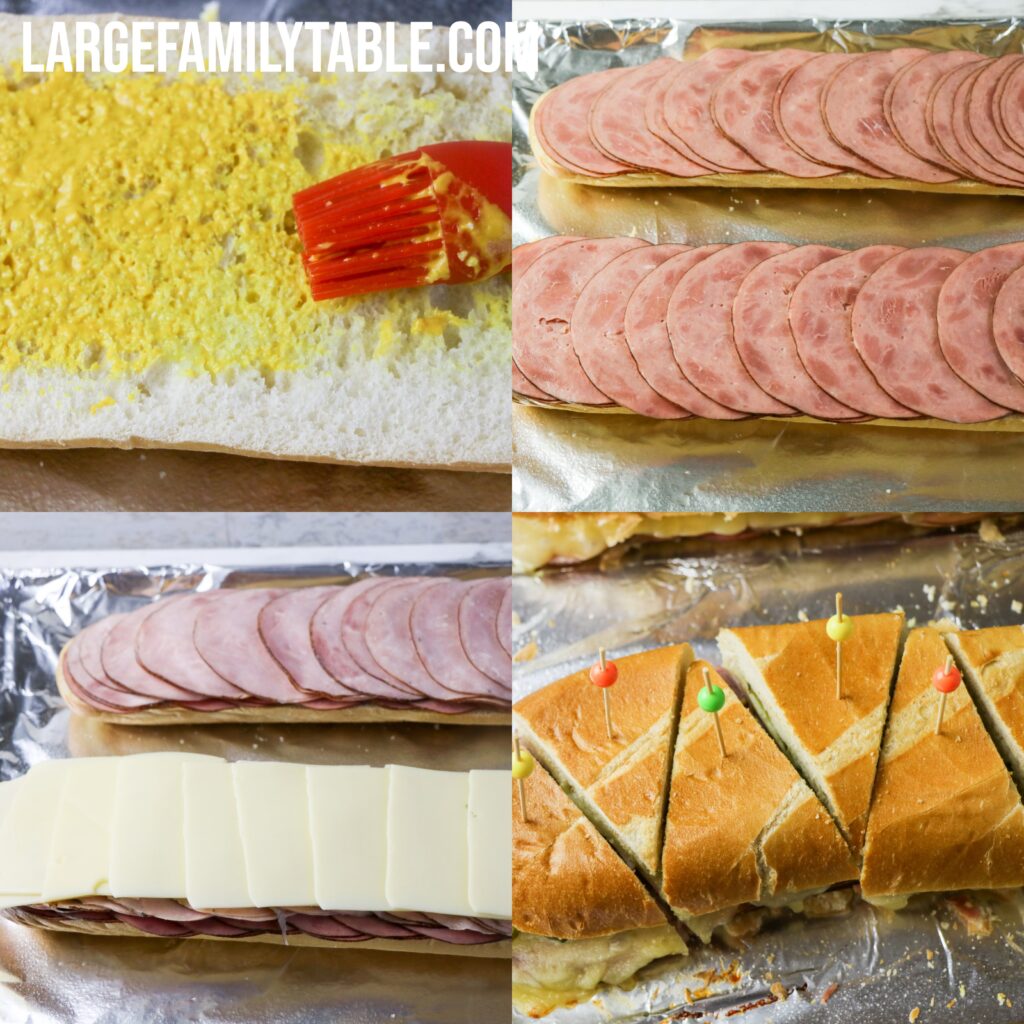 What Soup or Salad would go with this Meal?
You might be thinking that you want to expand this meal into a soup and sandwiches meal. Great idea, and I've got you covered! Expanding it into a warm soupy meal is a great idea on a cold day. This meal would go great with my Stuffed Pepper Stew, a nice Minestrone Soup, Tortellini Sausage Soup, or even a vegetable beef soup.
On the other side, maybe it's warmer outside and you prefer adding something cold. I've got a Grilled Chicken Berry Blue Salad, Marinated Cucumber Salad, Cranberry Apple Salad, and a Layered Spring Salad.
Other Sides to Serve with Your meal
These Deli Sandwiches on a Sheet Pan will taste great with a side of sliced deli pickles and crispy chips. You might want to serve plain chips, salt and vinegar chips, or barbecue chips on the side with your sandwiches. If you do not want chips, macaroni salad is another great side to enjoy with these sandwiches.
Does the Type of Lunch Meat Matter?
While Deli sandwiches typically consist of ham and pork roast, you can use alternative options if you need to. For example, you may prefer to use deli roast beef instead of pork roast. You can use smoked turkey breast instead of smoked ham. Some people use pulled pork instead of pork roast. If you decide to stick with the original ingredients, you can choose from different brands and variations of the pork roast and ham that the deli can offer you.
Can I Make this Dairy-Free?
The provolone cheese melts perfectly and tastes great with the marinara sauce and deli meats. However, if you want to make this a dairy-free dish, you can skip the provolone cheese altogether, and replace the butter with an oil of your choice. You can also replace the cheese with a dairy-free cheese alternative of your choice.
Here are More Lunch Ideas!
I have many more lunch ideas including low carb, THM, Keto, and more!
Big Family Deli Sandwiches on a Sheet Pan
Print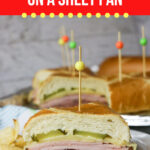 Big Family Deli Sandwiches on a Sheet Pan | Lunch, Dinner, or Party Platter Ideas!
Author:

Prep Time:

15 Minutes

Cook Time:

10 minutes

Total Time:

25 minutes

Yield:

20 servings

Category:

Dinner/Lunch

Method:

Oven
---
Description
Craving a meaty sandwich with the perfect combination of ingredients? Prepare this Big Family Deli Sandwiches on a Sheet Pan recipe to satisfy your craving without making a mess.
---
Ingredients
2 loaves French bread, sliced in half through the length

½ cup prepared mustard

24 slices Swiss cheese

1 ½ pound thinly sliced pork roast

¾ pound thinly sliced smoked ham

Dill pickles with juice
---
Instructions
Preheat the oven to 400 degrees. Prepare a large rimmed baking sheet with aluminum foil, spritzing with nonstick cooking spray.

Open the French bread loaves and on one side of each sandwich, brush the bread with pickle juice. On the other side, spread with mustard.

On the bread, place a layer of pork roast, ham, and cheese. Cover the cheese with the other side of the bread.

If desired, brush the top of the bread with additional pickle juice.

With both sandwiches completed and placed on the rimmed baking sheet, place another baking sheet on top of the sandwiches, pressing down lightly.

Place the sandwiches in the oven with the additional baking sheet remaining on top. Place a cast iron skillet on top.

Bake for about 20 minutes or until the bread is toasted and the cheese has melted.

Slice the sandwich and serve.
Keywords: Large Family Deli Sandwiches
Make these easy sandwiches for the next large family meal. Add a few sides and enjoy!
FREE Emergency Pantry Planning Pack!
Don't forget to sign up for the emergency pantry planning pack for free to help you plan your pantry meals! The free Emergency Pantry Planning Pack will help you plan your needed pantry items! Printable pages include pantry inventory, grocery lists, meal planners, list of pantry staple items, and more.