Large Family Caesar Pork Roast | Instant Pot Freezer Meals
This Caesar Pork Roast is a simple large family Instant Pot freezer meal that you can have in your freezer for when you need it. This large family recipe requires only a few ingredients and goes well with a variety of side dishes.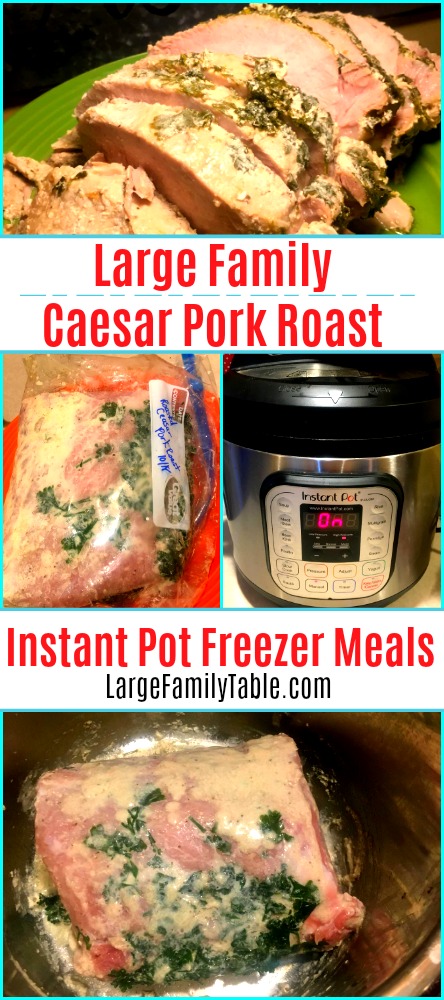 On my last large family freezer cooking day, I make four of these Caesar Pork Roasts while making these 50 Large Family Keto Instant Pot Freezer Meals. I kept two to help fill my family freezer and shared two with a friend. I bought two 6 lb pork roasts and cut each roast in half. Pork is such a cheap meat it's perfect for feeding a large family.
Here's the easy and super simple Instant Pot freezer meal recipe!
Print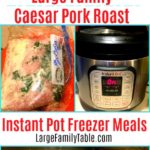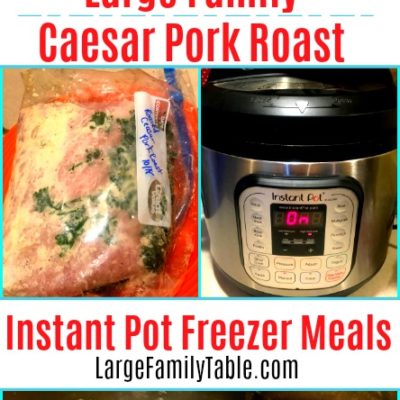 Large Family Caesar Pork Roast | Instant Pot Freezer Meals
---
Description
Enjoy this easy and simple Caesar Pork Roast that's a perfect large family dinner! Add corn on the cob or steamed carrots for the kids.
---
Ingredients
Four 3lb pork roasts (I cut down two 6 lb cheap pork roasts)
Two bottles of Creamy Caesar Dressing (I used Ken's brand since it's also gluten-free)
2 cups fresh parsley
This recipe makes 4 large family meals, just add a side dish or two.
For each large family freezer meal place the following in a one-gallon labeled and dated freezer bag:
3 lb boneless pork roast
Pour in 1/2 bottle of Creamy Caesar Dressing
Add in 1/2 cup of fresh parsley
Push out air from freezer bag and firmly seal
Freeze up to 3 months or more
---
Instructions
INSTANT POT COOKING DIRECTIONS:
Remove frozen pork roast from freezer bag and place in Instant Pot
Add in one cup of water
Seal your Instant Pot lid according to manufactures directions and set the valve to seal. Set the timer to manual high for 30 minutes. Let Instant Pot do a natural release. I usually let most recipes to a natural release since I'm not always standing there babysitting my pot.
*Note the internal temp of your large family pork roast. If the internal temp is not reached place back in IP for 10 minutes and check again. Because of the variables with pressure cooking, it's not always a perfect science and sometimes needs additional adjustments. The USDA recommendations a minimum internal temperature of 160 degrees for pork roasts.
SLOW COOKER COOKING DIRECTIONS:
For the slow cooker just set out your Caesar Pork Roast the night before to defrost in the refrigerator.
The next day pull your Pork Roast out of the freezer bag. Place it in your slow cooker and cook for up to 4 hours on high and 7-8 hours on low (slow cooker times may vary so always check the internal temperature to complete doneness).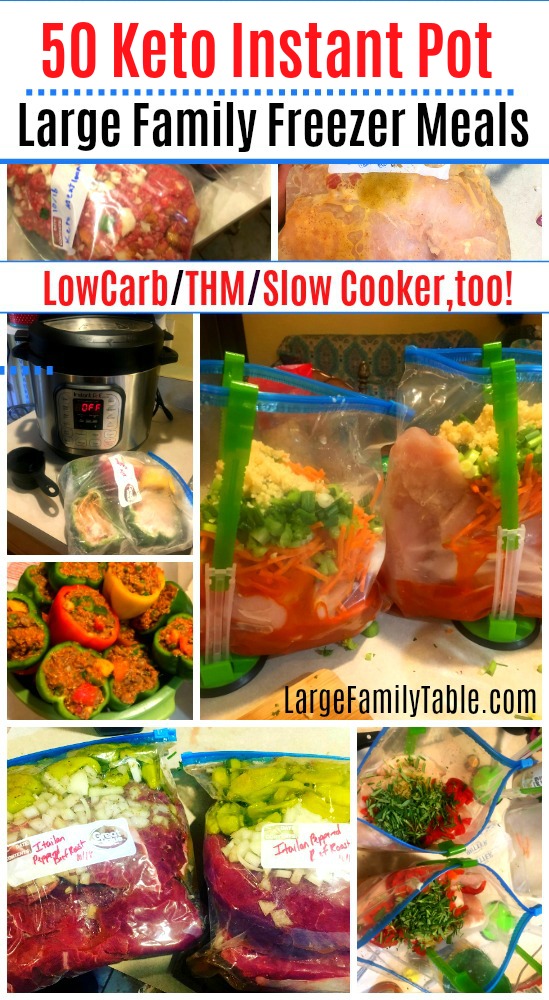 If you love this easy Large Family Recipe you are sure to love these 50 Large Family Keto Instant Pot Freezer Meal Recipes here!
FREE LARGE FAMILY FOOD COLLECTION!

Don't miss the *super mega* 🙂 Large Family Food Collection includes everything you need to plan, organize, and feed your family well! The entire collection includes:
Free Mega Freezer Meals Planning Pack (8+ Pages!)

Free 10 Large Family Table Recipes eBook

Free Family Favorite Recipes Binder Creation Kit

Free Family Meal Planner Collection (with weekly, bi-weekly, and monthly planning pages, grocery lists, and more!)

Sweet "Mommy & Me" Baking Printables

NEW Free Happy Family Holiday Meal & Household Planner Set (Including Thanksgiving, Christmas, New Years, and Easter) – over 30 pages!!!
Click here to get the Free Large Family Food Collection!