Baked creamy chicken spaghetti is one of those meals that everyone asks for and tastes great as leftovers. Let's not mention that it's super easy to put together. Once your family tries it and you see how easy it is to prepare several pans at once, I guarantee it will be a staple in your freezer. Serve with a salad or some yummy garlic bread.
**Use special promo code HELLO20 to take 20% off your first order in the shop including the SUPER MEGA ULTIMATE Large Family Freezer Meals Bundle here!**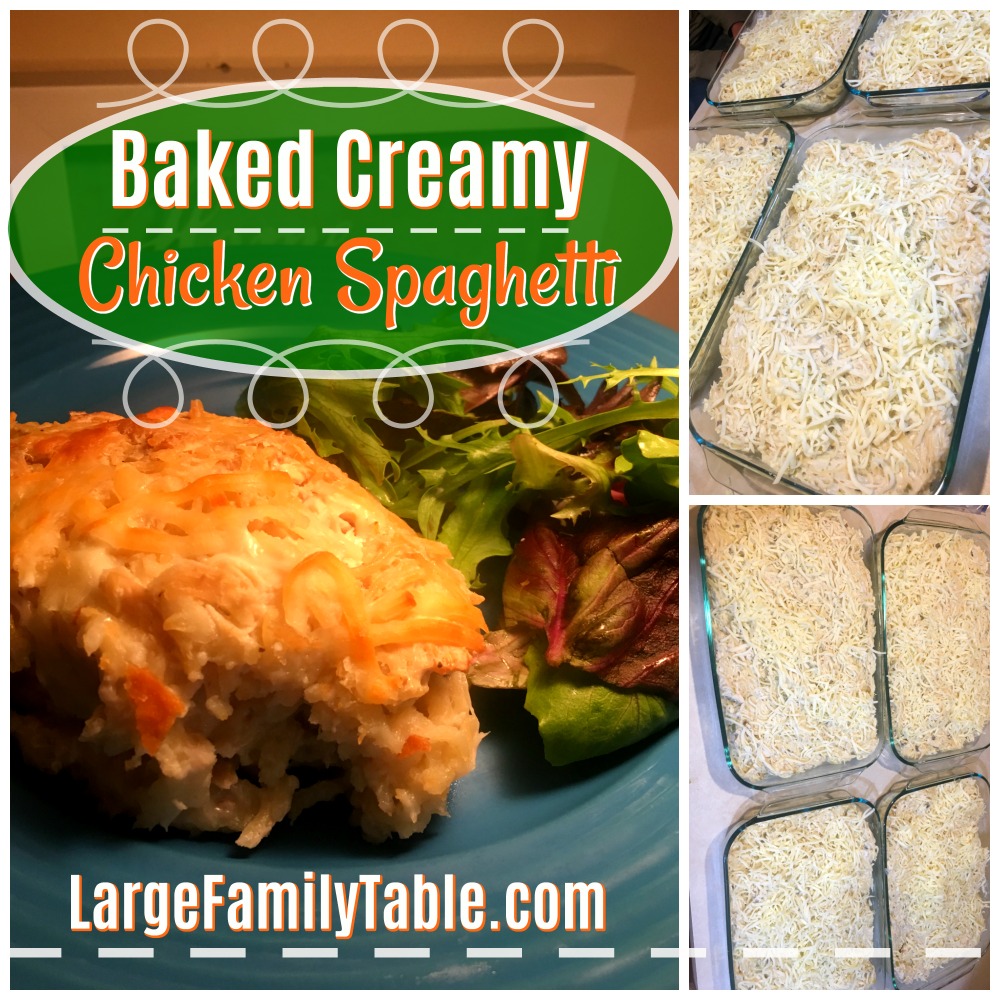 Start by cooking the spaghetti al dente. Drain and throw in your large mixing bowl. You will need all the room for this one. Add all the other ingredients except the cheese for topping. Mix together then divide the mixture into four 10 x 15 pans. Top each pan with 2 more cups of cheese.
This recipe is made easier by having the chicken premade and shredded in advance. A great way to do this is to spend an afternoon cooking, deboning, and shredding whole chickens in the Instant Pot. Bonus that you can make bone broth too! Seriously, having this already done will make this recipe all the easier to make and assemble. Alternately, grab a few rotisserie chickens while you're at Costco. No shame in my game if that's what works for my family at the time. You will get no judgment here.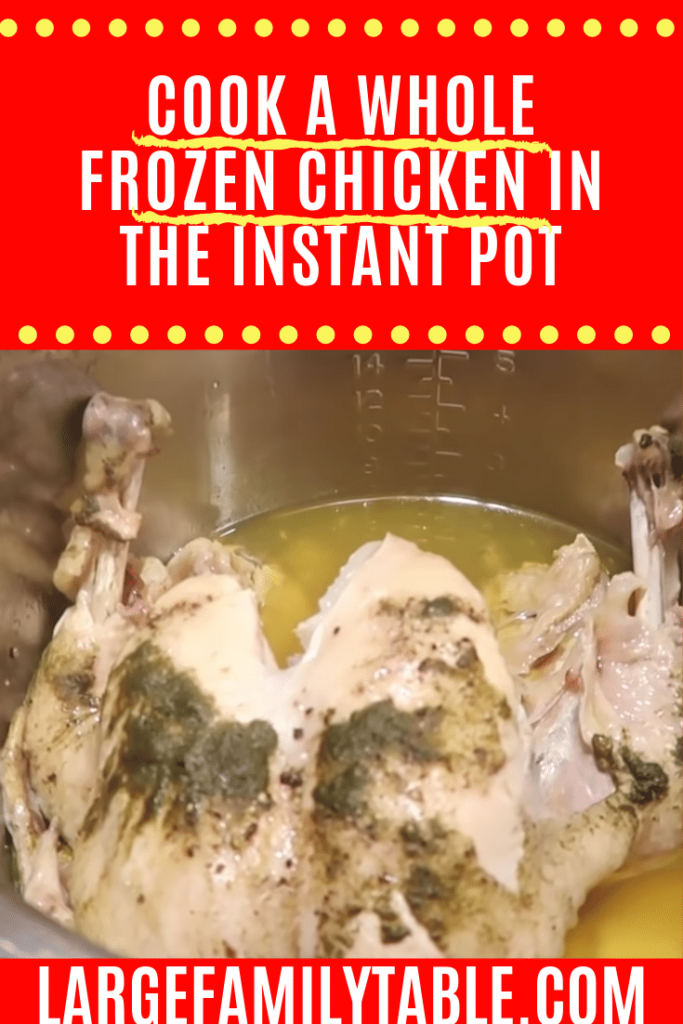 If cooking for dinner, cover loosely with aluminum foil and cook for an hour at 350 or until all hot and bubbly. Serve with a salad or garlic bread. No matter what you serve with it, the baked creamy chicken spaghetti will be the star of the show!
To freeze the remaining three pans, wrap and two layers of foil and two layers of plastic wrap, labeled appropriately. Place in freezer until time needed. When you have a hankering for baked creamy chicken spaghetti, set one out into the fridge the day before.  On cooking day, place in preheated oven at 400°, possibly increasing cooking time by 15 minutes minutes or so, based on the amount of thawing previously.
Print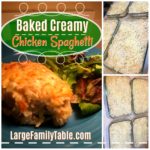 Baked Creamy Chicken Spaghetti | Freezer Meals for Large Families
---
Description
Creamy chicken spaghetti is a hearty meal that everyone will love. Bonus that it freezes well too! This recipe makes four 10×15 pans
---
Ingredients
6 lbs spaghetti noodles
4 lbs shredded chicken breast
3 family size cans cream of mushroom
6 cups shredded cheese
7 oz green chilies
3 cups sour cream
6 cups cheese for topping
---
Instructions
Cook spaghetti noodles. Drain and set aside.
Mix together all other ingredients in large mixing bowl except cheese for topping.
Divide mixture into four 10×15 pans.
Wrap and freeze for up to 3 months.
---
Notes
Reheating instructions:  Remove from freezer 24 hours before baking. Place in fridge to thaw. Remove plastic wrap. Place in 350 degree oven for one hour or until cheese is brown and bubbly.
Looking for a low carb option?