Today's recipe, Lemon Garlic Tilapia Sheet Pan Dinner, is from night #5 in my "5 MORE Sheet Pan Dinners!" video & blog post. Be sure to check out the video below to watch me throw this simple meal together lickety-split, as well as 4 more fabulously easy sheet pan dinners. This large family mama loves that her sheet pans make enough to feed all her people.
? Get the Best-Selling Large Family Freezer Meals Collection here! Use promo code HELLO20 to take 20% off your first order!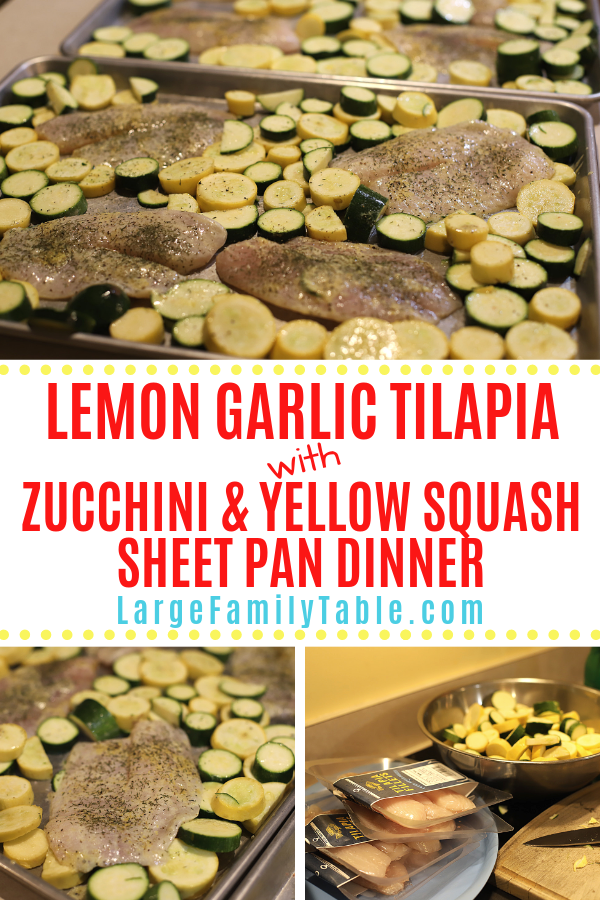 I picked up some "Fresh Never Frozen" tilapia at Aldi this week. Their packages were all right around 3/4ths lb, so I ended up using roughly 3 lbs to feed my large family. This lemon garlic tilapia sheet pan dinner is fantastic paired with roasted summer squash and zucchini for a healthy meal that your family is sure to love. Toss the vegetables with some avocado oil. Throw on the sheet pan with the tilapia then sprinkle your seasonings on before tossing in the 425 degree oven.
What to eat with tilapia that is healthy?
To keep the meal healthy, roast some vegetables tossed in avocado oil to go along with it like I do here. Brown rice is also a good option. You don't want to load it down with loads of pasta or heavy cream sauces that will negate its' healthiness.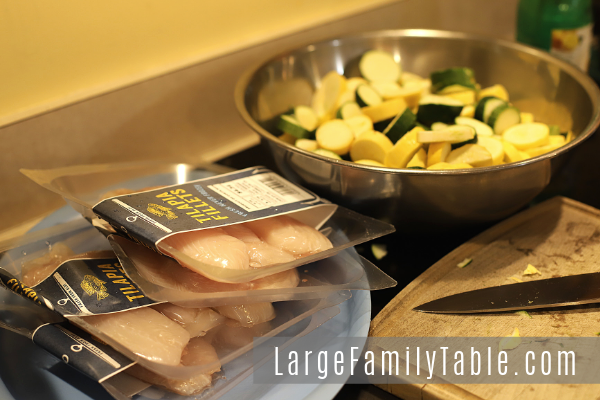 Can you meal prep fish?
Yes and no. Fish has a shelf life of 3 to 4 days in the fridge. You need to make it top priority of your meal prep options. Alternately, you can freeze it up to a month. Do take great care to make sure it remains cold at all times. No one wants to get sick after they attempted to save time by meal prepping.
Is tilapia good for weight loss?
Tilapia is loaded with protein which helps keep you full for long periods. This enables you to go longer between meals which helps you lose weight. The short answer is yes. Fish is a great addition to any weight loss plan.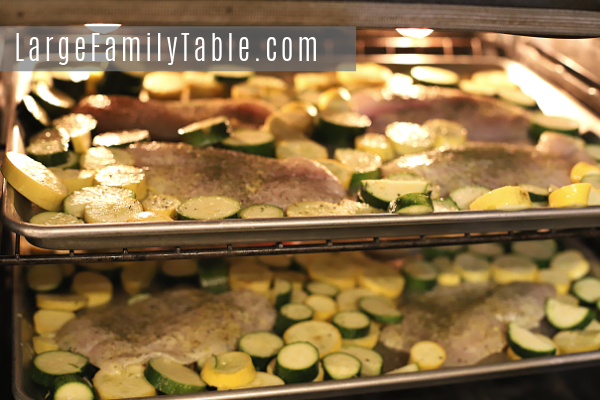 Is baked tilapia good for you?
Baked anything is always better than fried. Frying in oil adds unnecessary calories to your meal. Baking the tilapia helps keep it healthy and seals in the amazing flavors. If you're looking for a healthy way to prepare tilapia then baking it is the way to go.
Looking for more sheet pan recipes?
Pork, Roasted Cauliflower, & Petite Potatoes Sheet Pan Dinner
Print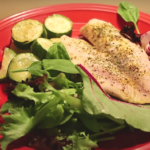 Lemon Garlic Tilapia with Zucchini & Yellow Squash Sheet Pan Dinner
Author:

Prep Time:

10 mins

Cook Time:

20 mins

Total Time:

30 minutes

Category:

Sheet Pan Dinner

Method:

Oven

Cuisine:

Seafood
---
Description
A healthy sheet pan dinner that takes minimal prep and will satisfy the whole family.
---
Ingredients
3 lbs tilapia
6 small summer squash
6 small zucchini
avocado oil
lemon garlic seasoning
---
Instructions
Wash and dry summer squash and zucchini
Cut into chunks
Toss with avocado oil and place on sheet pan
Open fish and place on sheet pan.
Drizzle with avocado oil
Season with lemon garlic seasoning or any seasoning of your choice
Bake at 425 degrees for 20 minutes or until fish is opaque
Keywords: Lemon Garlic Tilapia Sheet Pan Dinner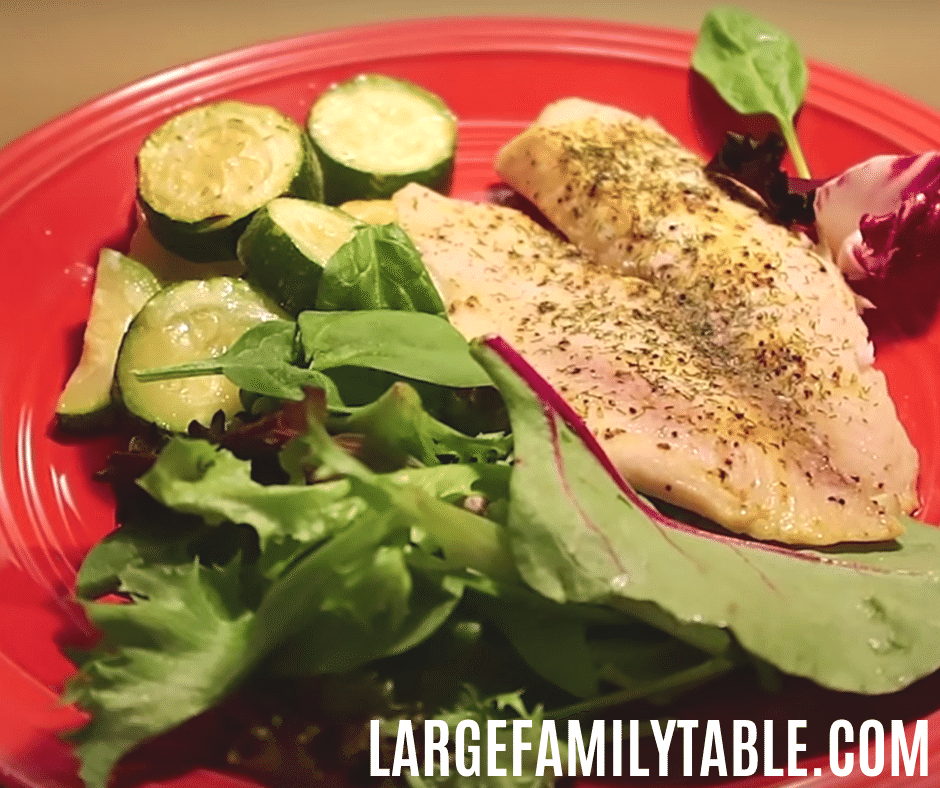 I knew it was a hit when there was only one tiny piece left over at the end of the meal! It's always more satisfying to have made a meal that actually gets eaten and enjoyed. I like to savor those #momwin moments. 🙂
Need A Sheet Pan For All These Yummy Recipes?
IF YOU'RE interested here is my Amazon affiliate link for my large sheet pans that I use for sheet pan meals!