?Get the Best-Selling Large Family Freezer Meals Collection here! Use promo code HELLO20 to take 20% off your first order. 🙂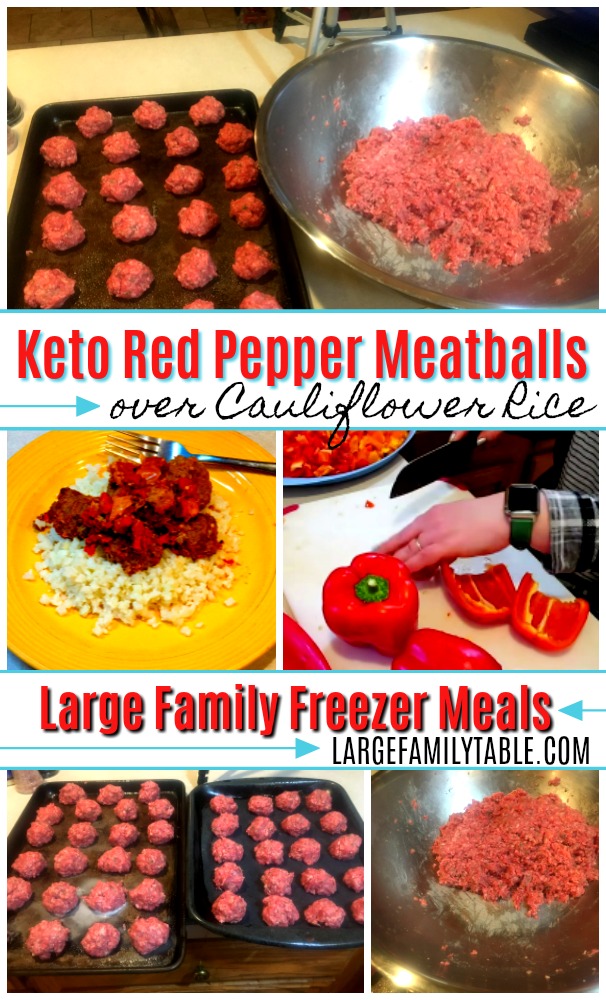 This Keto Meatballs recipe is an excellent base meatball recipe for many meals. I particularly made these homemade meatballs for the freezer for my Keto Red Pepper Meatballs over Cauliflower Rice recipe. You can also make up a big batch of these homemade meatballs to cook up and freeze for later use in soups and sauces!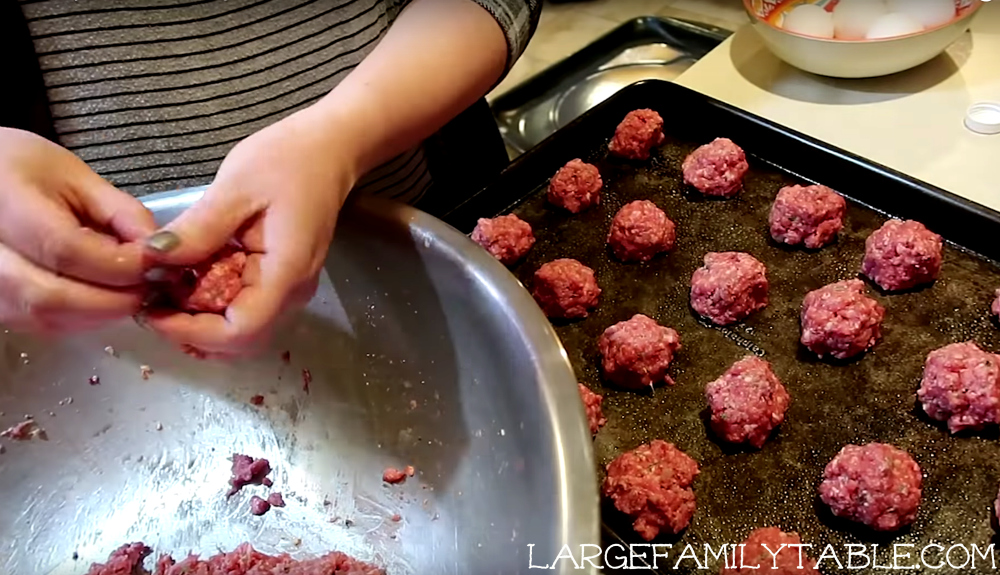 Now, are you ready for a Jamerrill cooking confession? When I had my last large family freezer cooking day and made up 20 Healthy Freezer Meals I had a big OPPS in the homemade meatball department.
I knew I baked up several pans full of these homemade Keto meatballs. However, when it came time to take these precooked meatballs and put together my bags of Keto Red Pepper Meatballs, I could only find about two dozen meatballs. For the life of me I couldn't find the rest of the meatballs anywhere. I thought I had made 5 dozen!!
I looked everywhere, even in the freezer (had I somehow put them there?!) I decided to keep going and make what I could with the meatballs I had. I figured maybe I hadn't made as many as I thought.
Sigh, fast forward to the next day. I opened my oven to put in a batch of homemade granola bars. And yes, right there looking at me were the other 2+ dozen meatballs!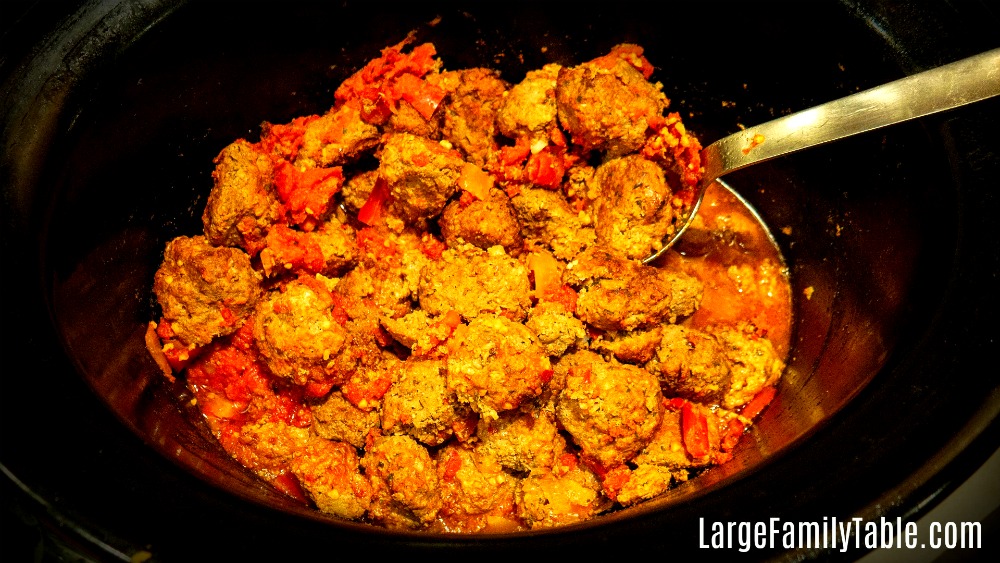 Because of this BIG OPPS I ended up making one large bag of Red Pepper Meatballs when I had planned to make two. So I guess that goes to show you, always check your oven, too!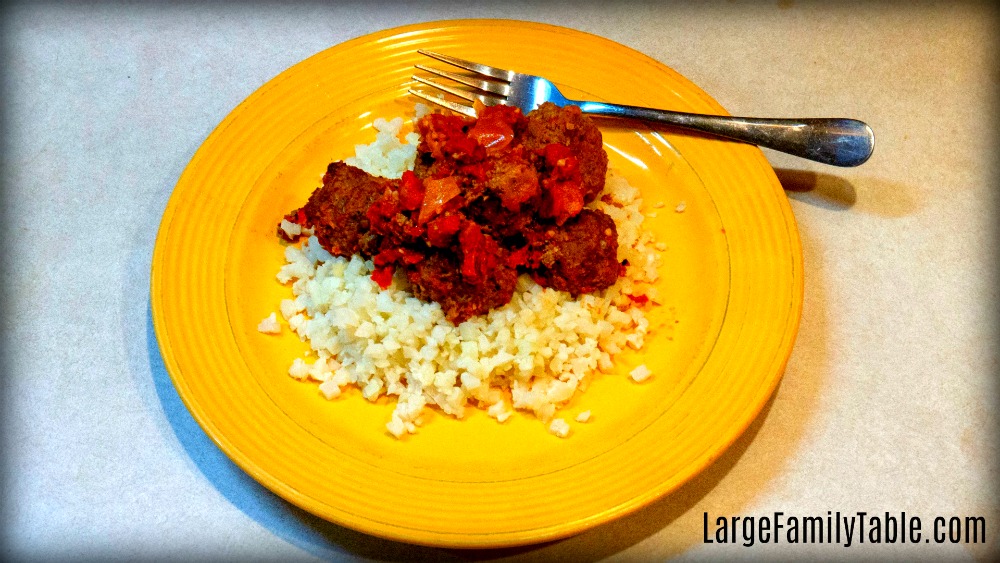 Print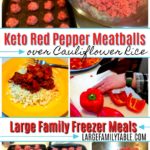 Keto Red Pepper Meatballs over Cauliflower Rice | Large Family Freezer Meals
---
Description
Make 5 dozen healthy homemade meatballs in this recipe for Keto Red Pepper Meatballs over Cauliflower rice! You can also serve these meatballs to your family over br0wn rice or quinoa. Meal prep extra meatballs to have for soups and sauces as well!
---
Ingredients
For meatballs:
5 lbs of

ground beef,

1 cup heavy cream,

4 tbs minced garlic,

4 tbs parsley,

1 cup parm cheese,

2 tsp salt

2 tsp pepper

5 eggs  
Makes 5 dozen Keto meatballs 

Bake in the oven

at 400 for 20 minutes 
Once meatballs are baked and cooled divide evenly amongst two one-gallon freezer bags.
In each freezer bag pour:
2 (12 oz) cans diced tomatoes 

2 red peppers, diced

1/2 yellow onion, diced

1 tbs minced Garlic

1 tsp red pepper flakes

1 tbs cumin

1 tsp pepper

1 tsp salt 
Label, date and seal freezer bags and store in the freezer for up to 3 months or more.
---
Instructions
When you desire to serve this recipe just thaw the bag in the refrigerator the night before. On cooking day dump contents of the bag in the Instant Pot or Slow cooker. For Instant Pot cook soup on manual high for 20 minutes. For the Slow Cooker cook on high up to 3 hours, or low 4-5 hours.  Serve over Cauli rice, brown rice, quinoa, etc.
20 HEALTHY FREEZER MEALS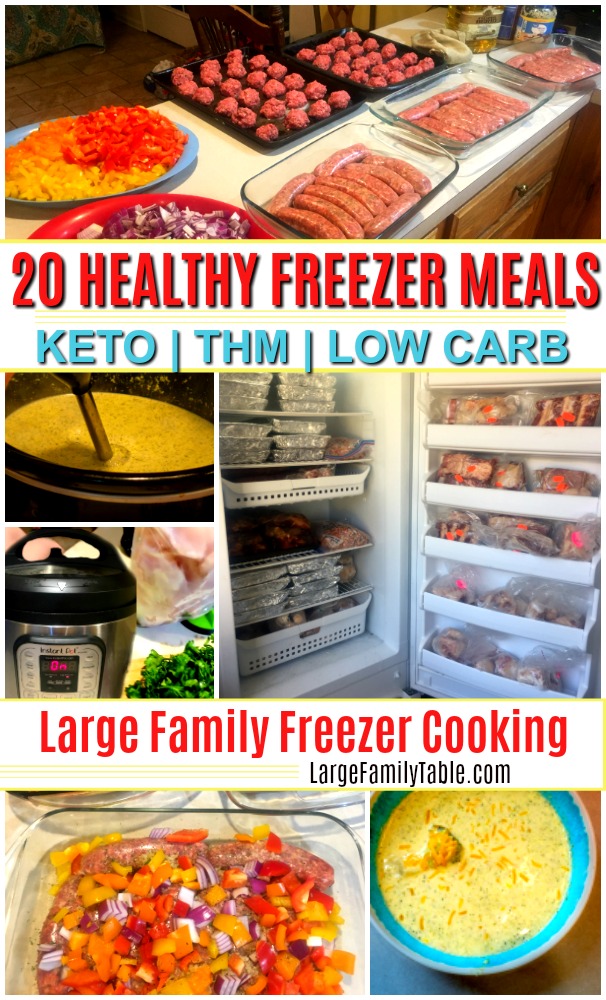 Click here to find more healthy freezer meals in the post 20 Healthy Freezer Meals (Instant Pot, Slow Cooker, Oven Meals, too!)