?Get the Best-Selling Large Family Freezer Meals Collection here! Use promo code HELLO20 to take 20% off your first order. 🙂
If you're looking for a variety of low carb recipes that can work for Trim Healthy Mama S-meals, Keto, Atkins, and the like this Low Carb Beef and Cheddar Cauliflower Bake is one that needs to go on your low carb recipe list!
On my last large family freezer cooking day, I made 20 Healthy Freezer Meals. I used the last of the pasture-raised ground beef from the whole cow we bought the end of last summer (sniff, sniff!) to make up several freezer meals, including this Low Carb Beef and Cheddar Cauliflower Bake!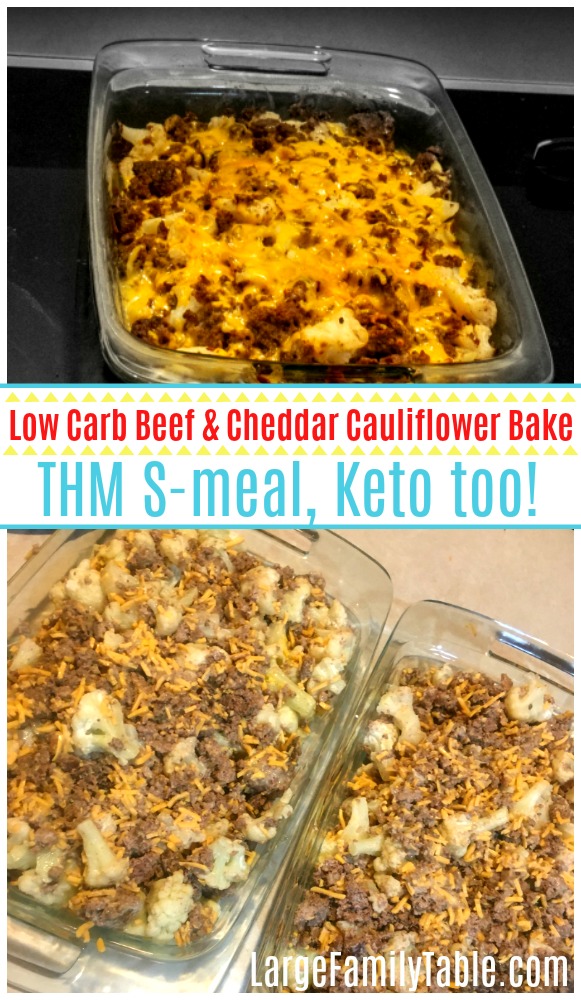 I batch cooked the ground beef for several freezer meal recipes at one time. For this low carb recipe I mixed all the ingredients together in my favorite large mixing bowl, then pour the contents into two 9×13 baking pans. I wrapped and froze both meals for upcoming large family dinners.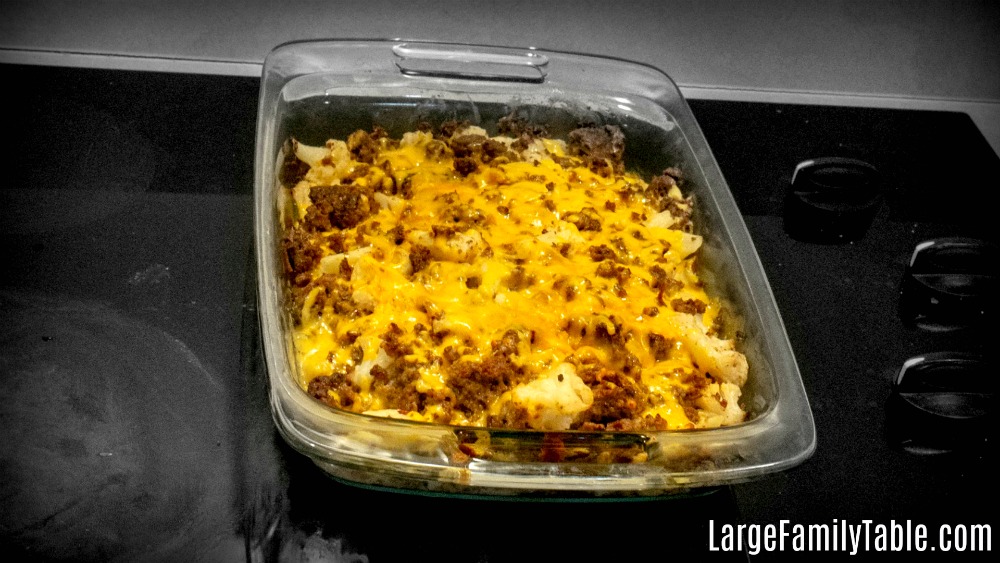 I get asked often if one 9×13 pan is enough for our family of ten. Generally we also have side items such as salad, fruit slices, prepped veggies, apple sauce, steam veggies, or even a slice of buttered bread for the kiddos!

One 9×13 freezer meal will be enough with added on side items. If I want leftovers for the following day, or if momma here just can't get her head around side items that evening for whatever reason, than TWO 9×13 pans are needed.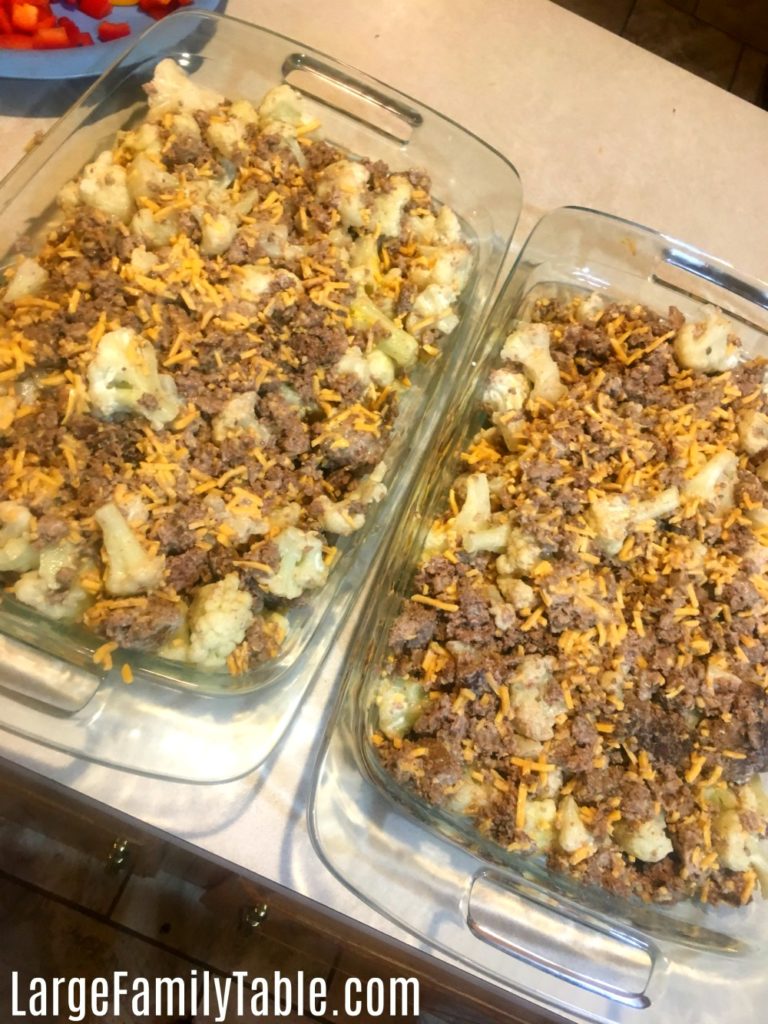 Print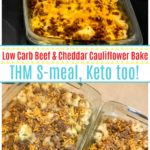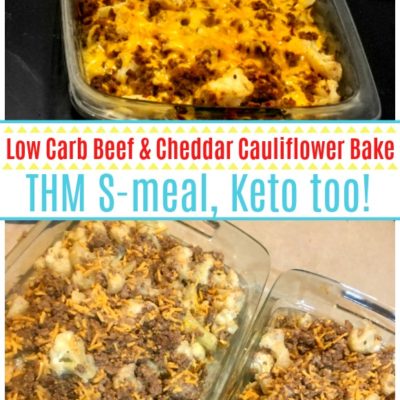 Low Carb Beef and Cheddar Cauliflower Bake, THM S meal, Keto too!
---
Description
Cook up two pans of this low car beef and cheddar cauliflower bake for your family! This easy oven freezer meal is Keto, Low Carb, and THM friendly. 
---
Ingredients
6 lbs pre-cooked ground beef,

52 oz cauliflower

4 cups of heavy cream

6 eggs

1 tsp salt
1 tsp pepper
4 cups of shredded cheese

2 cups of shredded cheese for topping
---
Instructions
Mix all of the above ingredients in large metal mixing bowl. Divided mixed ingredients into two 9×13 baking pans. Wrap each pan in two layers of foil and two layers of plastic wrap. Label each pan and place in the freezer for up to three months.
When you desire to make this meal just set it out from the freezer into the refrigerator the night before to thaw the meal. On cooking day remove the plastic wrap and foil. Bake in the oven on 400 degrees for up 45 minutes to 1 hour or until bake is hot and bubbly and reaches an internal temperature of 165 degrees.
20 Healthy Freezer Meals
Watch me make this Low Carb Beef and Cheddar Cauliflower Bake in the new 20 Healthy Freezer Meals post with video link and more new healthy freezer meal recipes!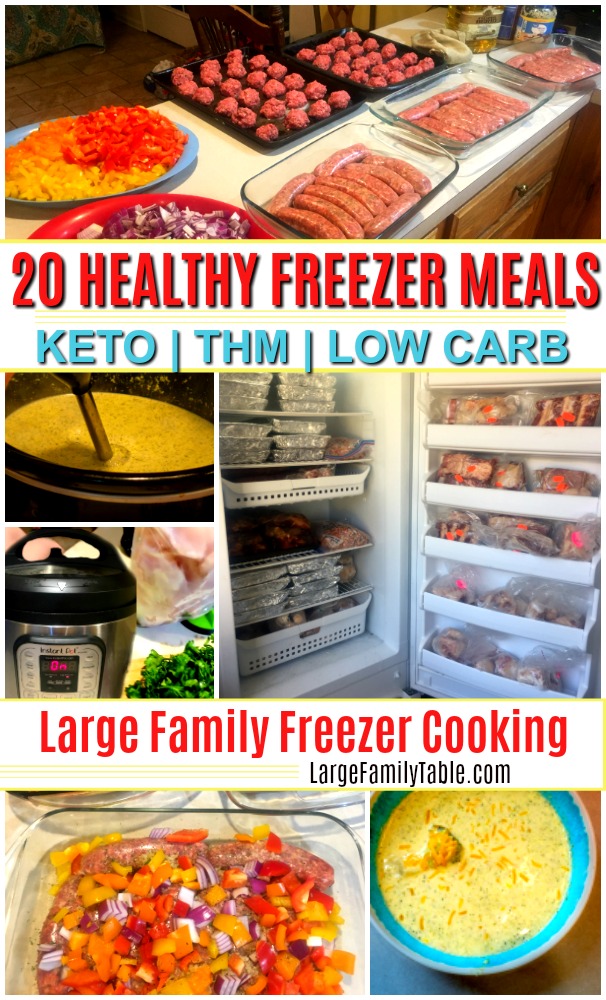 Large Family Freezer Meals Collection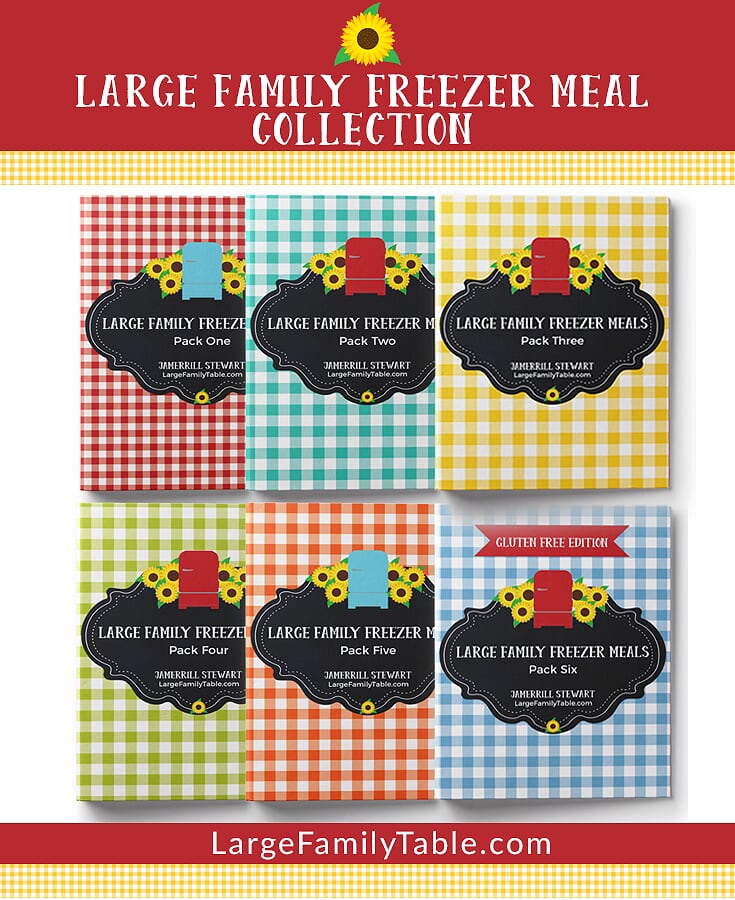 Do you need help getting dinner on the table and having a bit of kitchen sanity? Wouldn't it be wonderful to have many freezer meals prepped and ready to go to feed your family fast, quick, and in a hurry? Here's my Large Family Freezer Meal Collection to save your momma life, big time!!