Welcome back to my large family meal plans post where I share with you what I plan to feed my large family in the coming 4+ weeks. I recently shared my large family once a month grocery shopping haul from Walmart for April. In this grocery haul, I shopped ahead for many of our large family meals including breakfasts, lunches, dinners, and snacks. I shared I had 20+ new healthy freezer meals for the Instant Pot and Slow Cooker that were also included in that $630 haul.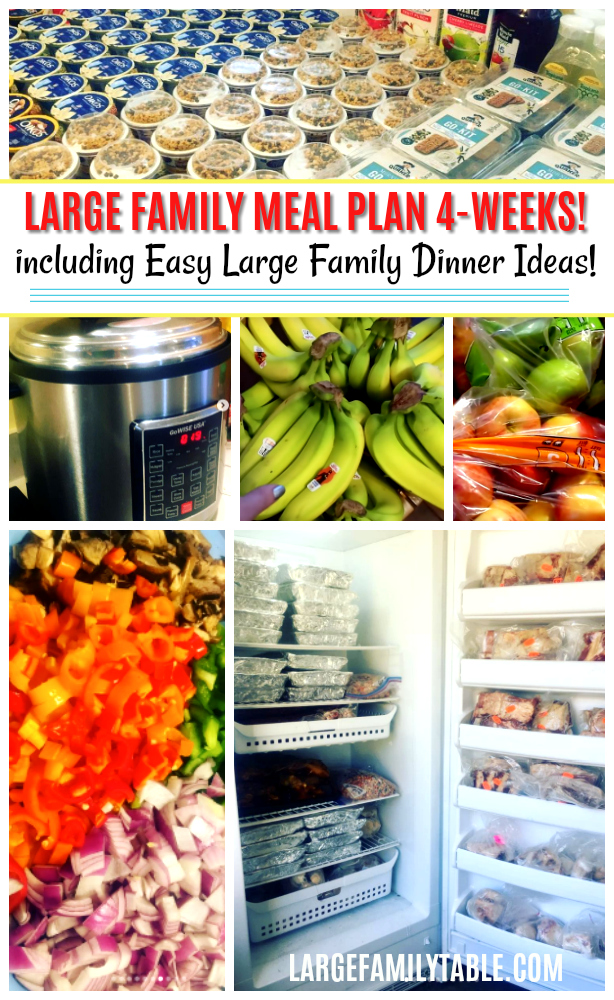 I also have an updated Large Family Meal Planning System for 2019. I've come to do a hybrid of weekly meal planning coupled with once a month grocery shopping. In short, I still plan and shop for 4+ weeks in advance, but I drill down the menu each week based on the family needs and activities of that particular week. You can see how each week plays out in reality with my Large Family Meals of the Week videos.
I get asked by moms to share my large family meal plans and large family dinner ideas on a daily basis. It is my hope in sharing my large family meal plan for April that those mommas get the inspiration, meal ideas, recipes, and encouragement to help them feed their growing families!
20+ Large Family Dinner Ideas
We have a nice build up of large family freezer meals in the freezer including what was left after I made 40 Freezer Meals for New Moms following my Large Family Freezer Meals Pack Two from my Large Family Freezer Meals Collection. After sharing freezer meals with friends that left us with about 18 dinners.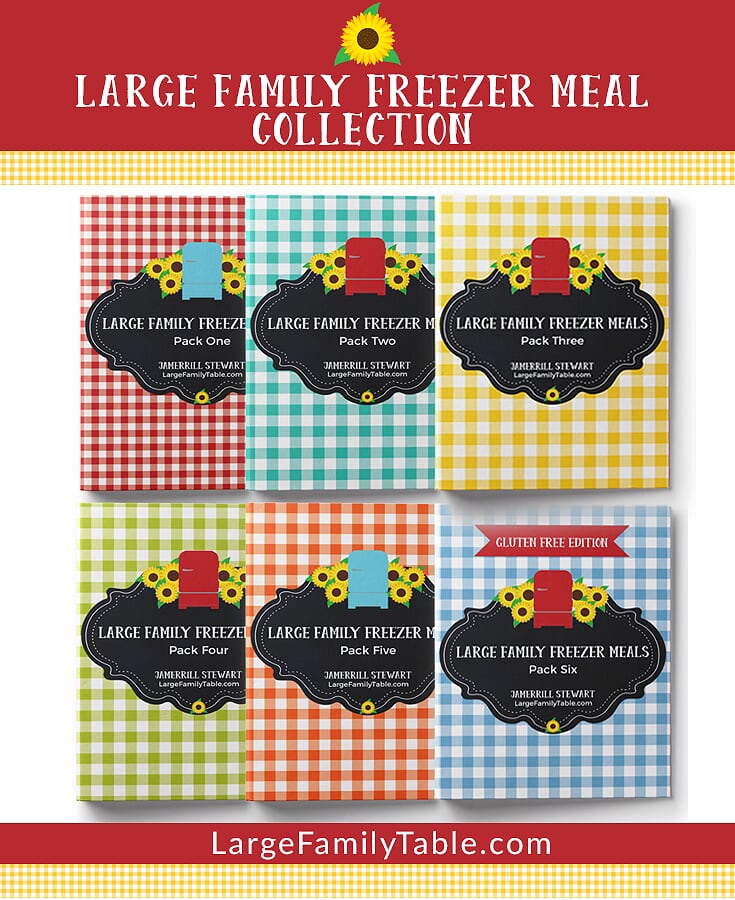 *Remember you can always use the promo code HELLO20 to take 20% off your first order in the LFT shop including the best-selling Large Family Freezer Meals Collection with freezer meal packs 1, 2, 3, 4, 5, 6. These Large Family Freezer Meal Packs include the freezer meal grocery shopping list, big batch cooking guide, freezer meal recipes, freezer cooking printables and more!
I have multiples of several of these freezer meals so we may not use all of these make-ahead dinners in April exactly. Several of these freezer meals may wait for several months in the freezer to fulfill their destiny as I like to say. These are the freezer meals I currently have in the freezer and the recipes I'm working with for large family dinner ideas.
Make Ahead Dinners in the Freezer Currently
Additional Large Family Dinner Ideas
These two large family dinners aren't already prepped ahead. However they'll be quick and easy in the Instant Pot or 14 qt Pressure Cooker.
Electric Pressure Cooker Baked Potatoes – I bought 20 lbs of potatoes in my recent Walmart grocery haul. We'll have a baked potato bar night where the kids can top their potatoes with their favorite toppings such as butter, sour cream, bacon bits, and shredded cheese.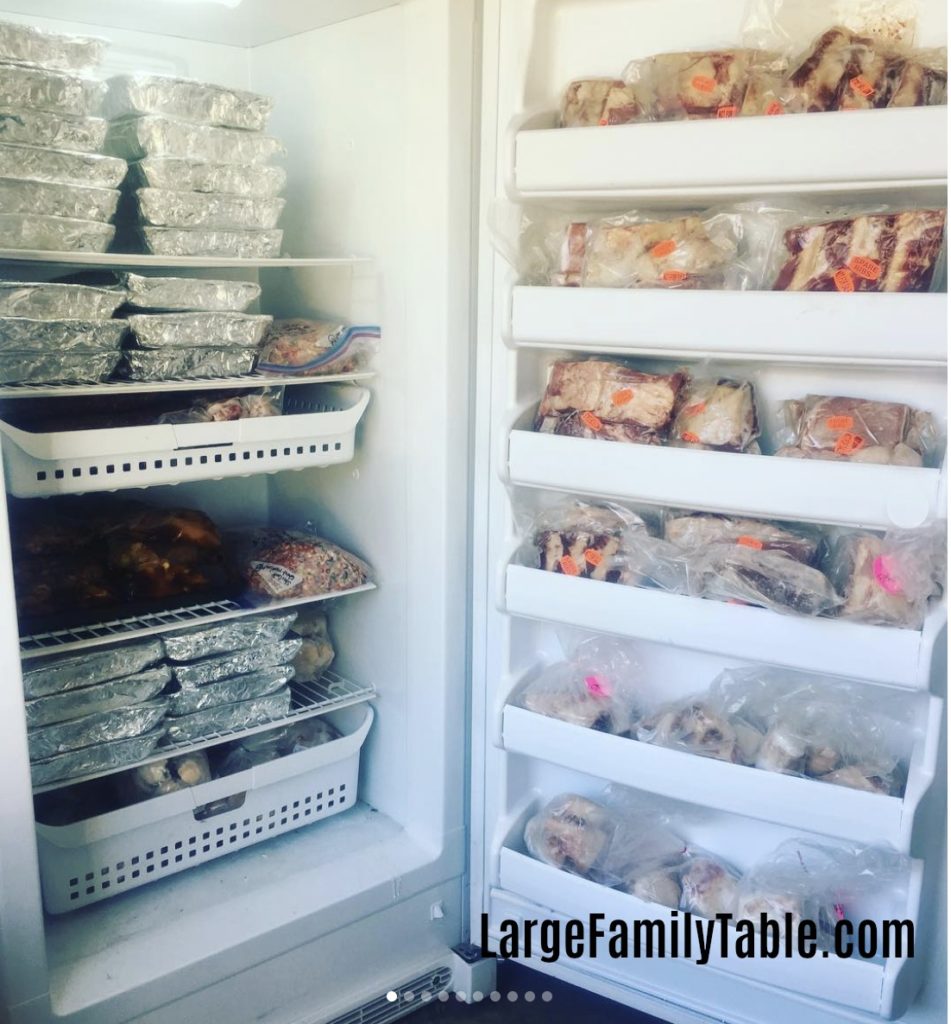 Instant Pot Ribs – ALL THE RIBS! You might have seen a recent picture of my freezer on Instagram. I have a whole freezer door full of various beef ribs. These are part of what's left from the full pasture-raised cow we bought the end of last summer. I plan to make several meals in both the Instant Pot and oven with these ribs. I'll report back on how this goes!
I'm listing these 20 large family dinner ideas and leaving 10 nights open for the month. This is because I'm sure we'll have 2-3 times we eat dinner out during the month. This could be a planned stop at the cheap pizza buffet, a church pot luck, or dinner with friends (I know we have one of those this coming week). Then there will be nights we still have leftovers from the night before, I get a sudden recipe inspiration (it's the disease of a recipe developer, ha!) or Travis gets grilling and I just make a salad as a side.
Large Family Lunch Ideas
Our first choice for lunches is always dinner leftovers from the night before. Many times I will pull out a sampling of leftovers, fresh fruit and veggie options, cottage cheese, cheese sticks, hard boiled eggs and the like so the kids can make a lunch plate of their choices.
In addition to these lay-it-all-out-on-the-counter-lunches, we'll also have Peanut Butter Strawberry sandwiches, Turkey and Cheese sandwiches, and Grilled Cheese sandwiches that we're meal prepping ahead for the freezer. April is already a week in and we haven't made ahead this 200+ freezer sandwiches yet, but I'm hopeful it'll get done in the coming days.
Make ahead freezer sandwiches are perfect to add in a bag of fruit and head for a hike or serve during schoolwork time. I don't know about you, but this momma here needs lots of no brainer quick and easy meals at her finger tips!
Large Family Breakfast Ideas
We did get one make-ahead breakfast meal in the freezer and that was for our Sausage "McStewart" sandwiches. Zion made 70 of those for us the other night. Besides that though we have no other make-ahead breakfast meals prepped. For the moment we're eating lots of eggs by baking eggs in the oven most mornings. Some mornings we've served sausage links and toast or cottage cheese and apples along with the baked fried eggs.
Even after our three-week pantry and freezer challenge we still have an abundance of oatmeal. I plan to rotate baked fried eggs, oatmeal with fruit (overnight slow cooker oatmeal is great for busy mornings), homemade yogurt with homemade granola, fruit smoothies with homemade granola bars, baked pancakes, and our prepped ahead sausage mcmuffins over the next few weeks.
Large Family Snack Ideas
I was also able to get in an $80 discount grocery haul at Sharp Shopper which gave us a small boost of treat-type snacks I wouldn't otherwise have in the house. We still have a decent selection of those cheap yogurts and snacks available.
I plan to do some big batch snack prep as we roll through those Sharp Shopper treat snacks. I'll make a variety of homemade protein bites, homemade yogurt, homemade granola, and homemade granola bars for upcoming "reality" snacks.
Also for snacks, we keep a selection of fruits and veggies that are always available. If I had a dollar for everytime I said, "if you're hungry eat a banana!" At different times I'll batch cook several dozen eggs for protein-packed snacks as well.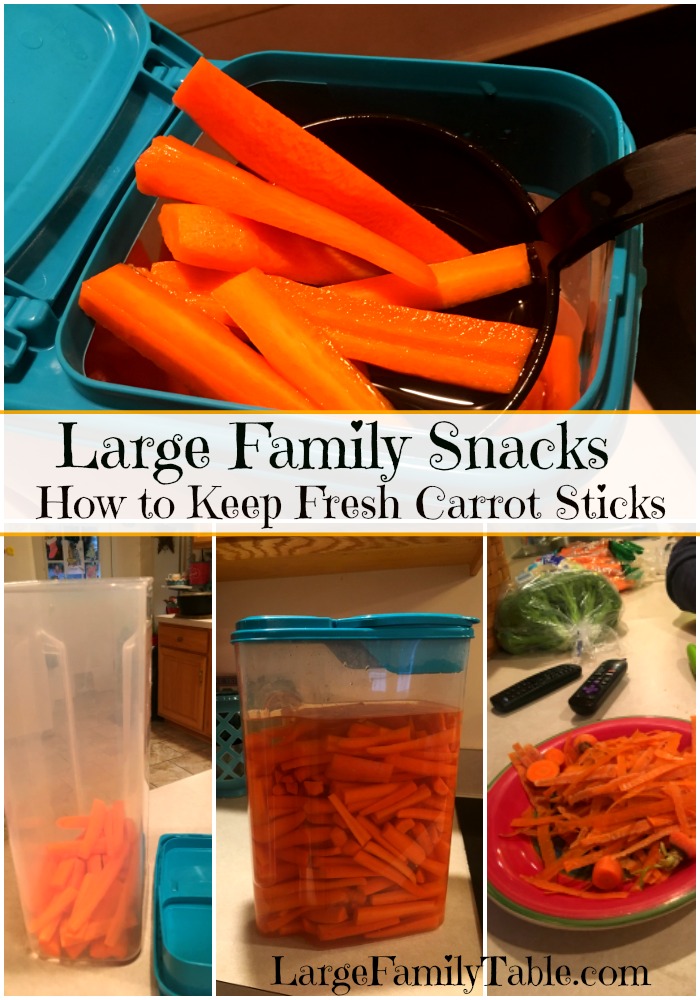 When I do my once a month grocery shopping fill-in haul in a few weeks Travis and I will try to take a few hours and do some batch snack and meal prep together. We'll do a big batch of cheese sticks, celery sticks, carrot sticks (here's how we keep carrot sticks fresh) and more based on what veggie deals I find at Aldi at that time.
So these are my large family meal plans for the upcoming 4+ weeks for our family of ten. We work from home, school from home, and have a lot going on just like I'm sure you do in your family, too! I hope looking at my meal planning ideas for the coming month is helpful for you.
MORE LARGE FAMILY MEAL PLANS and Grocery Shopping
You might also be interested in these additional large family meal plans and grocery shopping resources:
Don't forget to snag the FREE Large Family Good Collection here while you're at it!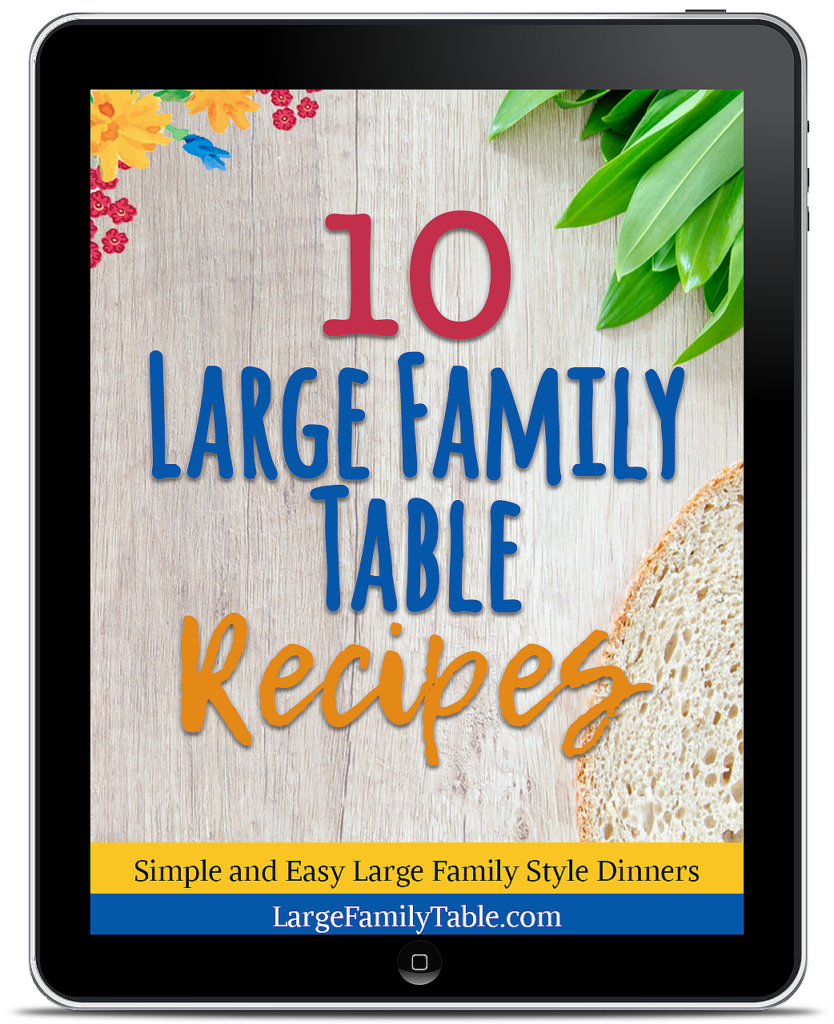 Large Family Meal Plan: 4-Weeks, 90 Family Meals, 60 Snacks, Recipes, and Helps!
Large Family Meal Planning for the Month ideas!
A Brilliant Large Family Meal Planning System from a mom of 7
Pantry and Freezer Challenge ideas – I just finished up a 3 week challenge!
The Ultimate Guide to Large Family Meal Planning from Amy, mom of 10
Meal Plans and Grocery Shopping in a Large Family from a mom of 14
Large Family Grocery Budget Breakdown with Large Family Grocery List – 2015 Edition
Feeding a Big Family for $400 per Month on Money Saving Mom + More FAQ's (from back in the day when our kiddos were 11 and under) – 2011 Edition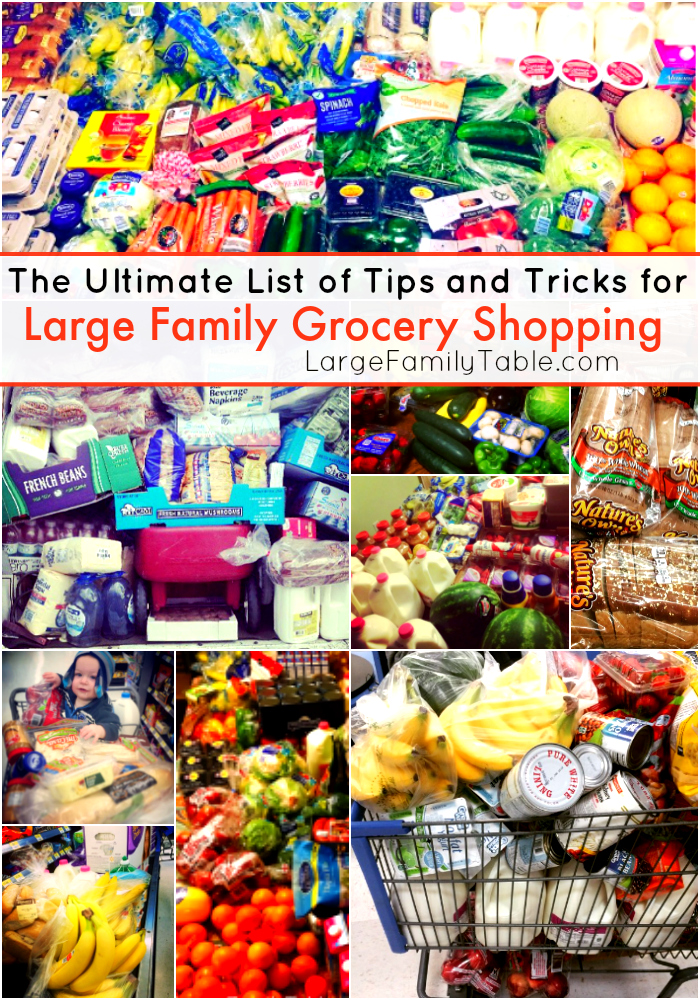 The Ultimate List of Tips and Tricks for Large Family Grocery Shopping Here's a compiled a list of well over 50+ ultimate tips and tricks for large family grocery shopping from several moms of many.
I'll be sure to share how our large family meal plan plays out as the month progresses!