Enjoy an easy-to-make breakfast treat that your family will love with this recipe for Large Family Breakfast Tacos. You can even customize these tacos to your liking with added ingredients and make this dish dairy-free!
When you want something different than your usual bowl of cereal or oatmeal for breakfast, these Large Family Breakfast Tacos are a fantastic choice. You can easily prepare the tacos with just a few ingredients, preparing enough of them for your entire family to enjoy for breakfast. Most importantly, you can make them in advance, wrap the tacos, and save them in your refrigerator to keep them fresh. When you want that authentic taco taste combined with eggs for breakfast, this is the recipe you need in your life!
****Use special promo code HELLO20 to take 20% off the entire MEGA DEAL get-it-all Bundle including the best-selling Large Family Freezer Meal Packs 1-12 + so much more!!****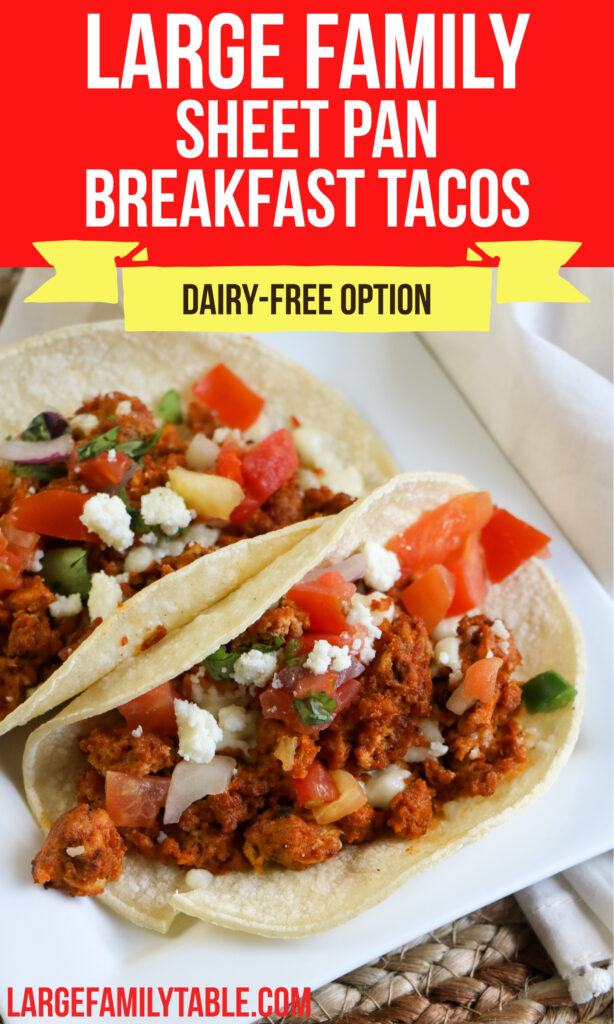 The Ingredients to Make Large Family Breakfast Tacos
These authentic tacos are easy to make with minimal ingredients. You will only need the following ingredients to prepare these Large Family Breakfast Tacos:
Chorizo Sausage. The sausage brings a unique and slightly spicy kick to the tacos. Also, try my Chorizo and Chicken Paella.
Queso Fresco. Use crumbled pieces of queso fresco for your tacos. (Leave this off for dairy-free.)
Pico de Gallo. Add fresh pico de gallo to your tacos for a light and refreshing taste.
Eggs. You will need at least 20 eggs to prepare enough tacos for your family.
Corn Tortillas. Use a package of corn tortillas to make the tacos. You can use any brand available to you.
With just five ingredients, you can prepare the most delicious Large Family Breakfast Tacos!
Extra Ingredients to Add to Your Tacos
While these tacos taste great with the ingredients included in the original recipe, you can add extra ingredients to your tacos. Some of the other ingredients that will taste great with the chorizo, eggs, and other ingredients include chopped red onions, fresh cilantro, and sour cream. You might also want to make your own salsa verde to add to your tacos.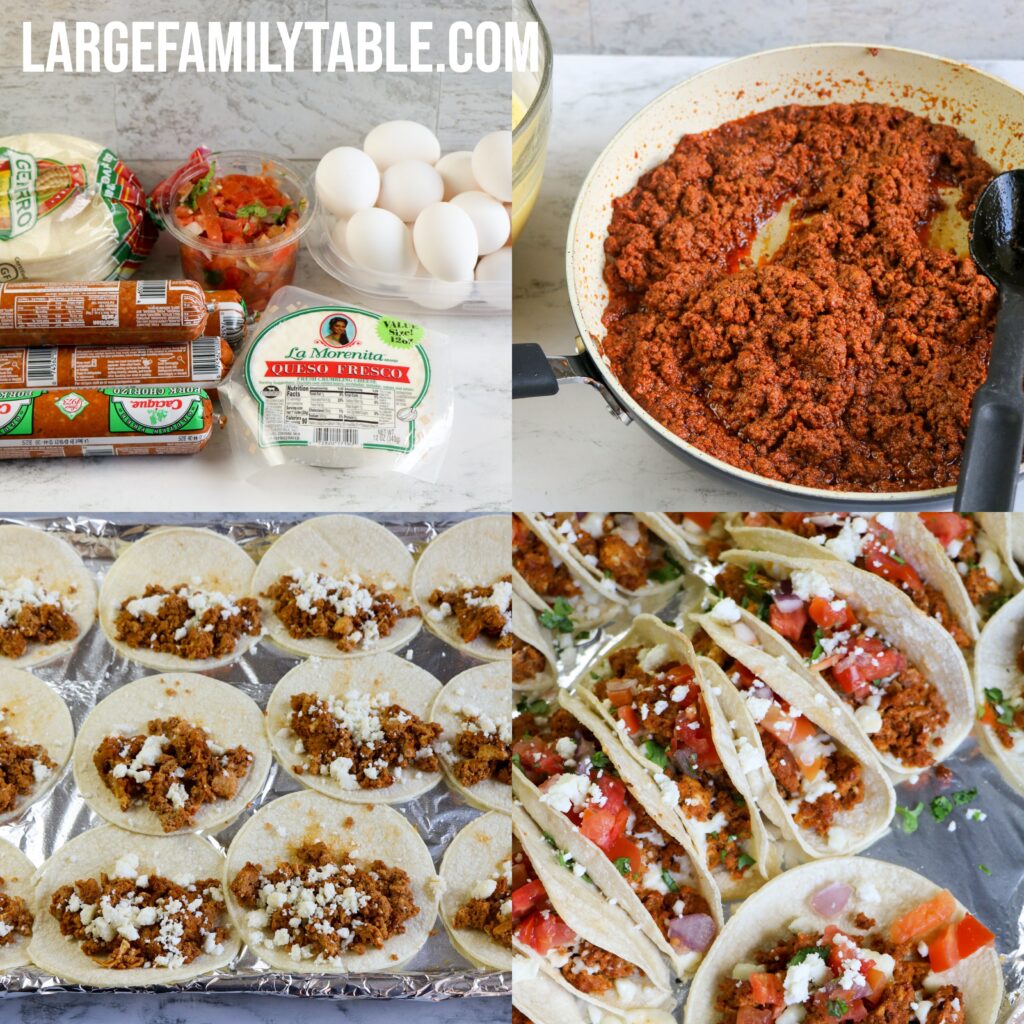 How to Wrap and Store the Breakfast Tacos
Wrap your tacos in parchment paper and then a sheet of foil to keep them fresh. You will need to store the tacos in the refrigerator to keep them from going bad. You can leave the tacos in your fridge for up to three days, reheating in the microwave for a few seconds to get them hot again.
Can You Substitute the Chorizo?
If you do not like chorizo, you can substitute it for any other sausage or pork that you do eat. If you are a vegetarian and want a vegetarian-friendly option, consider using Morningstar Farms Chorizo Crumbles or Feed Your Head's Vegan Chorizo Sausage. Both are great alternatives that have the same great taste like chorizo.
Is There a Dairy-Free Alternative to the Queso Fresco ?
If you want to make this a dairy-free recipe, you can use other alternatives to queso fresco. Some of the best alternatives include dairy-free mild nacho cheese and queso-style cashew dip. You can use cheese substitutes or skip the queso fresco completely. If you are unable to find an alternative, make your own vegan queso fresco with nutritional yeast, agar powder, slivered almonds, and a handful of other ingredients.
Here are more large family breakfast ideas!
I have lots of breakfast meals, bread and muffins, pancakes and French toast, and baked goods!
Where can I find more large family breakfast recipes?
These breakfast tacos give your family a yummy reason to jump out of bed in the morning! Breakfast doesn't have to be complicated to be filling and healthy. I know it may seem easier to buy pre-made breakfast items, but you can save lots of time and money just by making breakfast ahead of time with my Breakfast Freezer Meals Pack, it's number 10 in my Large Family Freezer Meals Series. It includes 10 amazing breakfast recipes with directions to help you make 25 breakfast meals to put in your freezer!
Large Family Breakfast Tacos
Print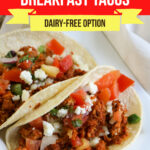 Large Family Breakfast Tacos | Sheet Pan Recipe, Dairy-Free Option
Author:

Prep Time:

30 minutes

Cook Time:

10 minutes

Total Time:

40 minutes

Yield:

30 Taco's

Category:

Breakfast

Method:

Oven
---
Description
Enjoy an easy-to-make breakfast treat that your family will love with this recipe for Large Family Breakfast Tacos. You can even customize these tacos to your liking with added ingredients!
---
Ingredients
4 (10 ounce) packages chorizo sausage

20 eggs

1 (12 ounce) package queso fresco, crumbled (Substitute using the list above or leave this off for dairy-free)

1 (10 ounce) container pico de gallo

1 (22.5 ounce) package corn tortillas
---
Instructions
Preheat the oven to 375 degrees. Prepare a large (21 x 15 inch) baking sheet with aluminum foil or parchment paper spritzed with nonstick cooking spray.

In a large (12 inch) skillet, cook the chorizo over medium-high heat, stirring often and crumbling as it cooks. Cook for approximately 8 minutes and then drain off any excess fat using a spoon.

In a large mixing bowl, beat the eggs with salt and pepper (if desired) until fluffy. Add to the chorizo and cook, stirring often until the eggs have blended with the chorizo and are completely set.

Scoop approximately 2 tablespoons into each corn tortilla and fold the tortilla in half. Place the tortillas on the baking sheet, overlapping slightly.

To the tacos, add a sprinkle of queso fresco.

Place the baking sheet in the oven and bake for about 10 minutes.

Remove the tacos from the oven and top with pico de gallo and remaining queso fresco.
Keywords: Large Family Breakfast Tacos
Enjoy this easy but delicious breakfast recipe. It's something new and different than the usual breakfast pancakes. Try something new today!
FREE Emergency Pantry Planning Pack!
Don't forget to sign up for the emergency pantry planning pack for free to help you plan your pantry meals! The free Emergency Pantry Planning Pack will help you plan your needed pantry items! Printable pages include pantry inventory, grocery lists, meal planners, list of pantry staple items, and more.