Need a low-carb breakfast option that will leave you full and satisfied? Prepare these Large Family Keto Sausage Biscuits to have a healthy and delicious breakfast at the start of your day. This is also a low-carb and Trim Healthy Mama S-meal friendly breakfast idea!
When following the keto diet, one of the things you may struggle with the most is finding breakfast foods that will leave you satisfied and feeling full (besides eggs & bacon and bacon & eggs, lol!). However, if you prepare this recipe for the Large Family Keto Sausage Biscuits, you can have a tasty and fulfilling breakfast that will keep you energized throughout the day.
While you may be avoiding traditional breakfast biscuits due to all the extra carbs, you can play it safe by sticking with keto-friendly biscuits consisting of almond flour. Create custom breakfast biscuits that your family can enjoy. You can even make them ahead and freeze them for a quick grab-and-go breakfast that you can reheat in just a few seconds.
****Use special promo code HELLO20 to take 20% off the entire MEGA DEAL get-it-all Bundle including the best-selling Large Family Freezer Meal Packs 1-12 + so much more!!****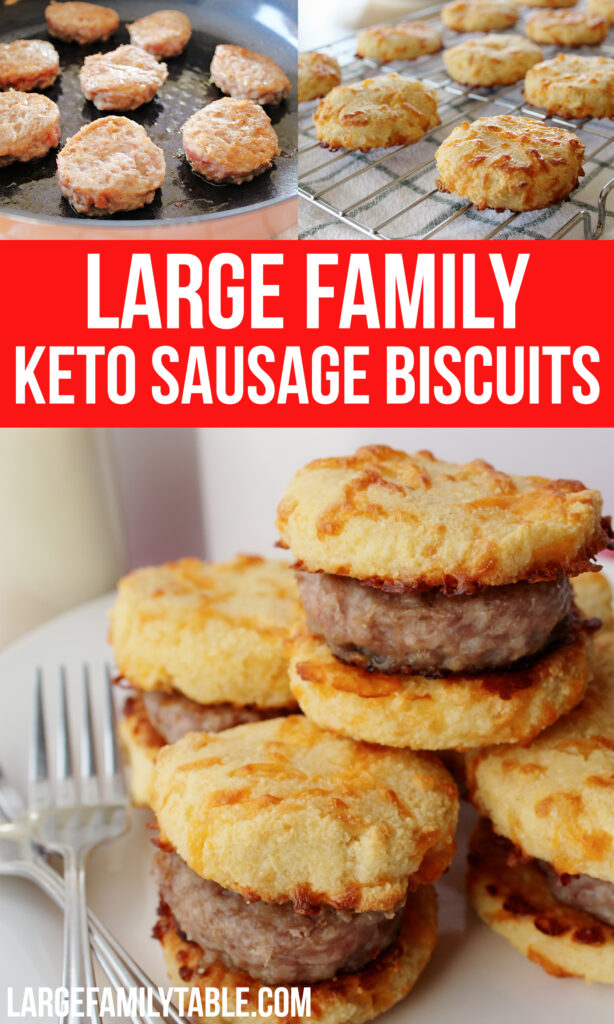 What You Will Need to Make the Keto Sausage Biscuits
Before getting started, make sure you have the following ingredients needed to prepare the Keto Sausage Biscuits:
Cream Cheese. Leave the cream cheese out until it gets soft. You can use any brand of cream cheese that you like.
Shredded Cheddar Cheese. You can pick the brand and desired thickness of the shredded cheddar cheese that you will use for this recipe, like the cream cheese.
Eggs. Make sure you have two large eggs to prepare these biscuits.
Almond Flour. Instead of using all-purpose flour, stick with almond flour as a great keto-friendly alternative.
Baking Powder. Using baking powder is a great way to make sure your keto biscuits turn out just right.
Breakfast Sausage. Use pre-made sausage patties or shape the sausage into patties on your own.
You will only need a few other ingredients, including heavy cream, melted butter, and salt. If you have these ingredients, you have what you will need to prepare this recipe. You might also check out my must-have kitchen list so you are sure to have the tools you need, too.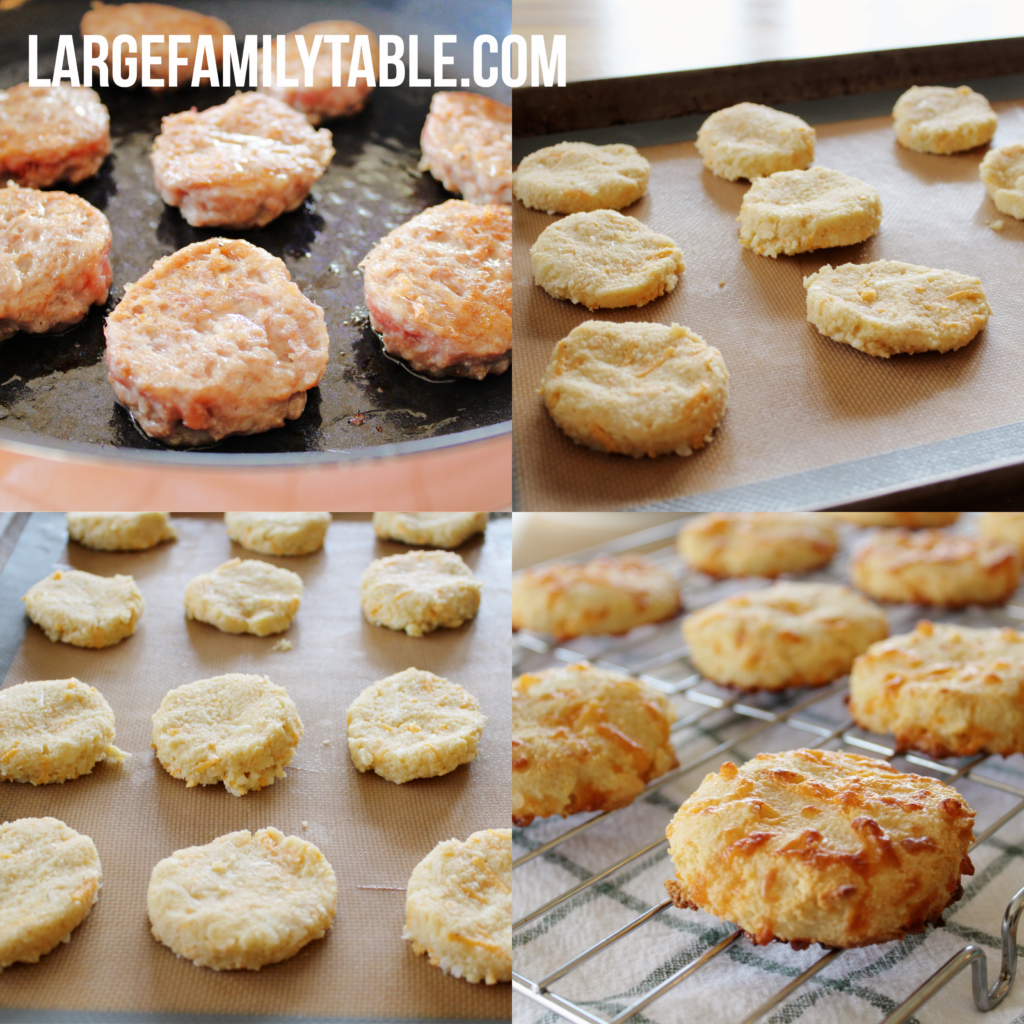 Is It Possible to Freeze the Large Family Keto Sausage Biscuits?
You can freeze the Large Family Keto Sausage Biscuits if you want to have them throughout the week. Simply make in advance and then wrap each sausage biscuit in foil. After covering the biscuits individually in foil, then place them in a large freezer bag before putting them in the freezer.
When you want to heat one to eat it, pull it out of the freezer, remove the foil, place it in a paper towel, and microwave for about 30 seconds. It will taste fresh, hot, and delicious!
If you are going to eat them within four days, then store them in the fridge.
What to Add to the Keto Sausage Biscuits
Add other keto-friendly ingredients to your Keto Sausage Biscuits when you want to have a custom taste. You can experiment with different types of shredded cheese, such as sharp cheddar or mozzarella.
If you would like to make your biscuits even meatier, you can add a strip of bacon or a slice of ham to each one to go with the sausage. Avocado slices are another great addition to put on some of these tasty breakfast biscuits.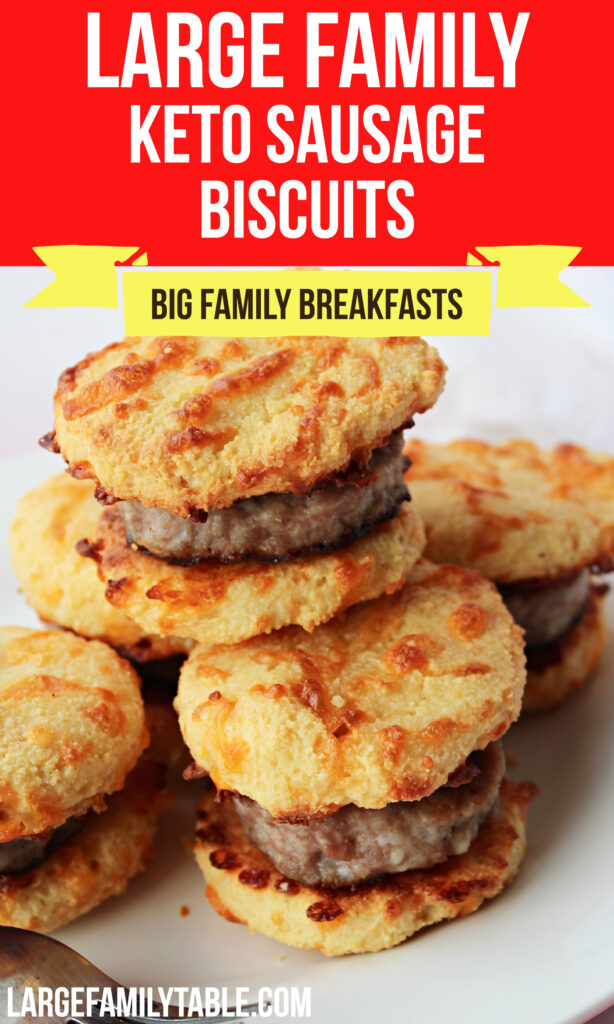 Here are more great breakfast recipes for your large family!
Here are more large family breakfast ideas. You also don't want to miss these amazing Large Family Low Carb Meals to Feed a Crowd (Budget Friendly, too!). This post has over 65 low carb meal ideas including low carb recipes made with beef, chicken, soup, slow cooker recipes, and low carb instant pot recipes.
You also might enjoy the LOW CARB Large Family Freezer Meals Pack 7 and LOW CARB Large Family Freezer Meals Pack 8 to FILL YOUR FREEZER with amazing low carb freezer meals!!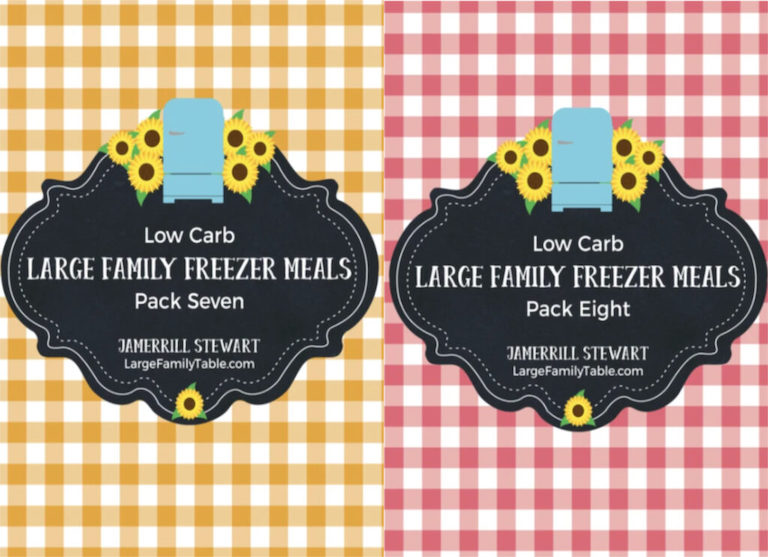 Large Family Keto Sausage Biscuits
Print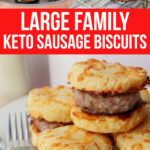 Large Family Keto Sausage Biscuits | Big Family Breakfasts
Author:

Prep Time:

30 minutes

Cook Time:

15 Minutes

Total Time:

45 minutes

Yield:

18 Sandwiches

Category:

Breakfast

Method:

Oven
---
Description
Need a low-carb breakfast option that will leave you full and satisfied? Prepare these Large Family Keto Sausage Biscuits to have a healthy and delicious breakfast at the start of your day.
---
Ingredients
6 oz. softened cream cheese,

2 cup shredded cheddar cheese

4 eggs

4 cups almond flour

2 tsp. baking powder

1/2 tsp. salt

1/2 cup heavy cream 

2 TBSP. melted butter

2 pounds breakfast sausage formed into patties or pre-made sausage patties
---
Instructions
Preheat the oven to 350 degrees.

Preheat oven to 350 degrees.  In a large mixing bowl combine the cream cheese, eggs and cheddar cheese. Stir until cream cheese is smooth. 

Add to the cream cheese mixture, almond flour, baking powder, salt, heavy cream and the melted butter.

Stir until fully combined. Be sure not to over mix or biscuits will be tough.

Chill the dough in the refrigerator for 10-15 minutes.  The dough will be easier to pat out the cooler it is.

Sprinkle almond flour a hard surface. Pat the biscuit dough to about 1/2 inch thick and use a circle cookie cutter or a mason jar to cut the biscuits. 

Place biscuits onto a silicone lined baking sheet or greased pan

Bake 15-18 minutes until golden brown.

Cook the sausage patties in a skillet until cooked through. 

To assemble slice the warm biscuits in half add the sausage. 

Enjoy!
Keywords: Keto Sausage Biscuits Sandwich
These delicious breakfast sandwiches are a fantastic choice for a low carb but filling breakfast. They will be enjoyed by everyone because of their great flavor, but especially by those who are on a low carb diet.
FREE Emergency Pantry Planning Pack!
Don't forget to sign up for the emergency pantry planning pack for free to help you plan your pantry meals! The free Emergency Pantry Planning Pack will help you plan your needed pantry items! Printable pages include pantry inventory, grocery lists, meal planners, list of pantry staple items, and more.