Bacon is nectar from heaven. God really blessed us when He enlightened whoever discovered bacon. Air Fryer Bacon is just one more way to make it. Sometimes you just need to make a few pieces or your oven is busy so you gotta make a family size portion in your Air Fryer so you can do other things while it cooks. A mama's work is never done.Yes and amen.
**Use special promo code HELLO20 to take 20% off your first order in the shop including the SUPER MEGA ULTIMATE Large Family Freezer Meals Bundle here!**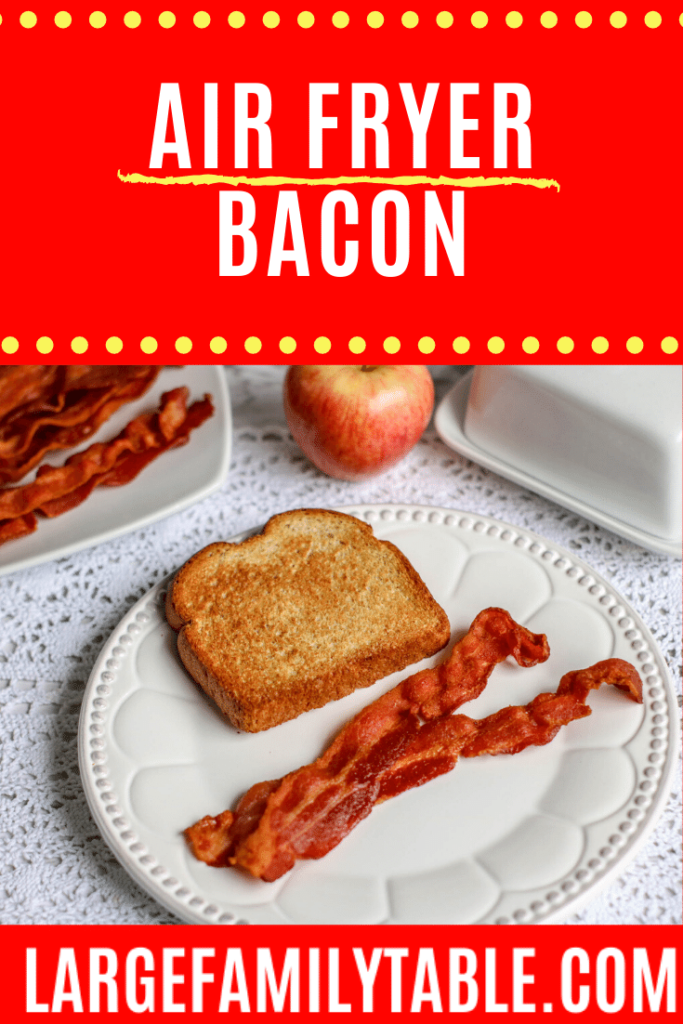 First, get thick cut bacon. Thick cut bacon is amazing on so many levels. It has loads of bacon goodness and salt. Try it one time and you will never go back. Now I don't get thick cut every time but I do get it often.
Place your bacon in the Air Fryer in a single layer. Cook 8 to 10 minutes flipping halfway. The time needed to cook depends on how crispy you like your bacon. I like my bacon sort of crispy but Mr. Stewart likes his bacon super crispy. The great part is you control how crispy it is!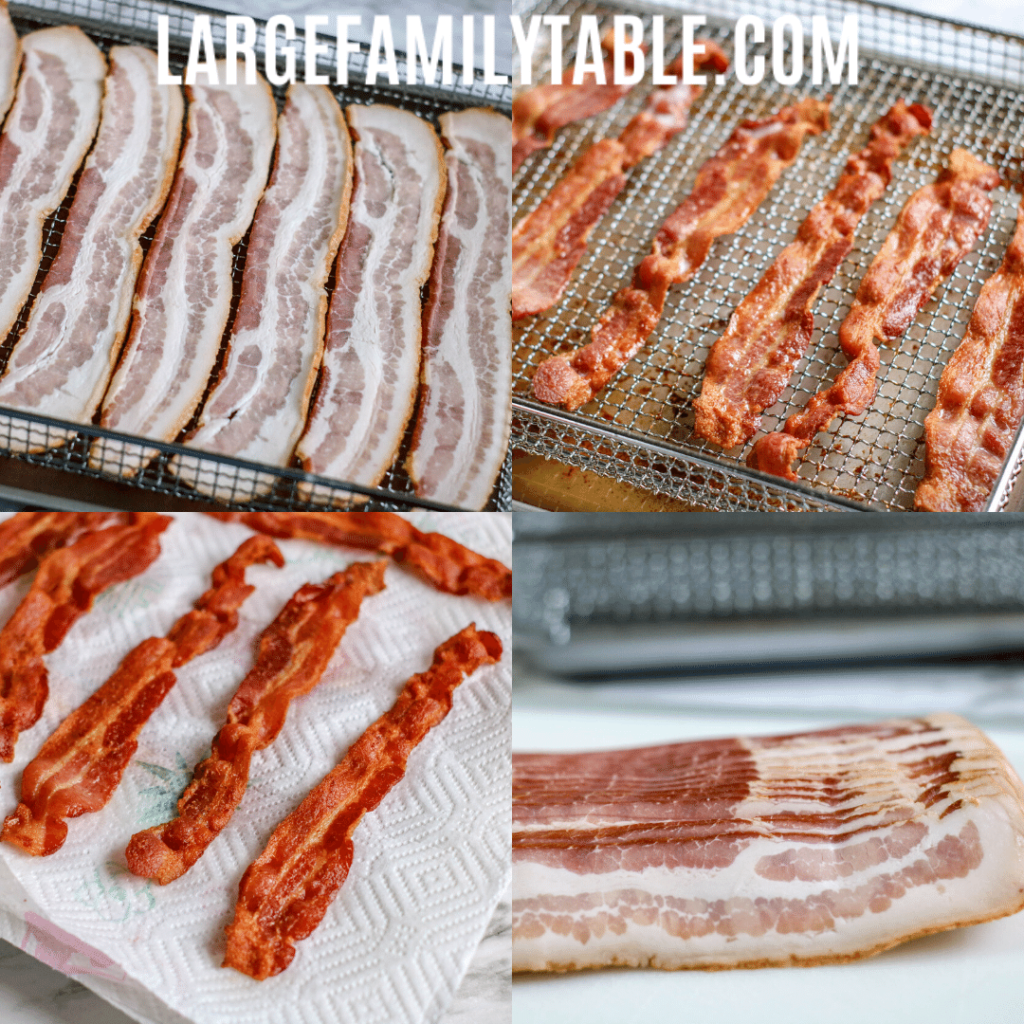 Is Air Fryer bacon healthier?
Cooking anything in the Air Fryer rather than in on the stove in its own grease makes it a bit healthier. I'm not gonna try to convince you that bacon in the Air Fryer is the healthiest thing you can eat. But you won't need to blot the bacon on a paper towel like you do when you fry it on the stove or in the oven.
Print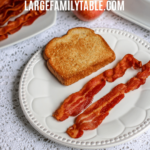 Air Fryer Bacon – yay!
Author:

Prep Time:

5 mins

Cook Time:

10 mins

Total Time:

15 minutes

Category:

Bacon

Method:

Air Fryer

Cuisine:

Breakfast
---
Description
This air fryer bacon is crispy and easy to make!
---
Ingredients
1 package thick sliced bacon
---
Instructions
Preheat air fryer at 400 degrees.

Spray air fryer basket with nonstick cooking spray. Place the bacon in the air fryer basket in a single layer.

Cook bacon for 8 to 10 minutes, flipping halfway. Remove bacon and place on paper towels. Keep warm.

Repeat until all bacon is cooked.
Keywords: bacon, air fryer, breakfast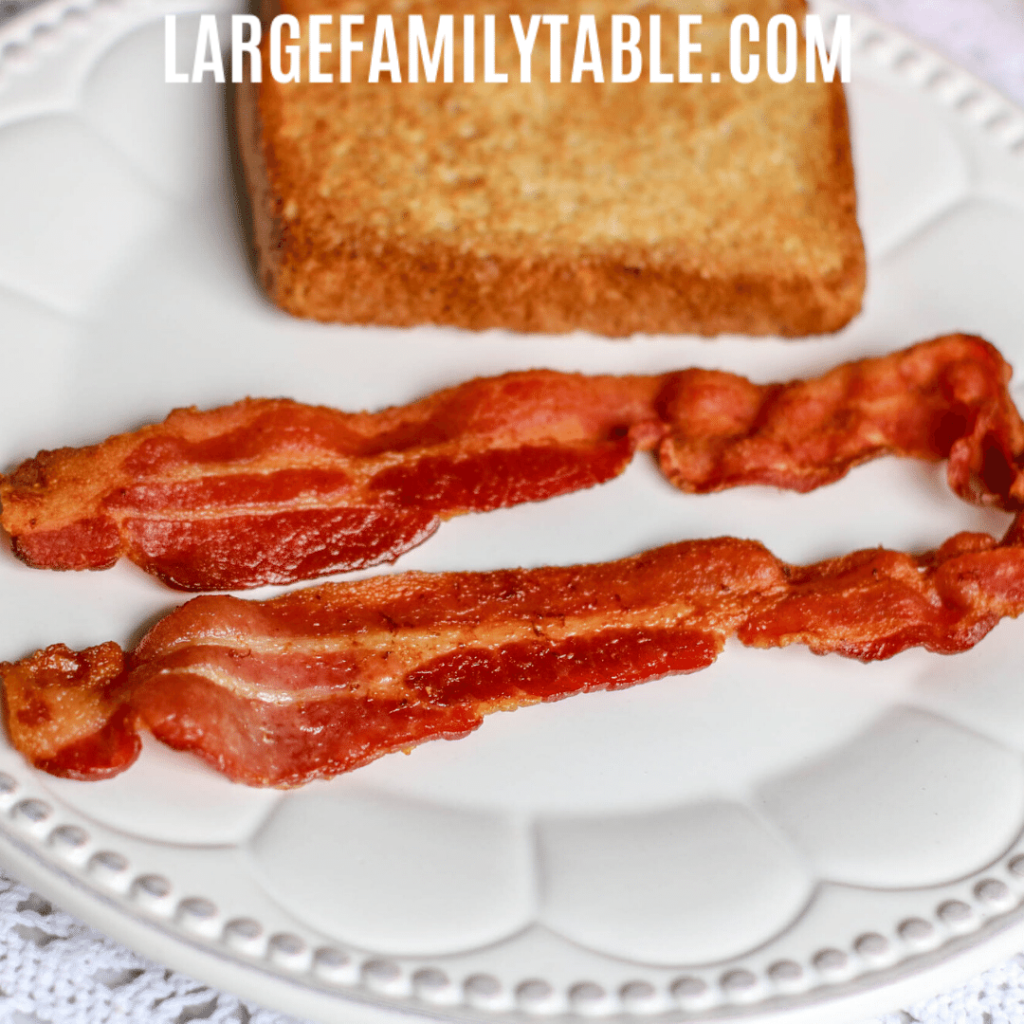 There ya go! Air Fryer bacon is in great for small amounts of bacon needed for twice baked potatoes or even chicken bacon stew. Use your oven to make eggs for the clan and make bacon to everyone's taste in the Air Fryer. You'll be SuperMom!
Want to see what I think of my Air Fryer?
5-Day Freezer Cooking Challenge with Jamerrill!
FREE Freezer Cooking Quick Start Guide 17-page PDF with grocery list, recipes, full freezer cooking plan, cheat sheets, More! 
I WILL HELP YOU fill your freezer with 10+ freezer meals including breakfast, lunches, & dinners!
Any family size or dietary needs can easily accommodate and follow along!