Well, happy almost Christmas! Join me on my large family, once a month, ginormous Costco haul where we got a whole lot of stuff. We did a pantry challenge the past week to make room for lots of goodies. We also have a birthday the week before Christmas so there is lots of special birthday food in there too. We have a birthday the week after Christmas but we will go back for some of those choices.
Get the Best-Selling Large Family Freezer Meals Collection here! Use promo code HELLO20 to take 20% off your first order!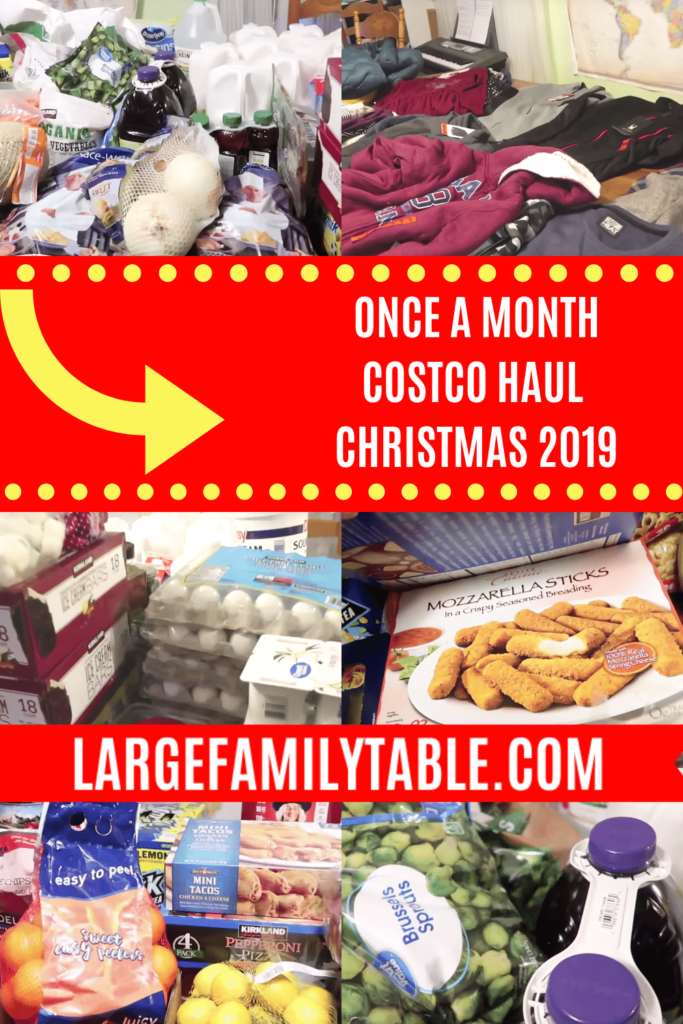 There were some clothing items needed for some of my boys so we got those as well. We did a huge, fresh, seasonal clothing haul this past fall that I never got filmed. There is never enough time in the day. Yes and amen! For some reason, these kids just keep growing and growing too. What's a mama to do?
What's a good budget for a large family?
I think a good budget for large families is about $100 a person for the month. My family was a household of 10, but one has launched into adulthood, and we're now a family of nine at home. I still feed 9 to 12 often. I currently spent $1,200 to $1,500 a month including toiletries. That's on the high side. Remember that I'm also a working mom and run a full-time business. My time and brain space are limited, (hahahaha) I additionally develop recipes etc. I think I could feed my family of 9 pretty well for $750 a month. That would be just food and shopping mainly at Aldi, with a super detailed grocery list and meal plan. My household items would still be $200-$300 a month. Now, back before being a working mom as I am now, I also used cloth diapers (savings of $100+ per month), bought all our clothing at the thrift stores, used cloth napkins, homemade everything, and made my own laundry soap. By doing all of those things I only spent about $100 or so on household items. I also know large families who spend $100 or less at the grocery store each month, but they farm and work their land 40 to 70 hours a week as a family. That is also a wonderful option!
Walmart Haul – Total $62.00
Plain yogurt
Fruit yogurt
Greek yogurt
Fresh thyme
Fresh sage
4 bags steamable brussel sprouts
2 bags plain and simple cereal
Costco Haul – Total $792.16
Daniel's birthday cake
10 gallons of milk
2 containers sour cream
1 container cottage cheese
15 dozen eggs
Peppermint bark
Fresh mozzarella snacking cheese
1 package Babybell cheese
2 boxes of ice cream bars (birthday treat)
Chocolate milk (birthday treat)
Egg thins with cauliflower
2 blocks of cream cheese
1 container black pepper
1 container thyme
1 container Country Crock
2 containers heavy cream
Organic Raw Honey
1 bag sweet onions
30 lbs russet potatoes
2 bottles grape juice
1 large bottle vinegar
1 bag Craisins
3 large bags frozen broccoli
1 bag frozen butternut squash
1 bag frozen mixed vegetables
4 lbs baby carrots
2 honeydew melons
2 packs blueberries
2 packs raspberries
3 packs grapes (red, green, and black seedless)
1 bag lemons
10 lbs apples
1 bag clementines
10 lb box navel oranges
1 box mini pizzas (birthday meal)
2 boxes regular pizza
1 box mozzarella sticks
1 box mini tacos
1 large container oatmeal
1 large container powdered Nesquik
1 large bag chocolate chips
1 box triple chocolate brownie mix
8 lbs thin spaghetti
1 pack Lipton Brisk tea
1 box Stroopwaffles
4 boxes turmeric and ginger tea bags (hope I like it)
1 bag pita chips
1 bag pretzel crisps
6 large cans applesauce
6 large cans tomato sauce
2 large cans whole kernel corn
20 lbs of rice
2 packages salmon
2 packages ground beef
4 roasts
2 packs of pork chops
1 pork loin

How can you afford all this stuff?
Since you asked, we have no car payments or credit card debt so that really helps! God has always provided for our needs. I'm thankful and grateful that He allows me to make enough money at this online gig to provide for our wants as well. God is good all the time!
Non Food Items Haul
Now that I've shown you all the food items, let's look at the non food items I got at Walmart or Costco. Everyone needs toothbrushes and these ever growing boys needed some new duds. Diapers, wipes, and other necessities really add up.
Wal-mart
Box of baby wipes
Puffy Zipper jacket for Mama
New scarf for Mama
Boot cut pants
Makeup
New giant suitcase aka purse for Mama
12 long sleeve shirts for those growing boys


Costco – Total $421.24
Toothpaste
Toothbrushes
Box of Pullups
Box of diapers
Toilet paper
Box of Kleenex lotion
Lots and lots of clothes
Dog food
Cat food
See the Large Family Costco/Walmart/Christmas Haul!
There you have it! All of the fun that was our large family Costco/Walmart/Christmas haul. Now that I showed you all of it, I need to go put it all away. That is a chore in itself. Thanks for joining me!
FREE Emergency Pantry Planning Pack!
Don't forget to sign up for the emergency pantry planning pack for free to help you plan your pantry meals! The free Emergency Pantry Planning Pack will help you plan your needed pantry items! Printable pages include pantry inventory, grocery lists, meal planners, list of pantry staple items, and more.