Peanut butter is one of those superfoods that is full of protein to get you through the day. That's one reason I like to always have peanut butter and jelly sandwiches in the freezer at all times. Feeding growing boys is no easy feat. Peanut Butter Chocolate Chip Overnight Oats is a hearty breakfast with just the right amount of protein, carbs, and sweetness.
**Use special promo code HELLO20 to take 20% off your first order in the shop including the SUPER MEGA ULTIMATE Large Family Freezer Meals Bundle here!**
Peanut Butter Chocolate Chip Overnight Oats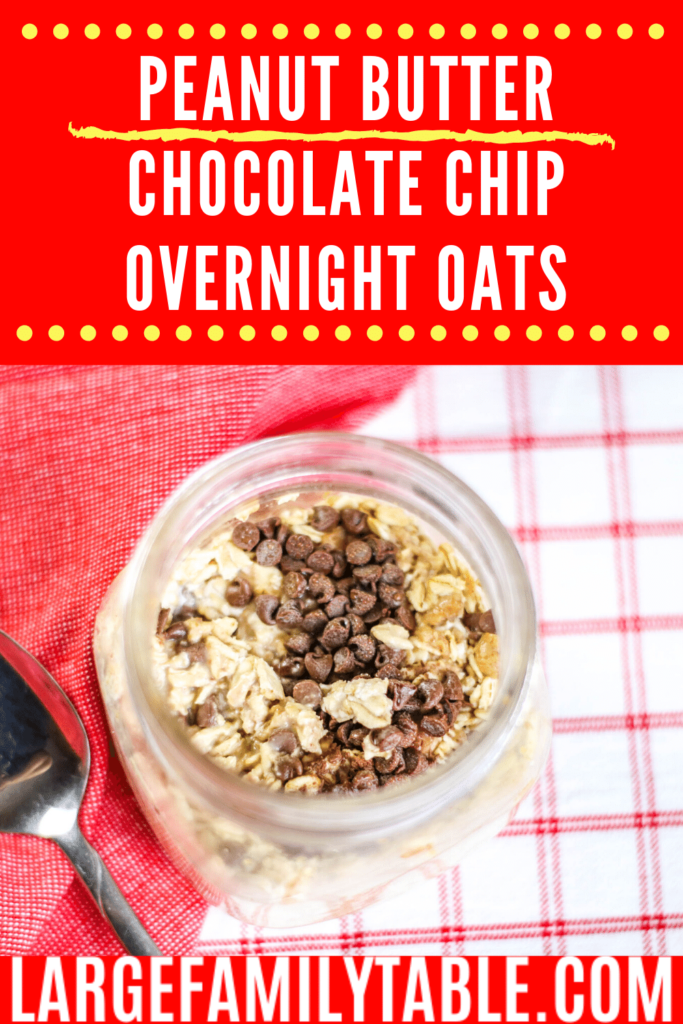 Overnight Oats are a simple way to feed your family a healthy breakfast without spending your morning preparing it for them! In this recipe, I am making a sweet breakfast treat but you can also add other ingredients to make it healthier or even dairy-free or gluten-free, using oat and/or milk alternatives!
How do I prepare Overnight Oats?
I always like to start by setting out all the ingredients. This recipe makes 1 jar so multiply by the amount of people you will be feeding the next day. Don't make a bunch of extras as they don't age well. Make enough the night before just for the next day's breakfast. Good thing they are fast and easy to make or they would never make the meal plan.
Mix all the ingredients together in the jar then pour the milk over the top. Place in the fridge overnight then present Peanut Butter Chocolate Chip Overnight Oats for breakfast the next morning. Alternately you could mix all your ingredients together in your large mixing bowl then divide evenly among the jars. Do whatever works for you.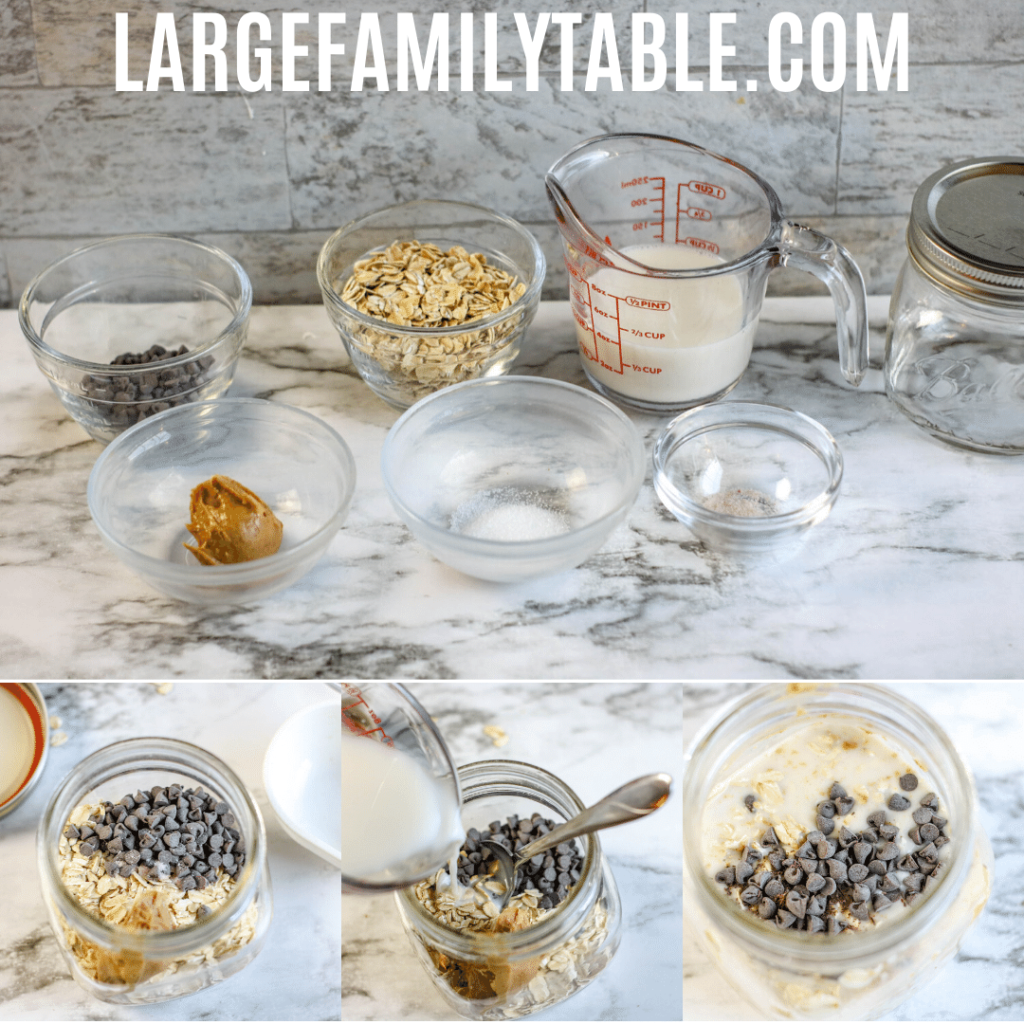 You can make this recipe dairy free by using almond milk or another dairy substitute as well as dairy free chocolate chips like the ones from Enjoy Life. Need it to be gluten free? Use certified gluten free oats from Bob's Red Mill. Don't like monk fruit sweetener? Use honey or any other brand you like. The recipe really is versatile.
Where can I find more large family breakfast recipes?
Breakfast doesn't have to be complicated to be filling and healthy. I know it may seem easier to buy pre-made breakfast items, but you can save lots of time and money just by making breakfast ahead of time with my Breakfast Freezer Meals Pack, it's number 10 in my Large Family Freezer Meals Series. It includes 10 amazing breakfast recipes with directions to help you make 25 breakfast meals to put in your freezer!If your freezer is already full or you just don't have the freezer space, then try my Easy and Simple Large Family Sheet Pan Breakfasts which includes 10 delicious and easy breakfast meals to make your large family. Save time and money!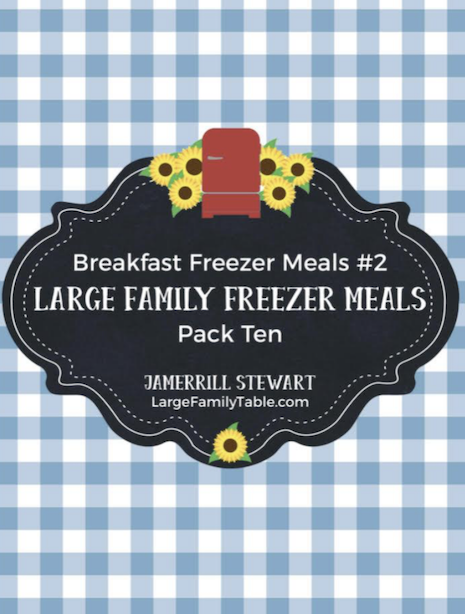 Here are more Make-Ahead Breakfast Ideas to feed your family!
Large Family Sausage, Egg, and Cheese Bagel
Large Family Loaded Breakfast Burritos
Large Family Breakfast Casserole Bowls
Peanut Butter Chocolate Chip Overnight Oats
Print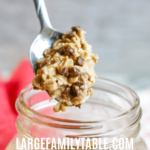 Peanut Butter Chocolate Chip Overnight Oats
Author:

Prep Time:

10 mins

Cook Time:

10 hours

Total Time:

10 hours 10 minutes

Yield:

1 jar

Category:

No Cook

Method:

Overnight

Cuisine:

Breakfast
---
Description
These peanut butter chocolate chip overnight oats is a hearty, protein rich way to start your family's day!
---
Ingredients
1 (pint size) jar with lid
1⁄2 cup old fashioned rolled oats
1⁄2 cup almond milk (or milk of your choice)
1⁄8 teaspoon mineral salt
1 teaspoon monk fruit sweetener (or sweetener of your choice)
1 heaping tablespoon natural peanut butter
1 heaping tablespoon sugar-free chocolate chips
---
Instructions
Mix all ingredients together in jar and seal tightly.
Place in the refrigerator overnight.
Eat cold or remove the lid and microwave for about 1 minute to eat warm.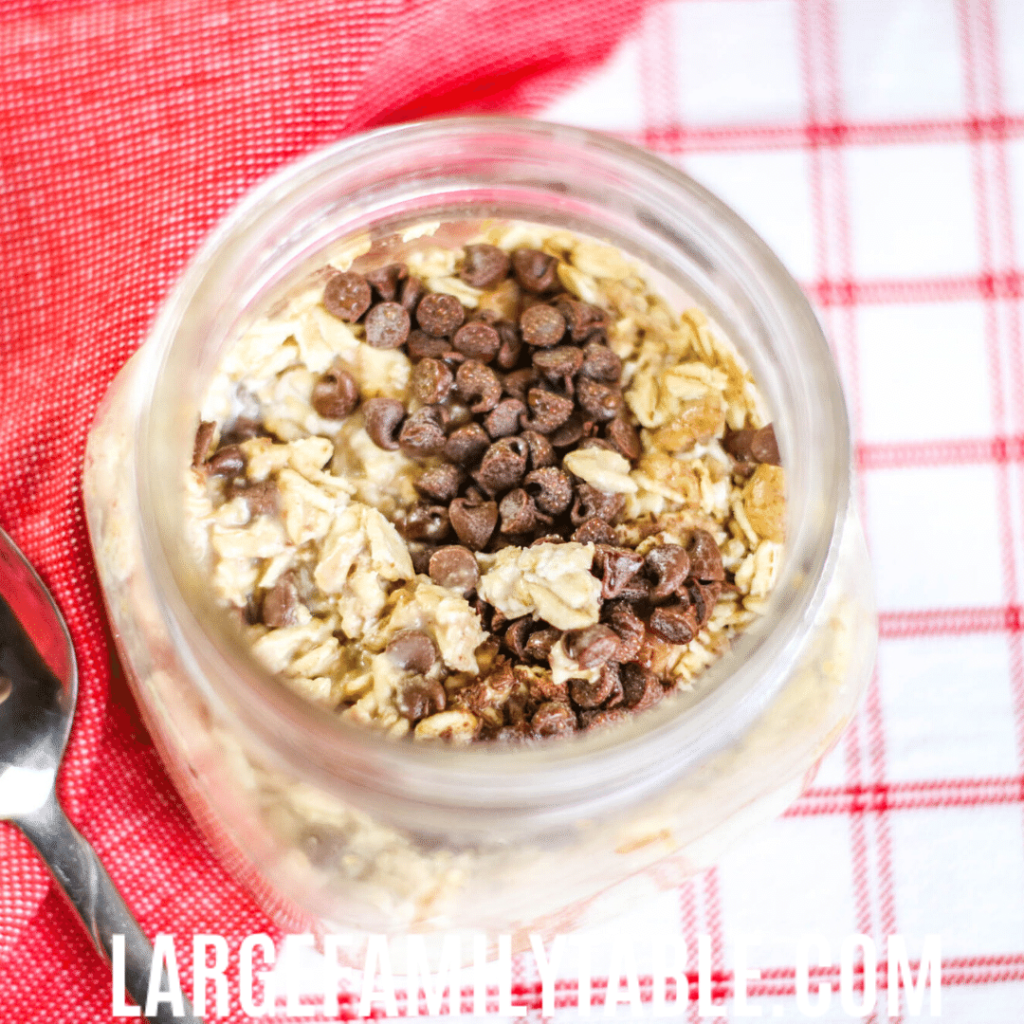 You can serve peanut butter chocolate chip overnight oats cold or warm. If you want them warm. I like to heat them up in 30 second intervals to get to the desired temperature. The chocolate chips will melt if you heat it up giving it a smoother texture. Some kids like them hot and some like them cold. It really depends on the person eating them. No matter which way you serve them, they are delicious. #momwin
DON'T MISS these 4 Fun Overnight Oats Recipes!
FREE Emergency Pantry Planning Pack!
Don't forget to sign up for the emergency pantry planning pack for free to help you plan your pantry meals! The free Emergency Pantry Planning Pack will help you plan your needed pantry items! Printable pages include pantry inventory, grocery lists, meal planners, list of pantry staple items, and more.