Large Family Pumpkin Pancakes turn ordinary pancakes into seasonal favorites.  My family loves to turn things pumpkin flavored as soon as the cool weather hits. We even like to roast our own pumpkins for pancakes, pies, muffins, you name it.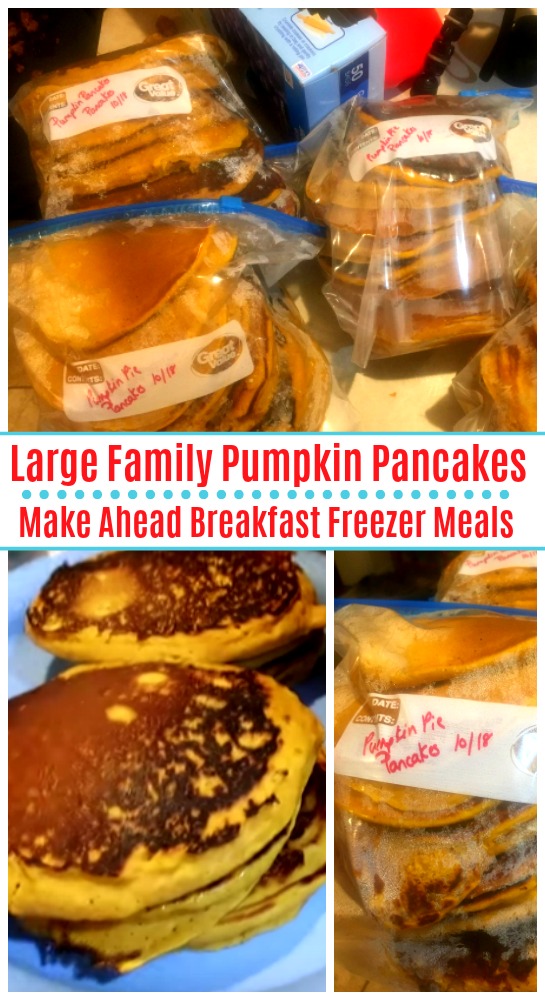 This recipe is super easy. Mix all your ingredients in your large mixing bowl. Once you have the ingredients thoroughly mixed together, you can start making the pancakes. We use two griddles to get multiple piles done before the kids starved to death. Let whatever pancakes are left, cool completely. Divide into large family portions,  label the freezer bags with date, then freeze completely.
These yummy large family pumpkin pancakes can hang out in the freezer for up to 6 months.  I take them out of the freezer the night before to let them thaw. This makes reheating them easier. We all want breakfast to be easy. Yes and amen!
Print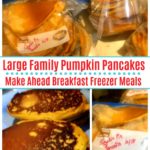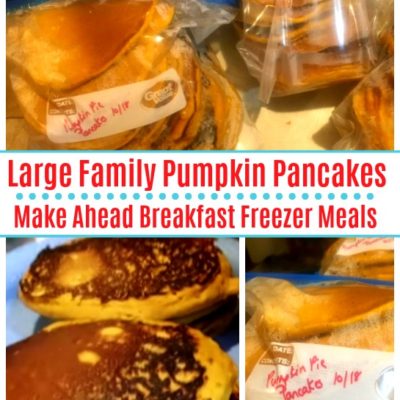 Large Family Pumpkin Pancakes | Make Ahead Breakfast Freezer Meals
---
Description
This large family recipe makes 6 dozen thick pumpkin pancakes! My children love these pumpkin pancakes with syrup and butter. I hope your family enjoys these large family pumpkin pancakes, too!
---
Ingredients
12 cups flour
1 cup sugar
1/2 cup baking powder
2 1/2 tbs salt
2 tbs cinnamon
1 tbs ground ginger
1 tbs All spice
12 eggs
12 cups milk
2 – 29.oz canned pumpkin
---
Instructions
Fully mix all pumpkin pancake ingredients in large mixing bowl.
Cook pancakes on griddle or stovetop. I used two griddles and cooked six medium sized pancakes at one time.
Allow pancakes to cool after cooking.
Place in labeled gallon size freezer bags and place in freezer for up to six months.
---
Notes
FREEZER MEAL DIRECTIONS
Set out your bag of frozen pumpkin pancakes from the freezer into the refrigerator the day before you need them. On breakfast morning just microwave your pancakes for a few minutes! Sometimes I'll microwave 5-6 pancakes at a time, sometimes just 2-3. Microwave temps and times may vary. Start with the lowest time (example: 30 seconds for one pancake) possible and add a few more seconds if needed.
Some freezer cooking moms place a layer of parchment paper in-between each pancake to be able to pull out just a few pancakes at a time. I don't personally do this because I always need the entire gallon bag full for a large family breakfast.
Keywords: Large Family Pumpkin Pancakes, Pumpkin Pancakes, Pumpkin Pancakes Recipe
Click here to more large family breakfast recipes to help you feed your people!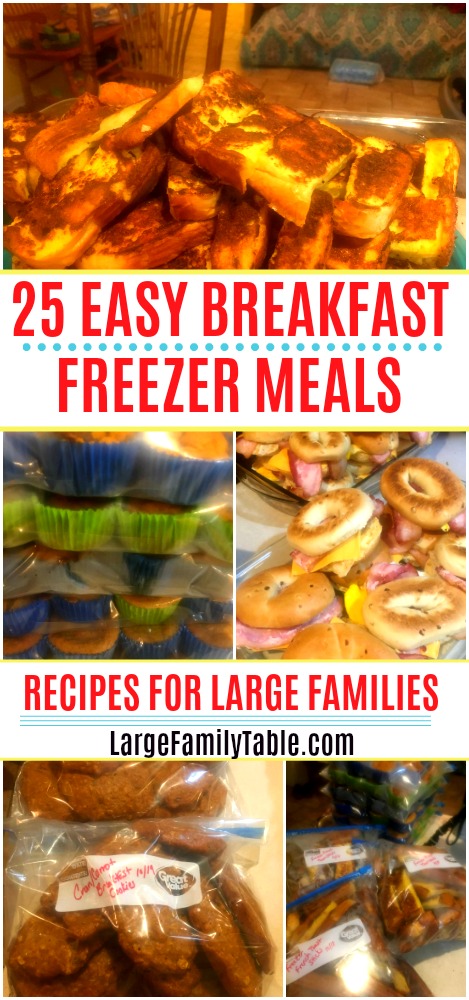 5-Day Freezer Cooking Challenge with Jamerrill!
FREE Freezer Cooking Quick Start Guide 17-page PDF with grocery list, recipes, full freezer cooking plan, cheat sheets, More!
I WILL HELP YOU fill your freezer with 10+ freezer meals including breakfast, lunches, & dinners!
Any family size or dietary needs can easily accommodate and follow along!