Large Family Grocery Budget Breakdown
I've received several questions about my large family grocery budget since I started sharing my once-a-month grocery shopping hauls on YouTube. Our grocery budget also comes into play when I discuss the large family meal planning that I do for my growing family of nine.
Today I'm going to answer these questions by breaking down my large family grocery budget, sharing my exact dollar amounts broken down by store, and my current cash-based system for budgeting for our large family grocery hauls (here is our once-a-month grocery hauls as well). You can also read my best tips here for how to stick to a cash based grocery budget.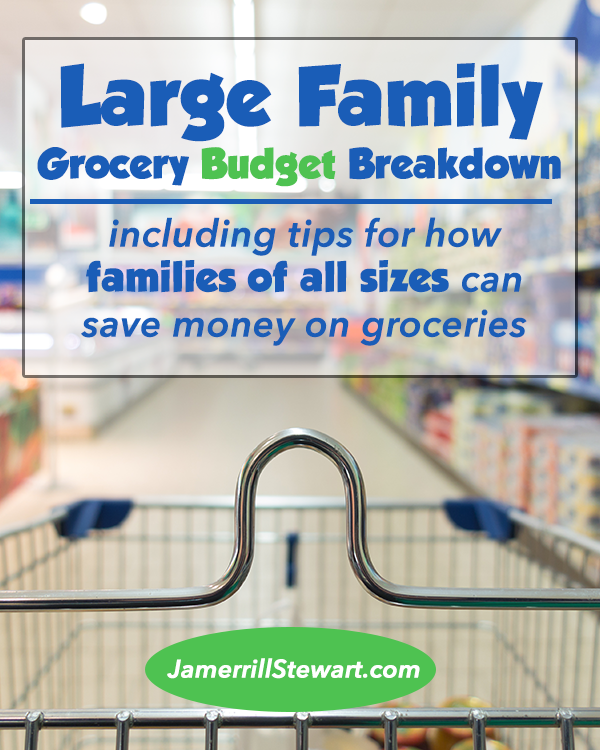 This post contains affiliate links which help support the work of this site.
Large Family Grocery Budget
In this current season with our growing children, ages 14, 11, 8, 5, 4, 2, and infant, plus my husband and I are both home full-time – our large family grocery budget is $1,000 a month for food. We additionally budget another $200 a month for household items.
We do not qualify for or receive any state or government assistance (just throwing that in because sometimes we're asked). On our food-only budget of $1,000, I do large family meal planning in advance for 84 wholesome meals a month, plus healthy snacks.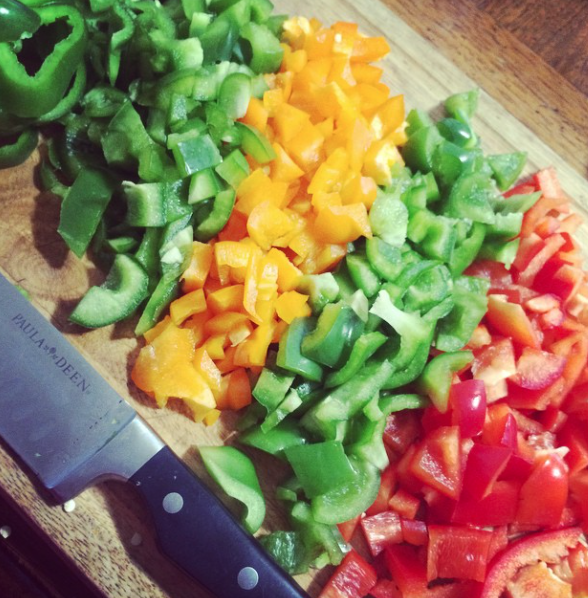 Also included in our grocery budget are many of my items for following the Trim Healthy Mama plan (you can read here about my Trim Healthy Mama Journey so far). Every few months I'll make an additional Amazon order to get my special Trim Healthy Mama Sweeteners and Whey Protein Powder. This is just a small, additional expense and part of me doing the program.
Large Family Grocery Budget
$1,000 divided by 4 weeks worth of food is $250 a week
$250 a week divided by 9 people is

$27.77 per person for a full week of wholesome foods

(that's less than Gwyneth Paltrow's $29 a week per person food stamp challenge)
Broken down further, that's $3.96 per family member per day. Drilled down even further that's only $1.32 per meal per person!
I know $1,000 a month is more than double the $400 a month grocery budget I shared several years ago. However, we eat more meats, fruits, and veggies. I've been on Trim Healthy Mama for over a year (which in short is very similar to a low-glycemic way of eating). We have a 6-ft tall teenager and nearing tween. Plus, as I mentioned above, my hubby is home for all meals too.
How I Spend the $1,000 a Month Grocery Budget (Food Only)
I take $800 cash on our large family grocery shopping day that's designated for food items only.
I additionally save back $200 cash in my grocery cash envelope for an additional small grocery trip around the 2nd or 3rd week of the month.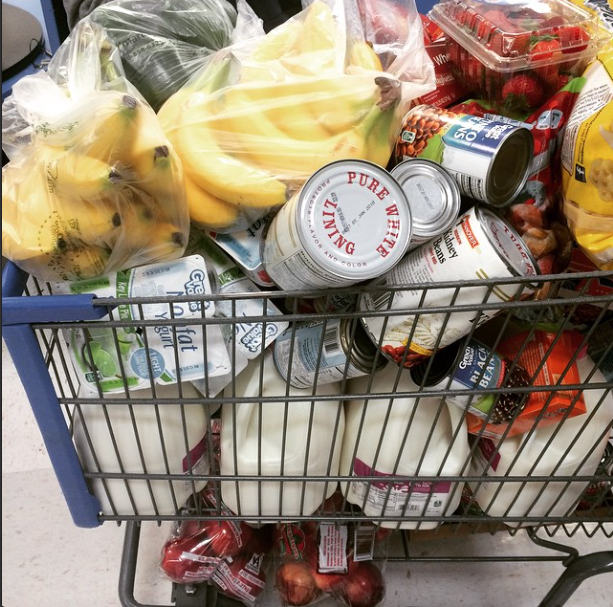 Here's what a small trip into the store can look like 😉
Large Family Grocery List
The $800 cash I take on my large once-a-month grocery shopping trip is divided up as follows:
$150 is spent at my local Sharp Shopper grocery outlet. I hit Sharp Shopper first because for the last ten years I've been able to snag 4/$1 or 6/$1 yogurts, 2/$1 bagel packs, $1.69 or $2.49/lb cheese, and other mark-down items for a fraction of their retail costs. I also buy a 25 lb bag of Old Fashioned Oats, 25 lb bag of Brown Rice, any spices I need, and sometimes Almond Flour and Milled Flax.
Here's what one of my carts looks like on the way out of Sharp Shopper. Also look here, here, and here — overflowing with awesome deals!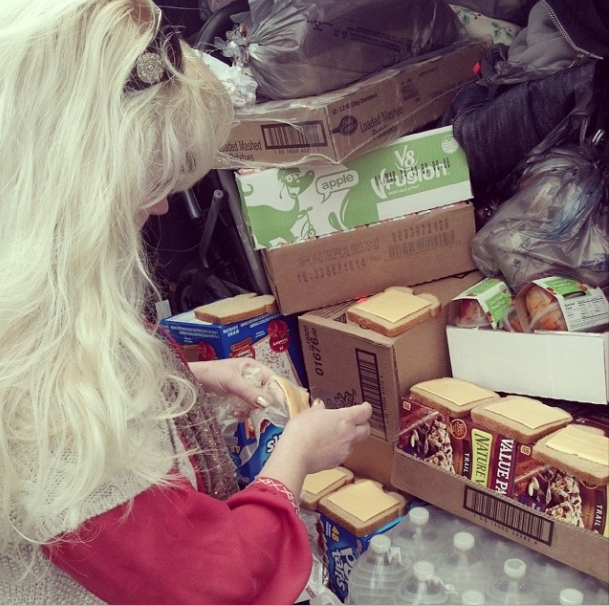 Our Sharp Shopper snacks on the road. Large family style of course!
If we have family trips coming up like when we went to Washington DC, Outer Banks, or Nashville (some months we get around a lot!), then I'll look particularly for mark-downs on granola bars, beef jerky, juice boxes, and other road trip snacks. (I develop a separate large family meal plan for our travels if we'll be gone several days or weeks. I'll share that in another post.)
Sharp Shopper Grocery Budget $150:
25. lb bag of Old Fashioned Oats $17
25. lb bag of Brown Rice $17
Yogurt Deals $50
Other Deals $60 (this could be a 6 lb roll of cheese for $2.49/lb, etc.)
$30 is allocated for our local Dollar Tree. I've shared many times that I pick up name brand bread for only $1 a loaf. I'll buy up to 30 loaves if they have them available.
After I've been to Sharp Shopper for $150 and the Dollar Tree for $30, I've spent $180 of my grocery budget cash and have $620 left.
The next stop is Costco with a $570 cash spending budget. At Costco, I get the bulk of our dairy products, meat, fruits, and vegetables.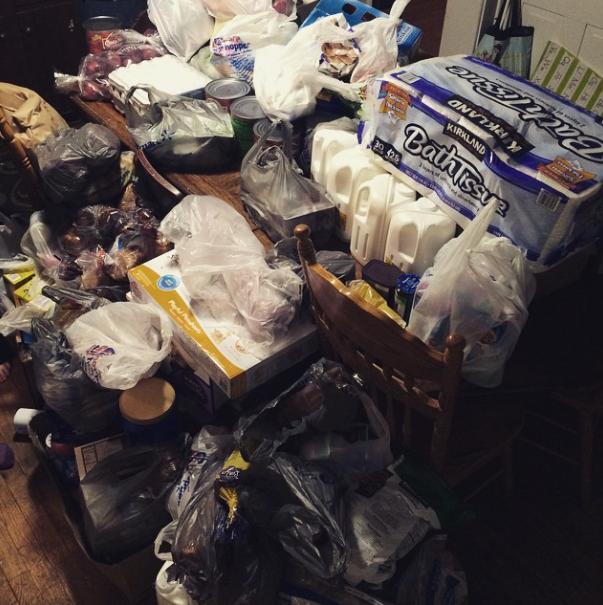 One of our once-a-month grocery shopping hauls.
Costco Grocery Budget $570
Fruit $50 ( Apples, Pears, Berries, Oranges, Bananas)
Vegetables $50 (Onions, Potatoes, Carrots, Peppers, Tomatoes, etc.)
Dairy $150 (Milk $30, Heavy Cream $5, Cream Cheese $15, Cottage Cheese $10, Sour Cream $10, Butter $15, Eggs $30, Baby Bell cheese (something I like) $15, Plain Greek Yogurt $15)
Meat $200 (Skinless Chicken Breasts x2 10 lb bags $45, Ground Beef $50, Pork Chops $30, Two Bags of Meatballs $30, Other Meats $25)
Other Items $100 (5 Large Cans of Applesauce $25, 4 Large Bags of Broccoli $28, Plain Tomato Sauce $12, Coffee $10 – please, Ketchup $8, Natural Peanut Butter $15, Coconut Oil $17 or misc.)
After Costco, our last stop is Walmart. At Walmart, I spend the last $50 of our grocery cash for the large once-a-month grocery trip.
Walmart Grocery Shopping Budget $50
Mostly these are my Trim Healthy Mama specific items for me that the rest of the family isn't interested in. Since I'm the only one who eats these items I don't always need more each month.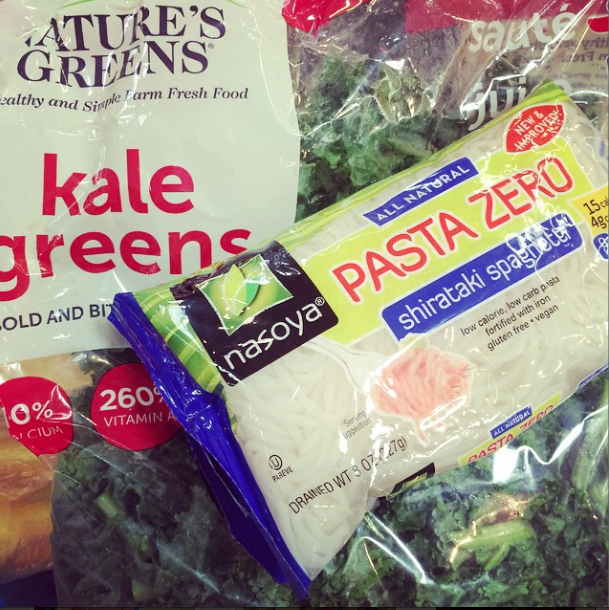 Trim Healthy Mama items at Walmart
Unsweetened cocoa powder x2 $5
Large Bag of Kale $4
Zero Noodles x4 $10
Kids Peanut Butter/Jelly $10
Coffee Creamer $3, please
Other needed items depending on meal plan needs $20
Additional Household Items Budget
Separate from our cash envelope for food, I additionally take another $200 cash for household items only (disposable diapers, toilet paper, cleaning products, soaps, hair products, etc., etc. — you know all the stuff the family needs).
At Costco, I also spend around $100 out of my separate household budget for toilet paper, Swiffer mop refills, freezer bags, dish soap, bleach wipes, trash bags, toiletries such as deodorant and toothpaste as needed.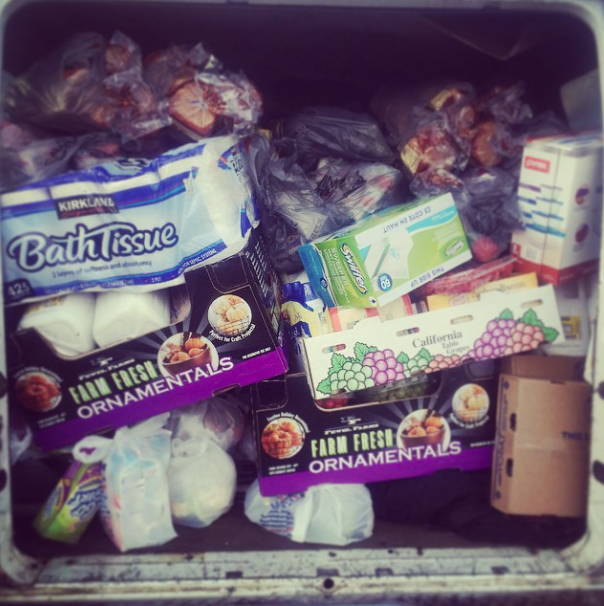 At Walmart, I spend the other $100 for household items. $60 is on diapers (1 baby and 1 toddler in diapers full-time + 2 young bedwetters at bedtime), $10 baby wipes, shampoo/conditioner/hair spray (the essentials 😉 etc. $30.
You may notice laundry detergent isn't on my list of household items. I spend under $10 once a year to get all the supplies I need to make our homemade liquid laundry detergent.
That's my large family grocery budget breakdown for our once-a-month grocery shopping day and the rest of the month. $800 is spent on food in one day. $200 cash is saved for a small as-needed trip later in the month. A separate $200 budget is used for household items including all diapers, toiletries, cleaning products, etc. for our family of nine. To see our once-a-month grocery shopping day in action watch our videos on Jamerrill's Large Family Table on YouTube!
Large Family Meal Planning
Now the question is, what do I do with all this food? Here is my large family meal planning system including a video tour of my meal planning calendar. Click here for the full meal planning post which also includes links to free meal planners!
Whew, dripping sweat from my brow – that's my grocery madness breakdown. 😉 I told you mine, now if you'd like, tell me your grocery budget breakdown in the comments below! Be sure to share how many are in your household as well.