Hello, friend! Welcome to another week of meal planning. I'm here to help you make meals for your large family so you can get all the things done and spend more time with your family! This week in my meal plan series, I have Budget Meal Plan Week 26 for a Large Family + FREE Grocery List with clickable planning printables. Each week I serve up a fresh meal plan with seven nights of delicious dinners. PLUS, because I *only know mega & lots,* each large family meal plan will guide you through making a little extra to help fill your freezer with tons of meals, yay! You'll also want to grab all my other weekly meal plans, too!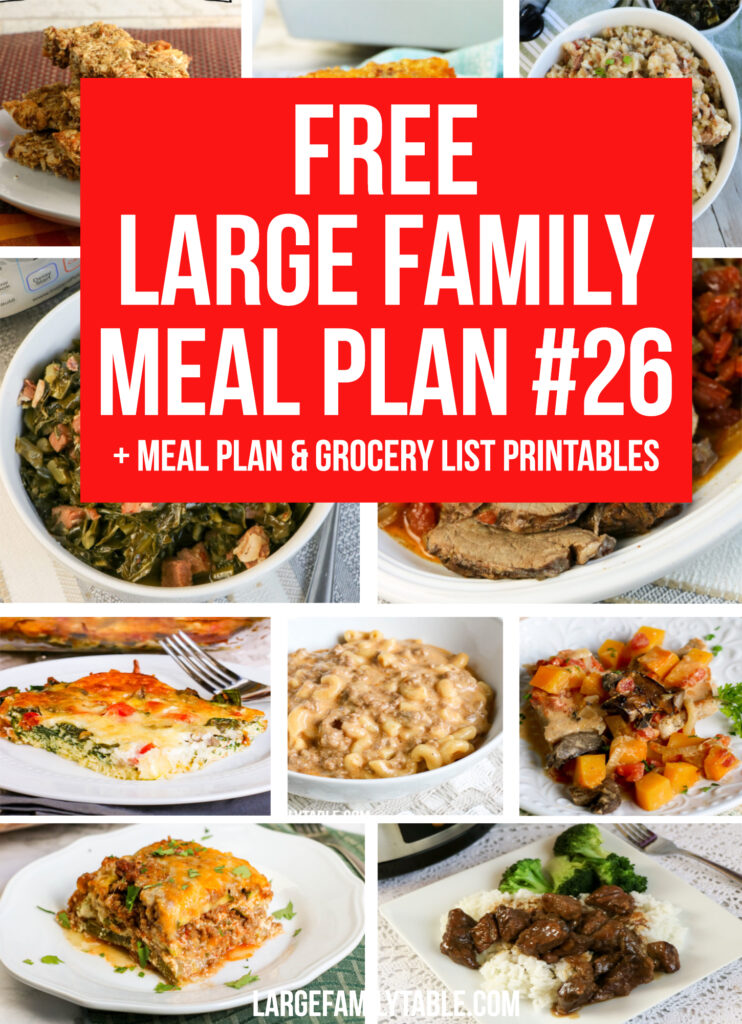 This Budget Meal Plan Week 26 for a Large Family + Printable Grocery List includes Mexican Zucchini Lasagna, Slow Cooker Beef Tips in Gravy, Slow Cooker Hoppin' John, and more easy meals! Plus a few kid-friendly snacks and on-the-go-breakfast ideas, too!
>>> CLICK HERE TO SIGN UP FOR YOUR FREE ONE WEEK MEAL PLAN, GROCERY LIST PACK & PLANNING PAGES!!!<<<
If you are a large family you may find you'll get 7 big family dinners, plus some extra meals prepped ahead. If you are heading up a smaller family you will have plenty of leftovers for lunches and lots of extra to build your freezer meal stash. Don't forget to sign up for the FREE Budget Meal Plan Week 26 Large Family Meal Plan + Free Grocery List Printables set HERE!
FREE Budget Meal Plan Week 26 + Grocery List for Large Families
Each week I give you a FREE COMPLETE GROCERY LIST to go with each unique budget large family meal plan. Just SIGN UP HERE FOR THE Week 26 LARGE FAMILY MEAL PLAN + GROCERY LIST! You'll receive a detailed grocery list to guide you through buying everything on this week's large family meal plan, plus bonus meal planning pages – yay!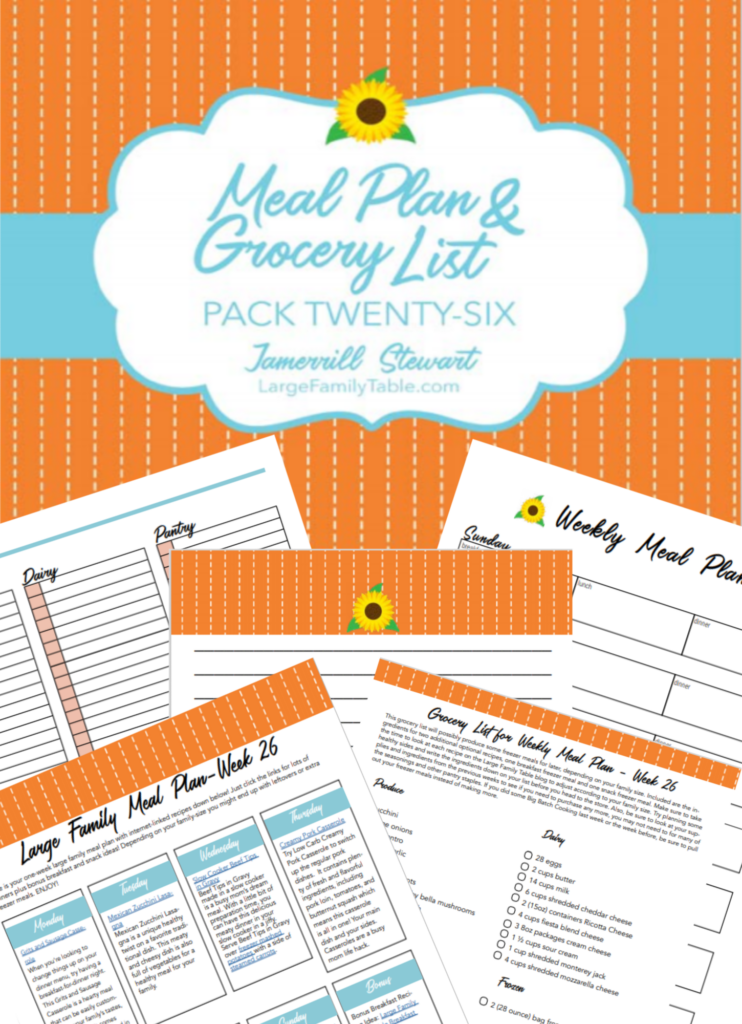 If you plan ahead, you can do some big batch cooking to add some meals to your freezer for later. Serve up these delicious recipes at your own Large Family Table. Check out this post if you would like to know my must-have Large Family Freezer Meal Supplies.
>>> CLICK HERE TO SIGN UP FOR YOUR FREE ONE WEEK MEAL PLAN, GROCERY LIST PACK & PLANNING PAGES!!!<<<
More Large Family Meal Plans
I have a mega-ton of large family meal plans, so many in fact we couldn't list them all here! Be sure to grab my other big family meal plans.
Budget Meal Plan Week 26 for a Large Family
When you're looking to change things up on your dinner menu, try having a breakfast-for-dinner night. This Grits and Sausage Casserole is a hearty meal that can be easily customized to your family's tastes, but best of all it comes together fast, quick, and in a hurry and is hearty and delicious, too. Serve this tasty breakfast-for-dinner casserole with a side of fruit.
Mexican Zucchini Lasagna is a unique healthy twist on a favorite traditional dish. This meaty and cheesy dish is also full of vegetables for a healthy meal for your family.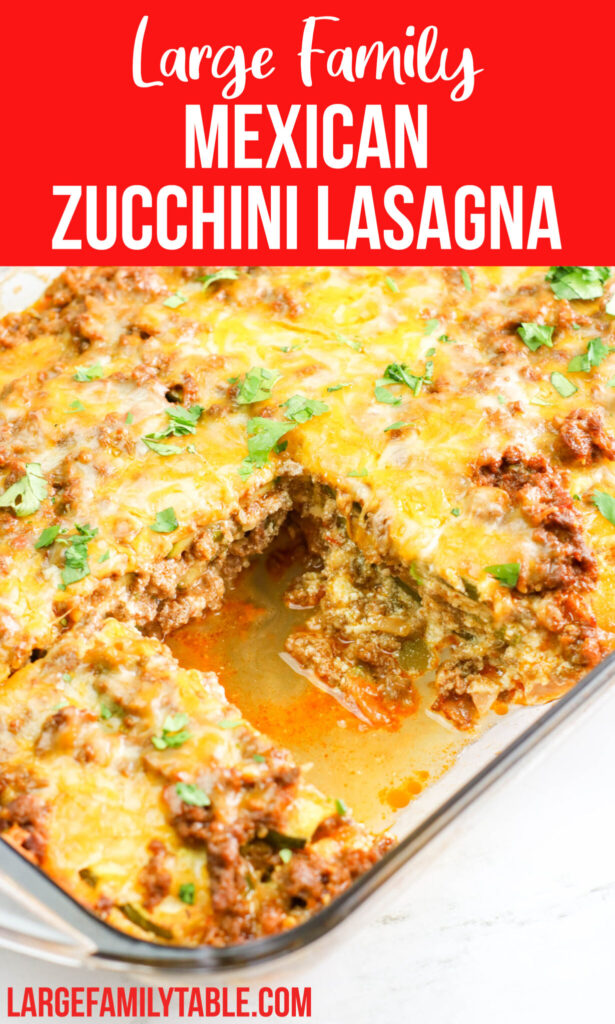 Beef Tips in Gravy made in a slow cooker is a busy mom's dream meal. With a little bit of preparation time, you can have this delicious meaty dinner in your slow cooker in a jiffy. Serve Beef Tips in Gravy over freezer mashed potatoes with a side of steamed carrots.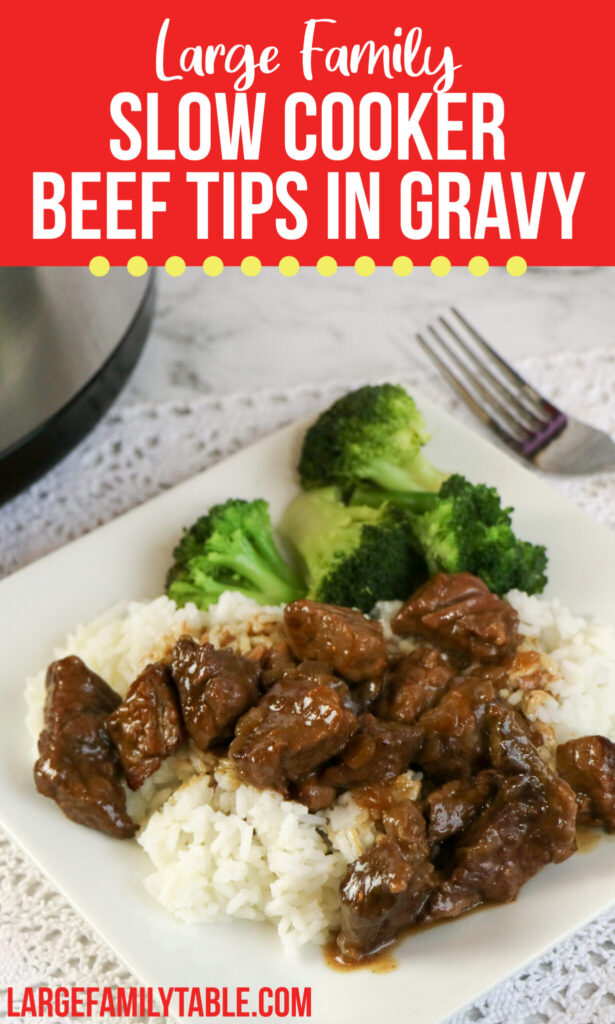 Try Low Carb Creamy Pork Casserole to switch up the regular pork dishes. It contains plenty of fresh and flavorful ingredients, including pork loin, tomatoes, and butternut squash which means this casserole is all in one! Your main dish and your sides. Casseroles are a busy mom life hack.
Ham, black-eyed peas, and vegetables come together to make this flavorful dinner. The slow cooker does all of the work for you by making it a great meal to add to your large family menu. This recipe also tastes great with our Large Family Collard Greens in the Instant Pot.
Use your Instant Pot to create the most flavorful macaroni and cheese. Try this Big Family Instant Pot Cheeseburger Macaroni that is simple enough to prepare, slightly meaty, and perfectly cheesy. It is the perfect dish to serve to your loved ones for lunch or dinner. Serve with a tossed salad on the side.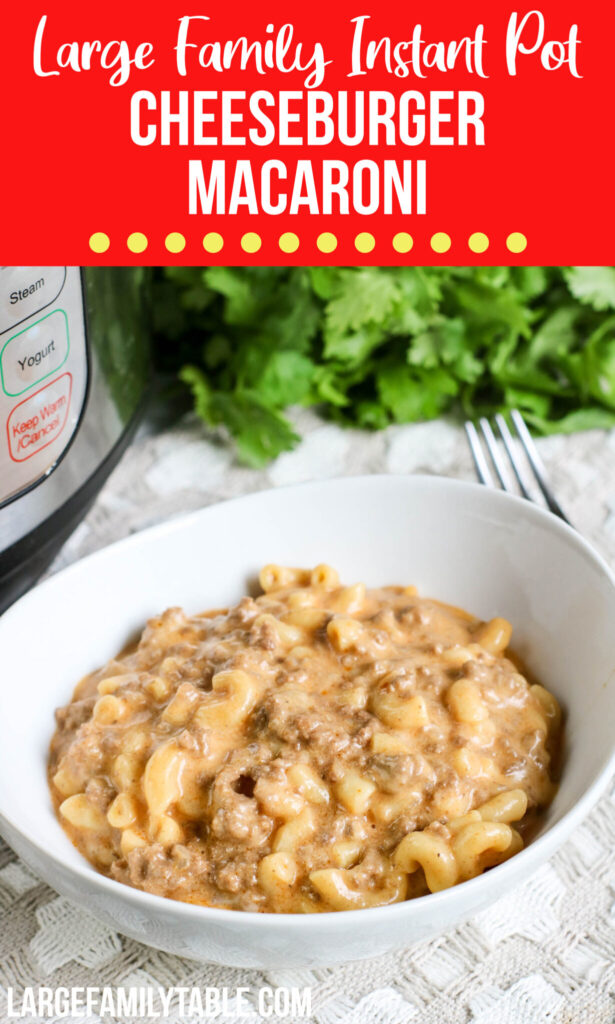 When you have a large family that enjoys food with a bit of a kick to it, you can expect to impress your loved ones by preparing this Large Family Slow Cooker Freezer Meals Cajun Style Pot Roast Recipe. It is a flavorful roast that cooks low and slow in the slow cooker.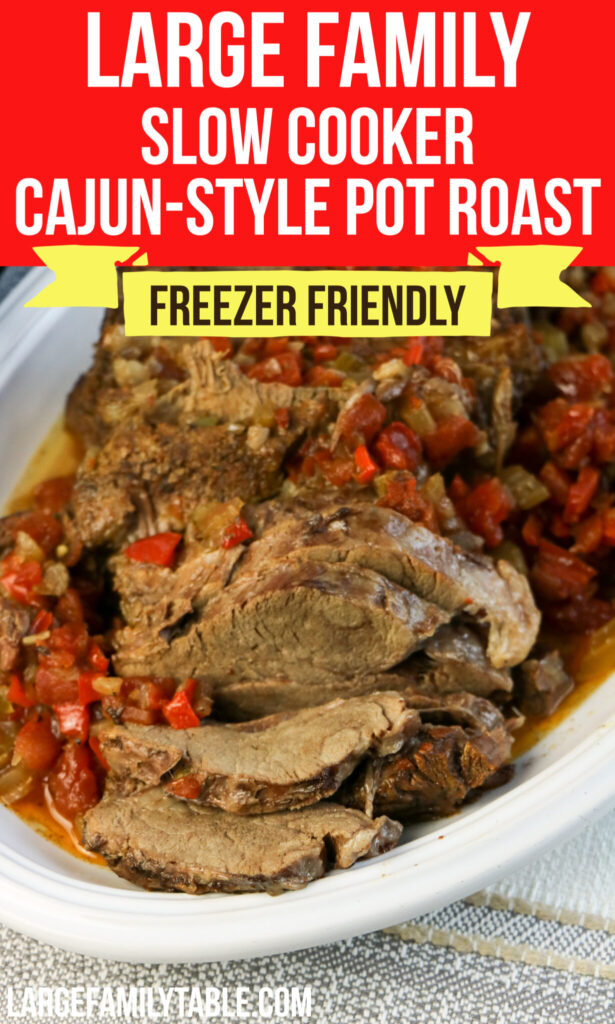 Bonus Breakfast Recipe Idea: Large Family Vegetable Breakfast Casserole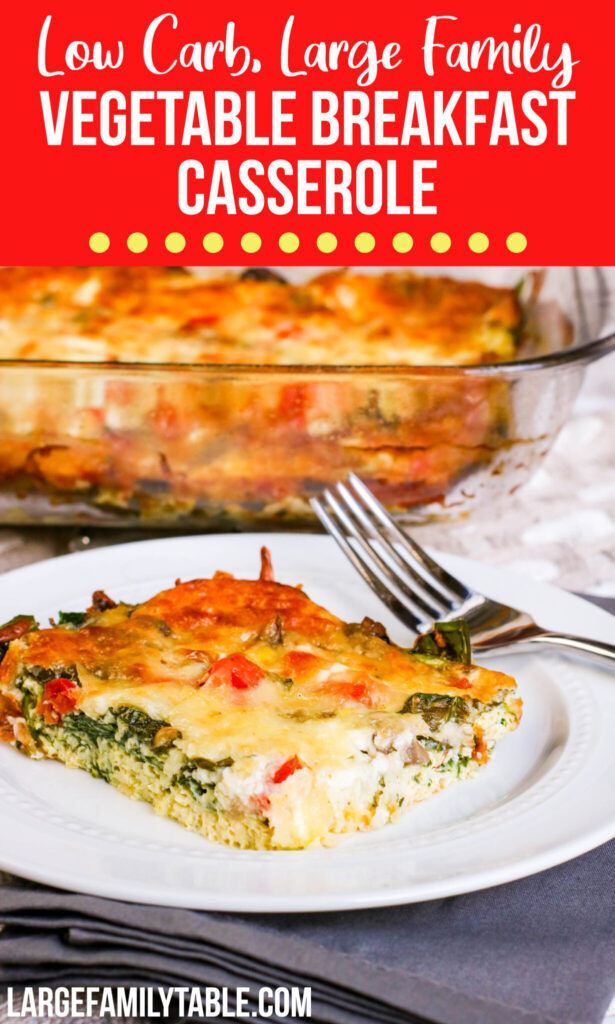 Bonus Snack Recipe Idea: Freezer Friendly Homemade Granola Bars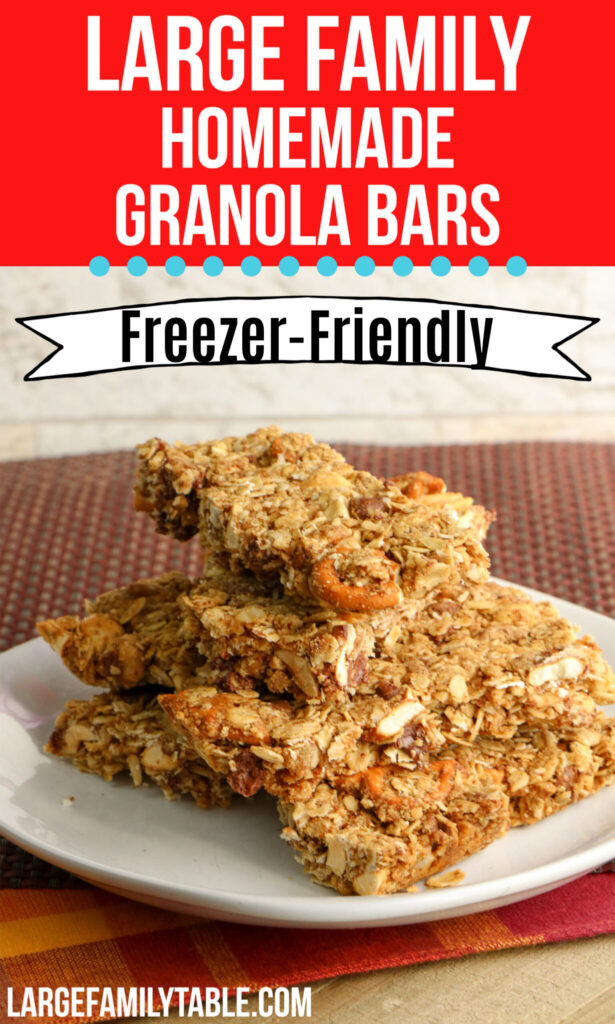 >>> CLICK HERE TO SIGN UP FOR YOUR FREE ONE WEEK MEAL PLAN, GROCERY LIST PACK & PLANNING PAGES!!!<<<
Large Family Meal Planning
Making a meal plan is a great way to make sure you're eating at home and with only a small amount of extra effort, you can also add meals to your freezer to make later meals more convenient. For more meal planning ideas, check out Large Family Meal Planning. 
FREE Budget Meal Plan Week 26 for a Large Family + Grocery List Planning Pack!
SIGN UP NOW to receive the free grocery list and planning pack for week 26 that goes with this meal plan! You'll have everything you'll need to shop delivered right to your inbox including a detailed grocery list, meal planning pages, and more!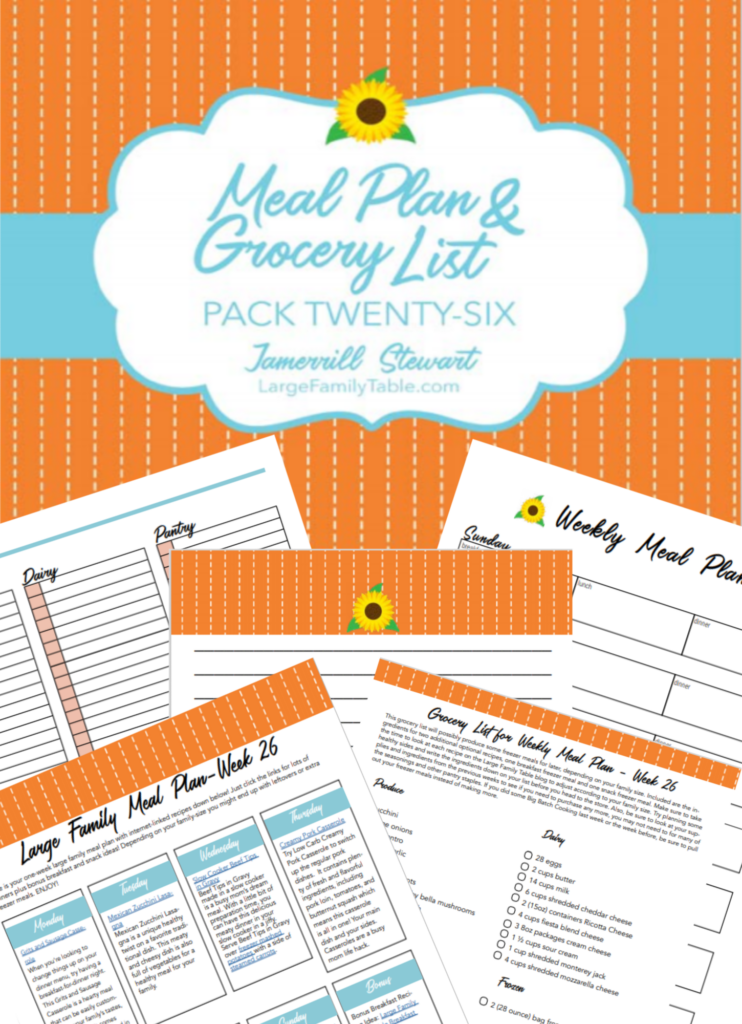 >>> CLICK HERE TO SIGN UP FOR YOUR FREE ONE WEEK MEAL PLAN, GROCERY LIST PACK & PLANNING PAGES!!!<<<