Are you searching for a flavorful dish to make at home? Prepare this delicious Large Family Slow Cooker Hoppin John consisting of ham, black-eyed peas, bell peppers, and more.

Preparing dinner for a large family is not always the easiest of tasks. You want to have enough food for everyone, but you also want to make sure each person in the household enjoys what you have prepared for them. If you make this Large Family Slow Cooker Hoppin John recipe, you can expect to please your loved ones while preparing something full of flavor and healthy ingredients.
It is the perfect dish to have on a cold evening when you want a warm and comforting meal to satisfy you. It is an easy dish to make because it cooks in the slow cooker, giving you time to do other things around the house while preparing this dish. This recipe also tastes great with our Large Family Collard Greens in the Instant Pot.
*Use special promo code HELLO20 to take 20% off your first order in the shop including the SUPER MEGA ULTIMATE Large Family Freezer Meals Bundle here!**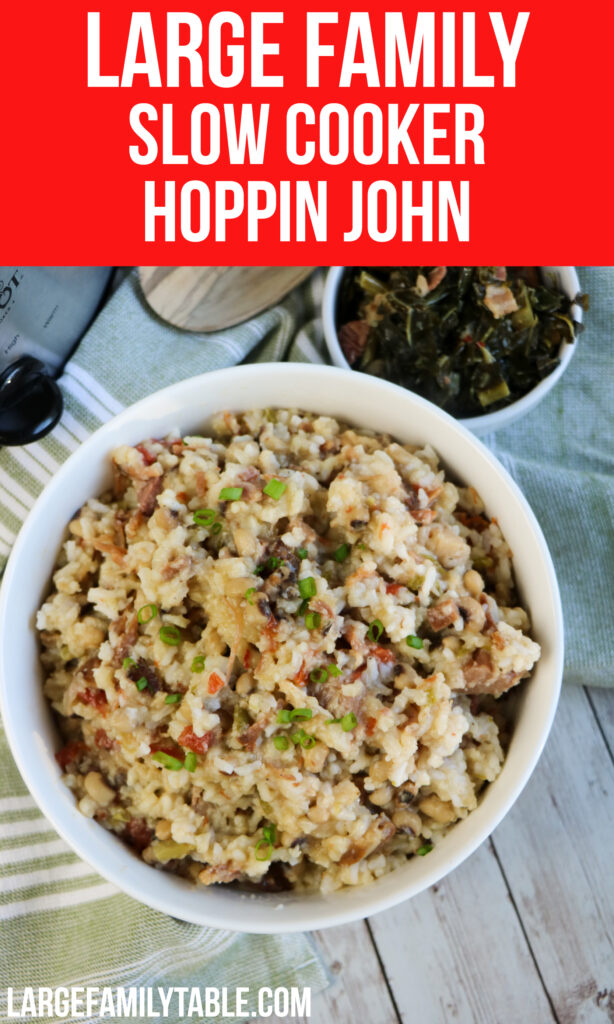 Ingredients Needed to Make the Large Family Slow Cooker Hoppin John
You will need to have these ingredients to make the Large Family Slow Cooker Hoppin John at home:
Ham Bone With Meat. Use a ham bone for flavor in this dish, but make sure it also has some meat attached. Try making ham in the instant pot and using leftover pieces from that.
Frozen Black Eyed Peas. The black-eyed peas go excellent with the ham's taste and are the perfect addition to this dish.
Green Bell Pepper. Give the dish more flavor while adding the green bell peppers. They go great with other ingredients and offer a bit of a crunch.
Chicken Broth. You will use chicken broth for the flavor it brings instead of using water. You can also make a whole chicken in the instant pot and use the broth from it.
Crushed Red Pepper Flakes. Add as many red pepper flakes as you would like to this dish.
Celery. The celery pairs perfectly with the ham and other ingredients used to make the dish.
You should also have onion, minced garlic, bay leaves, thyme, salt, rice, and diced tomatoes with green chiles to prepare the Large Family Slow Cooker Hopping John.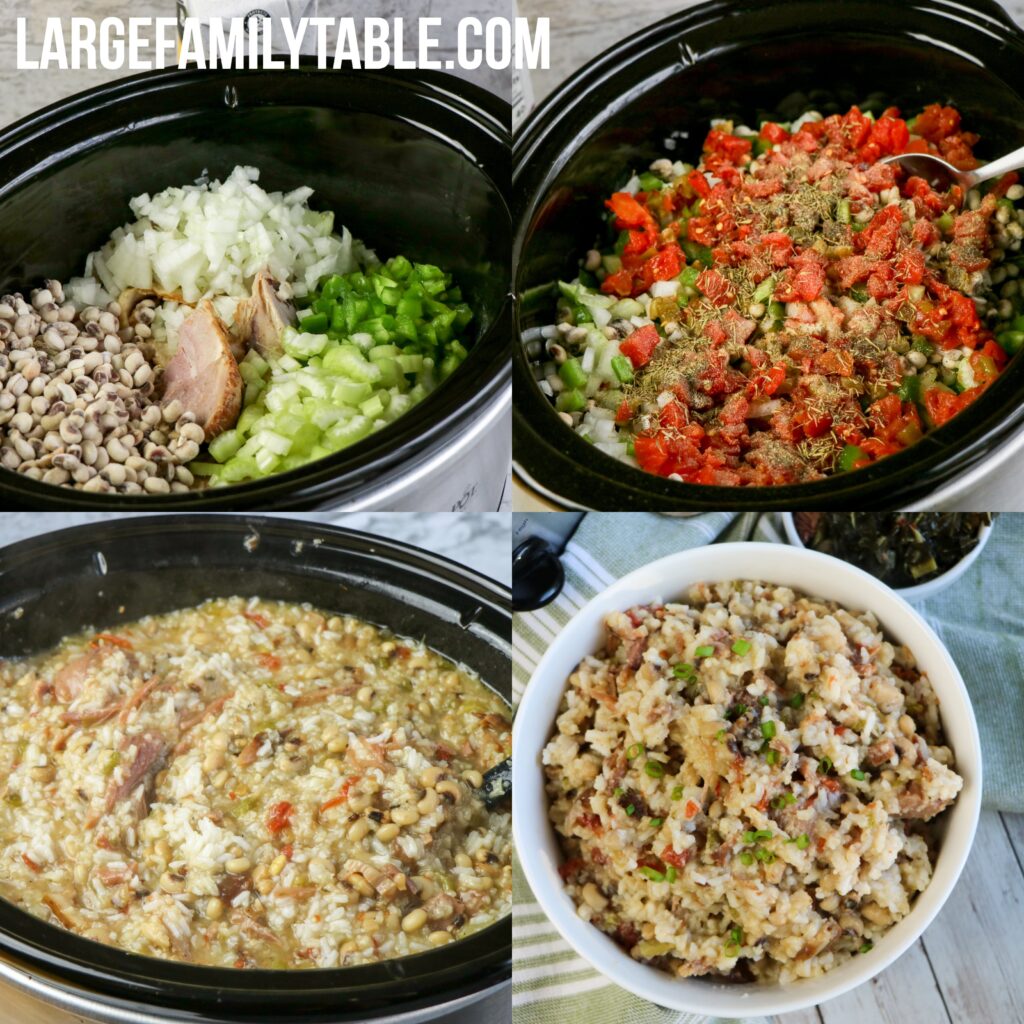 How to Safely Store Your Large Family Slow Cooker Hoppin John
After you make the Large Family Slow Cooker Hoppin John, the best way to safely store it is to put it in a food storage container or bag. If you use the bag, it will save more space in the fridge or freezer, but it all depends on your preference.
You can leave the dish in the refrigerator for as long as four days. If freezing the food instead of putting it in the fridge, you can keep it there for about three months before you should let it thaw and reheat it to serve it to your large family.
Variations of the Slow Cooker Hoppin John That You Can Try
You can always mix up some of the different ingredients when preparing the Slow Cooker Hopping John. For example, you can use beef broth or vegetable broth instead of chicken broth if you want to. You may use red and yellow bell peppers instead of green peppers. If you do not want to use ham in the dish, you can use country sausage or bacon.
Do you have more slow cooker recipes?
Slow cooker meals like this Hoppin John recipe are so easy. Most of them are dump-and-go recipes that you spend ten minutes preparing and a few hours later dinners ready. Yay for convenience! You'll find lots more easy slow cooker meals in my Large Family Slow Cooker Dinners and Meal Plans Vol 1, 2, 3 Bundle. It includes 60 meals and 12 weeks of meal plans!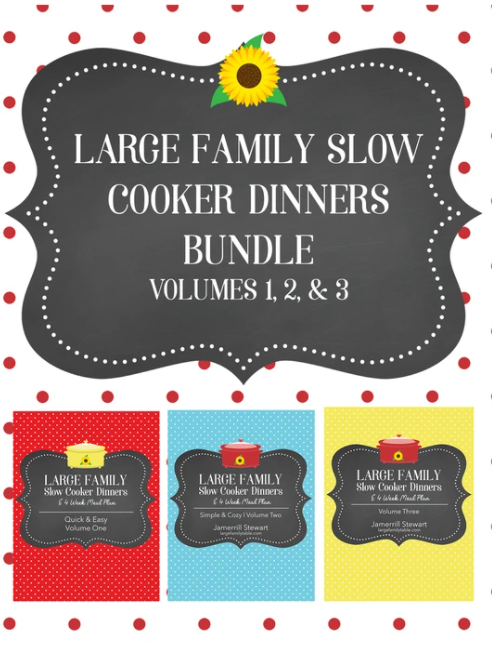 Here are more large family recipes your family will enjoy!
Large Family Slow Cooker Hoppin John
Print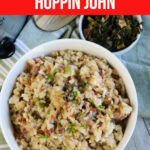 Large Family Slow Cooker Hoppin John | Big Family Meals
Author:

Prep Time:

10 Minutes

Cook Time:

6 Hours

Total Time:

6 hours 10 minutes

Yield:

22 servings

Category:

Dinner

Method:

Slow Cooker
---
Description
Are you searching for a flavorful dish to make at home? Prepare this delicious Large Family Slow Cooker Hoppin John consisting of ham, black-eyed peas, bell peppers, and more.
---
Ingredients
2 ham bone with meat or about 3 cups leftover ham meat

2 (28 ounce) bag frozen black eyed peas

2 medium onion, diced

4 stalks celery, diced

2 small green bell pepper, seeded and diced

6 cloves garlic, minced

4 bay leaves

2 teaspoon dried thyme

1 teaspoon crushed red pepper flakes, according to your tastes

2 teaspoon salt

12 cups chicken broth

2 15 oz can diced tomatoes with green chilies 

6 cups raw rice
---
Instructions
Place ham in a slow cooker and top with all other ingredients EXCEPT for the rice. Stir to combine.

Cover the slow cooker and cook on high for 3 hours.

Carefully remove the ham and shred it between two forks. Return the ham to the slow cooker and add the rice. Push the rice below the liquid line to make sure it cooks.

Cover and continue cooking for an additional 2 hours on high or until the rice is tender.

Prior to serving, stir and remove the bay leaves.
---
Notes
Note: Cooking the rice too long in the slow cooker will make it mushy. If you cannot add the rice 2 hours prior to serving, reduce the chicken broth to 2 cups and cook the rice according to package directions, stirring in just before serving.
Keywords: Large Family Slow Cooker Hoppin John
This large family recipe is a New Years Day tradition. Give it a try and see how your family enjoys this New Years meal.
FREE Emergency Pantry Planning Pack!
Don't forget to sign up for the emergency pantry planning pack for free to help you plan your pantry meals! The free Emergency Pantry Planning Pack will help you plan your needed pantry items! Printable pages include pantry inventory, grocery lists, meal planners, list of pantry staple items, and more.