Low Carb Turkey Meatballs | Freezer Meals for Big Families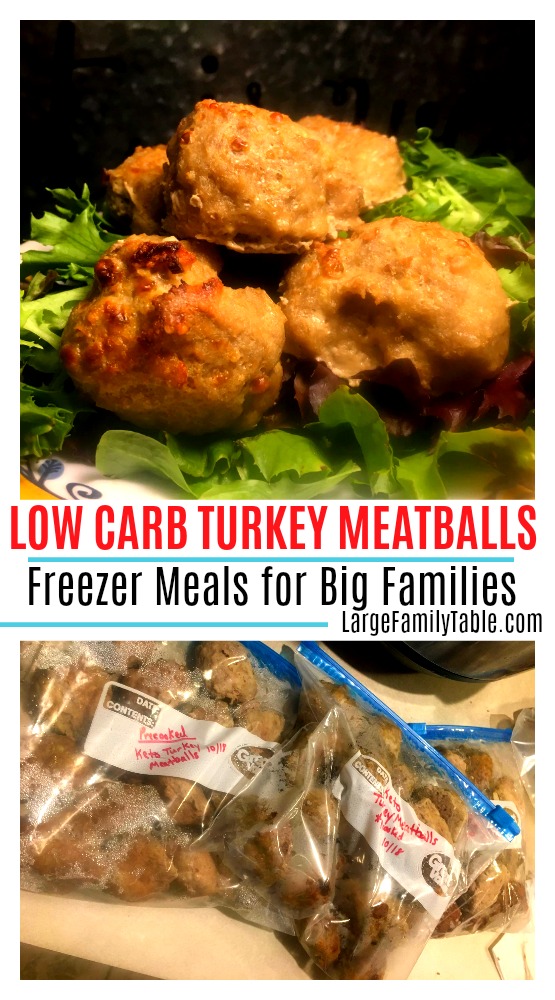 As a momma staying on the lower carb side of life I have loved having these low carb turkey meatballs ready and available. This recipe will make 6-8 dozen depending on the size of the meatball you make. I divided the meatballs into several quart size freezer bags to have healthy meatballs ready to go in sauces, soups, salads, and hungry mom snacks!
As far as large family meals, these meatballs have been a favorite for several of our quick and easy homeschool lunches as well. There are so many uses for these low carb turkey meatballs that having several bags precooked and ready to go in the freezer is a blessing.
Print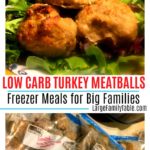 Low Carb Turkey Meatballs | Freezer Meals for Big Families
---
Description
These delightful low carb turkey meatballs go great in soups, sauces, salads, or as snacks. Who doesn't love a good meatball? My kiddos have enjoyed these are quick protein in easy homeschool lunches, too.
---
Ingredients
6 lbs ground turkey

3 eggs

1 cup almond flour

1/2 cup olive oil or avocado oil

4 Tbs minced garlic

2 Tbs onion powder

1 Tbs RoseMary

3 Tbs fresh parsley

Bake 20 minutes on 375

Cool and freeze for upcoming meals!
---
Instructions
Combined the above ingredients in a large mixing bowl.
Mix thoroughly with your hands.
Form meatballs using approximately two tablespoons of meat mixture per ball.
Place meatballs on sprayed baking pan.
Bake for 20 minutes on 375.
Let meatballs cool and bag in labeled freezer bags for upcoming meals.
---
Notes
Just add a bag of frozen turkey meatballs to a slow cooker full of homemade spaghetti sauce.
Add meatballs to soups and various sauces.
To reheat from frozen place in the defrost setting in your microwave for 2-3 minutes (depending on microwave temps, times will vary.)
You can also set a frozen bag of precooked meatballs out in the refrigerator and use as needed in your meals.
This Low Carb Turkey Meatballs Recipe was featured in Large Family Meal Plan #2. You can find more large family meal plans here.
I have found making family freezer meals a huge lifesaver in my large family life. If you'd like to see the tools I use here are my must-have freezer cooking supplies for large family freezer cooking.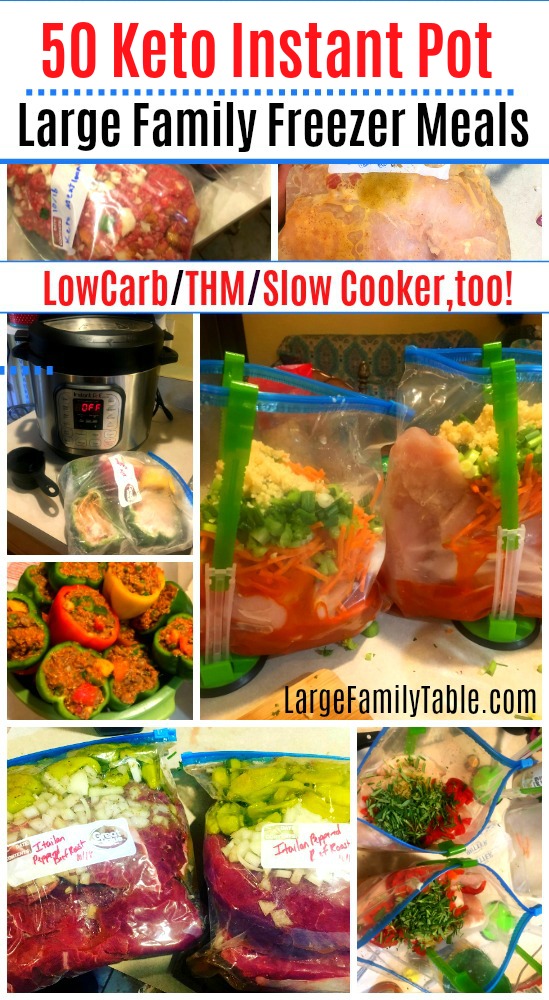 If you love this easy Instant Pot Freezer Meal Recipe you are sure to love these 50 Large Family Keto Instant Pot Freezer Meal Recipes here!
FREE LARGE FAMILY FOOD COLLECTION!

Don't miss the *super mega* 🙂 Large Family Food Collection includes everything you need to plan, organize, and feed your family well! The entire collection includes:
Free Mega Freezer Meals Planning Pack (8+ Pages!)

Free 10 Large Family Table Recipes eBook

Free Family Favorite Recipes Binder Creation Kit

Free Family Meal Planner Collection (with weekly, bi-weekly, and monthly planning pages, grocery lists, and more!)

Sweet "Mommy & Me" Baking Printables

NEW Free Happy Family Holiday Meal & Household Planner Set (Including Thanksgiving, Christmas, New Years, and Easter) – over 30 pages!!!
Click here to get the Free Large Family Food Collection!