Hello again! I'm here to help you make meals for your large family and take the stress out of meal planning! This week in our large family meal plan series, I have the Large Family Budget Meal Plan Week 24 + FREE Printable Grocery List with clickable planning printables. Each week I serve up a fresh big meal plan with seven nights of delicious dinners. PLUS, because I *only know mega & lots,* each large family meal plan will guide you through making a little extra to help fill your freezer with delicious food, yay! You'll also want to grab all my other weekly meal plans, too!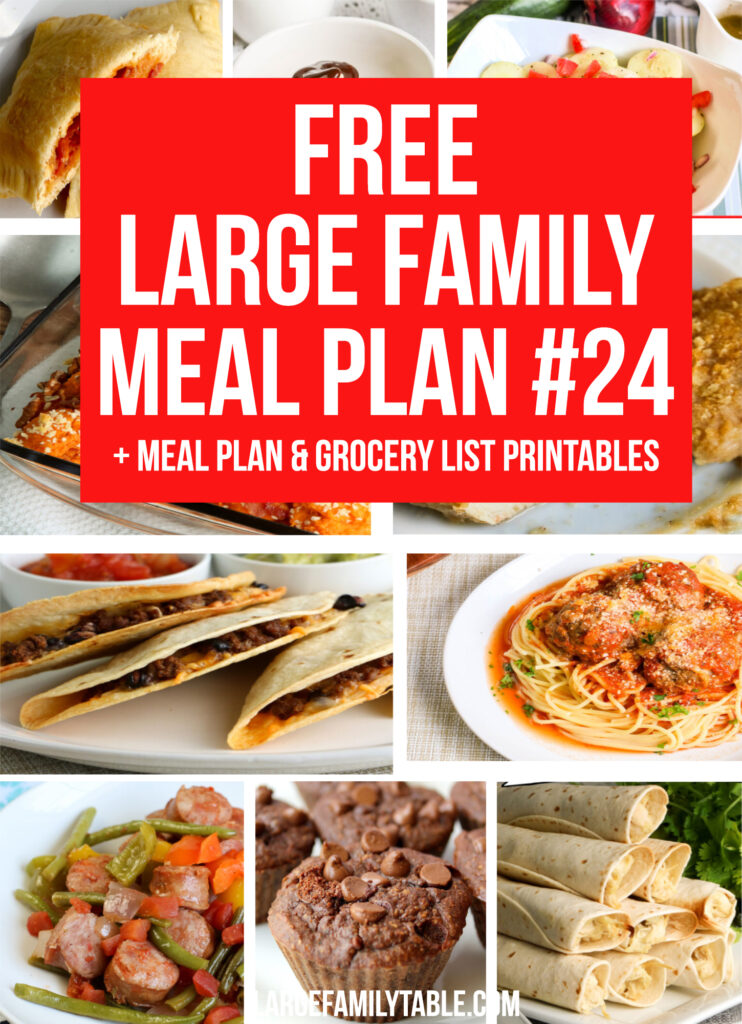 This Large Family Budget Meal Plan Week 24 includes Parmesan Turkey Burgers, Sausage and Peppers Casserole, Meatballs and Marinara, and more big family meals! Plus a few on -the-go-snacks and hearty breakfast ideas, too!
>>> CLICK HERE TO SIGN UP FOR YOUR FREE ONE WEEK MEAL PLAN, GROCERY LIST PACK & PLANNING PAGES!!!<<<
If you are a large family you may find you'll get 7 budget-friendly dinners, plus some extra meals prepped ahead. If you are heading up a smaller family you will have plenty of leftovers for lunches and lots of extra to build your freezer stash. Don't forget to sign up for the FREE Week 24 Large Family Meal Plan + Free Grocery List Printables set HERE!
FREE Large Family Budget Meal Plan Week 24 + FREE Printable Grocery List and Planning Pack
Each week I give you a FREE COMPLETE Downloadable Meal Plan with a detailed GROCERY LIST. Just SIGN UP HERE FOR THE Week 24 LARGE FAMILY MEAL PLAN + GROCERY LIST! You'll receive a detailed grocery list to guide you through buying everything on this week's large family meal plan, plus bonus meal planning pages – yay!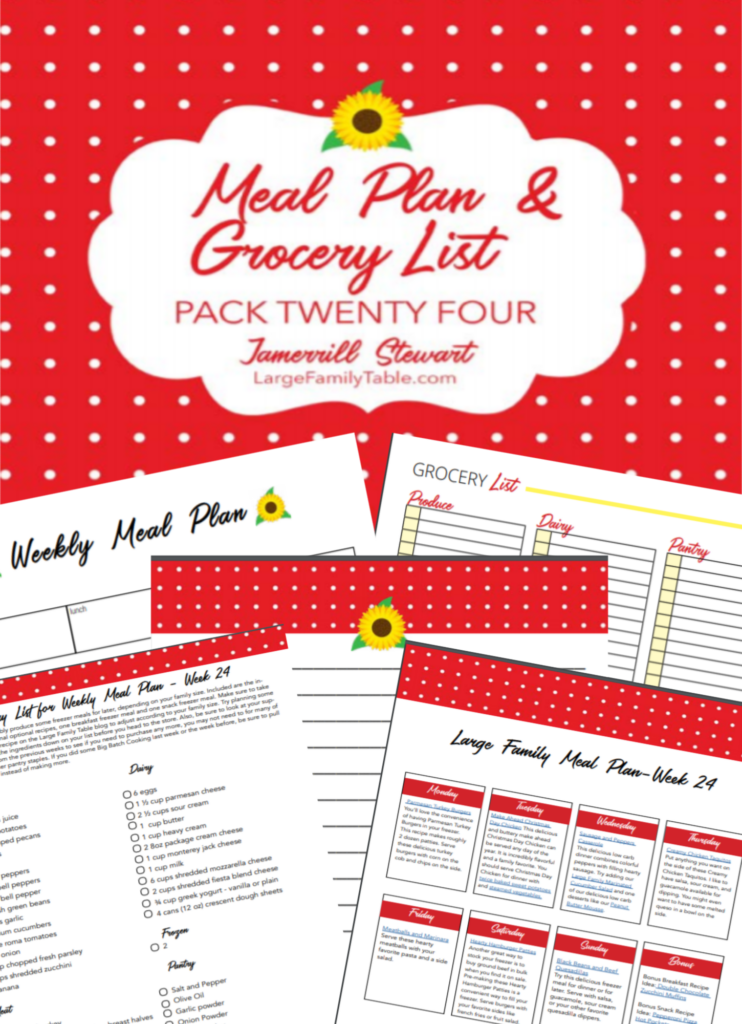 If you plan ahead, you can do some big batch cooking to add some meals to your freezer for later. Serve up these delicious recipes at your own Large Family Table. Check out this post if you would like to know my Must Have Large Family Freezer Meal Supplies.
>>> CLICK HERE TO SIGN UP FOR YOUR FREE ONE WEEK MEAL PLAN, GROCERY LIST PACK & PLANNING PAGES!!!<<<
More Large Family Meal Plans
Here are our most recent large family meal plans, but you can find all of our mega tons of large family meal plans for free.
Week 24 Large Family Meal Plan
These delicious Parmesan Turkey Burgers are a super handy freezer meal You'll love the convenience of having Parmesan Turkey Burgers in your freezer. This recipe makes roughly 2 dozen patties. Serve these delicious turkey burgers with corn on the cob and chips on the side.
This delicious and buttery make ahead Christmas Day Chicken can be served any day of the year. It is incredibly flavorful and a family favorite. You should serve Christmas Day Chicken for dinner with twice baked sweet potatoes and steamed vegetables.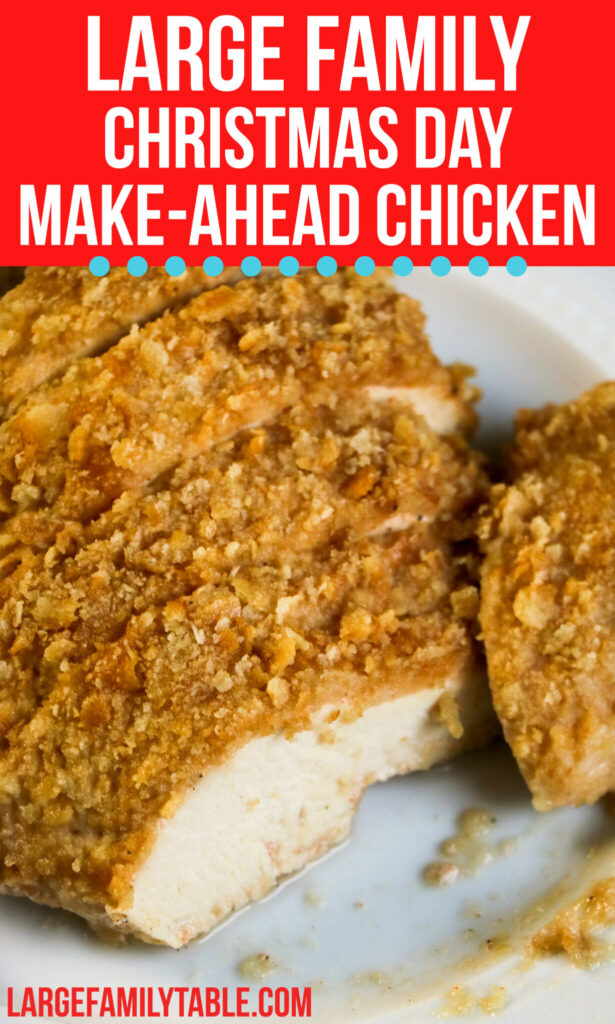 This delicious low carb dinner combines colorful peppers with filling hearty sausage. Try adding our Large Family Marinated Cucumber salad and one of our delicious low carb desserts like our Peanut Butter Mousse.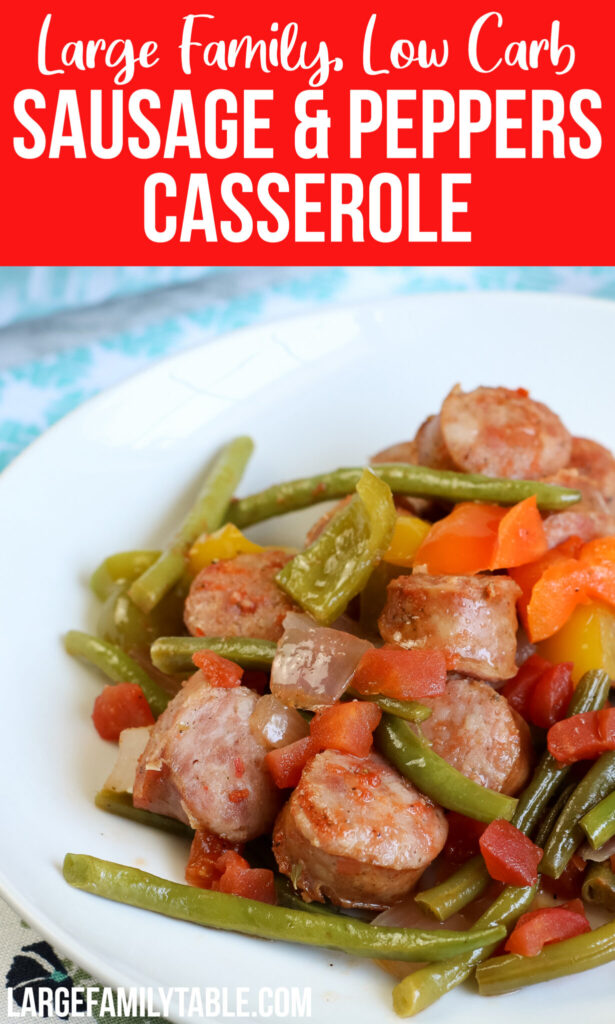 Put anything you want on the side of these Creamy Chicken Taquitos. I like to have salsa, sour cream, and guacamole available for dipping. You might even want to have some melted queso in a bowl on the side.
Serve these hearty meatballs with your favorite pasta and a side salad.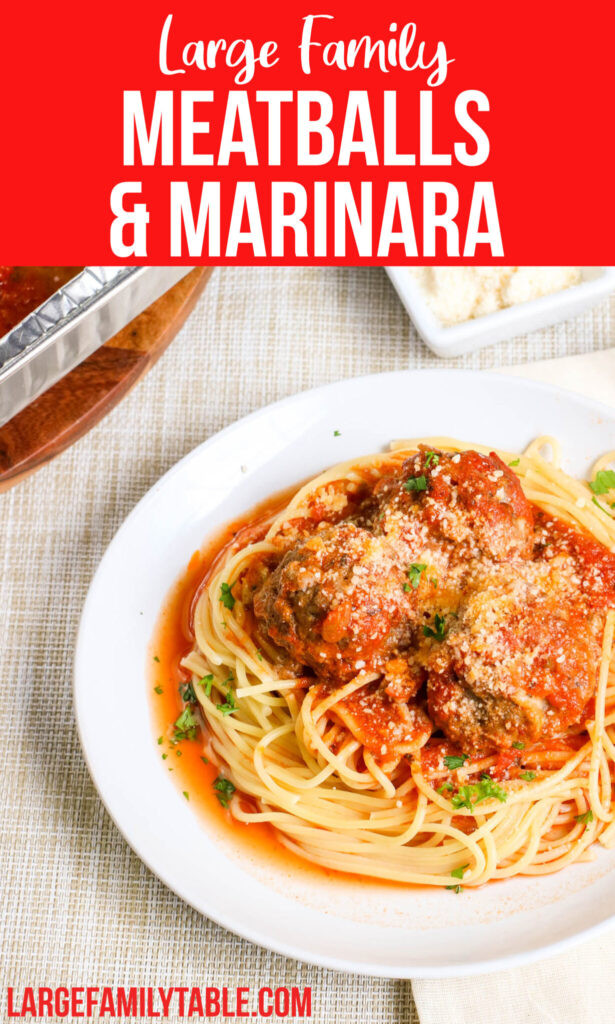 Another great way to stock your freezer is to buy ground beef in bulk when you find it on sale. Pre-making these Hearty Hamburger Patties is a convenient way to fill your freezer. Serve burgers with your favorite sides like french fries or fruit salad.
Try this delicious freezer meal for dinner or for later. Serve with salsa, guacamole, sour cream or your other favorite quesadilla dippers.
Bonus Breakfast Recipe Idea: Double Chocolate Zucchini Muffins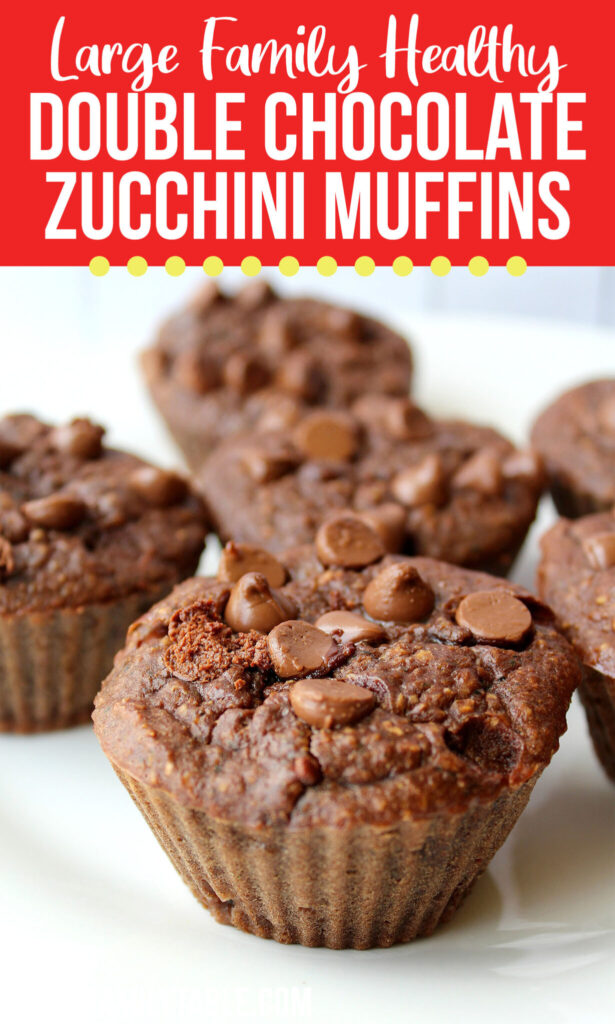 Bonus Snack Recipe Idea: Pepperoni Pizza Hot Pockets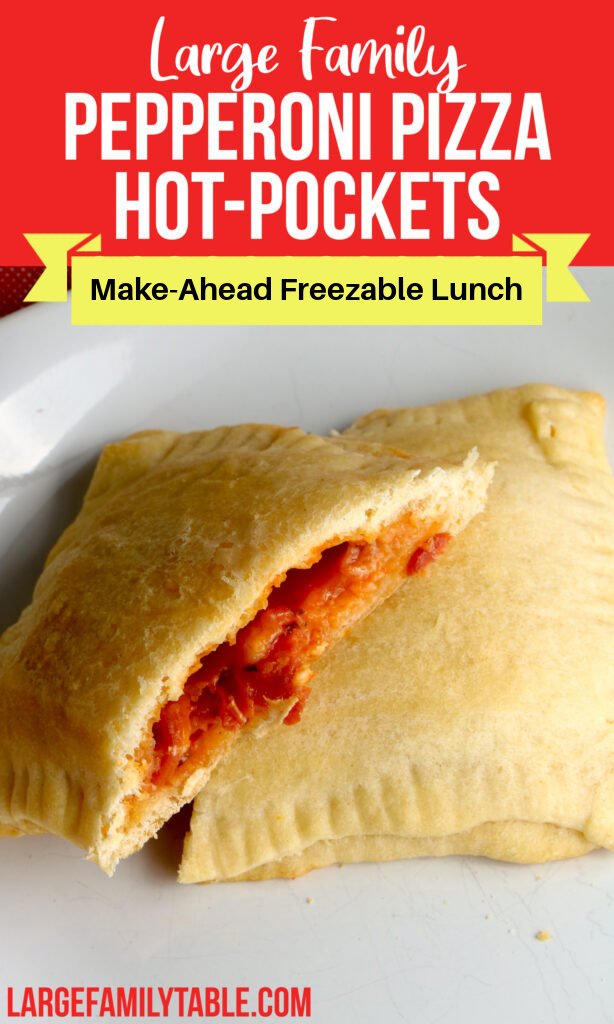 >>> CLICK HERE TO SIGN UP FOR YOUR FREE ONE WEEK MEAL PLAN, GROCERY LIST PACK & PLANNING PAGES!!!<<<
Large Family Meal Planning
Making a meal plan is a great way to make sure you're eating at home and with only a small amount of extra effort, you can also add food to your freezer to make later meals more convenient. For more meal planning ideas, check out Large Family Meal Planning.
FREE Grocery List Planning Pack For Week 24 Meal Plan for Large Families!
SIGN UP NOW to receive the free printable grocery list and planning pack for week 24 that goes with this meal plan! You'll have everything you'll need to shop delivered right to your inbox including a detailed grocery list, meal planning pages, and more!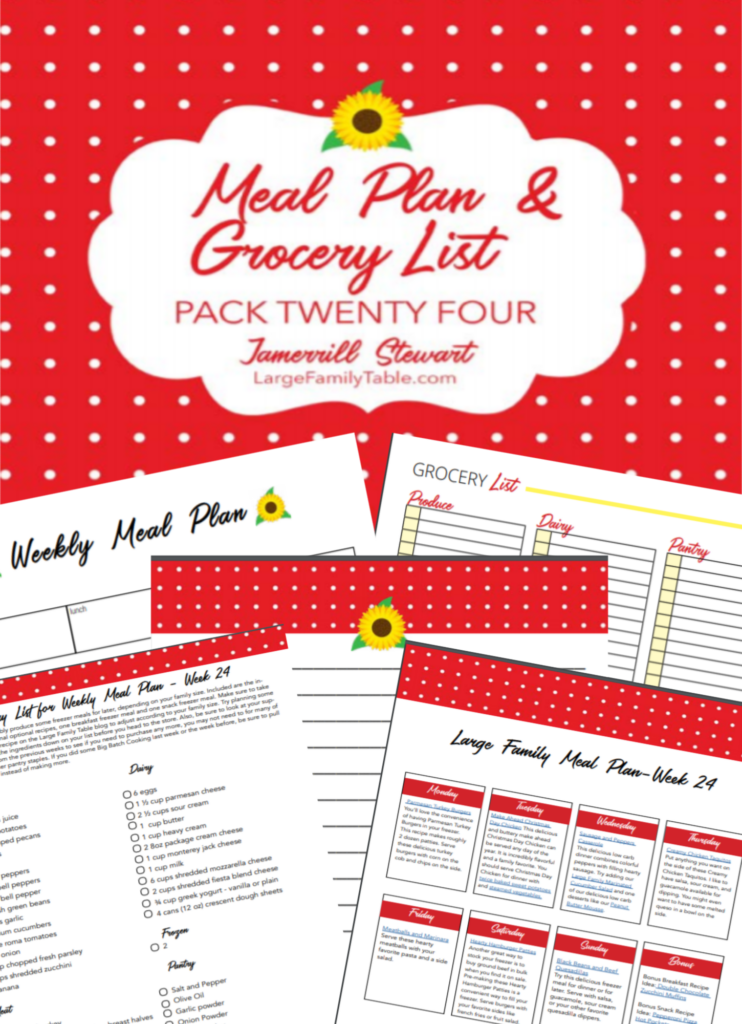 >>> CLICK HERE TO SIGN UP FOR YOUR FREE ONE WEEK MEAL PLAN, GROCERY LIST PACK & PLANNING PAGES!!!<<<