When craving something unique and delicious, make these Creamy Chicken Taquitos. They contain chicken, cheese, and other fresh ingredients that make them full of flavor and perfect to have for dinner or appetizers. These Big Family Chicken Taquitos are easy to prep ahead and stash in your freezer for an upcoming large family freezer meal. You also might enjoy these Large Family Black Bean and Beef Quesadillas as another make-ahead and freeze option.
If you are looking for something new instead of the same things for lunch all week long, try these Creamy Baked Chicken Taquitos. These are tasty, easy to make, and even easier to eat. You can make them for lunch and place them in the freezer to make it easy on yourself or for dinner to satisfy your family, but they are also great to prepare as an appetizer for different events. If these seem great for you, be sure to try our Freezer-friendly Beef and Bean Taquitos, our Chicken Fajita Quesadillas, or our Instant Pot Chicken Caesar Wraps.
****Use special promo code HELLO20 to take 20% off the entire MEGA DEAL get-it-all Bundle including the best-selling Large Family Freezer Meal Packs 1-12 + so much more!!****
Creamy Chicken Taquitos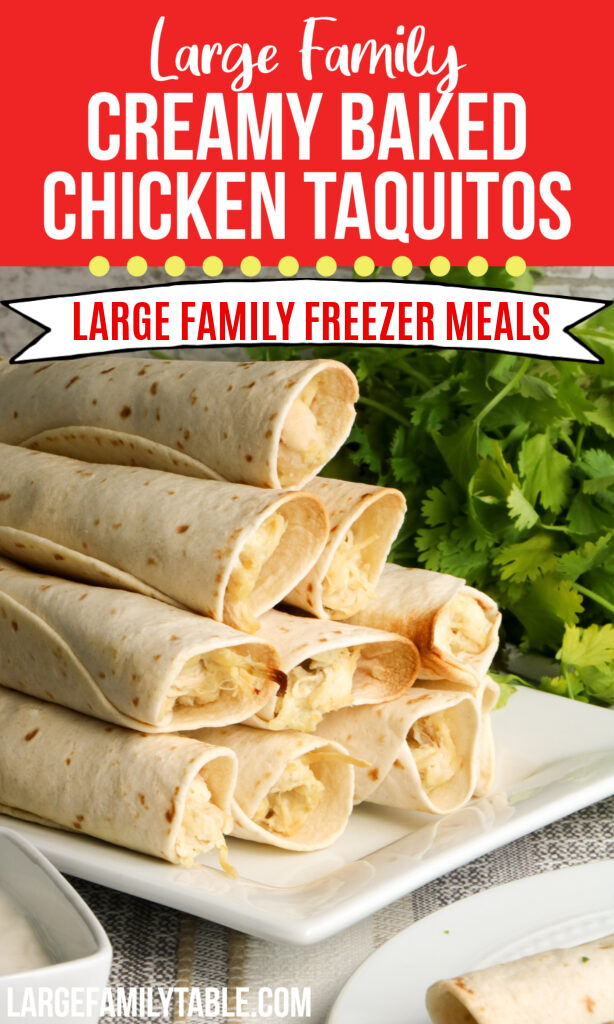 If you are looking for a dish that you can put together rather quickly, try the Creamy Chicken Taquitos. You can follow this recipe and even add extras or modify the ingredients if you want or need to do so. Once you prepare this recipe, your children will want to come back for seconds! And, they will probably ask you to continue making the Creamy Chicken Taquitos as often as possible.
Ingredients in the Creamy Chicken Taquitos
You will need chicken to prepare these taquitos. You can boil chicken breast in chicken broth until fully cooked and shred it down before preparing these Creamy Chicken Taquitos. However, if you are looking for a way to make these taquitos in even less time, consider purchasing a rotisserie chicken. You can shred it down with ease and use it in your taquitos so that it is less work that you will need to do to prepare the delicious meal.
When you want the recipe to live up to its name of being creamy and delicious, you need to add some cheese. I like to use cream cheese and a blend of other cheese, such as pepper jack cheese. If you do not want these types of cheeses, mix things up and use your favorite cheese combinations that will still give you that creaminess that makes these taquitos so amazing.
Put anything you want on the side of these Creamy Chicken Taquitos. I like to have salsa, sour cream, and guacamole available for dipping. You might even want to have some melted queso in a bowl on the side.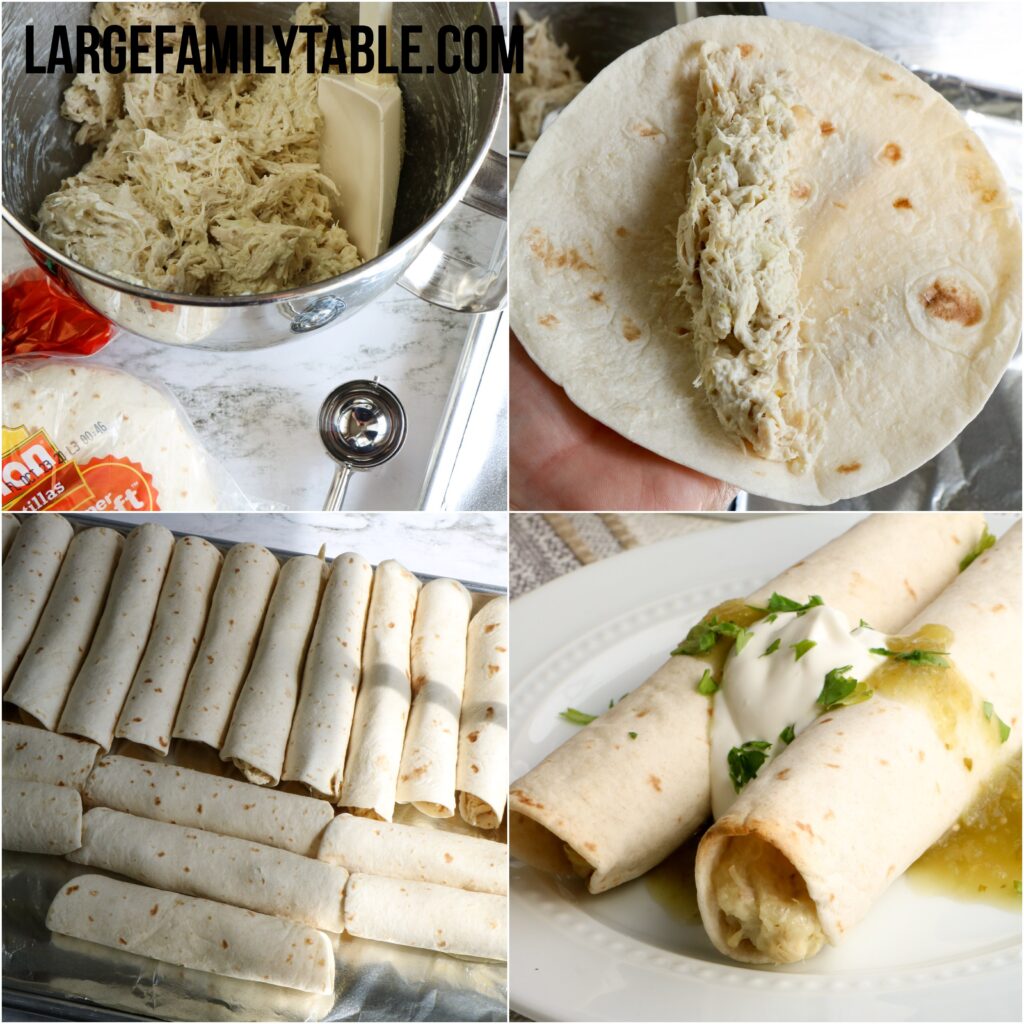 How to make-ahead Creamy Chicken Taquitos and Storing them
After rolling up your taquitos with the ingredients inside, you can bake them for a few minutes until they are ready to eat. However, if you plan to make some in advance to eat later in the week, store those in a food storage bag in the freezer before baking them. You can pull them out of the freezer and then bake them for several minutes to have fresh Creamy Chicken Taquitos whenever you want.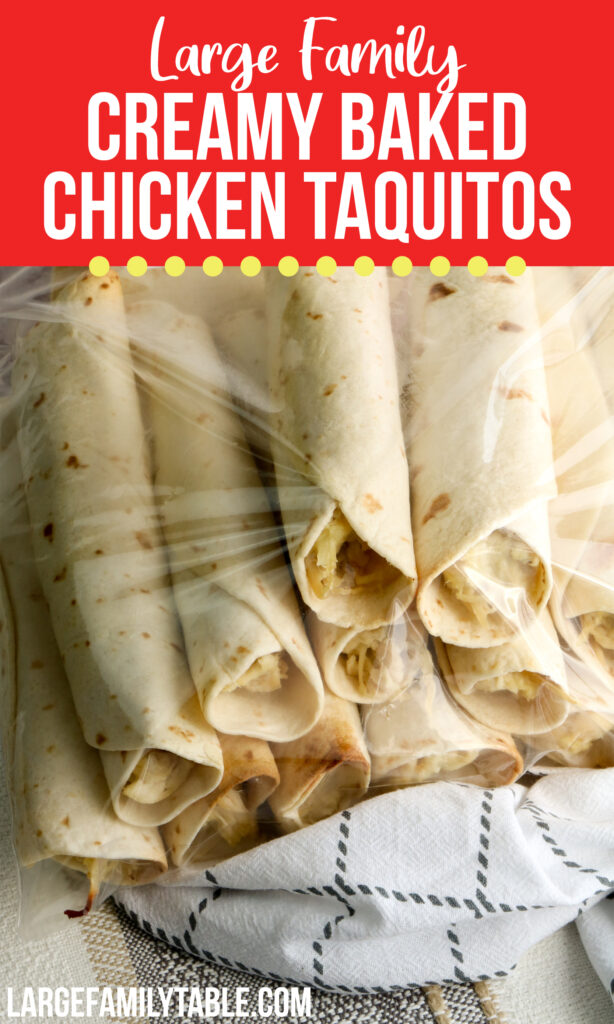 For the taquitos that you have already baked, store them in a food storage container with an airtight lid and keep them in the fridge for up to five days. When they are already baked to perfection, all you need to do to bring them back to life is put them in the microwave for a few seconds.
Here are more freezable make-ahead lunch recipes for your large family!
Need More Freezer Lunch Meals?
If you find it helpful to make freezer meals for lunches (who wouldn't!!), then check out our Large Family Lunches Freezer Meals Pack number 11 in my shop. It provides ten recipes and guides to make over 20 delicious lunches to put in your freezer! You might also like this Homeschool Lunch Ideas post/video to give you more ideas.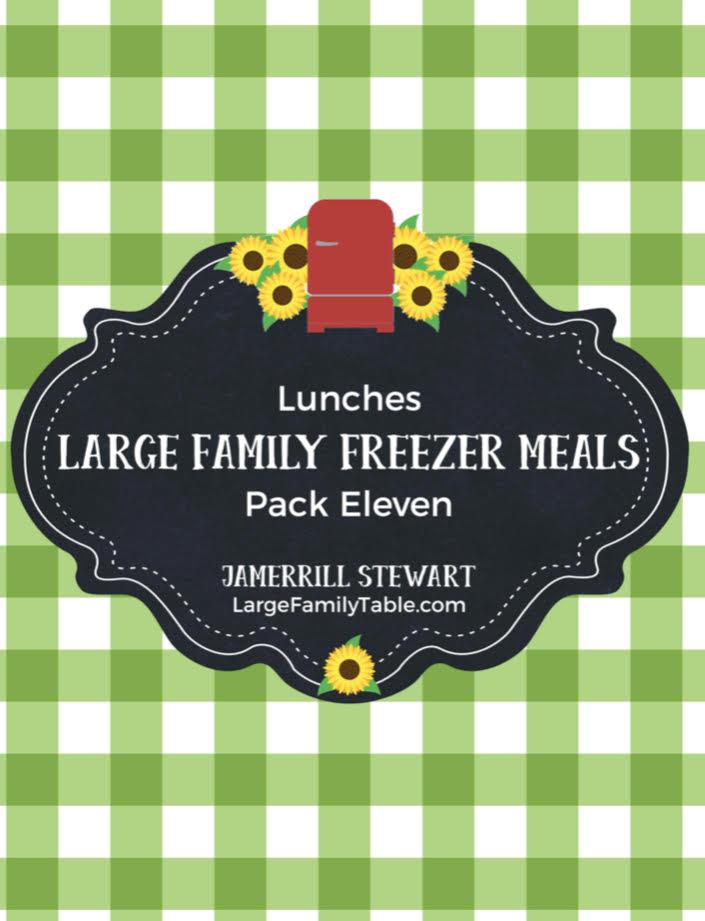 Make-ahead Creamy Chicken Taquitos
Print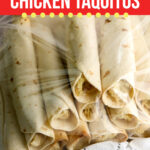 Big Family Freezer Meals Creamy Chicken Taquitos | Make-ahead Large Family Lunch
Author:

Prep Time:

15 Minutes

Cook Time:

15 Minutes

Total Time:

30 minutes

Yield:

20 Taquitos

Category:

Dinner/Lunch

Method:

Oven
---
Description
When craving something unique and delicious, make these Creamy Chicken Taquitos. They contain chicken, cheese, and other fresh ingredients that make them full of flavor and perfect to have for dinner or appetizers. These Creamy Chicken Taquitos also make a fantastic large family freezer meal, especially for quick no-brainier family lunches!
---
Ingredients
3 cups shredded, cooked chicken

1 (8 ounce) package cream cheese, softened

½ cup salsa verde

2 (8.2 ounce) packages fajita size flour tortillas

1 cup monterey jack cheese
---
Instructions
Preheat the oven to 400 degrees. Line a baking sheet with aluminum foil and spritz with nonstick cooking spray.

In a bowl, blend the chicken, cream cheese, salsa, and monterey jack cheese.

Place about 2 tablespoons of the chicken off-center in each tortilla.  Roll up the tortilla as tightly as possible without tearing the tortilla and place on the baking sheet with the seam side down.

Bake the taquitos for 15 to 20 minutes or until lightly browned.

Serve with additional salsa verde, sour cream, or guacamole.
---
Notes
LARGE FAMILY FREEZER MEAL DIRECTIONS: To make these Creamy Chicken Taquitos prepped ahead as a large family freezer meal follow the assembly steps listed above in step 2 and 3. Then place the Creamy Chicken Taquitos on a baking sheet to flash freeze for about an hour or so. Afterwards you can pack as many as you can in gallon freezer bags for when you need them. They should be good in the freezer for up to 3 months. When you need the Taquitos just pull out as many as you need and microwave for 2 or so minutes (microwave times may vary). You can also defrost the Taquitos and bake as directed above. 
Keywords: Creamy Chicken Taquitos
FREE Emergency Pantry Planning Pack!
Don't forget to sign up for the emergency pantry planning pack for free to help you plan your pantry meals! The free Emergency Pantry Planning Pack will help you plan your needed pantry items! Printable pages include pantry inventory, grocery lists, meal planners, list of pantry staple items, and more.